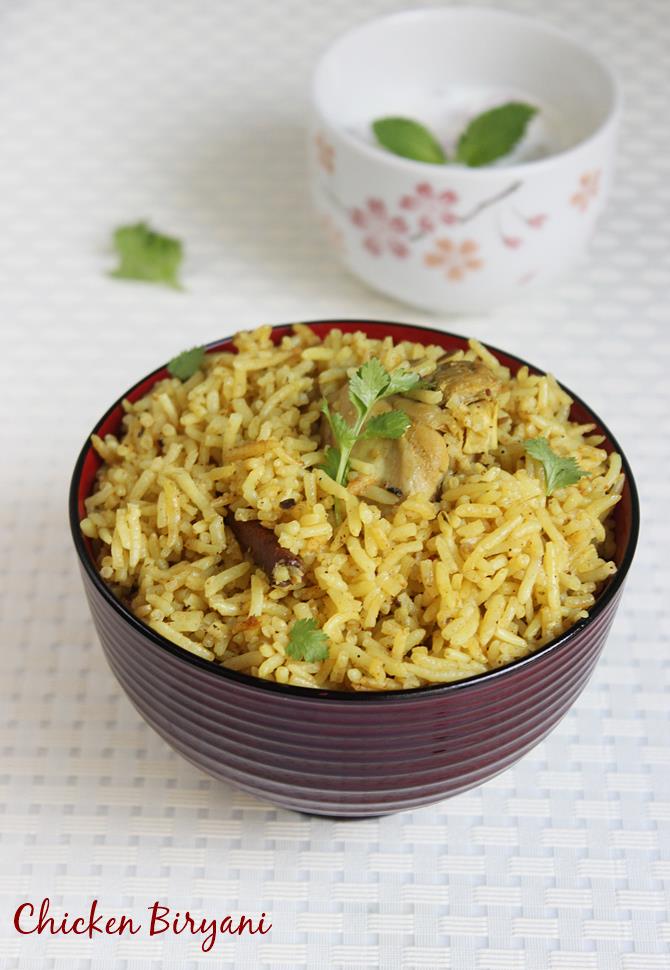 andhra chicken biryani recipe that can be followed by a newbie or even by a bachelor. This biryani is different from the chicken dum biryani or the muslim wedding style biryani.
 
This can be prepared with yogurt or tomatoes, though we don't need both. Iam also sharing the chicken biryani masala powder recipe here, you can also use ready made biryani masala, but adjust the quantity of powder as needed, use a nice flavorful biryani masala since the taste and flavor of a biryani comes from the masala powder we use.
 
how to make chicken biryani with step by step pictures
1. saute dry spices in oil until they sizzle.
2. Fry onions until golden, add ginger garlic paste. Fry until the raw smell goes off.



3.fry pudina and coriander leaves. Fry for 2 to 3 minutes.
4. Add marinated chicken. Fry for 3 to 4 minutes on a slightly high flame.



5. Add biryani masala powder and fry until the mixture begins to leave the sides of the pan.
6. Pour water.



7. cover and cook until the chicken is almost cooked.
8. Add soaked rice and salt.



9. Cook until the water evaporates.
10. When very little water is left. Cover and place the pot on a hot tawa. Dum cook for 5 minutes on a low flame. If making in a pressure cooker, can close the lid and cook for 5 minutes on a very low flame.



Serve chicken biryani with easy onion raita.
 
find andhra chicken biryani recipe below
andhra chicken biryani recipe - quick biryani using yogurt
Simple chicken biryani made using yogurt
Ingredients (240 ml cup used)
2 cups basmathi rice
3½ cups water
4 tbsp oil or ghee.
1 large onion sliced very thinly
1 to 2 green chili slit
1½ tsp ginger garlic paste or grated ginger garlic
Fistful of mint / pudina leaves chopped
Fistful of coriander leaves chopped
Biryani masala to powder or biryani masala powder as needed
4 cardamoms
¼ Pepper corn
5 cloves
2 inch cinnamon stick
½ tsp. fennel seeds / saunf
dry spices to temper
1 bay leaf
3 cardamom
4 cloves
2" cinnamon stick
Few pepper corn
⅛ small nutmeg (optional)
1 strand of mace
1 star anise
marination
½ kg chicken pieces with bones is preferred
½ cup of yogurt or tomatoes (refer notes,how to use tomato)
1½ tsp ginger garlic paste
⅛ tsp turmeric
½ tsp red chili powder
How to make the recipe
Powder the ingredients mentioned under to powder or use a readymade biryani masala
Marinate the chicken with the marination ingredients. Set aside.
Wash rice several times and soak for 20 mins. Drain and set aside
Heat a deep pan or a casserole or a pressure pan or cooker with oil
Sauté the spices in the oil to get an aroma
Add onions & green chili. Fry till the onions turn golden color.
Add ginger garlic paste and fry till the raw smell disappears.
Add the mint and coriander leaves. fry for 2 to 3 minutes
Add marinated chicken and fry on high flame till the chicken turns white in color. This usually takes 3 to 4 mins
Add powder masala or biryani masala pow and mix well. Fry till the mix begins to leave the sides of the pan
Pour water, cover and bring the water to a boil
Add the rice and salt. Stir well
On a medium flame, Cook without the lid till almost all the water evaporates.
Simmer the heat. Mix well from the bottom, Close the lid and cook till the rice is fully done. If needed can sprinkle little water. Take care not to burn the bottom. To prevent the rice being burnt at the bottom you can move this rice pot on to a hot tawa and cook till the rice is cooked fully. If using pressure cooker, close the lid and cook for about 5 minutes on a low flame. do not let it whistle.
Fluff up andhra chicken biryani with a fork and garnish
Notes
If you wish to use tomatoes instead of yogurt, marinate chicken with the ingredients mentioned under to marinate, skip using yogurt and use 1 tbsps. lemon juice. Then after frying the ginger garlic paste and mint leaves, add tomatoes and fry till they turn mushy and begins to leave the sides of the pan, add chicken and fry for 2 to 3 minutes till it turns white, then add the biryani masala powder.