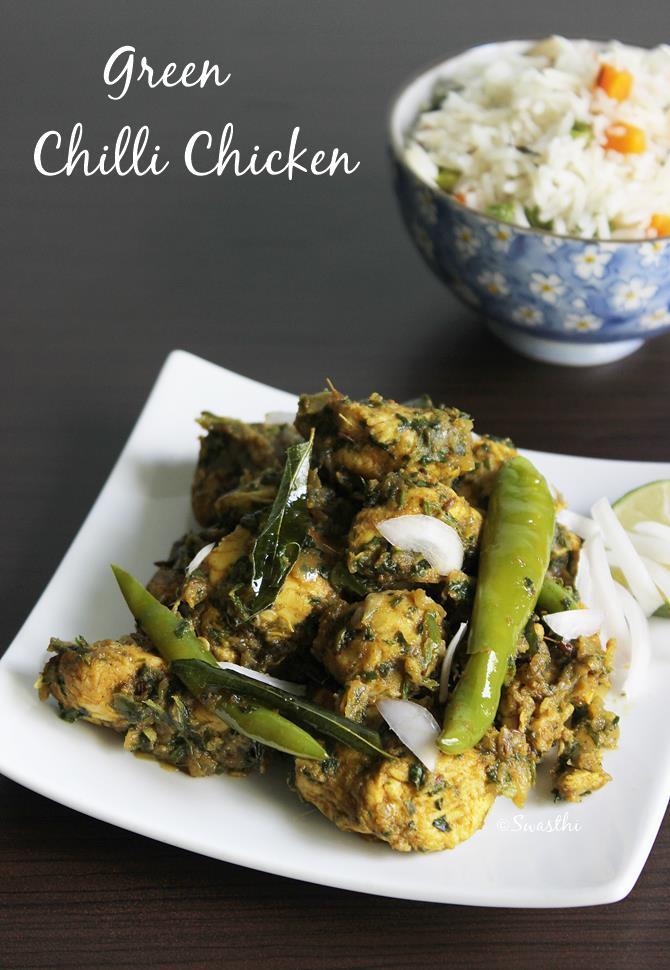 andhra chilli chicken would be a great addition to a party menu as a starter / appetizer or even as a side dish to rice varieties like pulao or biryani and even as a side dish with rasam rice.
 
Making this hot and spicy south Indian chicken starter is quite easy whether you have a friend home for meal or have a crowd for a party, it is apt to make it considering its simplicity and the great taste.
 
But what this Andhra chilli chicken or green chilli chicken is? A fiery hot chicken starter that is very very popular in Bangalore. Yes it has nothing to do with Andhra cuisine. But just a name given by restaurateurs and street vendors in Bangalore to denote that the chicken is fiery hot (hot foods are the star of Andhra cuisine).
 
There are 2 versions of this chicken starter. The restaurant style one is just very simple. The chicken is marinated overnight and then cooked. Whenever they get orders for this dish, they stir fry the cooked chicken in ghee and serve hot.
 
The other one is served as a street food, a deep fried version just like the Indo Chinese chili chicken dry but tempered with lot of green chilies and curry leaves instead of the sauces.
 
This is an updated andhra green chilli chicken recipe. Recently I happened to find Sanjeev Kapoor's video on how to make this chicken starter. But I did not dare to try it, as it calls for 2 cups of green chilies which surprised me. Check out the video, you may like it.
 
Related recipe : chilli paneer
 
step by step photos on andhra green chilli chicken
1. Soak chicken in butter milk overnight or at least for 2 hours.
2. Blend green chilies, coriander leaves in a jar.


3. Marinate chicken with marination ingredients. Cook until the meat is done fully.



4. Heat a pan with cumin, curry leaves and slit chilies. Add chicken and then the blended paste. Fry for 3 to 5 minutes.


andhra chilli chicken recipe with step by step pictures below
andhra chilli chicken recipe, how to make green chilli chicken dry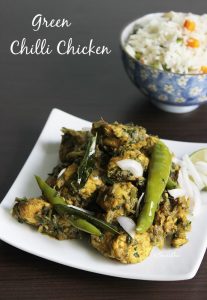 Popular andhra green chilli chicken prepared with green chilies, served as starter or appetizer.
Ingredients (240 ml cup used)
Marination
300 grams chicken
1 tsp. solid ghee
2 medium sized onions coarsely crushed or pulsed
1 tbsp. lemon juice
1 tsp. ginger garlic paste
¼ tsp. red chili powder
½ tsp. garam masala powder
Little turmeric powder
Salt to taste
Seasoning paste
½ cup tightly packed fresh coriander leaves
2 green chilies
Seasoning
1 tbsp. oil.
1 sprig curry leaves
¼ tsp cumin / jeera
2 to 3 green chilies, slit
How to make the recipe
Wash and soak chicken in buttermilk overnight and refrigerate. Drain off the buttermilk fully, the next morning.This is done only to tenderize the chicken. If you have meat tenderizer you can use it too. You can skip this step totally and just marinate with the marination ingredients and set aside for 45 minutes to 1 hour
Make a fine paste of the coriander leaves and green chili, set aside till we use it for seasoning. Coarsely crush or pulse onion in a mixer.
Mix all the marination ingredients along with crushed onions and chicken. If your chicken is not soaked in buttermilk for atleast few hours, then i suggest you set aside after marination for 45 minutes to 1 hour
Cook chicken on a medium flame till tender and soft. If needed you can sprinkle little water. If the chicken oozes out more moisture, evaporate by cooking on high. But do not overcook at high temperature for long. It can make the chicken hard.
Heat a pan with oil, add cumin, when they begin to splutter add curry leaves and green chilies. Fry till the leaves turn crisp
Transfer the cooked chicken and add ground coriander chilli paste.
Mix well and fry for about 3 to 5 minutes on a medium flame, till you begin to get a nice aroma of the coriander leaves.
Serve with onion and lemon wedges
If you are looking for more chicken appetizers, check
KFC style fried chicken
best popcorn chicken
chicken majestic
garlic chicken
andhra chicken fry
chicken 65
crispy chicken pakora
chicken tikka