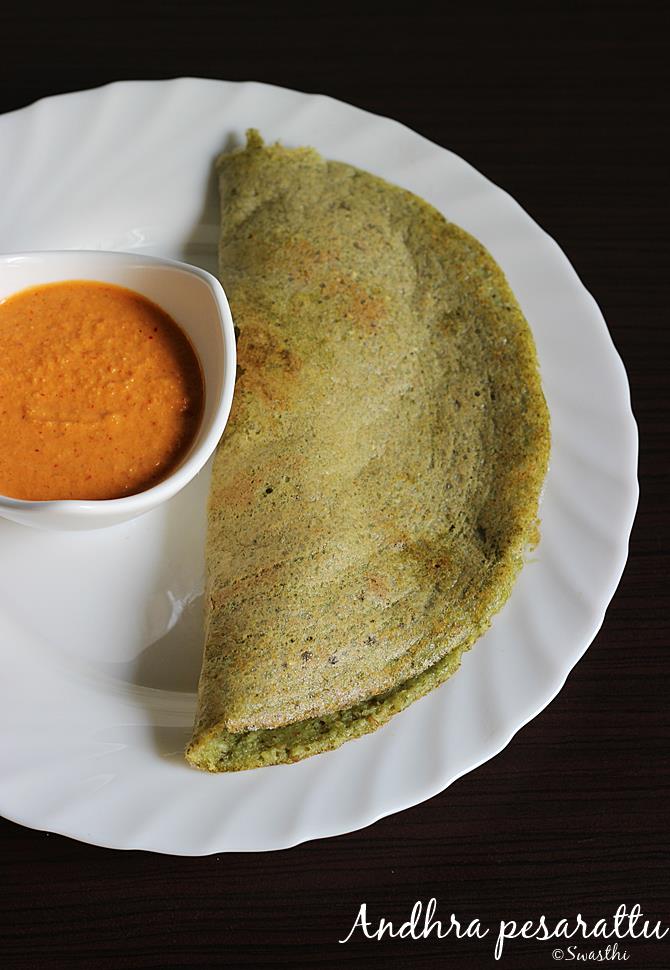 pesarattu recipe or moong dal dosa, Learn how to make pesarattu dosa – popular andhra breakfast, protein filled and healthy made from whole green gram
pesarattu is one of the most commonly eaten breakfasts in Andhra pradesh, are made with whole moong dal called as pesalu in my native language, Telugu. It is often served with ginger chutney and upma.
 
Making a pesarattu that is crispy, thin and tasty is something which comes out of practice. It is not difficult but there are few tips to follow to make it right.
 
To make pesarattu, we don't have to use rice or rice flour and that definitely alters the taste. It is not possible to make good moong dal dosa with over soaked green gram or with stale batter. The ground batter has to be used right away and the ones made from stored or refrigerated batter may result in thick, brownish and tasteless pesarattu. They have never turned good for me that way.
 
However one can use one tbsp. rice if preferred while soaking. Or even one tbsp. rice flour can be used while grinding the dal.to make pesarattu, crispy and thin, we just need to soak them only for 4 to 6 hours. The lesser soaking time, the crispier and thin they turn out. There are many variations to making these like using onions, chilies, or grated carrots etc, which are just sprinkled over the pesarattu on the innerside.
 
With the green gram just soaked for 4 hours, you can even get a cone shaped moong dal dosa, pic at the end.
 
Though allam pachadi goes well with pesarattu, my personal choice is any ginger flavored chutney like ginger chutney, green capsicum chutney or a coconut chutney.
 
Check out my Instant pesarattu recipe here
 
step by step photos on how to make pesarattu at home, crispy and thin
1. Wash and soak green gram in enough water for about 4 to 6 hours. If using rice soak it along with dal.


2. This is an optional step for onion pesarattu: Heat a pan with oil and fry the onions and chilies on a high flame till they turn slightly brown. Transfer to a plate and set aside. Top them as needed just before you serve.
3. Blend green gram, ginger, salt, chilies, and cumin together with water as required. If you have over soaked i suggest adding 1 tbsp. rice or rice flour and it is not used.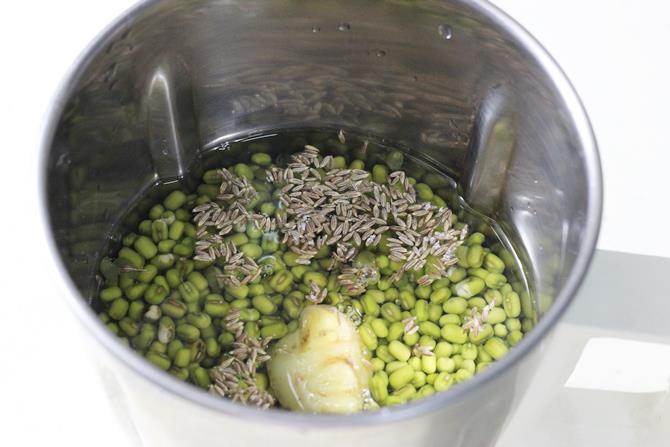 4. The batter must be smooth and the consistency similar to that of dosa batter. If you want it to be crispy, do not add water to the batter after you finish grinding. Bring it to the right consistency while you grind.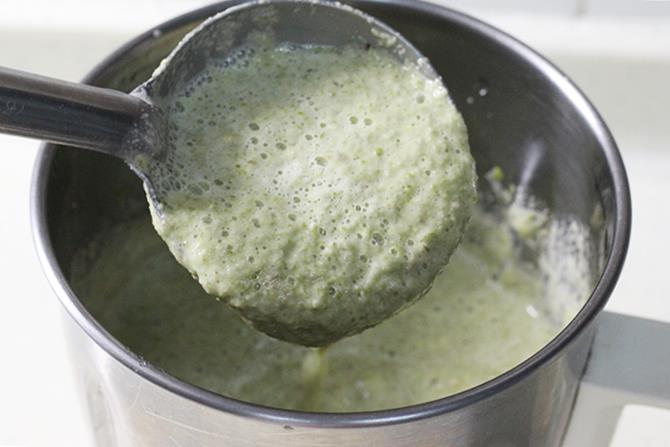 5. Heat a greased dosa tawa till hot, pour the batter with a laddle and spread it to a thin round layer with the base of the laddle. Add ½ to ¾ tsp. ghee on the edges. An overheated tawa yields brown moong dal dosa without cooking well. If you are unable to spread the batter it means the batter is very thick, add back to the blender with little water and blend again. Adding water directly to the batter most times doesn't yield me good moong dal dosa.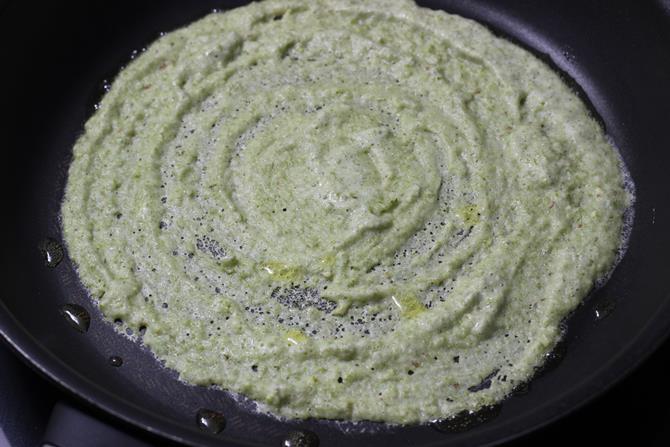 6. When the pesarattu firms up, scrape off lightly the thick parts with a wooden spoon moving it to the thinner parts. You will actually get nothing if you make it thin while spreading.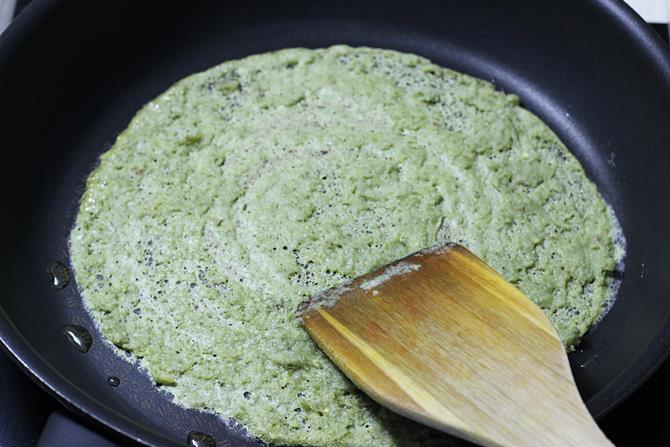 7. When it is roasted well, you get a thin crispy pesarratu. A little more ghee can be drizzled around if desired.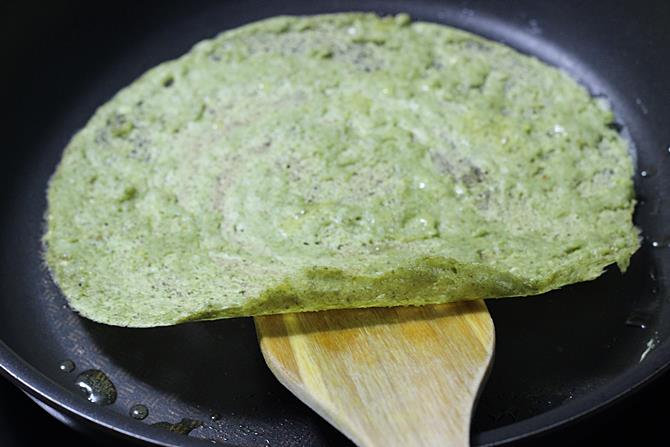 8. Usually it doesn't need cooking if you make it thin. If the batter is moist, it needs it need to be cooked on the other side as well. Flip it and fry to and fro as desired. If using onions, sprinkle fried onions and green chilies.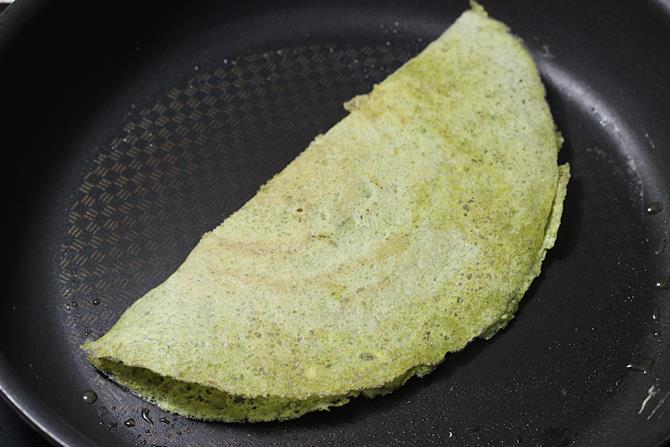 If the tawa is very hot, sprinkle water, allow it to evaporate and repeat the procedure for making more.
Serve hot with ginger pickle or coconut chutney.
 
find complete pesarattu recipe below
pesarattu recipe or moong dal dosa, how to make pesarattu dosa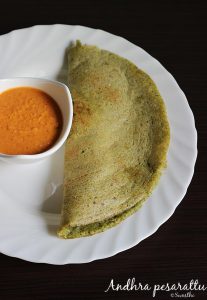 moong dal dosa, a popular andhra street food and breakfast made using green gram.
Ingredients (240 ml cup used)
1 cup whole moong / green gram
¾ inch ginger piece
2 to 3 green chilies
½ to 1 tsp. cumin / jeera
Ghee as needed (can use oil)
topping (optional)
2 medium onions (chopped finely)
2 green chilies (chopped)
1 tbsp. oil
How to make the recipe
Clean and discard stone from green gram. Wash several times and soak them in ample water for about 4 to 6 hours.
Fry onions and chilies in 1 tsp oil till lightly golden. This is optional
Add green gram, chilies, cumin, ginger and salt to a blender along with little water just enough to make a thick batter.
Heat a greased tawa /non-stick pan, test by sprinkling little water. Water should sizzle rapidly.
When the water evaporates, pour ½ to ¾ cup of batter on the tawa and quickly spread it to a thin layer. Lightly scrape off the thick parts with a wooden spoon to the thinner parts making it even.
Pour ½ to ¾ tsp ghee on the edges, when they are cooked well, you can flip them to the other side and cook. If the dosa is fairly thin, you need not cook on the other side.
You can sprinkle fried onions and chilies and fold the pesarattu.
To make more, sprinkle little water on the pan, if it is very hot, let the water evaporate, then make the next pesarattu.
Serve moong dal dosa hot with chutney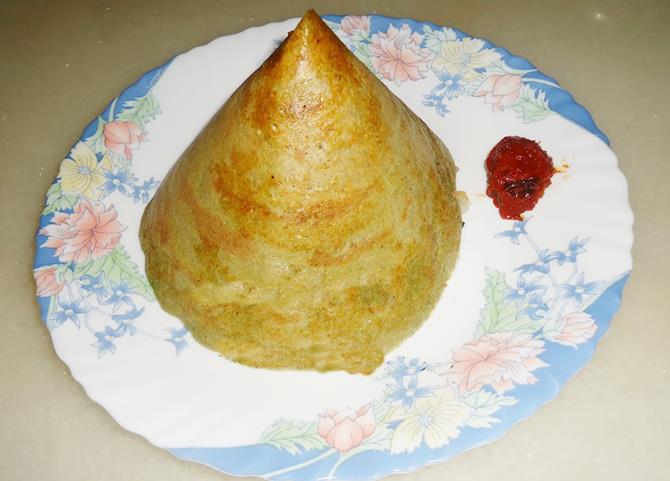 for more dosa recipes,check
ragi dosa
wheat dosa
oats dosa using urad dal