apple orange smoothie recipe
 
Fruits get digested better and quicker when consumed without mixing them with other ingredients like milk or sugar . This simple smoothie is made at least thrice a week at home, to boost the immunity and appetite for my kids. It works wonders for them, making them crazy hungry after an hour.
 
This apple orange smoothie is best when made with a sweet tasting apple otherwise a sweet pear needs to be included. Using sour oranges and sour apples may not be a good idea or you will have to balance the sourness by adding nuts like almonds or cashews.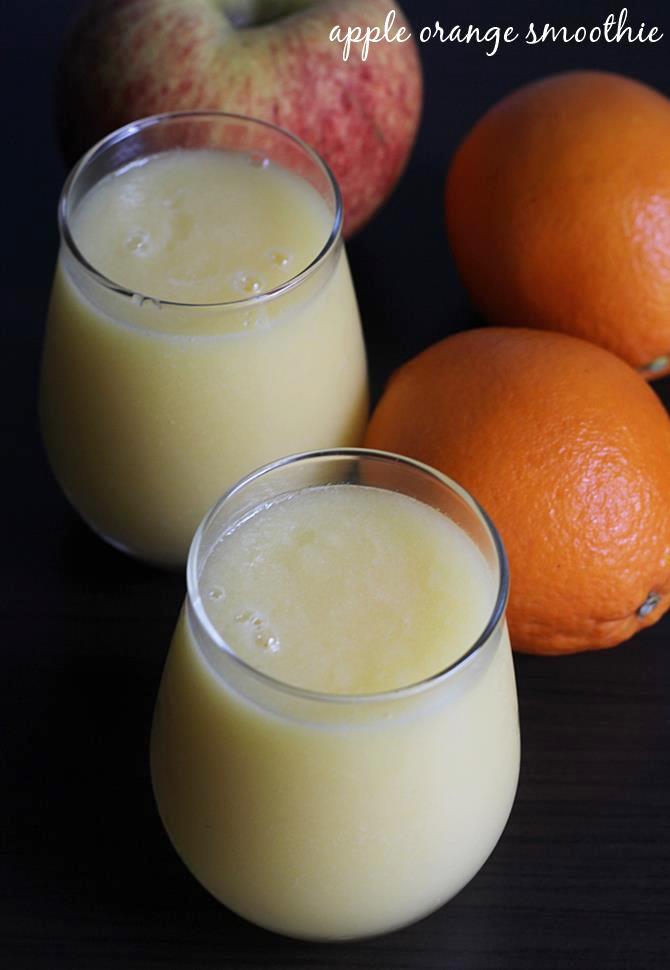 All the fruits in this smoothie are high in vitamin c so just a single serving of this smoothie will fulfill the daily requirement of vitamin C to our body.
 
If it is a rainy and cold day, I like to add ginger or pepper powder , even for the kids.
 
apple orange smoothie recipe below
apple orange smoothie recipe
Simple smoothie made of apples, pear and oranges, boosts immunity and appetite
Ingredients (240 ml cup used)
2 large apples or (1 apple and 1 pear)
2 oranges or 1 cup orange juice with pulp
small piece of ginger (optional)
pinch of pepper powder (optional)
Nuts (optional)
10 to 12 soaked almonds or cashews
How to make the recipe
Wash apple, pear and oranges.
Juice the oranges and add it to the blender. We need one cup of orange juice.
Peel the skin if apples and pear are not organic. Keep the skin on for organic apple and pear.
Blend well to make a smoothie. Serve apple orange smoothie immediately.
for more healthy smoothie recipes on the blog, check
beetroot apple smoothie
pineapple smoothie
coconut fig smoothie
mango almond smoothie
almond carrot smoothie
matcha smoothie