Banana cake recipe – One of our family favorite cake, that is made repeatedly for many reasons. Delicious, soft and moist cake that is ridiculously easy to make. I had tried lot many banana cake recipes earlier and finally felt this is the best one for the texture and taste.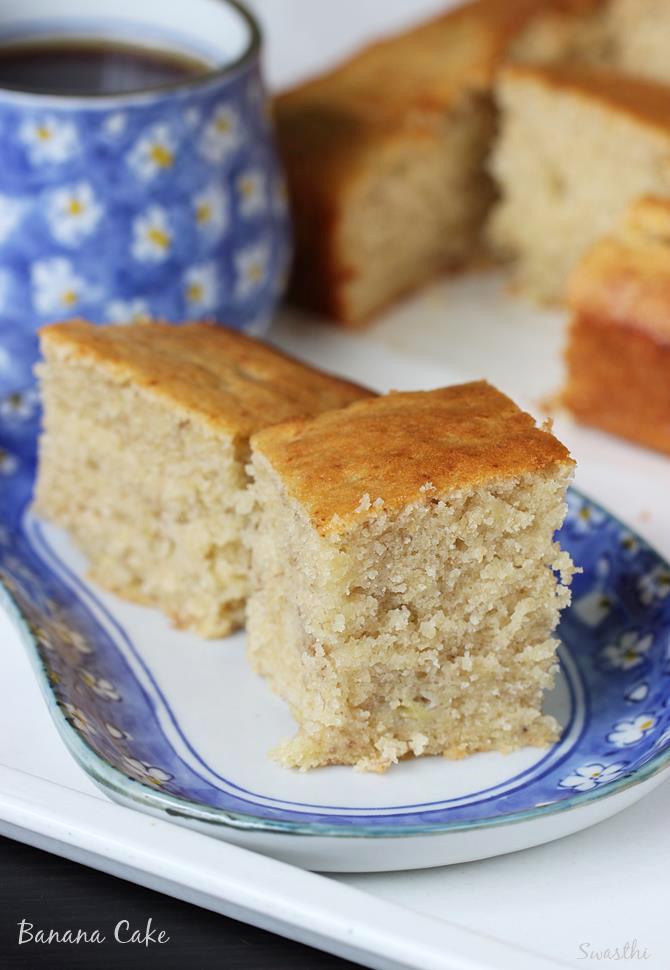 This banana cake can be made with whole wheat flour (atta) or a mix of wheat and plain flour or just with plain flour. This recipe is adapted from taste.com. This recipe works well when doubled, Since small cakes do not last in our home I double it when ever made. You can halve the recipe.
You may also like these related bread & cake recipes:
Banana bread recipe
Simple chocolate cake
Chocolate banana cake
Eggless chocolate banana cake
I rarely make frosting for the cakes unless for occasions just to avoid refined sugar. I have also shared a simple vanilla frosting in the recipe card which i sometimes make for this banana cake and butter cake.
Easy banana cake recipe below
Banana cake recipe | How to make easy banana cake recipe (soft & moist)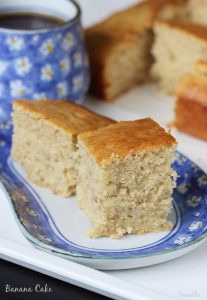 Banana cake recipe - turns out soft, moist and delicious.
Recipe type:
Dessert / Sweet
Ingredients (240 ml cup used)
2 cups whole wheat flour or plain flour (refer notes)
2.5 tsp baking powder
½ tsp salt
1 cup fine sugar (can reduce 1 tbsp)
100 grams butter soft or melted (around ½ cup)
2 eggs lightly beaten
2 tsp vanilla extract
½ cup + 2 .5 tbsp milk (reduce by 1 tbsp if using plain flour)
1 cup mashed ripe banana
How to make the recipe
Preparation
Preheat the oven to 160 C. You can also heat it to 170 C depending on your oven.
Sieve flour, baking powder and salt. Set aside.
Melt butter, beat eggs lightly.
Whisk together milk, sugar, banana and melted butter.
Add the flour and mix until just combined.
Making banana cake
Pour to a greased tray.
Bake for 38 to 40 mins. A skewer inserted has to come out clean.You may need to adjust the timing as needed since this depends on your oven.
Cool banana cake on a wire rack.
Cut to desired sizes.
Notes
This cake works with the following flours:
whole wheat flour (slightly dense but delicious)
white whole wheat flour or whole wheat pastry flour.
plain flour or maida
A combination of any of the above flours in any proportions.

Simple Vanilla butter frosting
ingredients
2 cups powdered sugar
2 to 3 tbsp. Soft butter
3-4 tbsps. milk
½ teaspoon vanilla extract
Method
In a large bowl, cream together sugar, butter, milk and vanilla. Use milk only as needed to bind the sugar well so that it reaches a spreading consistency. Cool the cake completely and spread the frosting. Allow it to set before slicing.
How to make banana cake recipe – step by step photos
1. Preheat the oven to 160 C for at least 15 mins. You may adjust this to 170 C as it depends on the oven used. 160 works good for me.
2. Sieve together flour, baking powder and salt. You can also add a bit of cinnamon powder if you like.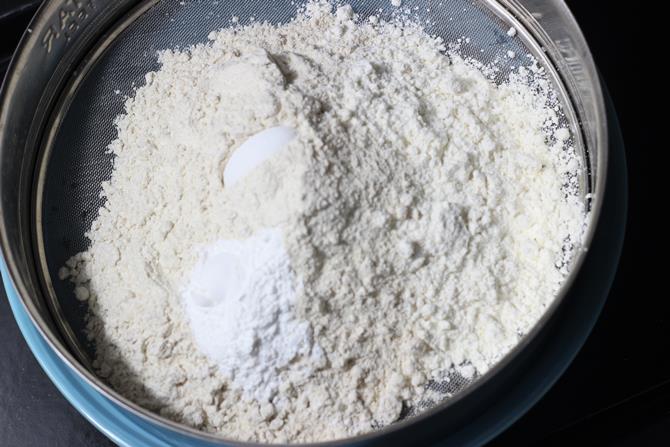 3. Make sure all the ingredients are at room temperature. Butter, sugar, milk, mashed banana and eggs. If eggs are from refrigerator, heat 2 to 3 cups water in a bowl to very warm temperature. Place the eggs in very warm water for sometime. They come down to room temperature quickly.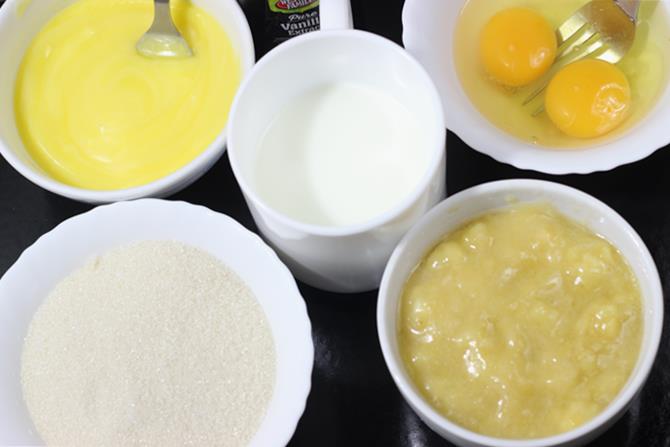 4. Beat the eggs, Soften the butter and add vanilla to mashed banana.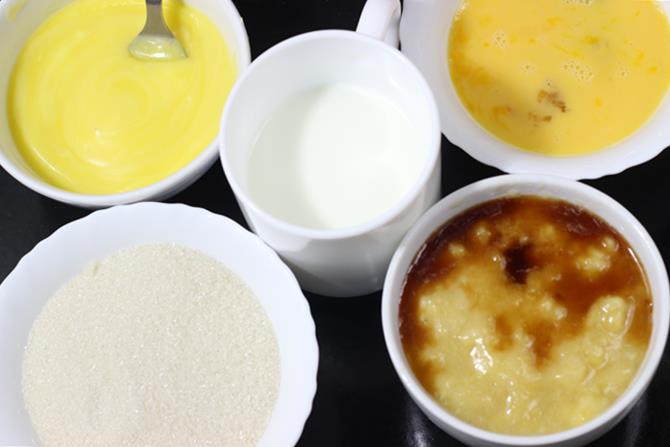 5. Add them all to a large bowl.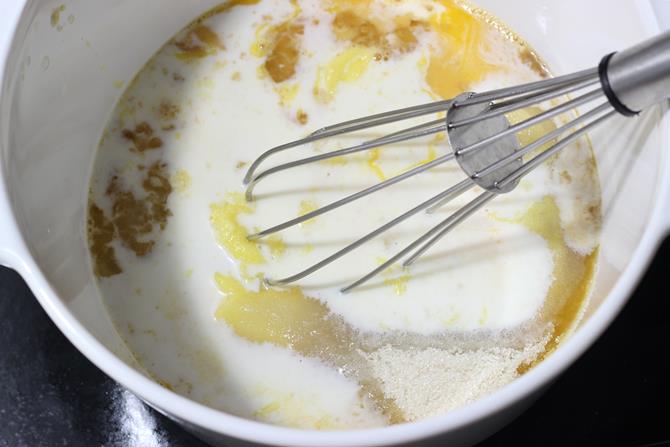 6. Whisk together. Do not beat.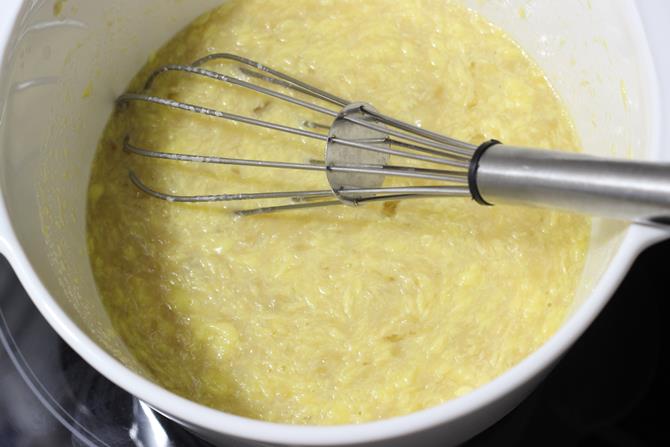 7. Add flour and mix until just combined.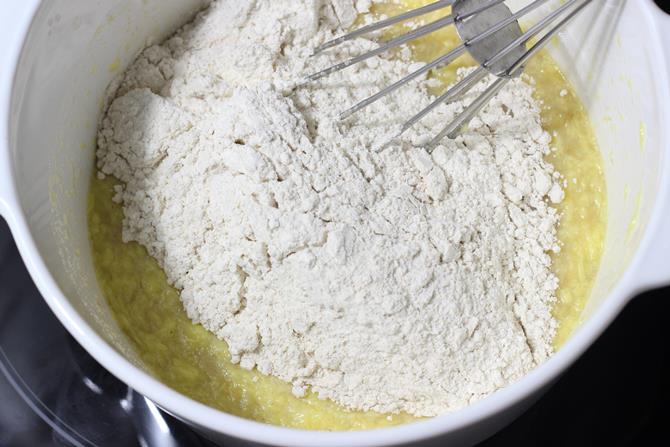 8. Ensure there are no lumps.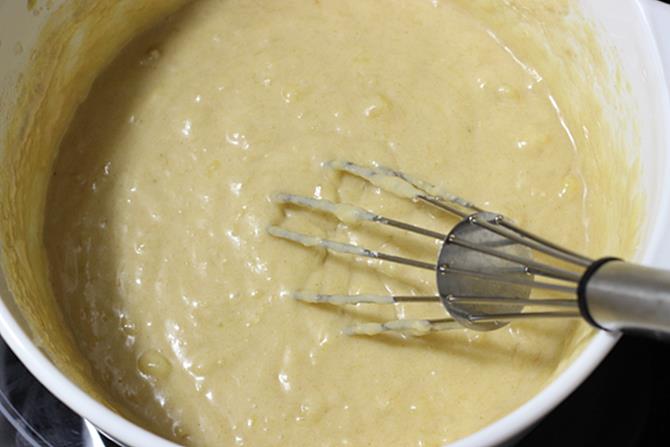 9. Transfer the mixture to a greased tray. I prefer to grease and then line a parchment paper.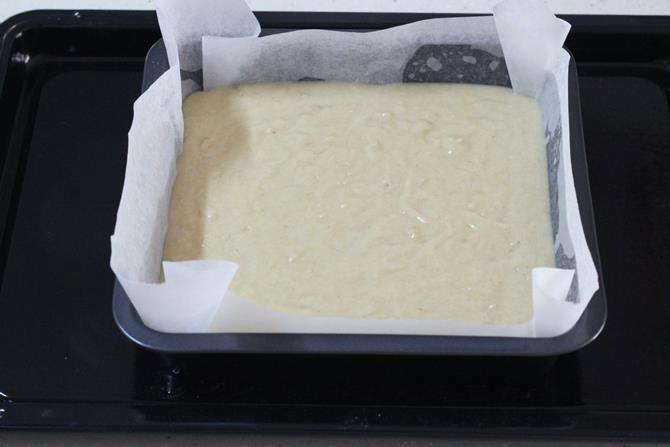 10. Bake for 38 to 40 mins. The timings may vary depending on the oven, so need to check after 38 mins. You may need to bake a little while longer. A skewer inserted must come out clean. Cool it for about 7 to 8 mins and invert to a wired rack. If using parchment paper, just hold the paper and lift the cake.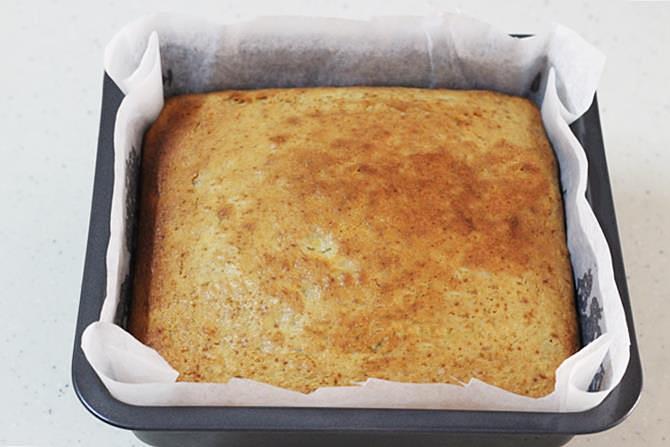 Cool the banana cake completely on a wired rack. Cut to desired sizes.