Beetroot curry recipe – Sharing 2 beetroot recipes, one made with grated beetroot called as beetroot thoran or beetroot poriyal in the south. Another a steamed beetroot curry, one of the healthiest ways to prepare beetroot.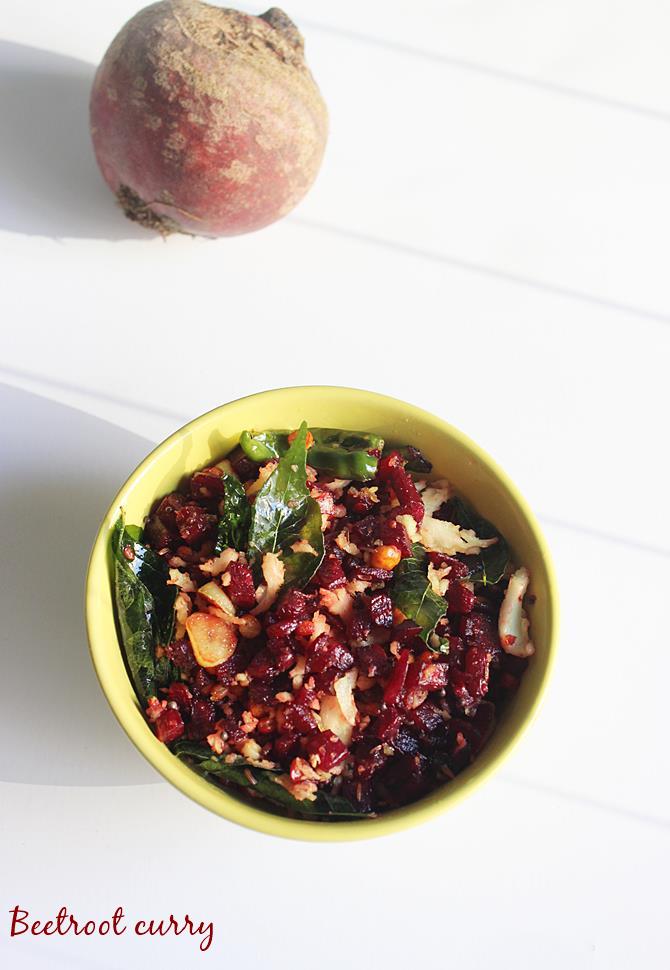 Both the recipes are roughly been adapted from ayurvedic books. My parents have a large collection of ayuvedic books in their home library, the recipes were photographed by me long back and happened to try them and loved both the versions.
Both go well with rice and chapathi.
You can find more beetroot recipes
beetroot pulao
beets chutney
beets halwa
beetroot salad
method 1 – beetroot curry recipe
ingredients
2 cups grated beetroots
4 tbsps. Grated coconut
1 sprig curry leaves
2 chopped green chilies
1 broken red chili optional
¼ tsp. mustard
½ tsp. cumin
1 tsp each of urad dal and channa dal (optional)
1 tsp. freshly grated ginger
1 large garlic clove crushed
Pinch of hing
1/8 tsp. turmeric
Salt as needed
Oil as needed
How to make beetroot curry with step by step photos
1. Heat oil in a pan, add mustard, cumin , allow them to crackle, Add ginger, green chilies and curry leaves , fry till ginger smells good, add dals, red chili and garlic clove. Fry until the dals are golden fried. Add hing.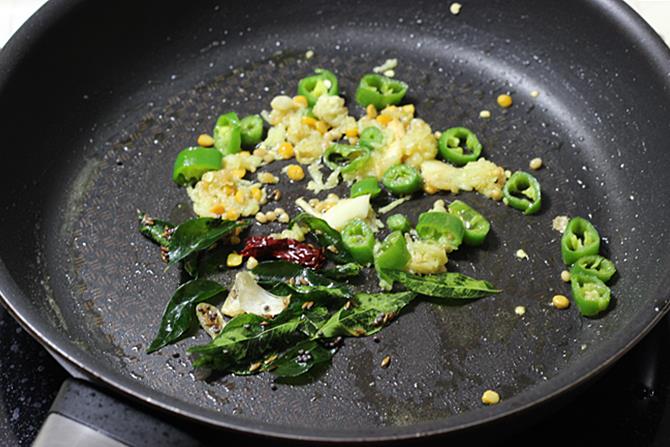 2. Add grated beets, turmeric and fry till they are lightly cooked. The ayurvedic recipe calls for just sauteing it in the oil for 2 to 3 minutes, but I cook for about 5 minutes stirring. If your beets are not juicy and are dry, you can cover and cook.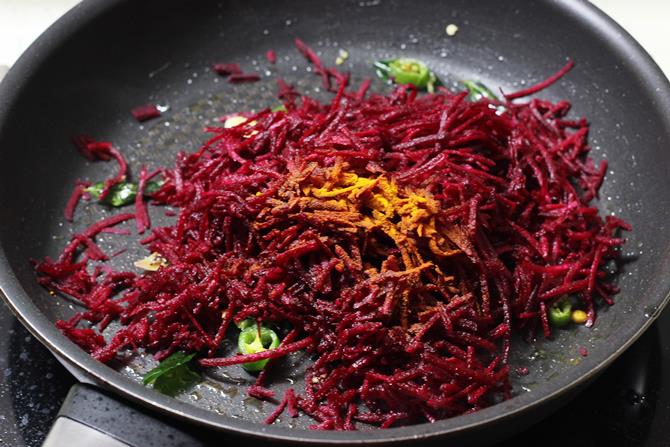 3. Add salt and grated coconut and fry for about 2 to 3 minutes.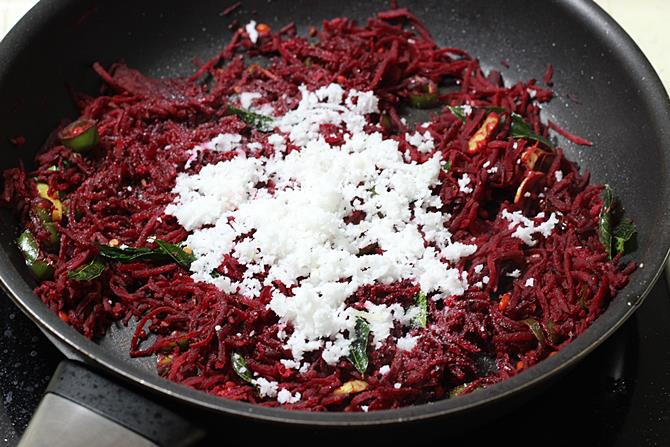 Serve with rice or chapathi.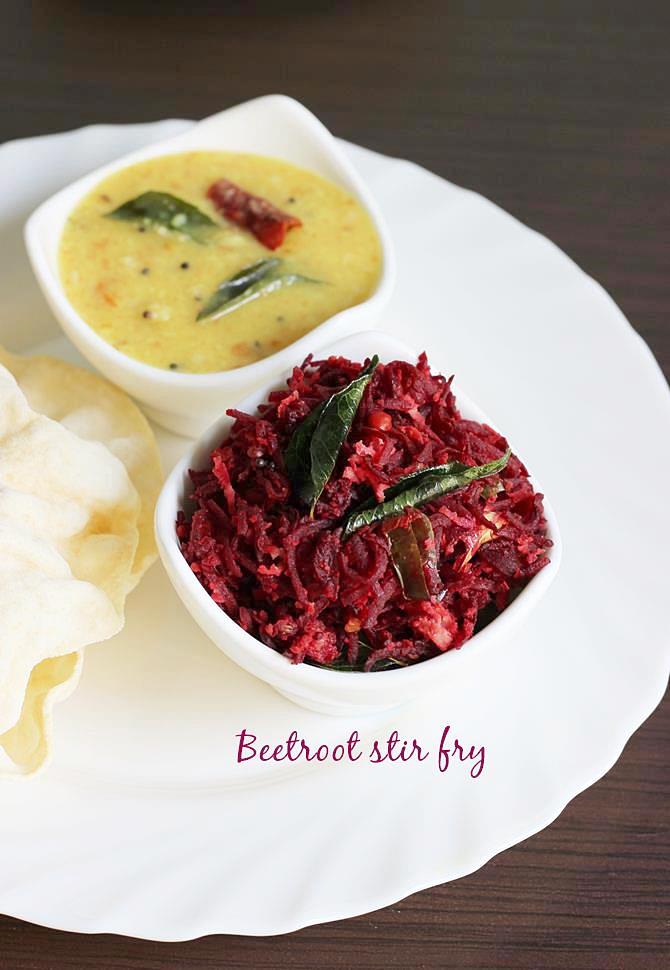 method 2 – find complete beetroot curry recipe
Beetroot curry | How to make beetroot curry | Beetroot recipes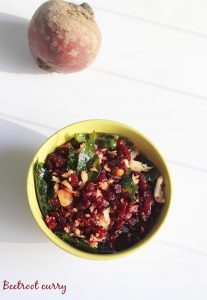 Beetroot curry recipe- steam cooked beets, seasoned in ghee and mild spices
Ingredients (240 ml cup used)
1 large onion chopped finely
2 cups beets cubed small or large any size
1 tbsp. sesame seeds
1 tbsp. chana dal
1 tbsp. urad dal
3 to 4 tbsp. Grated coconut or chopped thinly
Seasoning
1 tbsp. ghee or oil
1 sprig curry leaves
Pinch of hing
1 garlic clove chopped
1 tbsp. urad and chana dal (optional)
½ tsp. cumin
¼ tsp. mustard
2 green chili
How to make the recipe
Prep
Wash and peel beetroots, cube to tiny pieces and steam cook them in a pressure cooker or steamer until tender for about 5 to 8 minutes.
Dry roast chana dal, urad dal and sesame seeds. Cool and powder them.
making beetroot curry recipe
Add oil to a pan, add cumin, mustard and dals, when the dals turn golden, add garlic, chili, curry leaves and hing.
Add onions and fry till transparent. Add the ground powder from step 2, turmeric and fry for a minute.
Add the steamed beetroots, coconut and any stock that is left from steaming the beets.
Fry on high for just 2 minutes or till the water evaporates.
Beetroot curry is ready to serve with rice or roti.
for more easy veg curry recipes,
mullangi stir fry
mushroom curry
beans stir fry
broccoli curry
broccoli gravy
for chapathi
cauliflower curry