Biryani recipes – collection of 34 vegetarian and non-vegetarian biriyani recipes. Hyderabadi biryani is one of the most loved rice dishes among Indians. The term "BIRYANI" is derived from the Persian word "BERIAN" meaning fried before cooking.(source:wiki). Traditionally, rice was fried in ghee until aromatic before cooking with meat.


Biryani is dated back to the mughal reign during which Begum Mumtaz Mahal had ordered her chefs to make something special for the undernourished soldiers. The chefs came up with a rice dish which was layered with meat, rice, nuts and spices and was highly nutritious and delicious too. It was steam cooked in the "DUM PUKHT" method which means "slow cooked" in Persian language. Thus delicious aromatic meat Biryani was born. There are many such stories and this is one among them.
Over the years it has been adapted to suit one's personal liking or taste. Today we can find so many versions that the authentic way of cooking is almost not found in many recipes and very much they are made using vegetables alone without meat and not even dum cooked.
Across India one can find different kinds of biriyani made in their own regional style but inspired from the mughal cuisine. This is one of the dishes that makes its appearance in weddings, celebrations and parties.
The difference between a pulao and biriyani is that, pulao is made with very few spices while biriyani is made with lot more spices and even spice powders. There is no yogurt used in pulao while most biriyani recipes use yogurt, especially the ones made with meat which also helps to tenderize the chicken or mutton.
The quality of spices, basmati rice and saffron contribute to the unique flavors of the dish. So it is highly recommended to use pure and premium quality spices.
In this post, You can find biryani recipes that are made in different styles along with a few close to the authentic style from the Mughlai cuisine, Hyderabadi and Awadhi cuisnes. Biriyani is usually served with a raita (a yogurt based dish ) or with a shorba / sherva or salan (thick or thin gravy). You can find raita recipes here . I will share non-vegetarian shorba recipes soon.
Coming up shortly on readers request
Darbari mutton biryani
Kerala biriyani
Biryani recipes – Collection of biryani varieties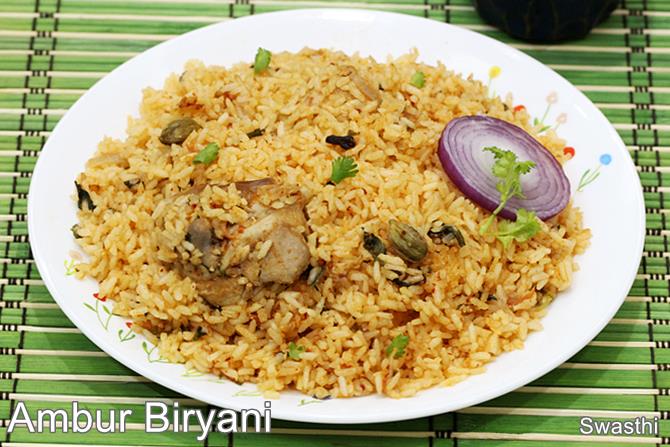 Ambur chicken biryani : Tamilnadu style popular rice dish from Ambur.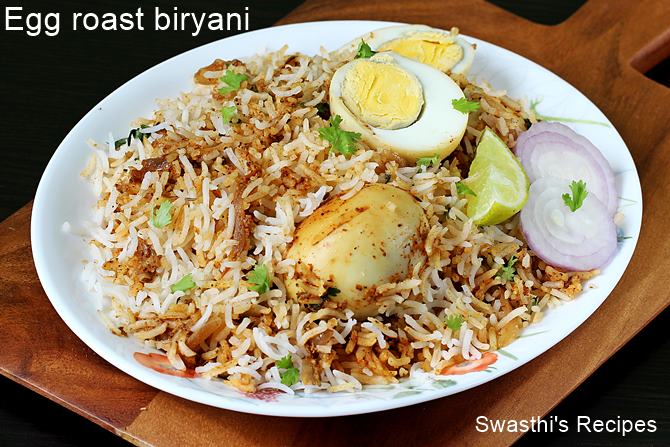 Egg roast biryani recipe : Kerala style egg roast biryani is one of its kinds that is similar to the Kerala street food that is sold as Neichoru / ghee rice topped with egg roast.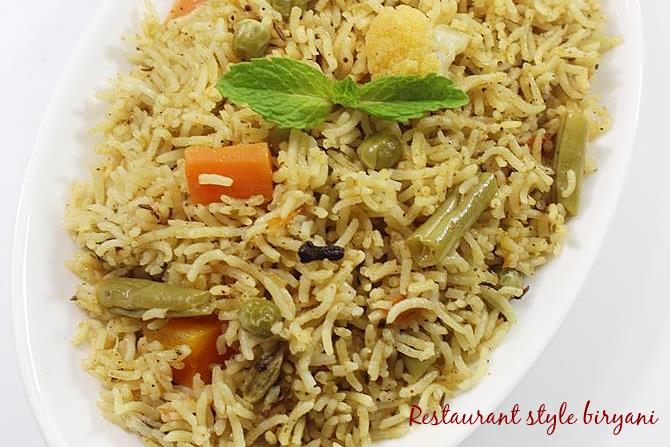 Veg biryani Restaurant style : A one pot dish similar to the one we get in south Indian restaurants. Very very aromatic and delicious dish. One of the top recipes on the blog.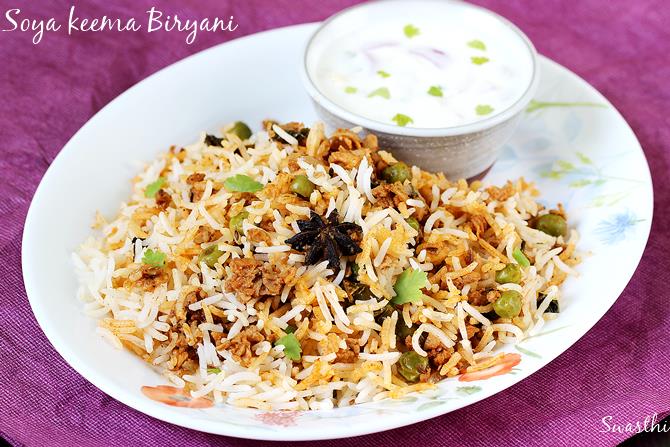 Soya keema biryani recipe: Inspired from the popular keema biriyani from hyderabadi cuisine.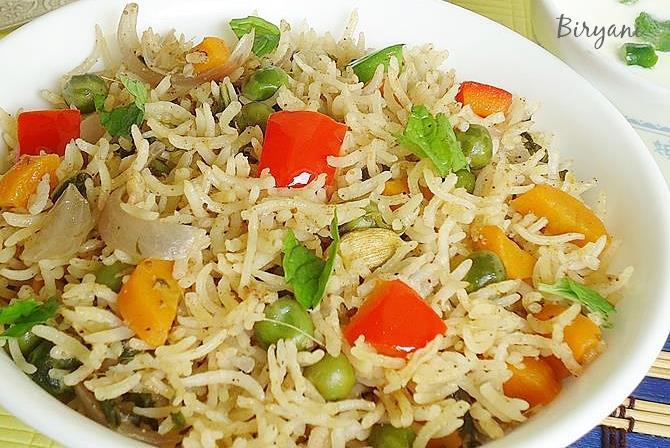 Veg biryani in Pressure cooker : Quick one pot dish made with mixed vegetables and rice in pressure cooker. A 30 mins recipe, great for lunch box or quick dinner. It can also be made in a pot.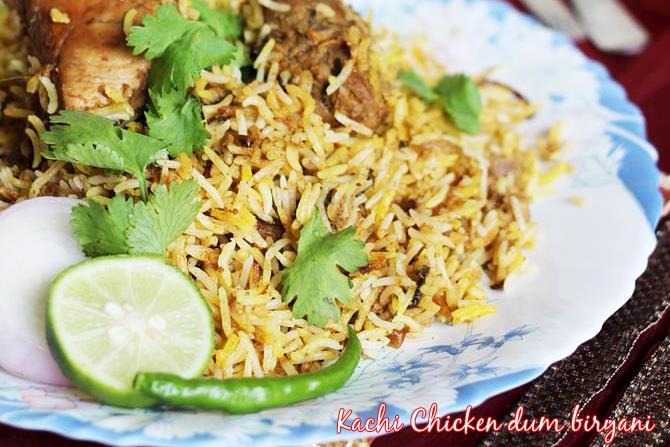 Hyderabadi kachi chicken biryani. This is a super simple recipe made the authentic way by marinating chicken with spices, curd and herbs. Then Dum cooked to perfection to yield fragrant and delicious rice.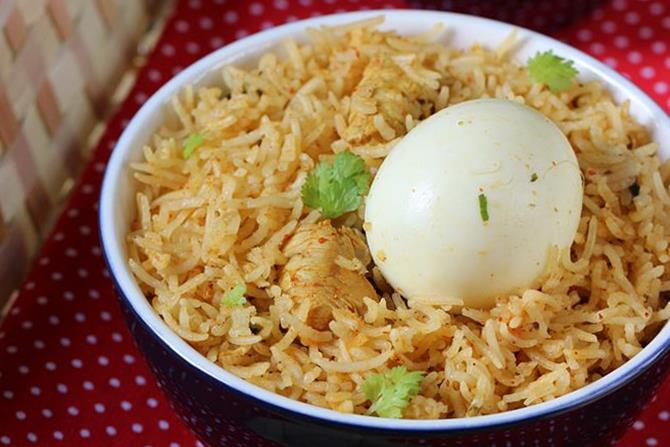 Chettinad chicken biryani with coconut milk – A unique combination of spices and coconut milk makes this dish taste delicious and aromatic.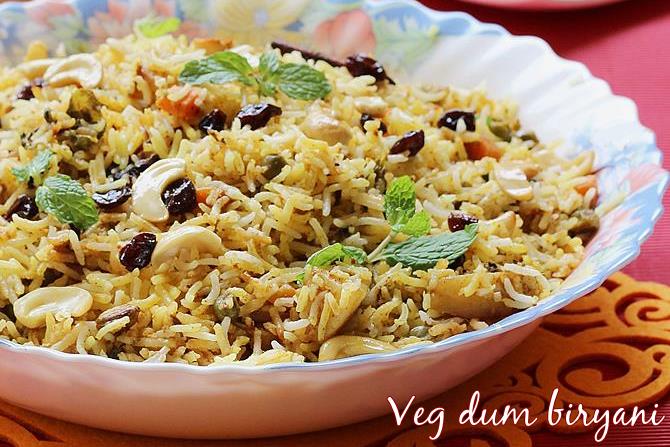 Hyderabadi veg biryani cooked in dum style with mixed veggies and nuts, similar to the authentic dish.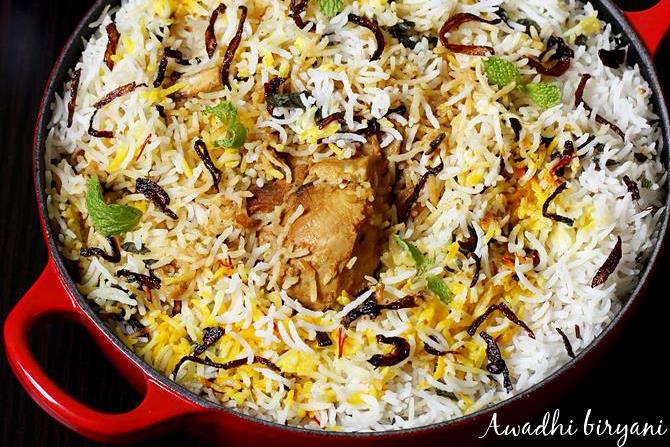 Awadhi chicken biriyani :Lucknowi style dum biriyani made with chicken. This is popular mostly in north Indian restaurants and is well known for its unique aroma.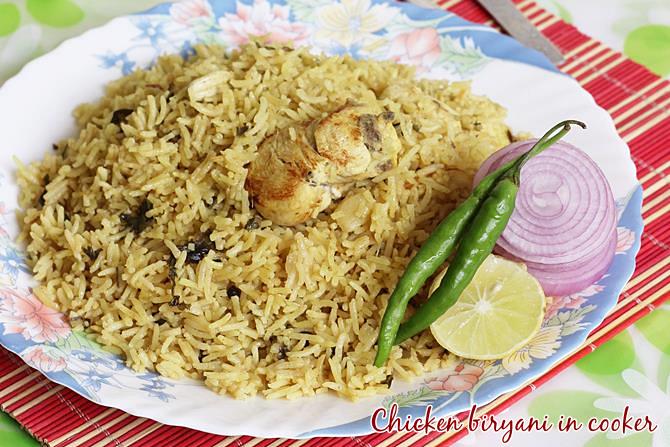 Chicken biriyani in pressure cooker or pot. This is a beginners recipe and is a one pot dish that can be made in 30 mins.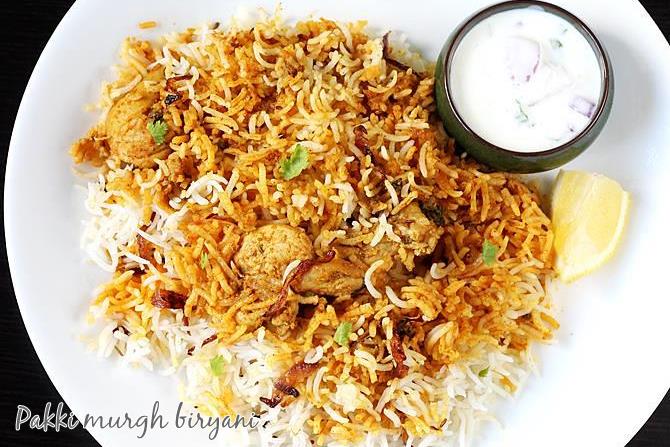 Hyderabadi pakki chicken biryani. In this recipe chicken is cooked first with the marinade and then parboiled basmati rice is layered. Then dum cooked for a short time.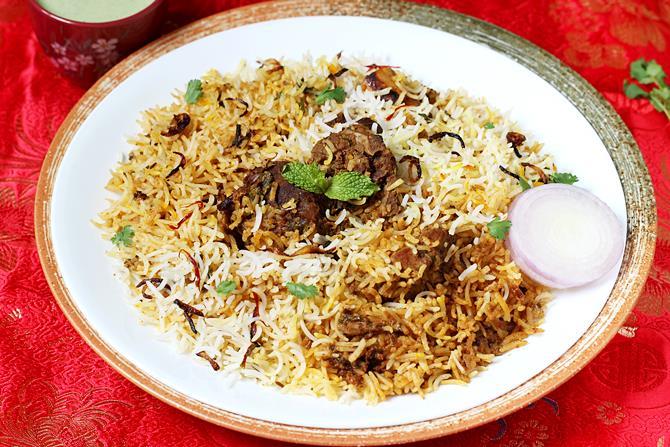 Hyderabadi Mutton Biryani : This is another hyderabadi popular recipe made with mutton. This post also explains in detail how to soft cook mutton before layering.
Easy mutton biryani in pressure cooker : Simple beginners recipe to make yummy lamb biriyani in pressure cooker. The recipe can be easily adapted to make south Indian or North Indian dish.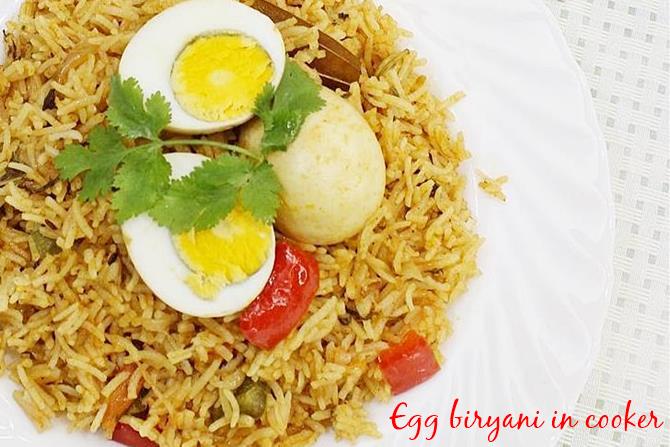 Egg biriyani in pressure cooker : A quick and easy one pot spicy rice made with biriyani spices, herbs and boiled eggs. Makes a great dinner on a week night.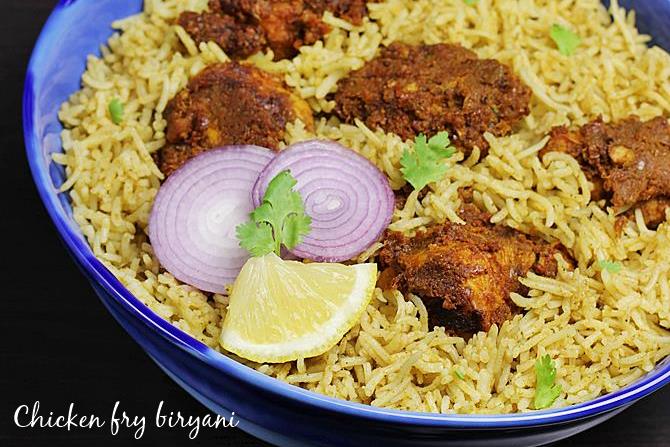 Chicken fry biriyani: Layered chicken biriyani popular in most andhra restaurants in Singapore. It has a unique taste and aroma. If you love spicy and hot andhra foods then you will love this.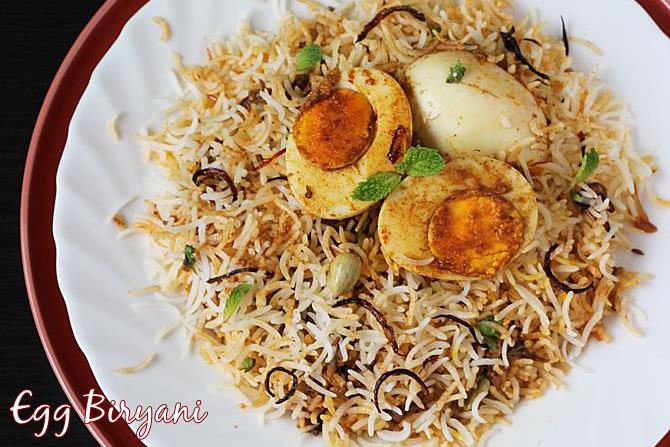 Hyderabadi egg biryani Made in dum style and is easy to make even for parties or family get together.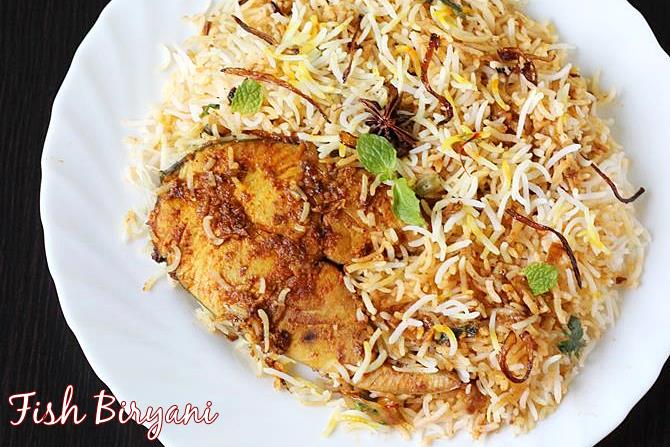 Fish biryani : Did you ever think of making a unbeatable dish using fish? Then this is a must try. The flavor of spiced & fried fish is special in this dish.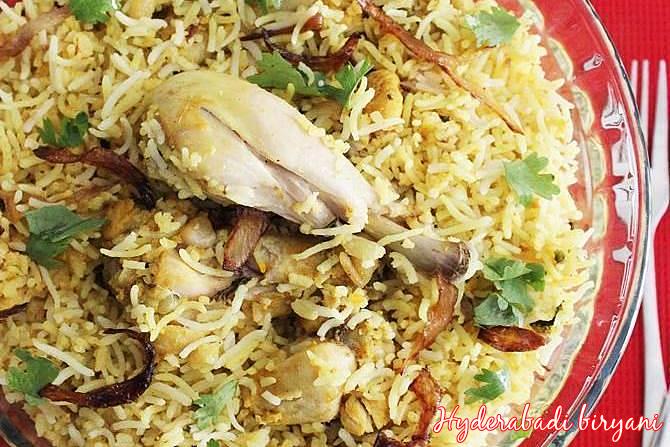 Hyderabadi biryani restaurant style chicken biriyani: If you have ever been hooked to the restaurant flavors of Hyderabadi biriyani then you will like this. This can also be made in oven.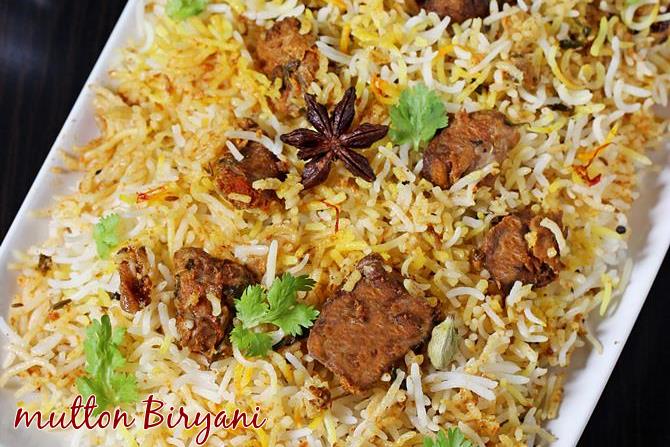 Hyderabadi mutton dum biryani : This is made in kachi style, mutton is marinate with spices, herbs and yogurt. Then half cooked rice is layered and dum cooked.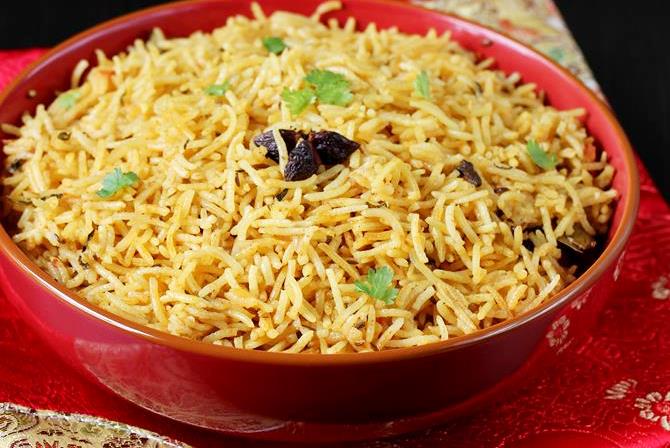 Plain Biryani rice or kuska One pot dish made with basic spices and no veggies are used. This is usually served in some restaurants in a thali or a meal. It is served with a gravy dish & raita.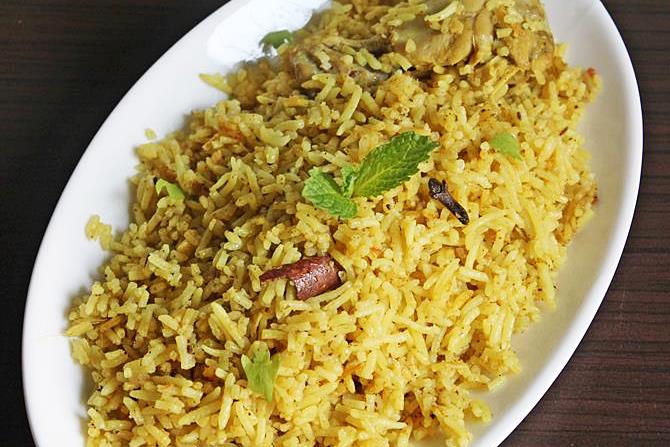 Muslim biryani : A one pot dish, can be made using chicken or mutton. This tastes similar to the one that is served in south Indian muslim weddings mostly in Tamil nadu and Andhra pradesh.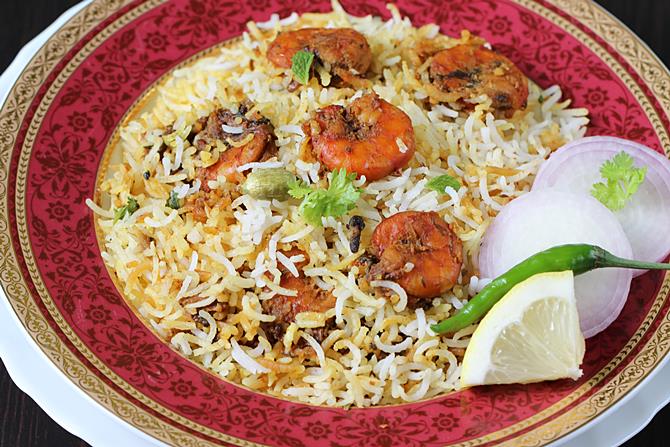 Prawn Biryani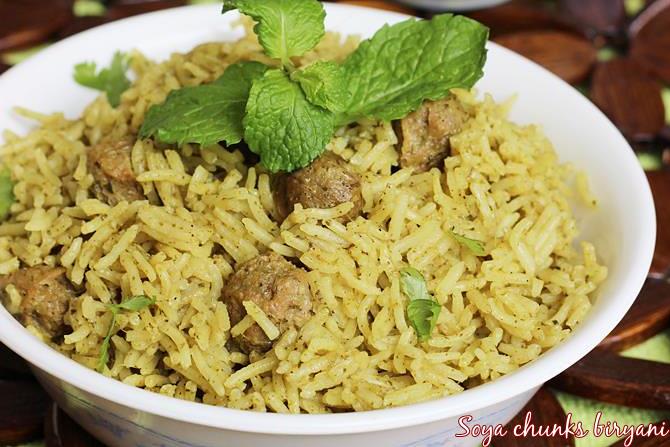 Soya chunks Biryani : If you trying to be on a vegetarian diet, but missing your meat. You can try this meal maker one pot rice dish.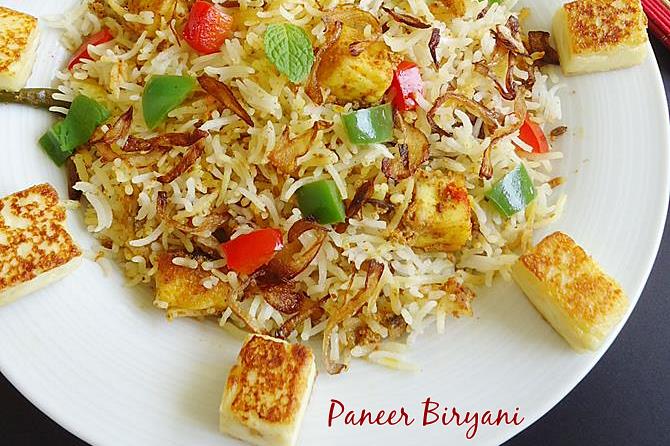 Paneer Biryani: Made in hyderabadi style dum cooked marinated paneer and rice. Kids' friendly and can be made for parties as well.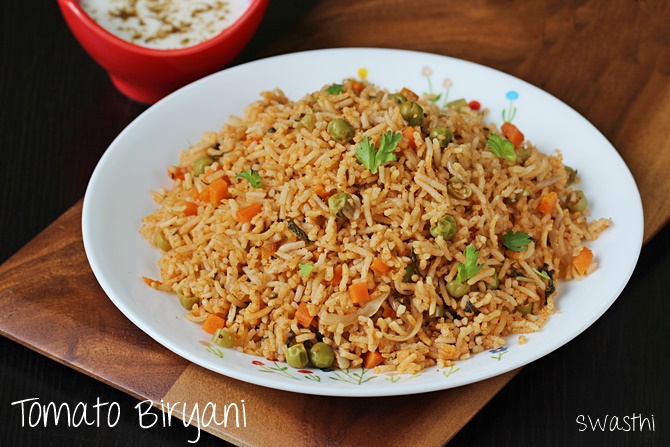 Tomato biryani : One pot simple biriyani made in pot or pressure cooker along with some veggies. This goes great in lunch boxes and for quick dinner even on week nights.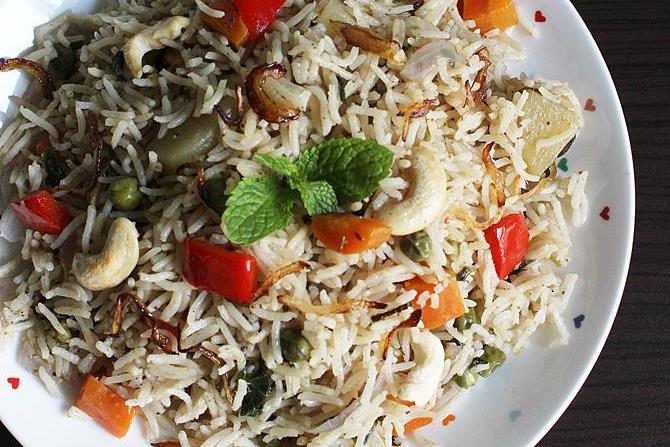 Veg yahkani biriyani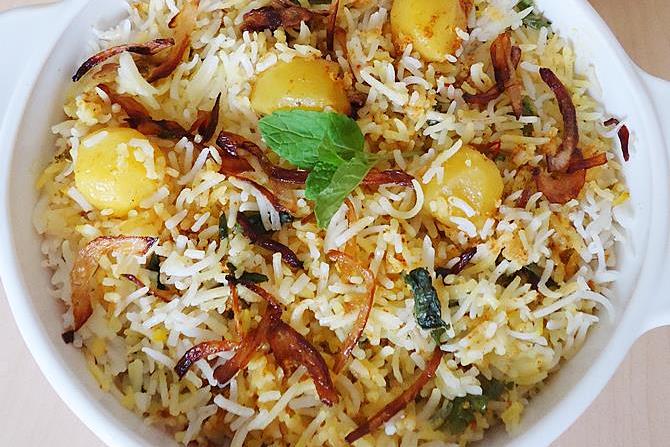 Potato biryani Dum style & made with aloo. This can also be made with baby potatoes.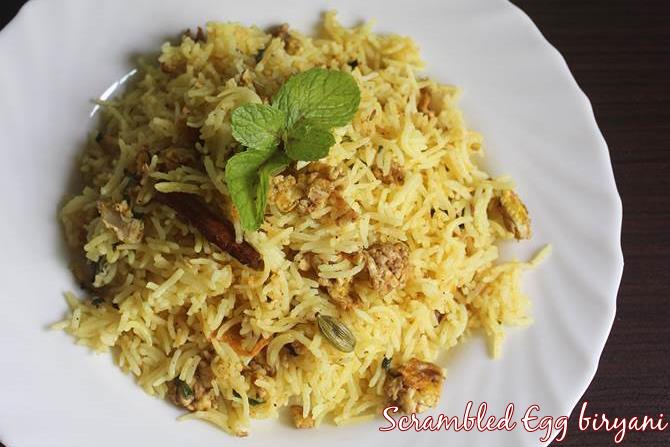 Scrambled Egg biriyani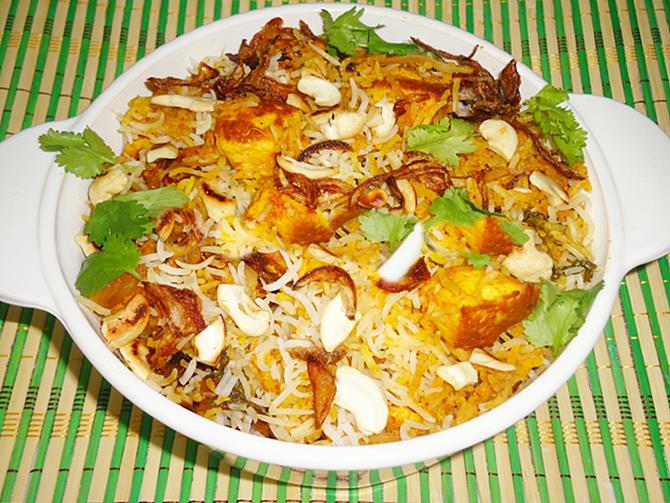 Paneer dum biryani recipe : This is one of the oldest recipes on the blog. Made in hyderabadi style this paneer biryani is surely going to impress your guests. One of the best vegetarian biriyani anyone can make.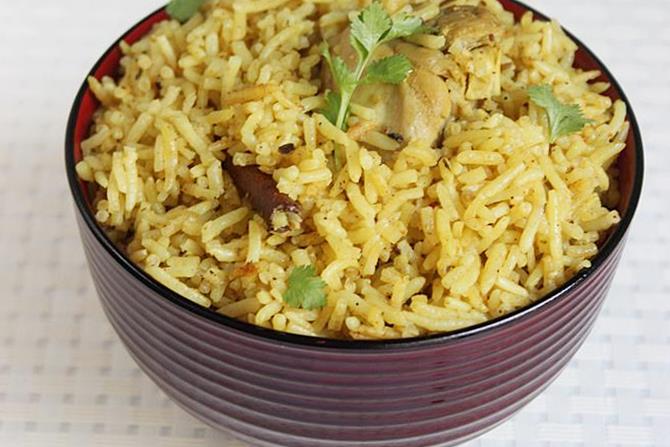 Andhra chicken biriyani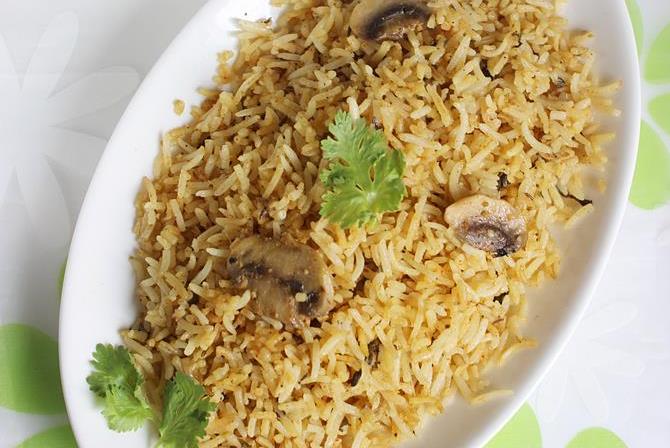 Mushroom Biryani recipe made in pot or pressure cooker. Very flavorful and quick to make for lunch box or even dinner.
Mushroom dum biryani : Easy mushroom biryani made in dum style with simple basic ingredients. This is a low fat recipe and is great for weight watchers.
Chana biriyani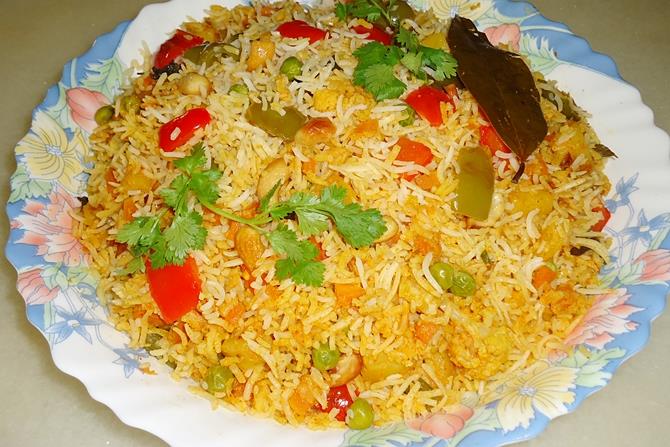 Mumbai style veg biriyani
If you are a beginner you can also learn how to cook basmathi rice for biryani here