red capsicum chutney recipe – bell pepper chutney recipe for idli, dosa, paratha and sandwich.
 
bell peppers can be used for making capsicum curry, for vegetable biryani, for vegetable stir fry, for making paneer tikka or chicken tikka and even for noodles. I like to use vegetables for making chutney for my idli and dosa. I feel it is good way to include veggies in our diet. This is a no garlic no onion chutney recipe.
 
red capsicum chutney tastes very good for idli, dosa, sandwiches,paneer paratha and for many more. Quick and easy to make. If you have not tried this, don't miss it! try and enjoy it. It can be used for sandwich too.
 


 
find more capsicum chutney recipes,
green capsicum chutney
capsicum chutney using peanuts
 
red capsicum chutney recipe below
red capsicum chutney recipe - bell pepper chutney recipe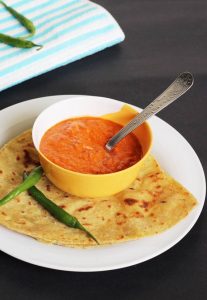 Ingredients (240 ml cup used)
1 cup chopped capsicum pieces
¾ tbsp channa dal
¾ tbsp. urad dal
tiny ginger piece
2 red chilies (adjust to suit your taste)
½ tsp cumin / jeera
Salt to taste
1 tbsp lemon juice (adjust to suit your taste)
1 tsp oil
Seasoning
1 sprig curry leaves
Pinch of mustard
Pinch of cumin
Oil for seasoning
How to make the recipe
Dry roast dals and cumin, fry red chilies in oil till crisp. Set aside to cool
Fry capsicum with salt in 1 tsp oil on a high flame till they are half cooked.
Grind the dals, cumin, chilies to a smooth powder.
Add capsicum, little more salt and ginger, grind without adding water. The moisture in capsicum is enough to get a good consistency
Add lemon juice and mix. Heat a small pan with oil , add mustard, cumin and sesame seeds, when they begin to crackle add curry leaves and fry till they turn crisp. pour this over the red capsicum chutney