chicken tikka masala recipe – Learn to make the best chicken tikka masala adapted from sanjeev kapoor's chicken recipes, yields the best gravy that I have ever tasted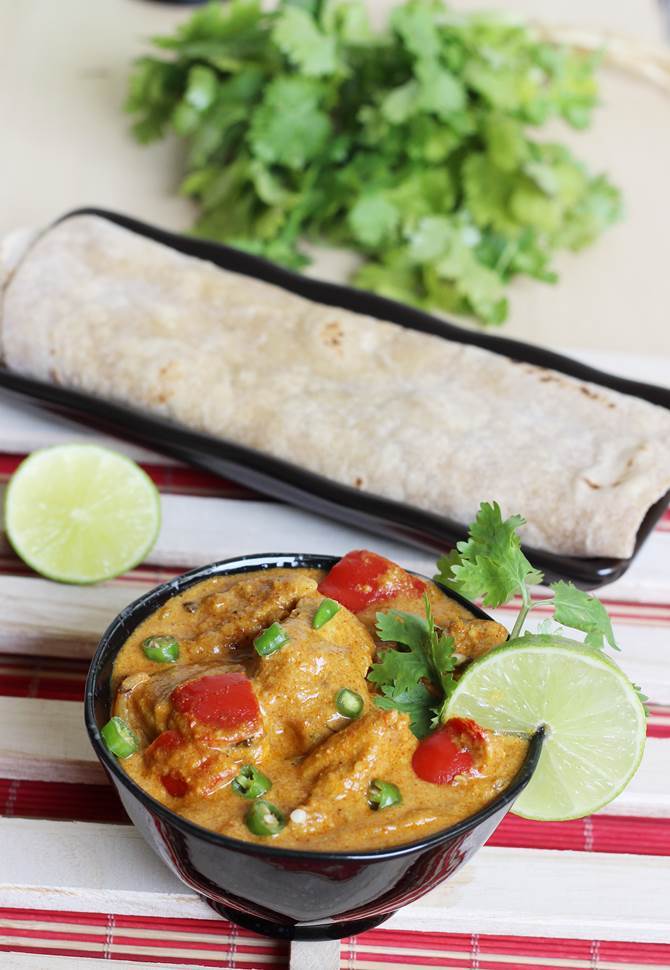 chicken tikka masala is a Indian boneless chicken gravy that is very popular around the world. Tikka meaning a chunk or a cube is marinated and grilled to perfection and then cooked in a gravy to yield a delicious, creamy tikka masala.
 
To make this, marinated chicken can be grilled in an oven or on stove top, the stove top method adapted from vahchefs videos. Even the stove top method yields a tasty dish.
 
Try this restaurant style chicken tikka masala gravy at home, iam sure you will ditch your regular restaurants and prepare this at home from now on.
 
how to make chicken tikka masala – step by step photos
1. Mix all the marination ingredients. Hung yogurt, chili powder, salt, turmeric, ginger garlic paste, lemon juice and garam masala.



2. Wash chicken cubes under running water, drain completely, pat dry with few disposable tissues. and marinate and refrigerate for at least 2 hrs. Overnight refrigeration yields the best tender bites of chicken.



3. For grilling chicken tikka in a oven refer the recipe below in the recipe card. To make chicken tikka on tawa or pan, heat a non-stick pan with 1 tbsp oil, remove the excess marination from the chicken pieces and fry them on a high flame till they are almost cooked. Do not burn the pieces or the masala as they tend to leave a bitter taste. So continuously keep stirring the pieces, no problem if they brown. Doing this on a low flame or medium flame can entirely spoil your dish by releasing lot of moisture and can become like curry. So take care.



4. While the chicken is still frying, marinate the chopped cubes of onions and capsicums with the left over marinade. Once the tikka is almost cooked, remove the excess marination from the veggies and add them to the same pan and fry for 2 mins on a high flame. Set this tawa aside. You will be left with a moist meat and crunchy veggies with no left over wet mix on them.
5. Heat another pan or can use the same one by adding oil add all the dry masala / spices now and fry them till they begin to sizzle.
6. Add chopped onions, fry evenly till they turn slightly brown.



7. Add ginger garlic paste and fry till the raw smell disappears.
8. Add tomato puree, red chili powder, coriander powder and salt. Mix and fry for 2 minutes.



9. Add cashew and melon seeds paste.
10. Fry till the mixture leaves the sides of the pan.



11. Add sugar, chicken pieces and onions, capsicums, mix well and fry for 2 to 3 minutes.
12. Add water just enough to make a thick gravy. Adjust the consistency. Cook this till the gravy begins to boil well.



13. Add kasuri methi , cook for 2 to 3 mins or till the tikka turns tender.
14. Add garam masala cook for a while. Add cream and coriander leaves. Stir. off the flame.



Delicious Indian chicken tikka masala is ready.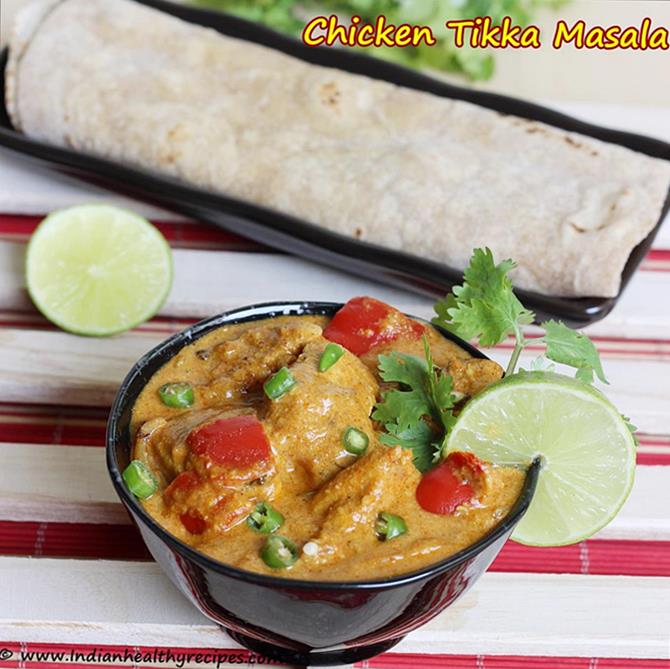 Check more chicken recipes, butter chicken, kadai chicken, tandoori chicken
 
find chicken tikka masala recipe below
chicken tikka masala recipe, how to make chicken tikka masala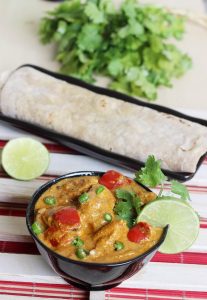 Chicken tikka, grilled meat cubes cooked in a delicious onion tomato gravy.
Ingredients (240 ml cup used)
Marination
400 to 500 grams chicken cubes (boneless chicken)
1 tsp Kashmiri red chili powder
Lemon juice from ½ lemon (refer notes)
½ cup greek yogurt or hung curd or 1 cup curd (refer instructions and notes)
⅛ tsp turmeric
1 tsp coriander powder
½ tsp cumin powder
1 tbsp ginger garlic paste
1 tsp kasuri methi (dried fenugreek leaves)
Salt to taste
1 tbsp oil for frying
Ingredients for gravy
3 tbsps oil
½ tsp cumin
1 bay leaf
1 to 2 black cardomom
3 green cardamom
3 cloves (can use up to 5)
1 inch cinnamon stick (can use 2 inch stick)
3 medium onions finely chopped
3 medium tomatoes (pureed)
2 tsps ginger garlic paste
1 ½ tsp coriander powder
1 tbsp red chili powder
¼ tsp turmeric
4 tbsp cashewnut and melon paste (you can just use cashew paste)
½ tsp Kasuri methi
¼ cup cream (optional, can even use smooth almond or cashew milk or cream)
½ tsp. Garam masala
Coriander leaves chopped
½ tsp. sugar (optional)
Vegetables (chop large cubes)
1 large onion (separate the layers of onion cubes)
½ small green capsicum
½ small red capsicum (optional)
1 tomato (remove the pulp) (optional)
How to make the recipe
Making Hung yogurt or curd
Add yogurt or curd to a thin cheese cloth or muslin cloth and knot it, hang it inside the refrigerator for 5 to 6 hours for the whey to drip off completely
Making the chicken tikka
Wash and drain chicken thoroughly, pat dry with a kitchen tissues
Add the marination ingredients to a bowl and marinate the chicken. Set aside in the refrigerator for at least 2 hrs, overnight yields the best.
You can grill these in a preheated oven at 240 C for 20 minutes. Adjust the timing slightly.
If you do not have a oven, you can pan roast the chicken tikka. Add one tbsp. oil to a non-stick pan and heat it. Swipe off the excess marinade from the chicken and fry them on a high flame till they are almost cooked. The masala burns quickly at this stage, so take care. Do not cook on a low flame, the tikka gets spoilt with all moisture oozing out. Do not overcook the tikka, they turn hard
While the tikka is getting cooked, marinate the veggies in the left over marinate that was swiped off the chicken. Repeat swiping off the excess marinade from the veggies and fry these for 2 minutes or more till the marinade dries up. Transfer this to a wide tray. The chicken should look moist, tender and veggies crunchy, with the marinade almost dried up
Making the gravy
Grind tomatoes to a smooth puree in a blender. Set this aside
Add the oil for the gravy to the same pan. Add dry spices, allow them to sizzle
Add chopped onions, fry evenly till turn golden
Add garlic ginger paste, fry till the raw smell disappears
Pour in the tomato puree, red chili, coriander powder, salt. Mix and fry for 2 to 3 minutes
Add cashew & melon paste, fry till the mixture leaves the sides of the pan
Add sugar, tikka pieces and veggies, stir well and fry for 2 to 3 minutes
Add water just enough to make a gravy. Bring it to a good boil
Add kasuri methi cook for 2 to 3 mins.
Pour in the cream, add garam masala and add coriander leaves, off the flame. Keep covered for at least 15 minutes
Serve with paratha, roti, naan
Notes
Lemon juice- you can skip using lemon juice if using sour yogurt
making hung curd- one cup yogurt usually yields ½ cup hung curd. But that depends on the kind of yogurt