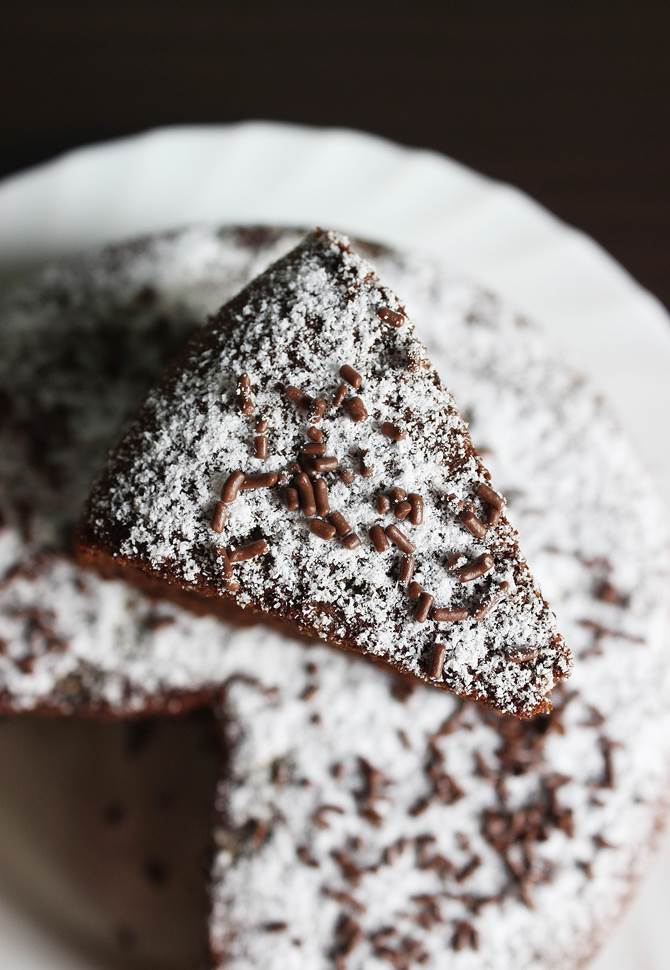 chocolate coconut cake with desiccated coconut – This recipe is loosely adapted from Nisa's Cooking is Easy. Iam a fan of her bakes, they are easy and simple to follow. During the lookout for a cake using desiccated coconut or coconut flour, I found this simple coconut cake recipe from her blog. Any bakes that require less plain flour are always my first choice and had bookmarked it long back.
 
To further reduce the plain flour, I replaced a small part of it with cocoa. The cake turned out delicious. However, I would still try her simple coconut cake too as it is very easy to make and coconut in a butter cake would taste amazing. The cake I made today is without butter and without refined sugar. There are no specific reasons for making this butter free and refined sugar free. I rather had these in my pantry so I chose these. However the recipe will work well with butter and white sugar too as in the original recipe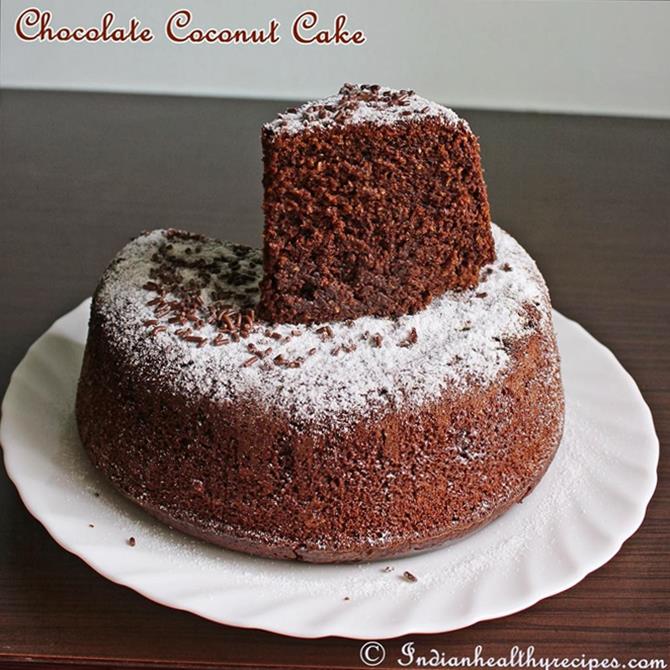 I sprinkled choco sprinkles and powdered coconut sugar. The next day, i used betty crocker rich and creamy white frosting and served. It tasted perfect and  i would suggest to go with a frosting.
 
Step by step pictures on chocolate coconut cake
1. Preheat the oven to 180 C for 15 mins.
2. Mix cocoa, desiccated coconut, flour, salt, baking powder and baking soda well. Or you can process it for 2 mins.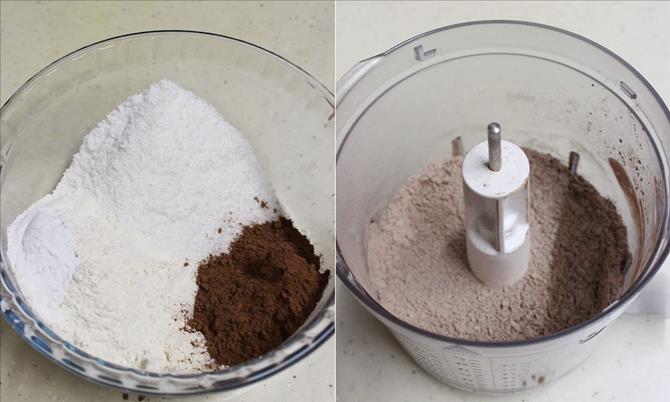 3. Lightly beat eggs and add vanilla.
4. Add sugar, oil and egg mixture in milk. Add lemon juice and mix well to melt any lumps in the sugar.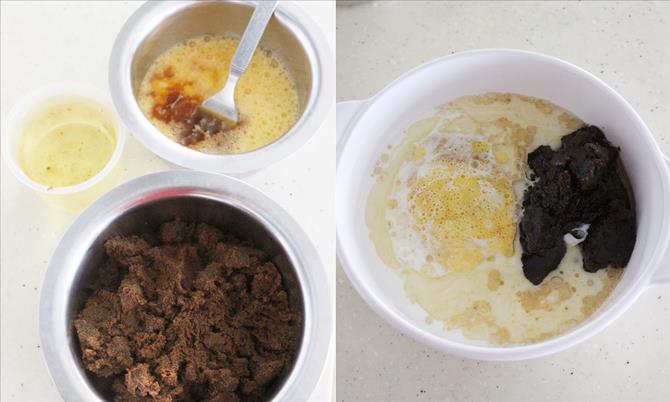 5. Add flour little by little, ensure there are no lumps.
6. Transfer this to a greased pan and bake for 30 to 40 mins. Skewer inserted must come out clean. Check after 30 mins.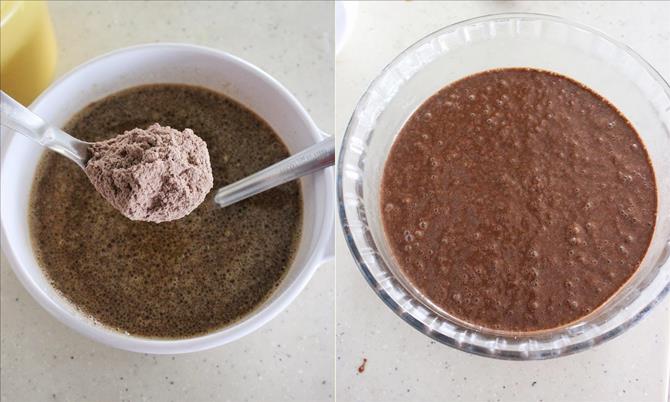 7. After 5 to 10 mins, transfer to a wire rack and cool it completely.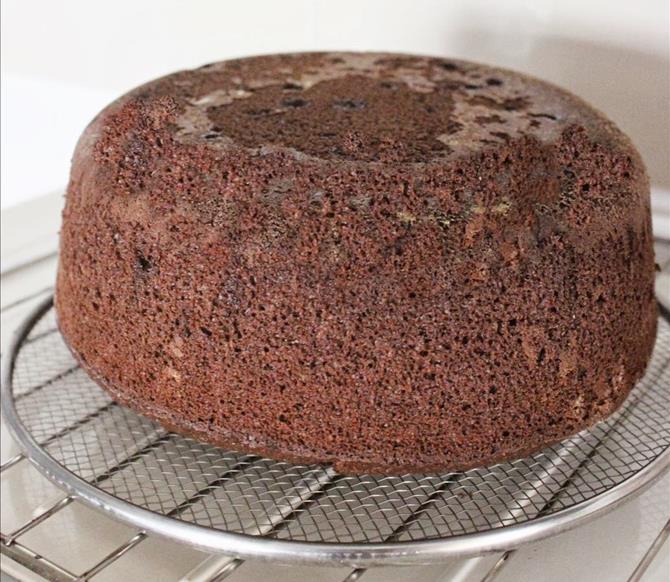 Refrigerate till the next day.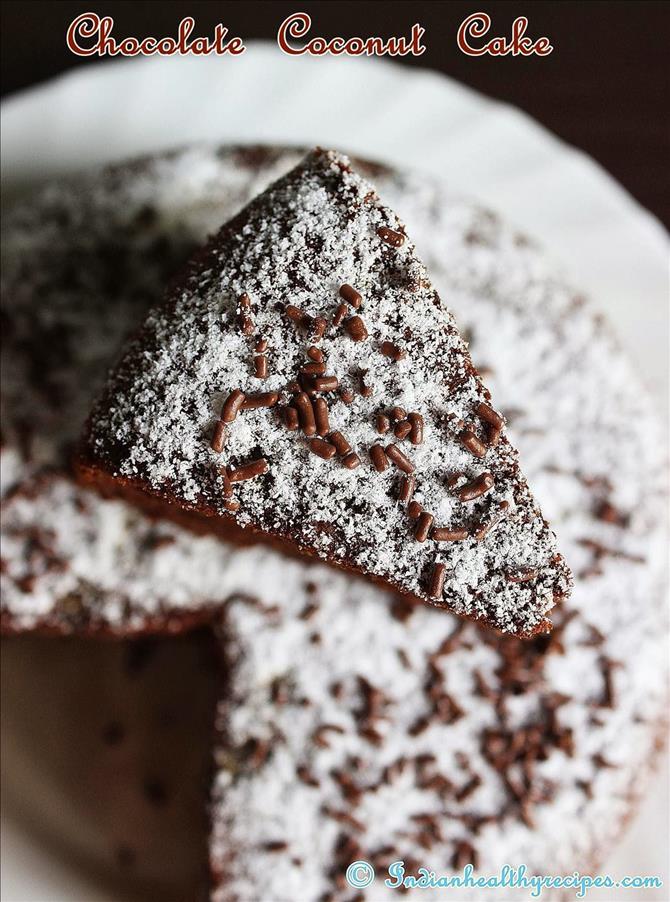 find chocolate coconut cake recipe below
chocolate coconut cake recipe using desiccated coconut (butter free)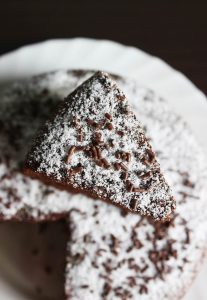 Ingredients (240 ml cup used)
2 eggs
¾ cup oil minus 1 tbsp (I used canola)( can use equal amount of butter)
1 ¼ cup sugar (I used 1 cup tightly packed raw brown sugar weighing 275 grams)
1 cup desiccated coconut
1 ½ cups plain flour
5 tbsps. Cocoa powder
2 tsps. baking powder
½ tsp. baking soda
1 ½ cups milk (360 ml)
1 ¼ tbsp. lemon juice
2 tsps. Vanilla
How to make the recipe
Grease a pan .Preheat the oven for atleast 15 mins at 180 C
Process (in food processor) or Mix flour, desiccated coconut, cocoa, salt, baking powder and baking soda.
In a small bowl add eggs and vanilla. Lightly beat.
Add sugar, oil, beaten egg and milk to a large mixing bowl. Add lemon juice and stir well to melt lumps in the sugar.
Add flour little by little, make sure it is lump free. Mix up everything well
Pour this to the pan, bake for 30 to 40 mins. Skewer inserted comes out clean. Check after 30 mins
After 5 to 10 mins, invert the cake to a wire rack and cool it completely
Notes
I processed the flour and coconut for 2 mins that is optional. Instead you can just powder the coconut and add it to the flour or you can just skip this step totally
This cake tastes best the next day. The day it was baked it tasted slightly bitter, just like most cocoa cakes made with milk . But that vanished the next morning.
My raw sugar was slightly lumpy, without noticing that I just added to the milk. So it took some time for it to melt and blend well with the milk. It also left some brown wholes at the bottom of the cake. So make sure your sugar is lump free.