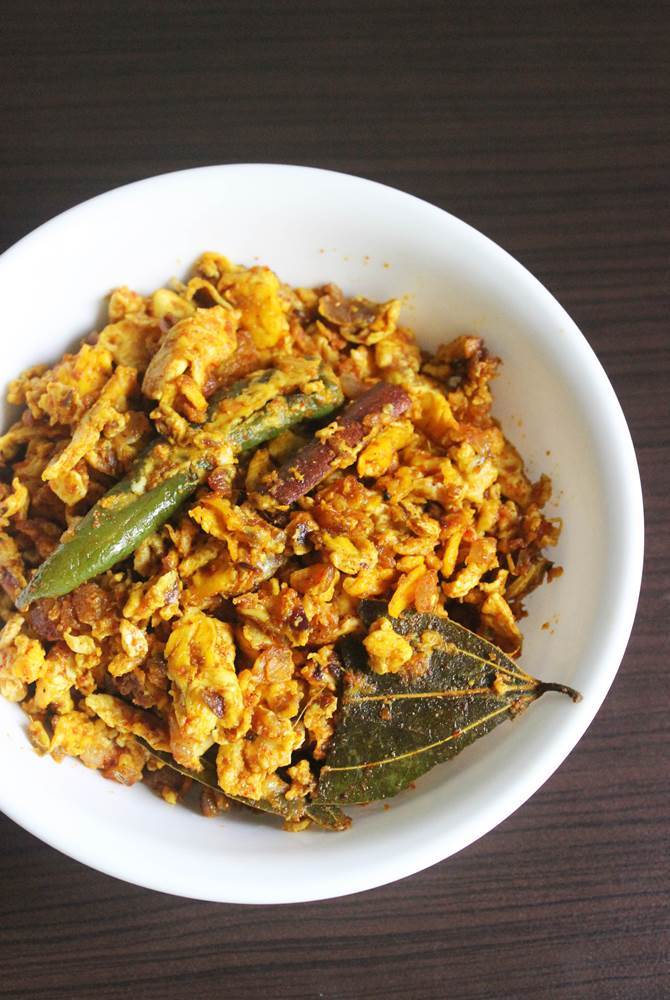 Today iam going to share my style of making Egg Bhurji Andhra Egg Porutu(scrambled egg recipe). The regular bhurji that is usually made lacks veggies in them and my little kiddo cannot eat his meal without the sight of veggies in his plate. Instead of making a different veggie for him, I make my bhurji with capsicums and it tastes great with a good aroma. If you are like me who loves to add veggies in every dish that is made, then do try this and you will love it and will surely say this is the best egg bhurji that you ever made. Apart from the spicy andhra egg curry and Egg Roast Recipe, today's egg bhurji is one of the most simplest to make on a busy day.
*update
There are many styles of making andhra Egg porutu anywhere from as simple as just scrambling an egg in fried onions and just add chili powder and not even using ginger garlic paste. We at home are not used to making egg bhurji without a garam masala since it has the smell of egg.  If you are some one who dont like to use garam masala often or you like the flavor of eggs, you could skip ginger garlic paste and garam masala. The pictures you see above and below are 2 different versions of  the bhurji  both with different set of ingredients that i use which i have mentioned below
Ingredients
Serves 4
4 large eggs
1 Large onion finely chopped
2/3 of large bell pepper (optional, you can skip)
1 sprig of curry leaves, Pinch of mustard, Pinch of cumin / jeera or (1 bayleaf, 2 to 3 cloves, small cinnamon stick, shahi jeera)
1 ½ tsp. of garam masala or (¾ tsp coriander powder+ pinch of cloves and cinnamon + pinch of pepper + pinch of dry ginger powder +pinch cardamom pow)
¾ tsp. ginger garlic paste
½ tsp. red chili powder
pinch of turmeric
½ tsp roasted sesame seeds (optional, if you have kids at home they will love this)
Few coriander leaves for garnish
oil 2 to 3 tbsps
1 green chili slit

step by step pictures on andhra egg porutu
1. Heat a wide pan with 1 tsp oil and add capsicum , sprinkle some salt and fry on high till almost cooked
2. Heat oil in a pan, add mustard, cumin and curry leaves , let them splutter, add onions, sprinkle some salt and fry till golden brown
3. Add ginger garlic paste and sauté for a min
4. Break the eggs in a bowl and check for shells. Pour the egg in the pan and lightly scramble it.
5. Repeat scrambling every now and then, to prevent burning and to cook egg evenly
6. Once the egg is almost done but still moist, then add the fried capsicums
7. Sprinkle red chili powder, garam masala and turmeric. mix well
8. cover and cook for 2 mins, open the lid and fry on medium high for 1 to 2 mins and add roasted sesame seeds
Do check my drumstick egg curry, if you are looking for a vegetable curry with egg.