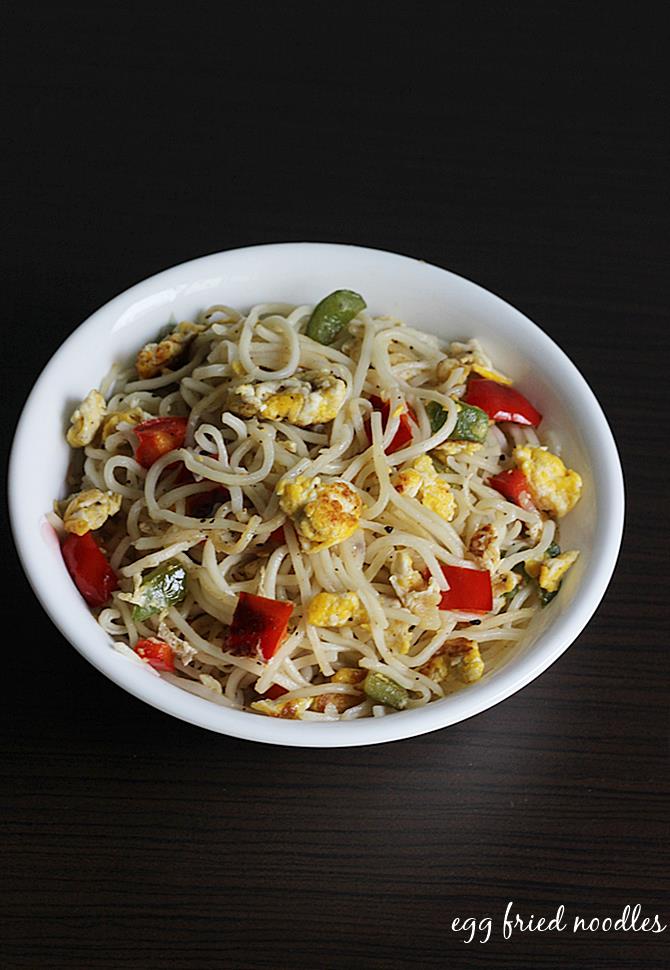 egg noodles recipe, sharing one of the easiest meal you can make on a busy day with minimum ingredients. For a healthier option use whole wheat noodles, I made with whatever I could buy on my way home after a busy day. You can use any variety of noodles whole wheat noodles, rice noodles, hokkien noodles or whatever you have.
 
Noodles is not a frequent affair at home, but is only a stand by when I don't want to hang around eating in mcdonald or kfc. I prefer making egg fried rice or noodles at home as they are really quick to be done.
 
To make egg noodles, I will not ask you to use any fancy ingredients or sauce that you may not have in your pantry. You can use any veggies you have in hand like onions or spring onions, carrots, peas or bell pepper. But yes we need eggs.
 
egg noodles happened on a day, when I did not have any veggies in hand, not even an onion. I went ahead making these noodles only with bell peppers, but you can make it even without any veggies if you don't have. But for a healthier meal, i suggest using enough vegetables.
 
These noodles turn out to be flavorful and light. The flavor comes from the 2 spices, star anise and mace used in the traditional Chinese cuisine. Hence we don't need any sauces.
 
For those who are very particular about using sauces, can use their favourite sauce like chili sauce, tomato sauce, soya sauce or peri peri. They can be added along with vinegar.
 
for similar egg recipes, check
veg hakka noodles
easy egg fried rice
 
step by step photos on how to make egg noodles recipe
1. Bring 3 liters of water to a rolling boil. Add noodles and cook till al dente.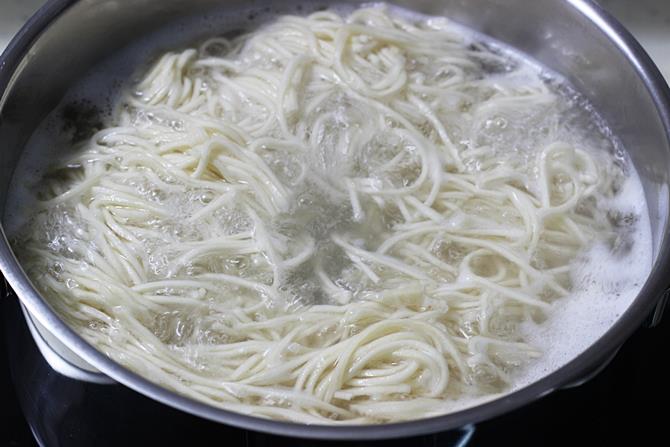 2. Drain off and rinse them thoroughly under running water to remove unwanted starch.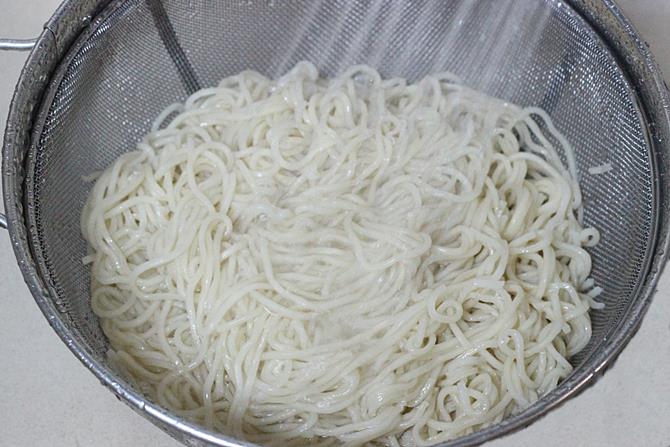 3.Set the colander aside. Add one tsp oil and toss the noodles to prevent sticking.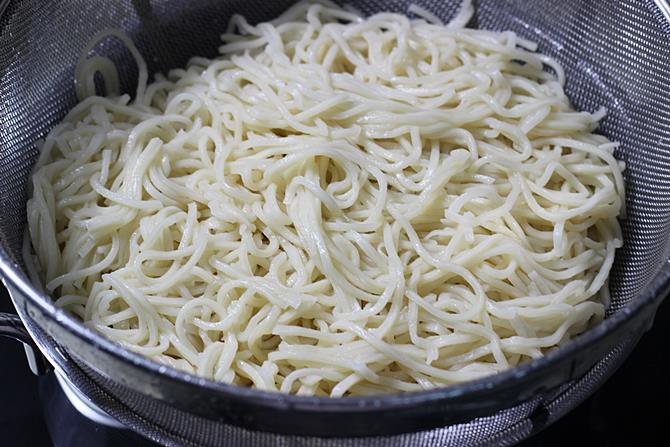 4. Add oil to a wok or pan, when the oil turns hot, put on the flame to high. Add green chilies, garlic. If you have star anise and mace, add it now. When they begin to sizzle, add onions or bell pepper or whatever veggies you are using. Fry till they turn slightly soft yet crunchy.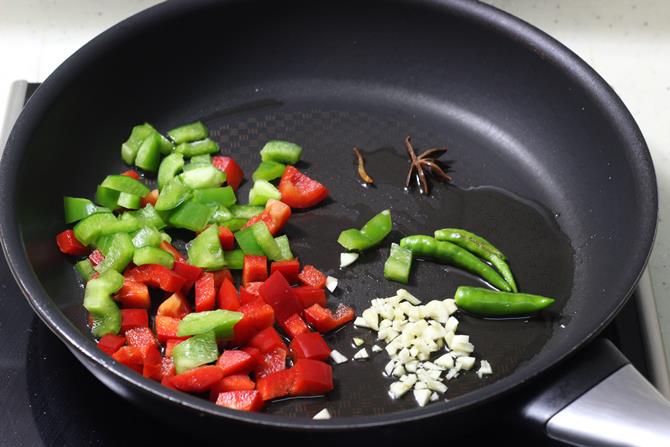 5. While the veggies fry, rinse a bowl and break the eggs into it. Check for shells.
6. Slide the veggies aside in the pan. I reduce the heat/flame as much as possible. Pour the eggs to the pan, but not on to the veggies.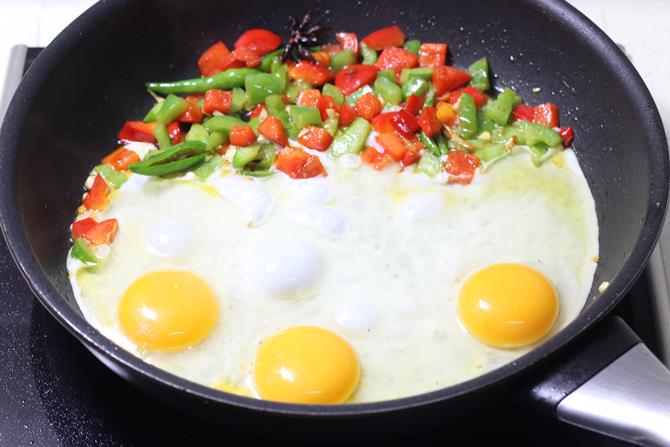 7. Lightly scramble them. Cook till soft cooked.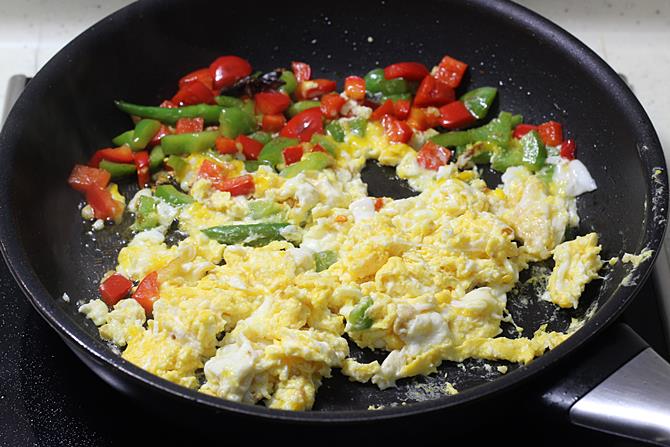 8. Add vinegar and little pepper powder. Vinegar will take away the raw smell of eggs, so I prefer to use. If you like to use soya sauce, chilli sauce, add it now. Let them bubble.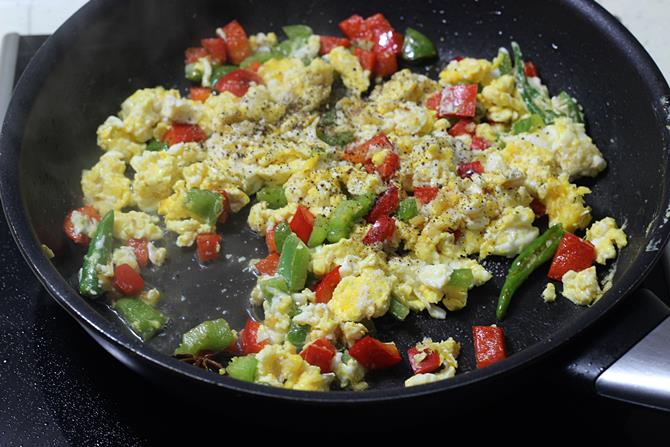 9. Add the noodles and sprinkle more pepper and salt.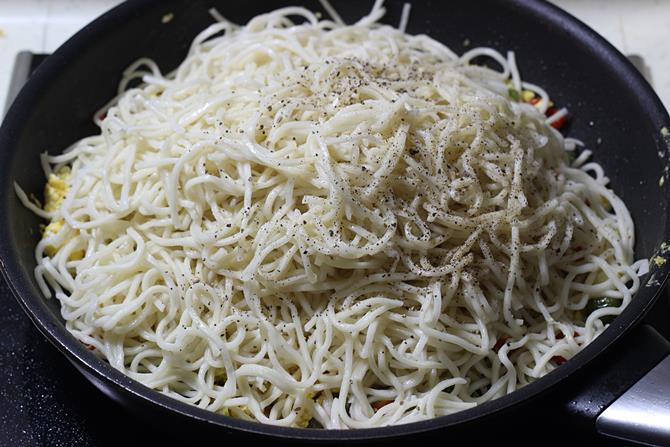 9. Toss well. Increase the flame to the highest and fry for about one to two minutes. If you have chopped spring onions you can use them for garnishing.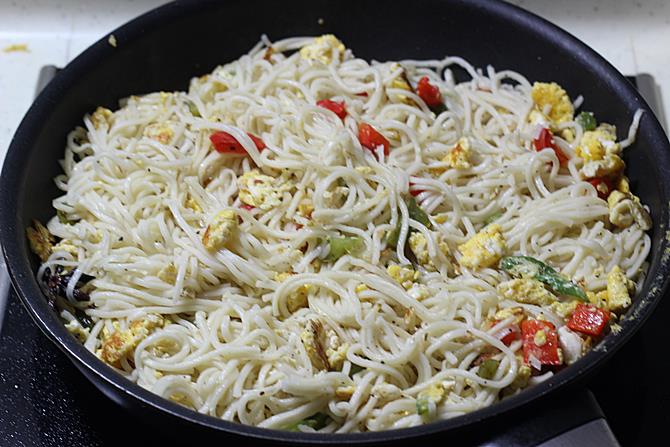 mildly spicy and flavorful egg noodles ready under 25 minutes.
 
find egg noodles recipe below
egg noodles recipe, how to make easy egg noodles recipe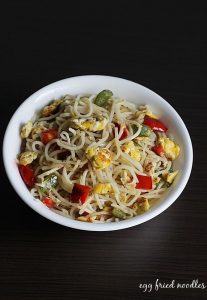 Easy egg noodles
Ingredients (240 ml cup used)
2 cakes of noodles (serving 2)
2 to 3 eggs
1 large or 2 small garlic cloves chopped finely
2 to 3 green chilies slit
Pepper powder as needed
1 tsp. vinegar
Olive or sesame oil as needed
optional
½ cup bell peppers chopped
1 onion or 2 sprigs of spring onions chopped
1 carrot julienne
1 tsp each of soya sauce and tomato sauce
1 star anise
1 strand of mace
How to make the recipe
Cook noodles in surplus water till al dente. Drain and rinse them with cold running water. Drain in a colander and smear 1 tsp oil to the noodles and toss.
Break the eggs in a rinsed bowl. set aside
Heat a wok with oil, add green chili, star anise, mace and garlic. when they crackle, add the veggies and fry till partially cooked to keep them crunchy.
Slide the veggies aside and reduce the heat. pour the eggs, scramble them lightly and cook till done.
Sprinkle salt, pepper and vinegar. If using other sauces, Add them too. cook till they begin to bubble.
Add the noodles , more salt and pepper powder.
Increase the flame and toss fry on high for one to two minutes.Serve egg noodles while still hot.
Here are some unhealthy ingredients that might be listed on the pack : guar gum, palm oil,tartrazine or any food color, ajinomotto or Monosodium glutamate. Check before you buy.