Eggless banana bread recipe video – Delicious & easy banana bread that is eggless and vegan too. I do not prefer eggless bakes since many of them do not yield the same texture as the ones with eggs. But each time I share a baking recipe with eggs, I do get lot of requests for eggless version too. Since the eggless ones need a a lot of trials and experimentation I do not get to share them often here.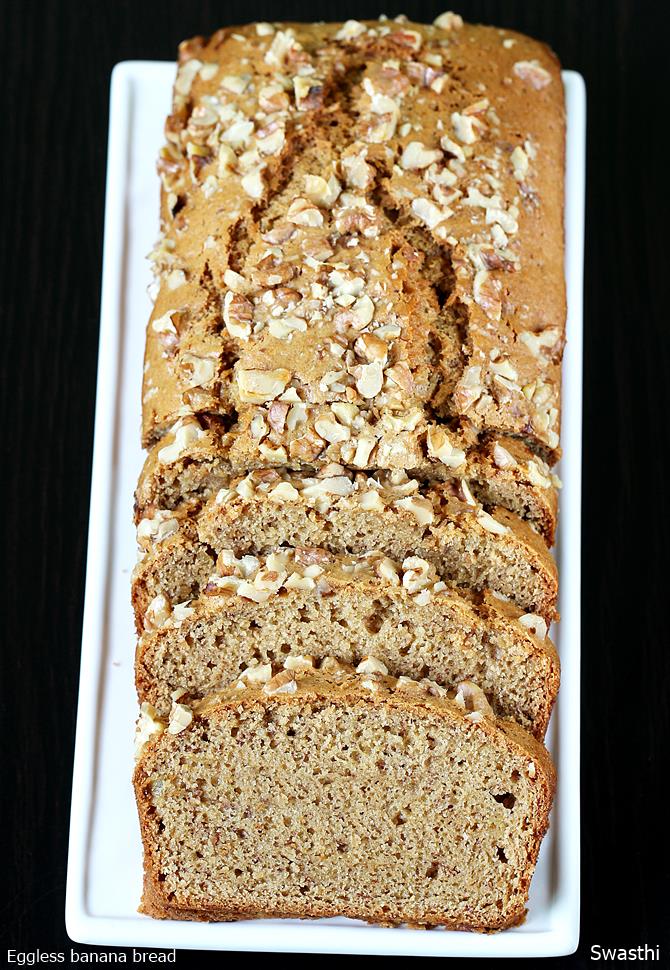 I had tried many eggless and vegan banana bread recipes from many websites, and finally loved this one from Madhu's blog. I had tried this almost an year ago and made it a few times since then during festivals since that is the only time I bake without eggs.
I made this during Diwali since I had too many over ripe bananas and preferred to go eggless.
For more banana bakes & pancakes you can check,
Eggless banana chocolate cake
Eggless banana pancakes
Chocolate banana cake
Banana cake recipe
Video of eggless banana bread recipe
Eggless banana bread recipe card
Eggless banana bread recipe | How to make vegan banana bread recipe
Eggless banana bread that is delicious and healthy too.
Recipe type:
Dessert / Sweet
Ingredients (240 ml cup used)
2 cups flour (whole wheat flour or whole pastry flour or plain flour/ maida)
½ tsp baking soda
½ tsp salt
½ tsp true cinnamon powder (optional)
⅓ cup oil (80 ml) or ½ cup melted butter (I used virgin coconut oil)
1 cup organic sugar
2 large bananas or 3 medium sized mashed or pureed
¼ cup water + 1 to 2 tbsps
2 tsps lemon juice or vinegar
1 teaspoon Vanilla Extract
¼ to ½ cup chopped walnuts (optional)
How to make the recipe
Preheat the oven to 170 C or 160 C if using a fan forced Oven.
Grease a loaf pan and set aside. Make sure all the ingredients are at room temperature before you proceed.
Sieve together flour, baking soda, cinnamon and salt.
Making eggless banana brea
Mash bananas very well in a mixing bowl.
Add sugar and water. Mix well until the sugar melts completely.
Add vanilla and oil. Mix again
Add half of the flour and gently mix. Add the rest and mix just until well combined. Make sure the mixture is lump free. You can add nuts now or later.
Pour this to the greased pan.
If nuts were not added to the batter, sprinkle them on top.
Knock the pan to the kitchen counter a few times.
Bake for 60 mins to 70 mins. A skewer inserted must come out clean.
Allow the banana bread to cool a bit and remove to a wired rack.
Cool completely and then slice it.
Serve eggless banana bread with milk or tea.