Falafel are deep fried balls from middle eastern cuisine that are served as a snack or as a part of meal. These are made using chickpeas or fava beans or a mix of both. There are many ways of enjoying falafel. Apart from being served as a snack they are also used as a stuffing inside a pita bread, along with pickled vegetables and Tahini sauce. The recipe shared here is a traditional one which is made from scratch with dry chick peas. The traditional version doesn't use cooked or canned chickpeas. However if you are specific about using canned chickpeas, you may still go ahead. They turn out good that way too.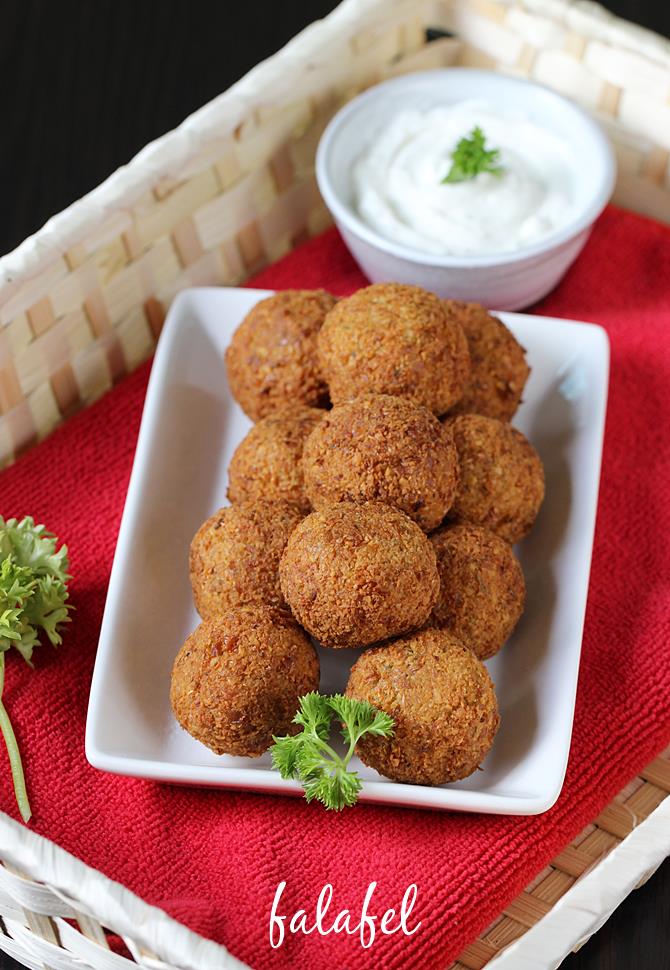 Since falafel is made using high protein legumes they are quite popular as a replacement to meat based snacks across the world. For a healthier option these can be baked instead of deep frying.
These are quite easy to make as there is not much cooking involved. Chickpeas are soaked over night and then ground coarsely along with other ingredients. Small portions of the mixture are shaped to balls, can also be flattened and fried or baked. The ground mixture can be refrigerated for about 3 to 4 days and used.
I have been making these for the past few years following this recipe from Tori Avey. These have been a great food for my kids and hence thought of sharing it here. I blend the mixture in slightly a large quantity and refrigerate. Bake them the next few days for the kids snack or to go in the lunch box or sometimes even for breakfast. Since they are protein packed they are healthy if baked.
To make falafel, chickpeas, spices and herbs are ground to a coarse texture along with little flour for binding. I do not use flour hence process it a bit more. Adjust the texture to suit your liking. Making it very coarse will need flour otherwise the balls or patties will fall apart while frying or baking.
You may also like
Shawarma
Veg Burger
Chicken Burger
Vegetable Cutlet
Step by step photos on how to make falafel recipe
1. Wash chickpeas thoroughly under running water. Soak them for 8 hours in a large bowl with lot of water. Do not cover the bowl.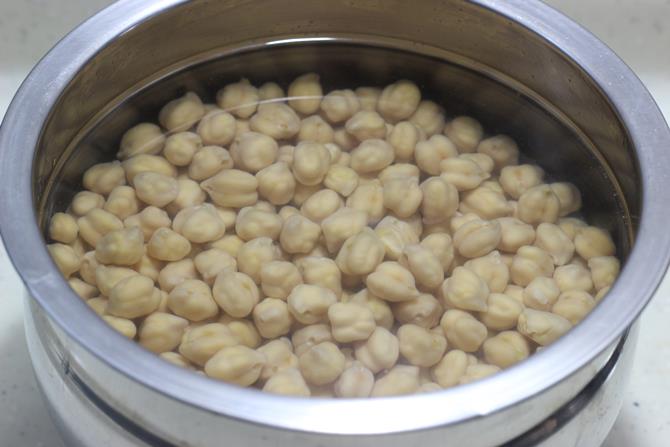 2. Rinse them well and drain them completely to a colander. Then transfer to a blender or a processor along with chopped onion, garlic, corainder powder,cumin, pepper powder and parsley.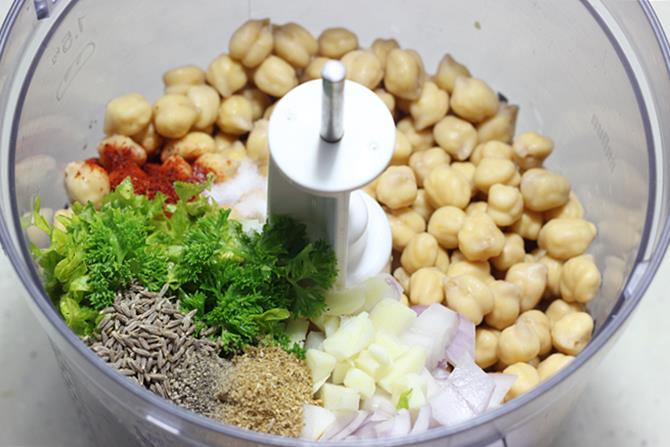 3. Process it until it reaches a coarse texture. No water is added. Take a small portion of this mixture and try to make a ball. The mixture should bind well otherwise it may fall apart while frying. You may process it more or less until it binds well, but the texture must still be coarse. Also using 2 tbsp. all purpose flour helps to bind it well. Since i did not use flour, i had to process it to a less coarse mixture.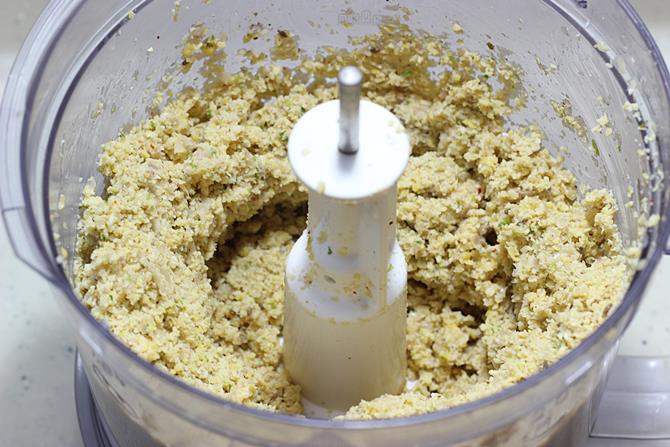 4. Refrigerate for an hour. Take small portions and make balls. If using flour, you may flatten them a bit otherwise they tend to break while frying.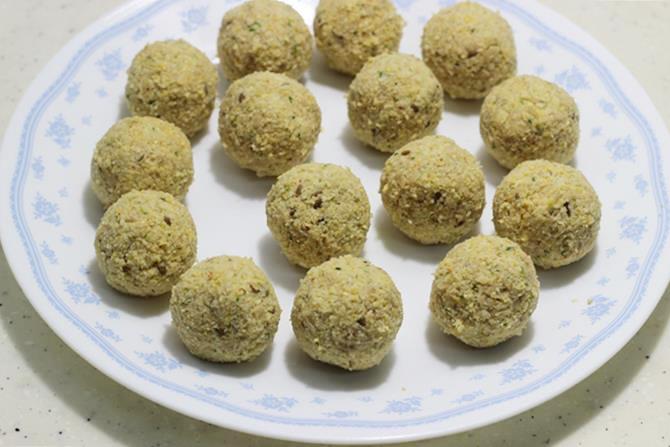 5. I used up half of the processed mixture and refrigerated the rest for the next day. To make baked falafel, i add 1.5 tsp baking soda to a tsp of water. Stir and then add it to the mixture. Knead it a bit and then make thick patties. Bake in a oven at 200 C for 12 minutes on each side.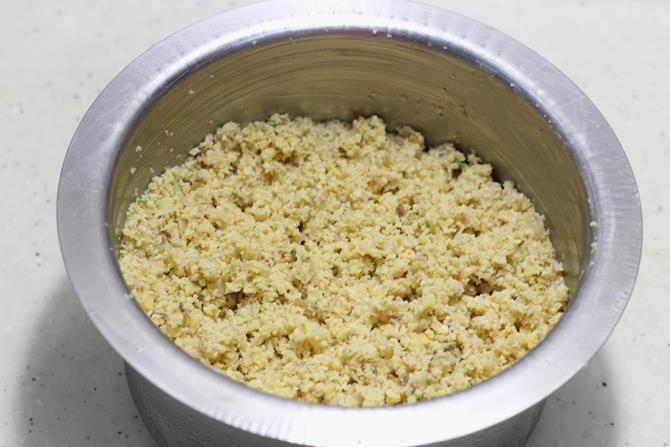 6. Heat oil in a fry pan on a medium flame. Drop a small portion of the mixture to check if the oil is hot. It must float and not sink, this means the oil is hot enough. Do not over heat the oil, as they may brown the balls without frying them inside.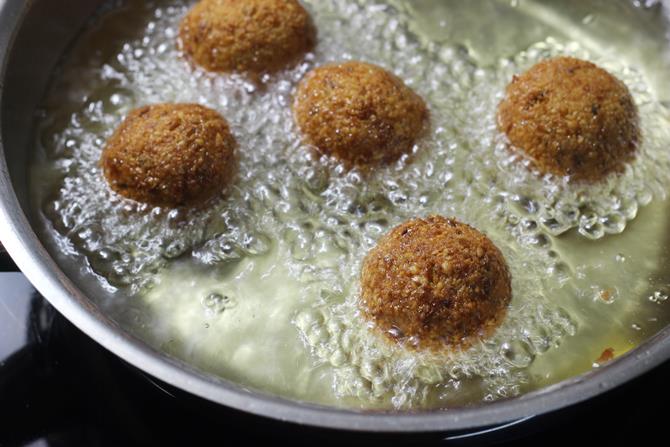 7. When they are golden fried, drain them on a kitchen towel. They do not absorb oil.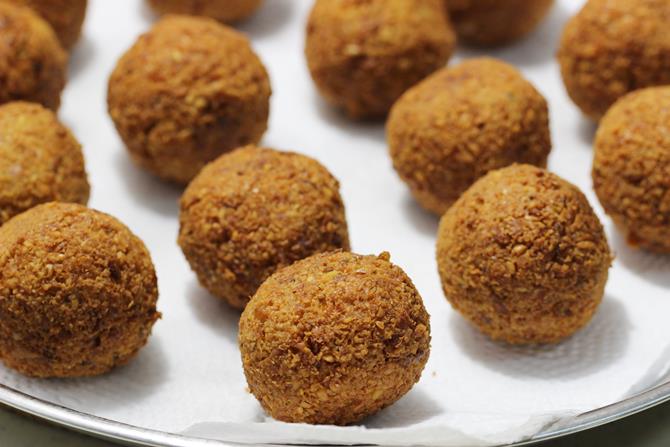 8. Serve them with a tahini sauce or your favorite dip.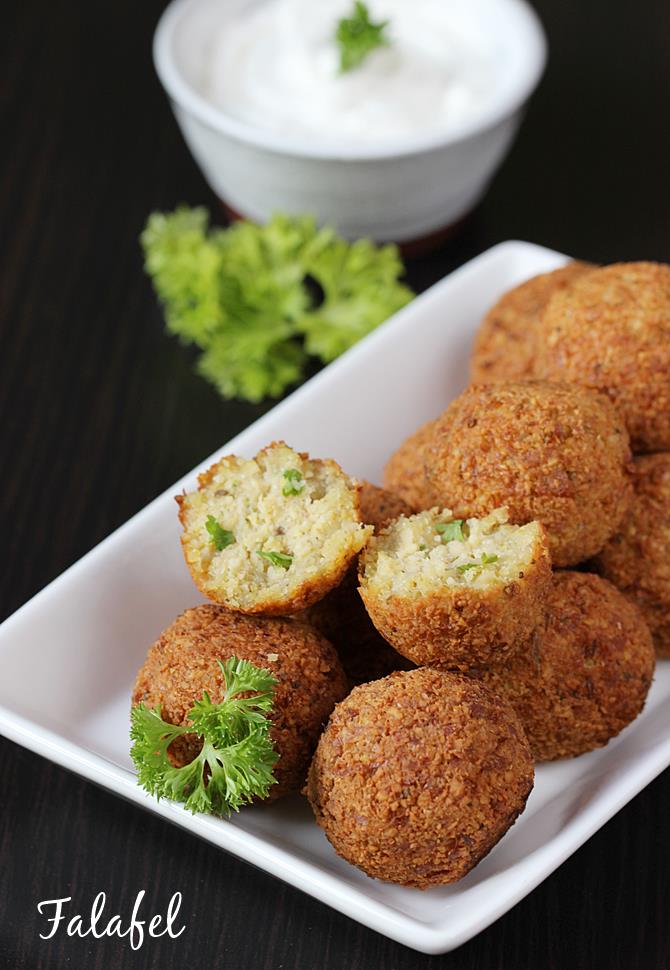 Quick dips and sauces for falafel and for stuffing a pita bread
To make tahini sauce, i used ¾ cup tahini, 1/4 + 2 tbsp warm water, 2 large garlic cloves, 2 tbsp. lemon juice, salt as needed, 2 tsp finely chopped fresh parsley. Process all the ingredients in a processor until pale, creamy and thick.
To make a quick yogurt dip, use ¾ cup greek yogurt or hung curd, 1 tsp lemon juice, salt, 1 garlic clove, deseeded green chili (optional). Blend them and add parsley.
Will share the recipe of pita bread soon.
Find falalfel recipe card below
Falafel recipe | How to make falafel | Chickpea falafel recipe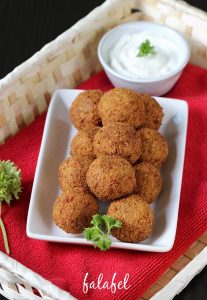 Vegetarian Chickpea fritters from middles eastern cuisine. It is served with tahini sauce or stuffed inside pita bread and served.
Yield / Serves:
30 falafels
Ingredients (240 ml cup used)
2 cups chickpeas / kabuli chana
oil as needed for frying
1 medium onion
1.5 tsp cumin
4 garlic cloves
¼ cup chopped parsley
1 tsp coriander powder
¼ tsp pepper powder
¼ tsp red chili powder / ground cayenne pepper
salt as needed
1.5 tbsp. all purpose flour (optional)
How to make the recipe
Wash and soak chickpeas for overnight. Drain them to a colander.
Process together chickpeas, cumin, coriander, pepper, cayenne, salt, onion, garlic, parsley and flour to a coarse mixture.
Make lemon sized balls. If you have added flour then you may slightly flatten them. Deep fry them in hot oil until golden.
Drain them on a kitchen towel.
Serve with favorite dip or as a stuffing in pita.
Nutrition Information
Calories:
192
Fat:
10g
Saturated fat:
0.86g
Carbohydrates:
19g
Sugar:
3g
Sodium:
9mg
Fiber:
4g
Protein:
5g
Cholesterol:
0.0mg