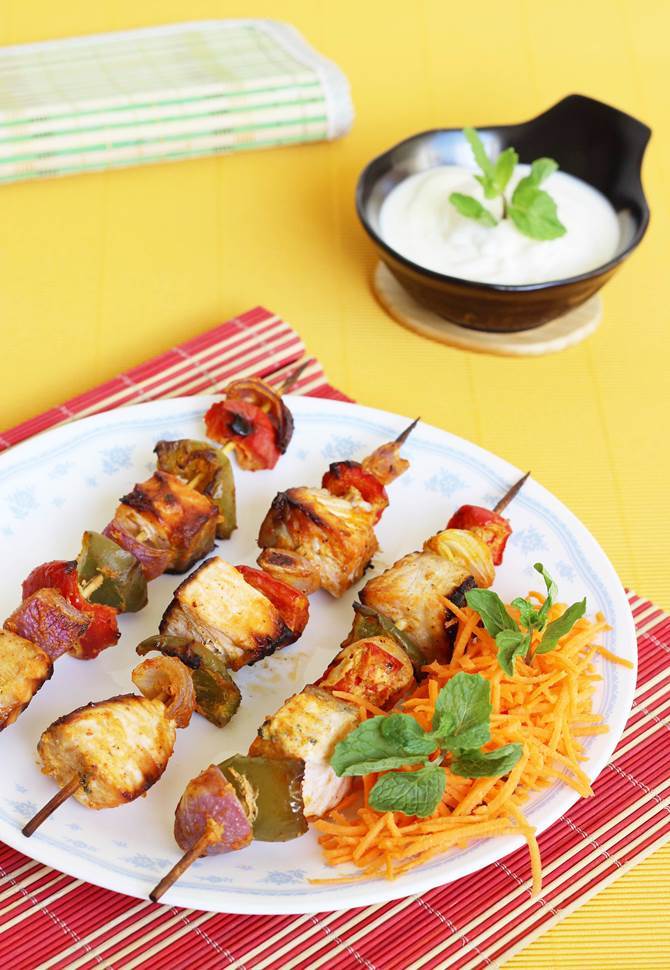 fish tikka recipe, how to make fish tikka in oven
A tikka in oven is one of the easiest healthy Indian appetizers that can be made at home.
 
Tikkas in the pictures are made using salmon, you can use any fish of your choice, but large boneless fish is all that is needed to make good tikka.
 
fish tikka recipe, shared here can be used to make a tandoori tikka or a barbecue tikka and is fairly easy to make even if you have a crowd. You don't need any fancy ingredients, just the basic ingredients that exist in most Asian kitchens will do.
 
This is an updated recipe, the new ingredient I would suggest is chickpea flour/ gram flour/ besan. It gives an unique aroma to the fish tikka. As always I have not used any food color, as color adds no taste to the food, it doesn't bother me. But if you wish to, you can use it to make it colorful. Can even use beetroot color, but I have never tried for oven tikkas. I have used salmon you can use any boneless fish fillet of your choice.
 
fish tikka with step by step pictures
1. Add yogurt to a muslin cloth and drain off the excess whey or water.You will be left with thick yogurt. Add all marination ingredients to a bowl, mix them well.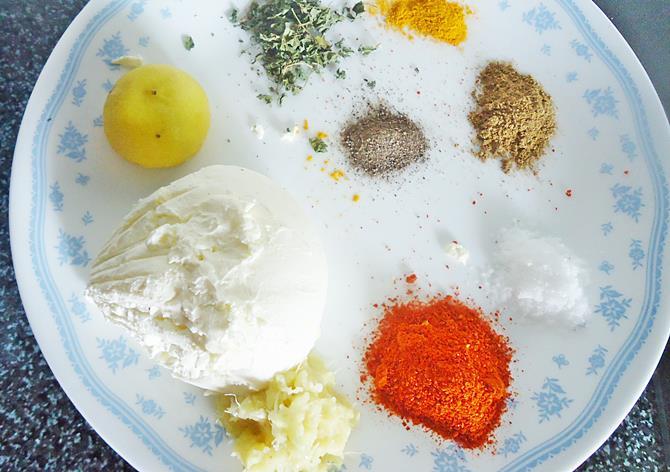 2. Add oil if you desire, if using salmon you can skip.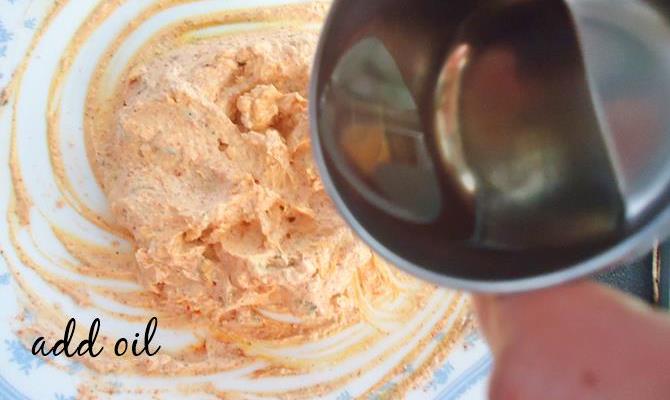 3. Wipe off the moisture from the fish cubes with absorbent papers.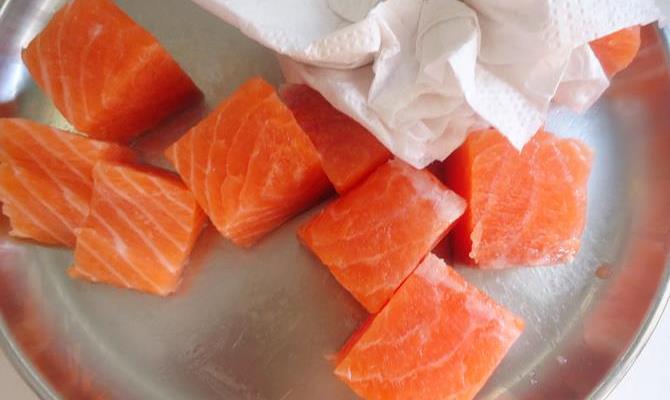 4. Marinate the fish and refrigerate for at least 2 hours. Refrigerate the marinade as well.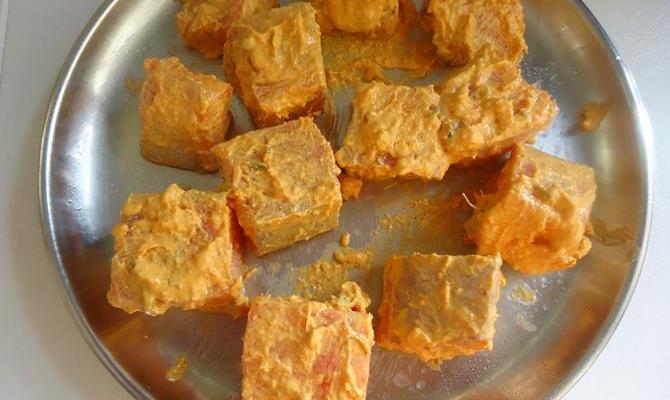 5. Soak the skewers in water for at least 30 minutes. Preheat the oven to 240 C, Remove the extra marinade from fish and add cubed veggies to the marinade and mix well.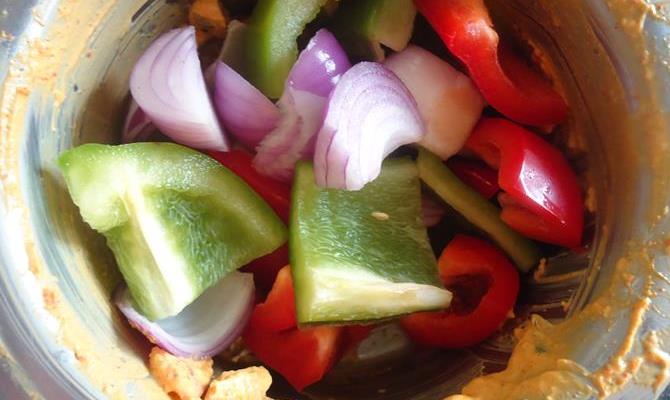 6. Remove the excess marinade. Skew the fish and veggies alternating. Bake them for about 10 minutes and then turn down to 180 C and bake for 5 to 10 minutes. In between you can baste the tikkas, with the left over marinade to prevent them from drying.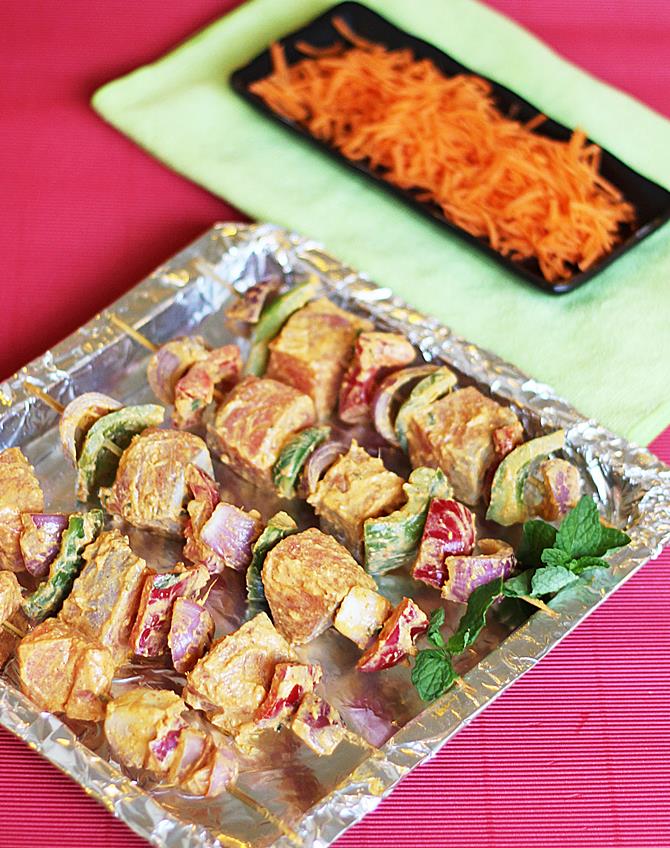 fish tikka recipe below
fish tikka recipe, how to make fish tikka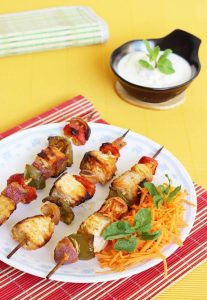 Ingredients (240 ml cup used)
Marination Ingredients
400 to 500 grams fish fillets
¾ to 1 cup regular thick yogurt
1 ½ tsp. red chili powder, Kashmiri is prefered
⅛ tsp. pepper powder
1 ½ tsp. ginger garlic paste
⅛ tsp. turmeric
½ tbsp. kasuri methi / dried fenugreek leaves (crushed) (optional)
1 to 2 tbsps. Lemon juice (skip if using sour curd)
¼ tsp biryani masala powder or ½ tsp garam masala
½ tsp coriander powder (I do not use)
Salt to taste
1 tbsp. oil (can skip if you are using salmon)
1 to 1 ½ tbsps. besan/ chickpea flour (optional)
vegetables (optional)
½ green bell pepper cubed
½ red bell pepper or 1 tomato deseeded cubed
1 large onion cubed
How to make the recipe
Add yogurt to a cheese cloth and drain off excess water or whey. You will be left with thick yogurt. You can even hang it inside the refrigerator to make hung curd.
Wash and peel of the skin, if cannot just proceed.
Cut them to equal cube sized pieces, remove the moisture from them using disposable or absorbent tissues.
Mix all the marination ingredients and marinate for at least 2 to 12 hrs.
Soak the wooden skewers for at least 30 mins in water to prevent burning else you will have burnt skewers like mine.
Just before you begin to bake, cube the veggies and marinate in the left over marination. Veggies at room temp, using from the fridge right away makes them soggy. I do not marinate for long as tend to lose the crunch, so I marinate just before I bake them.
Remove the excess marinade and put them on to skewers, alternating veggies and fish. There will drippings from the meat while baking, do not forget to place a tray to collect the spills in case you use a wire rack for placing the skewers and not a tray. Otherwise it will mess up your oven.
Preheat the oven to 240 C, bake for 10 mins and then on 180 C for another 5 to 10 mins. I suggest you to check after 15 mins.In between you can baste the marinade to the tikkas to prevent them from drying.
Notes
I reduced the heat to 180 C at end and found that the meat is soft and moist. Many suggest you bake on the highest heat possible, but to prevent the meat from charring the max I use is 240C.
There will drippings from the meat while baking, do not forget to place a tray to collect the spills in case you use a wire rack for placing the skewers and not a tray. Otherwise it will mess up your oven
for more fish recipes, check
andhra fish fry
baked fish
vanjaram fry
tawa fish fry
fish tikka masala