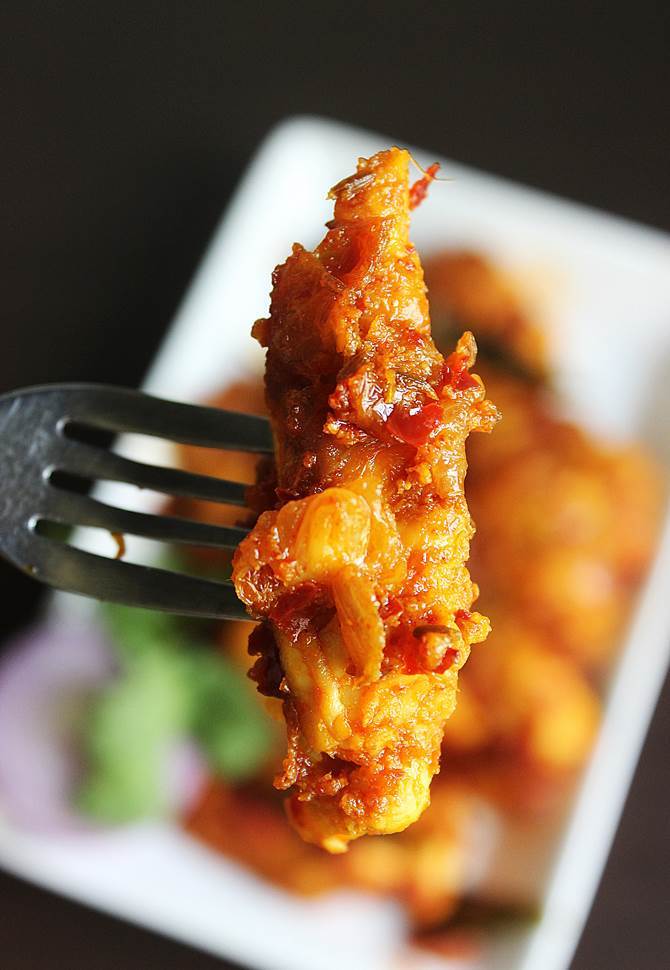 garlic chicken in 20 minutes
This garlic chicken makes a perfect starter or a side to make a meal exotic. My new found trick to tenderize the chicken which I learnt from my chicken majestic, works well for this recipe too. I soaked the chicken strips overnight in buttermilk along with salt and pepper. I was surprised at this soft, tasty and tender chicken, all without deep frying and it is egg free too. I am yet to try baking this. This is not any restaurant style chicken dish but it tastes awesome and is ideal for a home preparation. This Indian garlic chicken can be prepared in just 20 mins excluding the marinating time.

To make the spice paste, I just followed my hyderabadi paneer 65 recipe. You can tweak it a bit to suit your taste. For me this turns out perfect.

Note for those who cannot blend and make a paste: mix red chili powder, chopped and crushed garlic, vinegar, sugar, salt and 1 tbsp. water. Use this paste for marinating.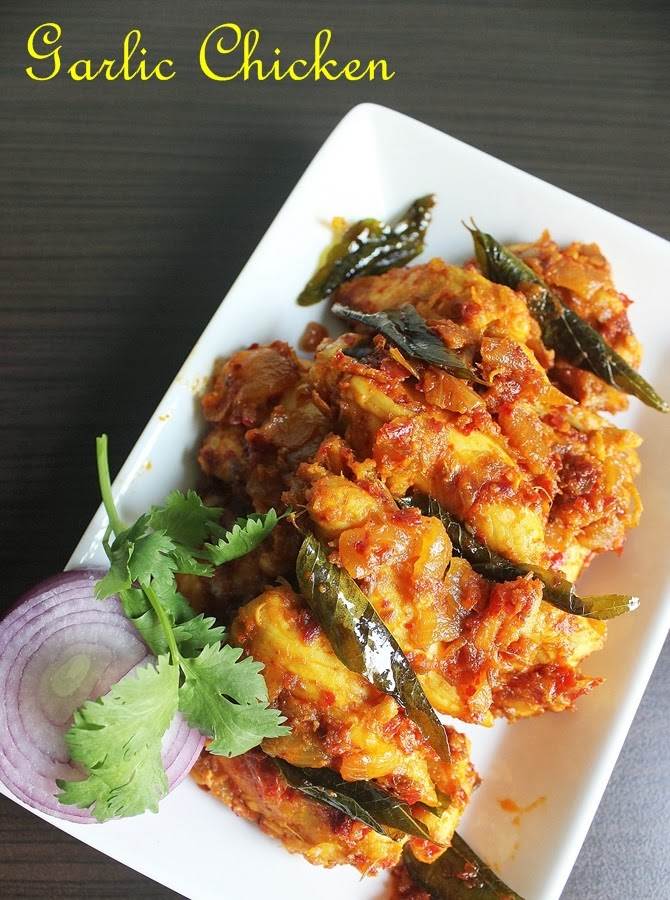 Garlic chicken recipe below
Garlic Chicken Recipe – How to make easy Garlic Chicken in 20 minutes
Quick and Easy Indian Garlic Chicken in 20 minutes
Ingredients
Marination
300 grams of chicken strips or boneless cubes
4 tbsps. Yogurt / dahi / curd (do not use sour yogurt)
Salt very little
Generous pinch of pepper
Seasoning
2 tbsps. Oil
1 sprig curry leaves
¼ tsp cumin
1 onions chopped finely
Ingredients for Chili garlic sauce (this can be prepared in larger quantity and refrigerated)
5 red chilies
5 garlic cloves
¾ tbsp. Vinegar
¼ tsp sugar (optional)
Salt to taste
Water 15 to 30 ml (lesser, better) to make a paste
Garnish
Coriander leaves few
Onion wedges or rings
Lemon
Method
Mix yogurt, salt and pepper with ½ to ¾ cup water. Beat well and set aside
Wash chicken and soak it in the above prepared butter milk for overnight in the refrigerator
Blend and Make a paste of the ingredients mentioned for chili garlic sauce
Drain up the buttermilk and add the prepared sauce. Mix well and leave it for 5 minutes. If you want to prepare it at a later time, you can put it back in the refrigerator.
Heat a pan with oil, add cumin and curry leaves, sauté till the cumin begins to splutter.
Add the onions and fry till golden.
Add the chicken and fry on a high heat for 2 to 3mins. When you see the chicken turning white, cover it with a lid and lower the heat and cook till the chicken turns tender. This barely takes 5 mins if you are using strips
Remove the lid and fry till the moisture evaporates and the sauce begins to cling to the chicken. The longer it is roasted, the sauce becomes more aromatic and tastier but the chicken tends to lose its tenderness. So take off from the heat when it is of your liking. Take care not to burn, garlic burns faster.