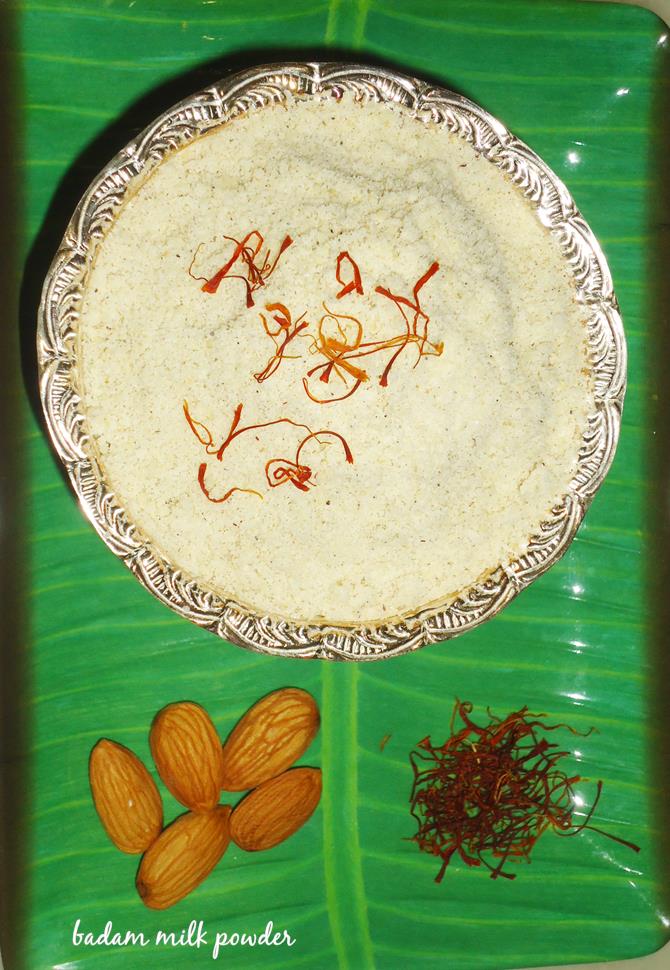 almond | badam milk powder recipe or homemade almond milk powder recipe
 
I recommend you to read my post on traditional way of making badam milk with soaked almonds , the ayurvedic way and raw almond milkto get a smoother and rich milk. Almond milk is one of the most energizing drinks that we all know. With the comfort of store bought powders, we seldom make almond milk powder at home. We prefer to serve health drinks like pediasure and milo to our growing kids with an assumption that they are very healthy. But how healthy are these drinks with loaded synthetic nutrients. Are these really being absorbed by the body?
 
The commercial badam milk powder recipe like the MTR has only 8.5 % almond powder in it with loads of starch and milk powder added to it which is visible on the ingredients list.
 
homemade almond milk powder is purely a protein powder and we know what goes inside our powder. Though stirring this powder in hot milk is not the authentic way of making almond milk, it is just an easy alternate.
 
UPDATE: Some of you did write to me asking why almonds need to be blanched before we powder them. According to ayurveda, almond skin is very hard to digest and it can even lead to build up of toxins in the body. Hence it is better to discard the skin.
 
how to make almond/ badam milk powder at home with step by step pictures
1. bring water to a rapid boil in a wide pan, add the almonds and leave them for a minute or two.
2. Rinse them under running water, immediately drain and transfer to a absorbent cloth.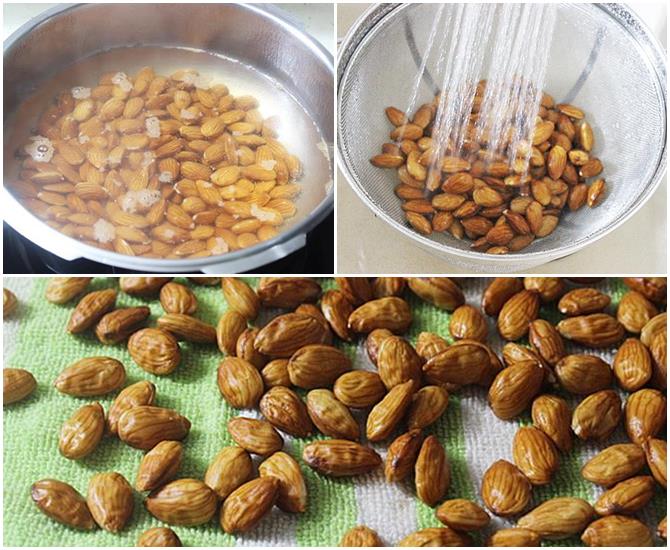 3. you will see the skin loose, just peel off and pat them on a dry cloth.
4. Add these blanched almonds to the wide heavy bottom pan, and roast lightly till they look dry. This is done to increase the shelf life. cool them completely.
5. Add them to a blender along with rock sugar, few cardamoms and saffron. You can even add them instantly when you make milk. But adding rock sugar helps to make a fine powder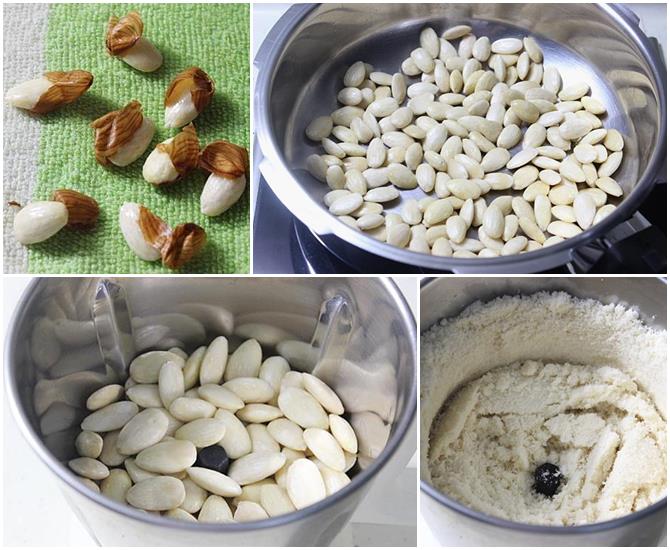 6. Store almond/ badam milk powder in an airtight jar. If you stay in a humid weather, refrigerate and use.
7. Add it to little hot milk and stir. Further add hot or cold milk and stir . you can even add it to boiling milk and simmer for few minutes
 
find badam milk powder recipe or almond milk powder recipe below
homemade almond | badam milk powder recipe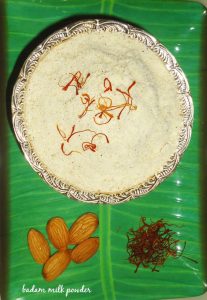 Homemade almond or badam milk powder recipe to make instant badam milk
Ingredients (240 ml cup used)
1 cup of roasted blanched unsalted almonds
¾ cup of red or white rock sugar
1 tbsp cardamom powder
½ to 1 gm of saffron
How to make the recipe
To make badam milk powder
Blend all the ingredients to a fine powder, in a blender on a minimum speed. Blend until the powder is fine but do not run the blender for more than 30 secs each time, else the almonds will release oil making the powder lumpy.
Store in an air tight container. Stays good for several months.
how to use almond powder to make milk or alternate ways to use almond powder
Stir in the almond powder to a cup of hot milk. Allow it to cool down and serve it.
or
Soak the almond powder in ¼ cup of milk preferably warm or room temperature. Set aside for at least 1 hr. Bring ¾ cup of milk to boil and add the soaked almond paste and stir well and bring it to boil once again. Off the heat / flame.
or
Sprinkle the almond powder on your toddler's cereals. This is a good way of serving almonds to toddlers who cannot still chew nuts.
You can just sprinkle the powder on your cornflakes or any other cereals to enhance the nutrition. The absorption level of the nutrients are higher when consumed in the powdered form
Can be used to your oatmeal cereal too
Can be used to make any kinds of ladoos, burfis, cookies, cakes milkshakes etc.