Aloo dum biryani recipe cooked in the hyderabadi style, almost similar to the veg biryani that I shared earlier. Hyderabadi recipes are well known for their great aroma and rich taste. Dum biryani acquire the best fragrance of the spices due to the dum process, on a low flame, trapping the steam inside the utensil to retain the best aroma and taste.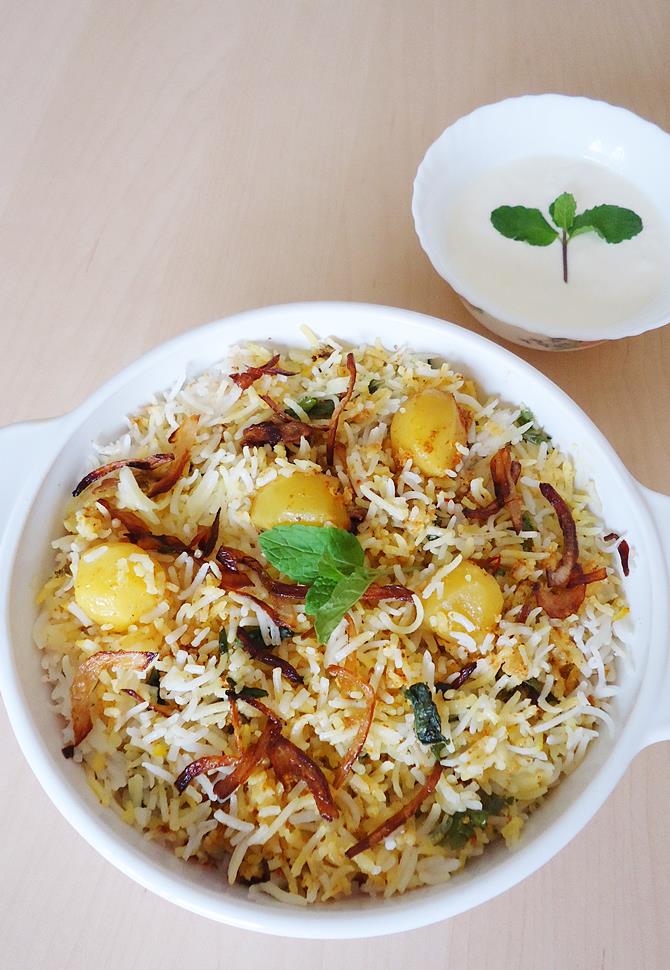 Traditionally they were cooked in clay pots and were sealed with a dough or something similar. But since many of us may not have these pots at home, we can do them in non-stick pans too, as I do. But need an airtight lid, can even use foil or kitchen cloth to partially help us in sealing. The authentic recipes call for oodles of ghee and nuts which is totally at our discretion to use.
If you are looking for a simple aloo biryani, here are some of the posts on veg biryani recipes which you can easily adapt to make a simple biryani.
Veg biryani in pressure cooker
Soya chunks biryani
Paneer biryani
Mushroom biryani
Dum aloo biryani, potato biryani recipe below
Aloo dum biryani recipe | How to make dum potato biryani recipe
Aloo dum biryani or potato biryani made in simple dum style.
Ingredients (240 ml cup used)
3 medium sized potatoes peeled and cubed.or 9 to 10 baby potatoes pricked with fork randomly
Fistful of fried onions (you can use store bought)
2 green chilies slit
Fistful of coriander leaves chopped
Fistful of mint leaves chopped
Few strands of saffron soaked in 2 tbsps. milk
3 tbsps. oil or ghee
dry spices
1 bay leaf
2 green cardamoms
1* 2 inch cinnamon
4 cloves
½ tsp shahi jeera (black cumin)
1 star anise
6 pepper corn
Marination ingredients
¾th cup yogurt
½ tbsp. red chili powder
¼ tsp turmeric
¾thtbsp. Ginger garlic paste
½ to ¾ tbsp. biryani masala or garam masala powder
Salt to taste
for cooking rice
1 tsp. oil (optional)
1 ½ cups basmathi or any long grain fragrant rice
1 star anise
1 bay leaf
4 cloves
1* 2 inch cinnamon
3 green cardamom
¼ tsp shahi jeera (black cumin)
Few pepper corn
Salt to taste
How to make the recipe
Add ghee or oil in a pan and fry them till they are almost cooked. It takes around 10 mins. If the potatoes are from cold storage, cook them well by sprinkling water otherwise they will be uncooked in the biryani.
Add the cooked potatoes to the marination ingredients and marinate for at least an hour to one hour . Keep this aside
Wash and soak rice for 20 to 30 minutes.
Add spices, salt and oil if needed to 4 cups of boiling water and cook rice until it is cooked al dente or ¾ th cooked, not mushy. Drain off the rice and set aside.
Add ghee to a biryani pot or pan, fry green chilies and spices till they sizzle
Add the marinated potatoes along with the yogurt, cook till the potatoes are tender, just cooked and not mushy. If required sprinkle water little to cook the potatoes. At the end a thick gravy should be remaining. Lower the flame.
On another burner, heat a tawa for dum process.
Sprinkle coriander and mint leaves to the cooked mixture. Layer rice evenly, then the fried onions, again the coriander and mint leaves, pour the saffron milk evenly all over
Seal the rim with an airtight lid or foil, for the steam to be trapped inside.
Transfer the biryani pot to the hot tawa, Cook for 10 to 12 mins on a medium to low flame. Switch off the stove. Leave the pan covered for another 10 to 20 minutes for the flavours to enhance.
Serve aloo dum biryani with a raita.
How to make aloo dum biryani or potato biryani recipe
1. Saute potatoes in 1 tbsp ghee on a medium to low flame, the potatoes must be almost cooked, else they remain uncooked in the biryani.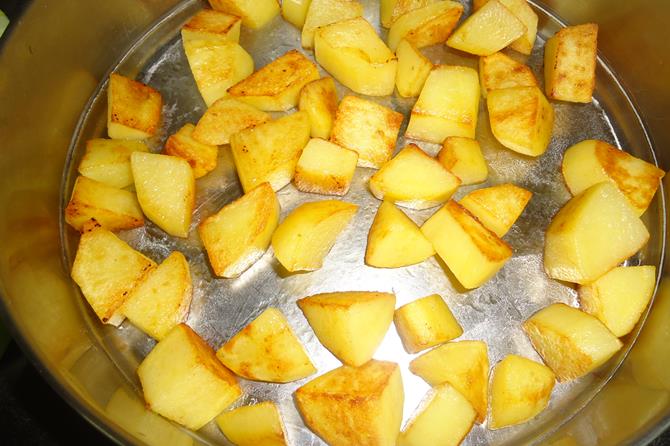 2. Marinate the potatoes with the marination ingredients and set aside at least for 30 mins to one hour.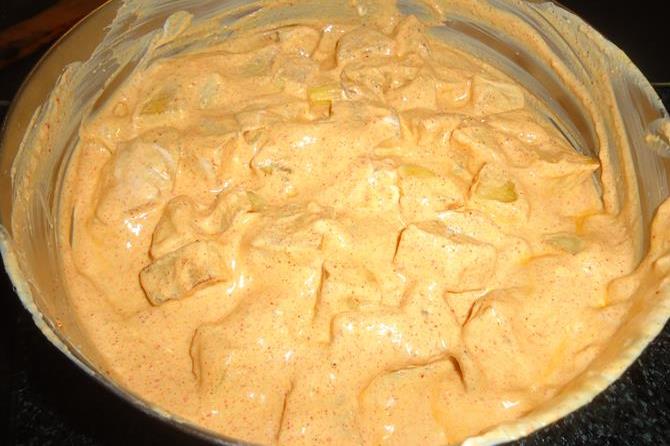 3. Bring 4 cups of water to a boil, add in the spices (for rice), 1 tsp oil, salt and soaked basmathi rice.
4. Cook till the rice is ¾ th cooked and drain away excess water to a colander.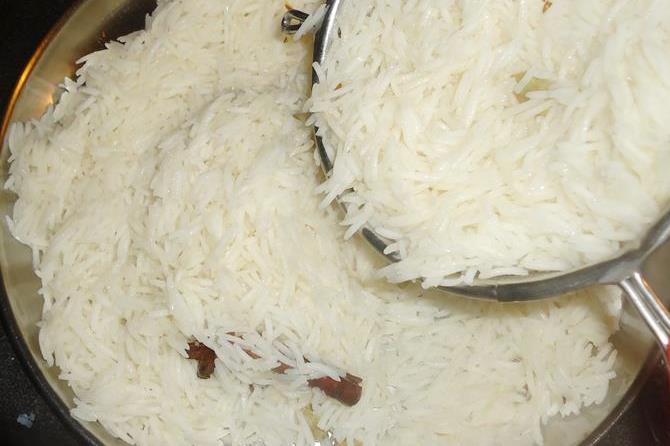 5. Heat 3 tbsp. Ghee or oil in a non-stick pan, add the green chilies, dry spices. Sauté till the spices crackle.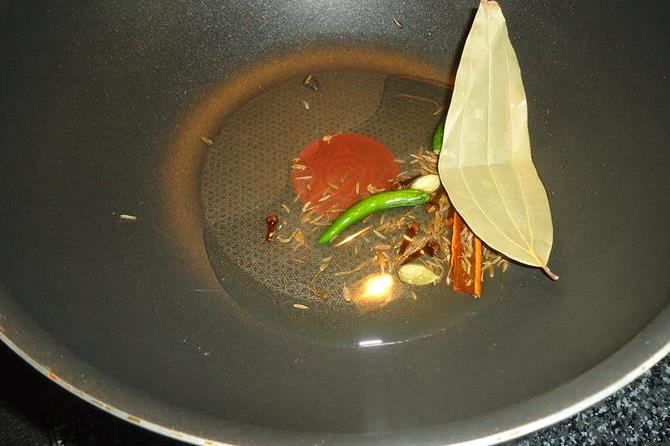 6. Add the marinated mixture along with the potatoes and cook till the potatoes are fully soft cooked.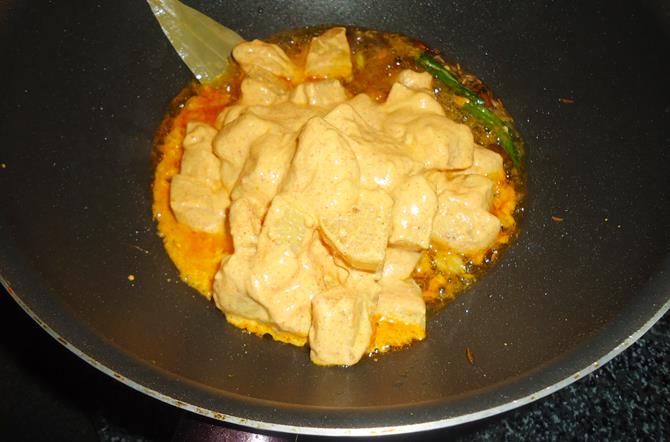 7. If needed can sprinkle water little by little to cook the potatoes. Do not cook the potatoes till mushy. Check if the potato is cooked fully by piercing a sharp tipped knife. Thick gravy should be left at the end of this step. Simmer the flame.


7. Top the potato gravy with coriander and mint leaves.
8. Spread a layer of rice evenly.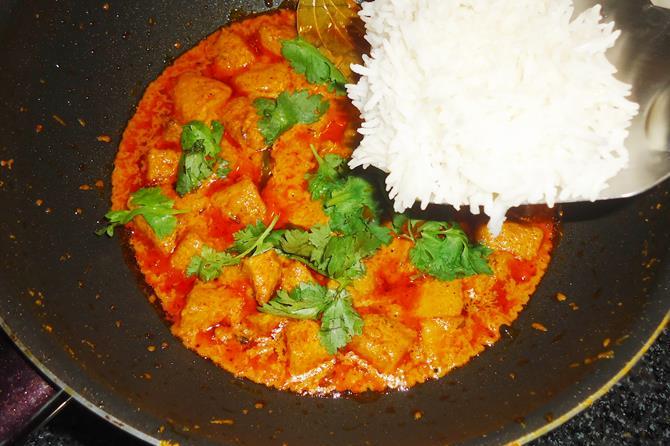 9. Drop the fried onions, repeat the coriander and mint leaves,
10. Pour the saffron milk evenly all over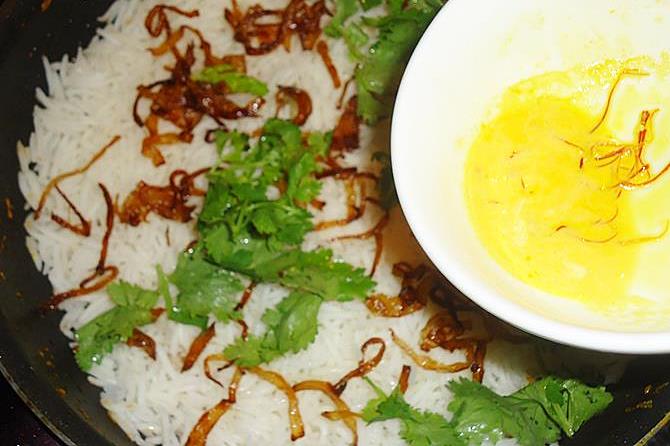 11. Close the lid of the pan or clay pot, making sure that the lid is airtight, so that the steam doesn't escape.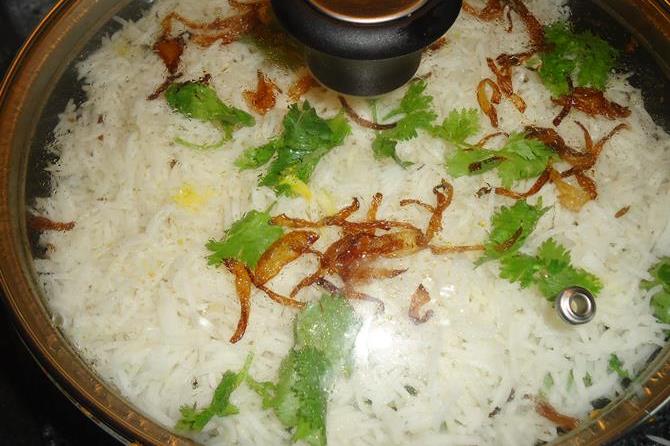 12. Place this pan/ pot on a hot flat tawa, I used an old dosa tawa. Cook for 10 to 12 mins on a very low flame. This helps in preventing the biryani from getting burnt beneath.
13. Once the flame is off. Set the pot aside without opening the lid for 15 mins and then serve.