Mango ice cream recipe without an ice cream maker. There are many ways a mango ice cream is made. Over the years I have tried a few recipes and loved 2 simple methods of making this. To minimize the quantity of sugar and to keep the ice cream flavorful, use the best quality ripe mangoes that are deep in color. This way you will get bright, smooth and flavorful mango ice cream.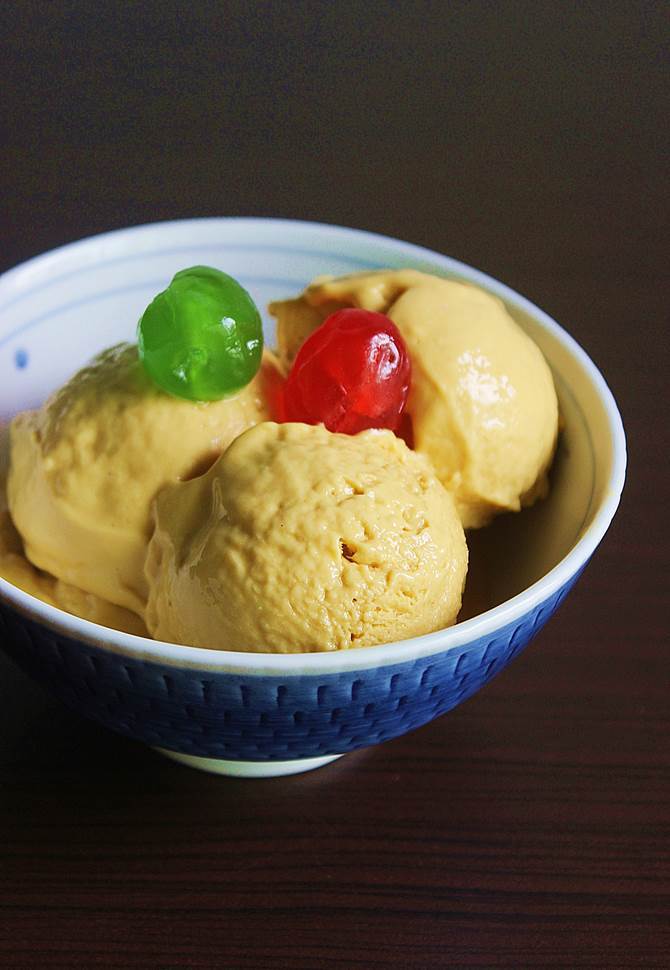 Yes you can still get this vibrant color even when made using unrefined sweeteners like jaggery or coconut sugar since very little sweetener is needed if it is made with sweet mangoes. I used the andhra popular variety banginapalli, you could use any sweet mangoes with deep color pulp.
I am sharing 2 different recipes on this post. The first one needs a hand mixer and the second one needs only a blender. Texture wise both are different and taste good. These 2 recipes are perfect even for those who don't have whipping cream or looking for a low fat mango ice cream that can be made with unrefined sugar.
The only 2 things I follow to get a best ice cream is to use high fats and to avoid juice, water as they tend to form ice crystals in the ice cream once it is set and need to blend many more times to break the crystals. If you are using low fat cream, crystals do form once it is set, so while whipping it the second time, You can also add a few table spoons of low fat milk powder, which absorbs the water content in the crystals and then prevents it the next time it is set.
Serve with your favorite toppings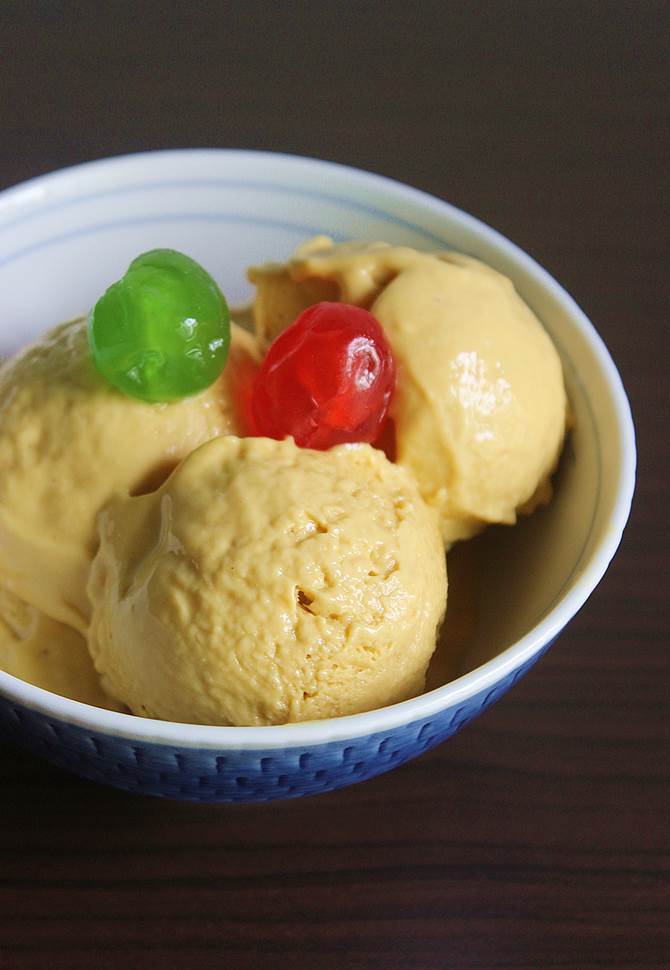 find complete mango ice cream recipe below
Mango ice cream recipe without a ice cream maker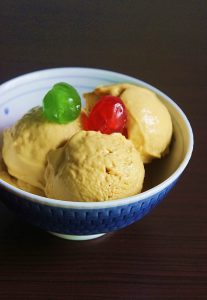 Ingredients (240 ml cup used)
2 cups or 500 ml heavy whipping cream or any cream with at least 25% fat (preferred is 35% fat)
1.5 cups mango puree
¼ cup sugar (organic) or palm sugar about 50 grams
3 tbsps milk powder (optional, to use if using cream less than 35%fat)
How to make the recipe
Method 1 - using hand mixer
Chill the bowl, beater and the cream for few hours.
Mix sugar and mango puree. Whisk until sugar melts off. You will be using milk powder if your cream is low fat or below 35%. If using milk powder, add that as well and mix well to prevent lumps.
Add the cream to the chilled bowl and whip until soft peaks using a stand or hand mixer.
Add 3 tbsps of this to the mango puree and stir well until combined.
Pour this to the whipped cream and gently stir well to avoid any streaks.
Pour this to a freezer safe bowl and freeze for about 3 to 4 hours.
Whip this again for 1 to 2 mins.
Transfer the mixture back to the freezer safe bowl. Cover and freeze until set.
If you find ice crystals, you can repeat the process of whipping again twice.
Scoop and serve.
Method 2 - Using blender no hand mixer needed, no churn
We need only 250 grams mango puree, 100 ml of fresh cream, Half can of condensed milk (about 150 grams).
Blend all the ingredients in a blender.
Pour the mix to a freezer safe container. Freeze until set for overnight. Scoop and serve when set.