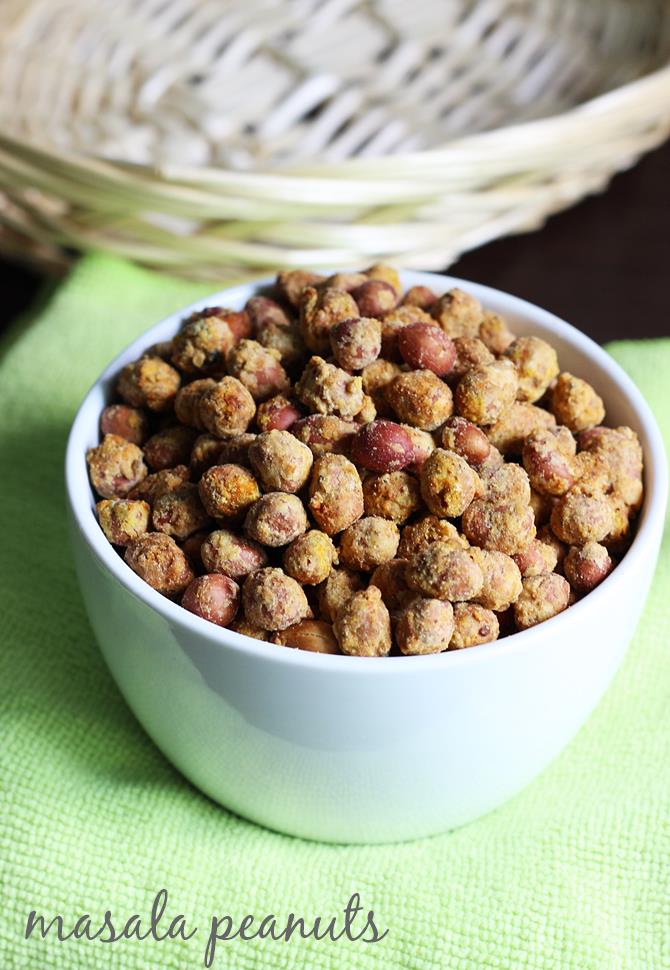 masala peanuts are roasted peanuts coated with chickpea flour and spice mix. They can be deep fried,baked or microwaved, using the same ingredients.
 
If baked, they make a guilt free healthy snack and can even be consumed regularly. After the disaster with chegodilu, I was too scared to make any deep fried foods and I am still suffering with the burns. So I baked these to cheer up my disappointed kids.
 
masala peanuts make a delicious snack for your kid's school box or as a mid-morning snack too. You can add some raw chopped onions, tomatoes, coriander leaves and make an instant chat too.
 
The amount of flours mentioned in the recipe, gives a good coating to the peanut without making them very floury. If you like the taste of the crusty flour, then add more flours along with the spice mix.
 
how to make masala peanuts with step by step pictures
1. Preheat the oven the 180 C for about 10 minutes. Prepare a tray with parchment paper or foil.  Grease the tray first and then place the parchment paper. If deep frying, add oil to a pan and heat it.
2. Add chickpea flour, rice flour, garam masala, chat masala, turmeric, chili powder, hing, curry leaves, ajwain and salt to a plate or tray. Mix everything well and check the salt. if needed adjust. i did forget to mix everything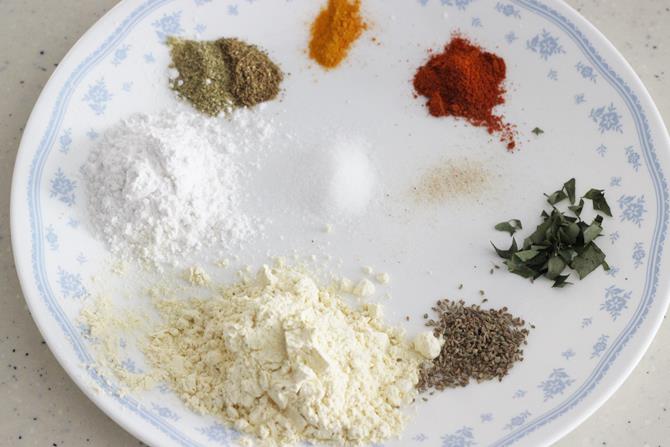 3. Clean and rinse peanuts under running water. Drain off the water completely.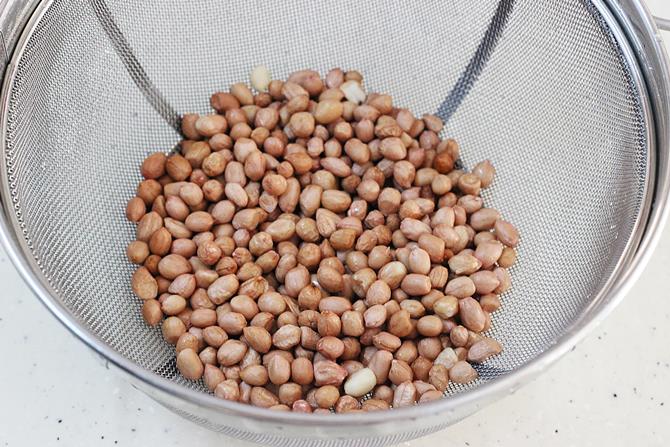 4. Add ginger garlic paste or powder to the peanuts and coat them well. Then roll them in the mix. The flour coats well on the moist peanuts. If you are using more quantity of flours than mentioned, you will have to use few drops of water to bind the flour well. If baking Add one tbsp. oil and smear all over the peanuts. Any edible oil can be used including Coconut oil. If deep frying skip oiling the peanuts.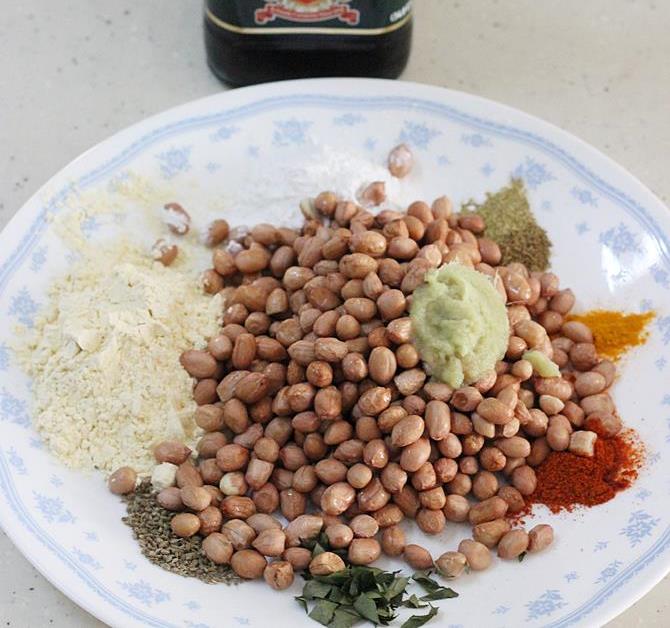 5. If deep frying, make 2 to 3 batches and fry them till golden. Drain to a tissue. If baking add them to the prepared tray and spread them evenly. Bake for about 10 minutes . If still undone, you can leave for another 2 to 3 minutes. They bake even after out of the oven in the hot tray.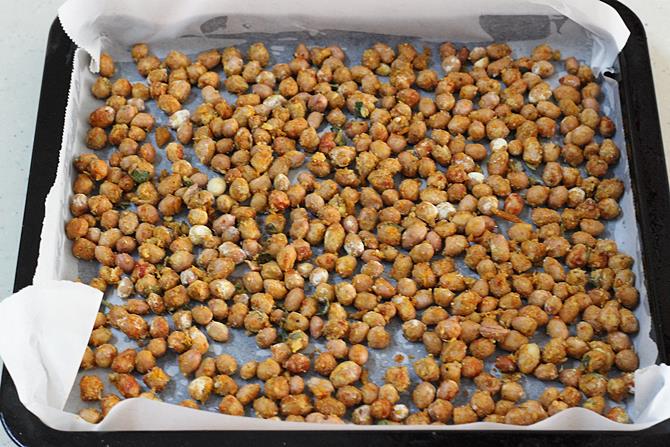 Masala peanuts are ready. Cool them completely and store in an airtight glass jar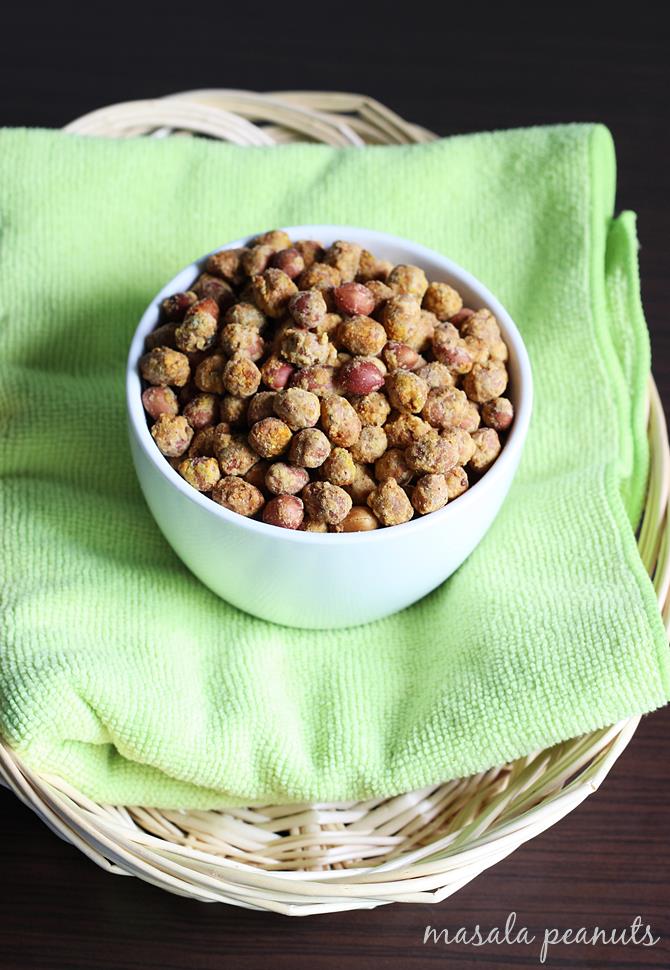 masala peanuts recipe
masala peanuts | masala peanuts recipe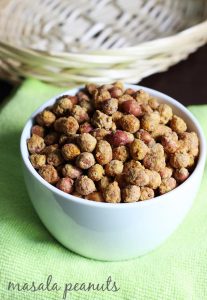 Peanuts coated with chickpea flour and spice powders and fried or baked
Ingredients (240 ml cup used)
1 heaped cup peanuts
½ tsp. red chili powder
½ tsp. garam masala
½ tsp. chat masala or amchur powder / dry mango powder (optional)
3 tbsps. besan / chick pea flour
1.5 tbsps. Rice flour
Generous pinch of turmeric and Hing (optional)
1 tsp. ginger garlic paste or grated ginger garlic or powder
½ tsp. ajwain / vaamu / carom seeds
1 sprig curry leaves or mint leaves chopped finely
Salt as needed
1 tbsp. oil
How to make the recipe
This step is optional and follow if baking the peanuts. Grease a tray lightly, heat the oven to 180 C for at least 10 minutes.
Add all the ingredients to a plate, except oil, peanuts, and ginger garlic paste. Mix them together and check the salt. If needed adjust.
Rinse peanuts under running water. Drain them in a colander completely.
Add the peanuts to the plate along with ginger garlic paste.
Smear the ginger garlic paste to the peanuts first and then roll them in the flour mix well. Add oil and mix them if baking. If deep frying, need not use oil.
Transfer these to a baking tray and bake for 10 to 12 minutes. Or deep fry them in hot oil until golden. Drain them on a tissue. Cool completely and transfer to an airtight glass jar.
For more healthy snack recipes, check
Corn chat
Chana chat
Green gram cutlet
Vegetable spring rolls
Paneer tikki or cutlet
Wheat paneer crackers
Baked alasanda vada