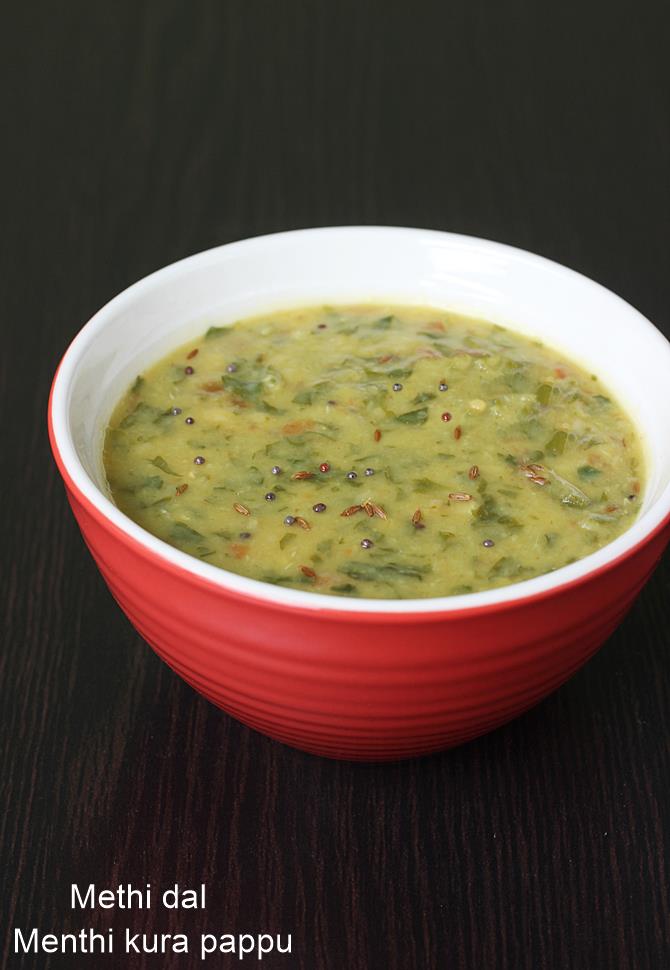 menthi kura pappu – andhra style quick and easy methi dal recipe. Methi leaves or fenugreek leaves are called as menthi kura or menthi akku in telugu and pappu is dal. This simple dal can be served with ragi sankati or mudde, rice, cooked millets or with phulka.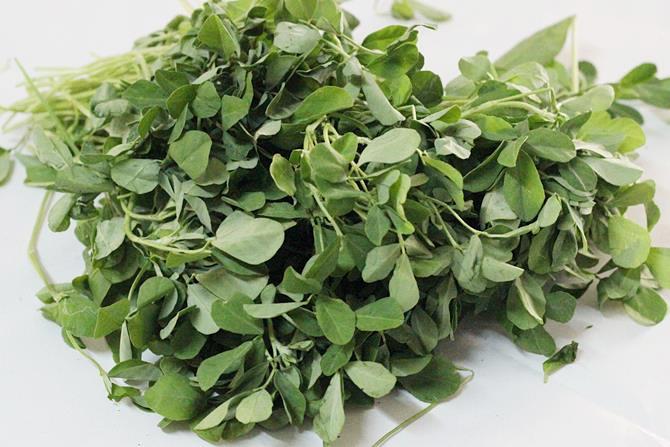 to make methi dal, lentils and methi leaves can be cooked together. But i have added the methi leaves after cooking dal just not to overcook them. The leaves can also be sauteed in oil or ghee along with the temper and added to the cooking dal.
 
To make andhra style menthi kura pappu, most people use tamarind to give a sour taste to the dal. I don't prefer to use tamarind most times so I try with other ingredients like amchur powder,dry mango slices, a piece of fresh raw mango or lemon juice. If you don't like your dal to be sour, you can skip the sour ingredient.
 
more andhra pappu recipes,
tomato pappu
gongura pappu
 
find the complete recipe of menthi kura pappu below
menthi kura pappu | methi dal recipe andhra style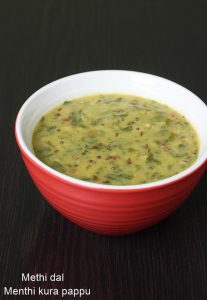 Ingredients (240 ml cup used)
¾ cup dal / pappu (tur dal or moong dal or a combination)
1 to 1 ¼ cup chopped methi / menthe kura
1 medium ripe tomato finely chopped (optional)
1 green chili (optional)
Salt as needed
Pinch of turmeric
Seasoning
Ghee or oil as needed
½ to ¾ tsp cumin / jeera
½ tsp mustard
1 sprig curry leaves (optional)
Pinch of hing
1 broken red chili
1 garlic clove
optional
¼ tsp amchur powder or a small piece of raw mango or tamarind paste as needed
How to make the recipe
Wash dal few times and cook with 1 ½ cups water, tomato and chili till soft. If cooking in pressure cooker, cook for 2 whistles. If using dried or fresh unripe mango, add few pieces and cook with dal.
While the dal cooks, pluck methi leaves and add them to a large pot filled with water. Rinse them and discard the water. Repeat rinsing and drain.
When the dal is cooked, mash it with the back of a ladle, if you like smooth dal. Add salt, turmeric, amchur and chopped methi leaves to the dal.
Cook till the methi leaves wilt off completely.
Add ghee or oil to a small hot pan, Add cumin, mustard, red chili. When they begin to splutter add hing, curry leaves and garlic. When the curry leaves turn crisp. Pour this to the methi dal and simmer for a minute.
Serve menthi kura pappu with rice, phulka or mudde.