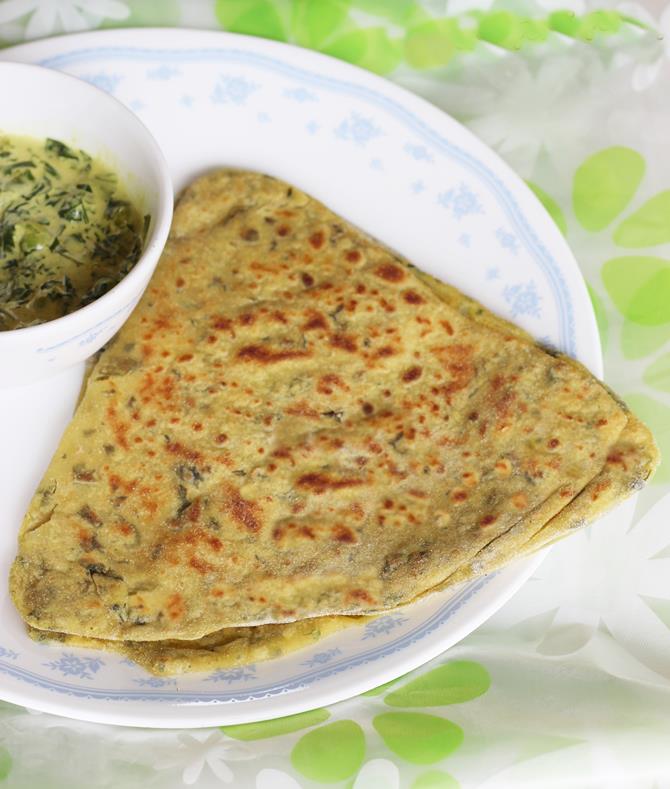 methi paratha and roti are made at home when ever i have fresh fenugreek leaves. For the kids lunch box it is the methi paratha and for me and the hubby i make the roti.
 
Fenugreek / methi leaves apart from being nutritious help to keep blood sugars in control and get rid of constipation. Making paratha is one of the easy ways to include methi in our diet. This recipe can be used to make roti or layered paratha or even just simple paratha, anything you choose.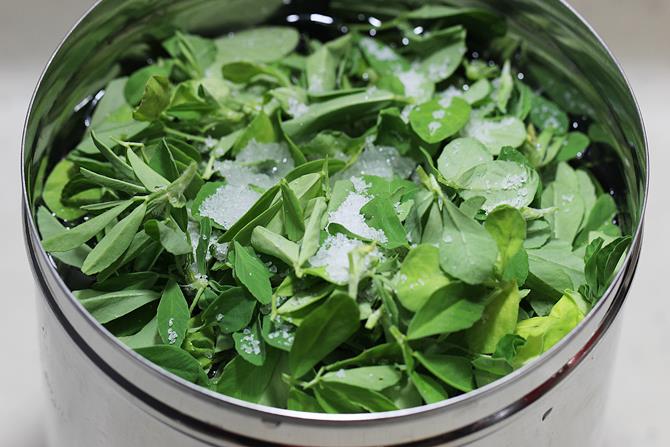 If i have no time to leave the dough for soaking, then i use few tbsp. of curd to cut down the soaking time. Adding curd also enhances the nutrition and taste. Those who like to cut down the fats from yogurt can make without curd. They still turn out soft and good, but need to be soaked for at least 35 minutes. Adding curd also takes away the bitter taste of leaves, keeping them very soft.
 
Kids love the triangle layered paratha hence i make for them that way. Scroll down to find the second method.
 
step by step photos methi paratha or roti
1. Add flour, garlic, chili powder or green chili and ajwain powder or garam masala powder if you like. Add finely chopped leaves, this helps to bring out the flavors in fenugreek leaves. You can add curd as well if you like.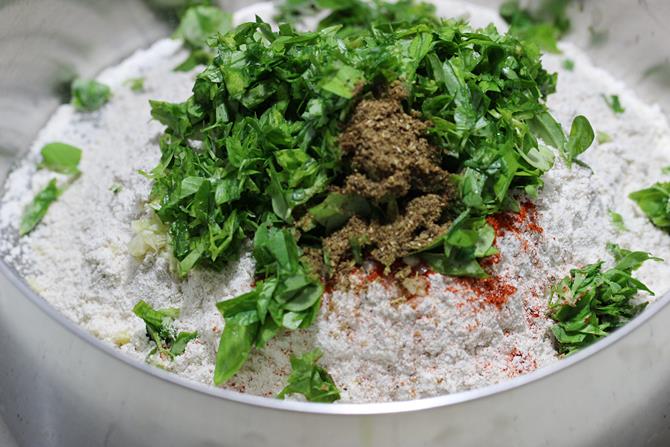 2. Knead the dough with just enough warm water. Add little oil.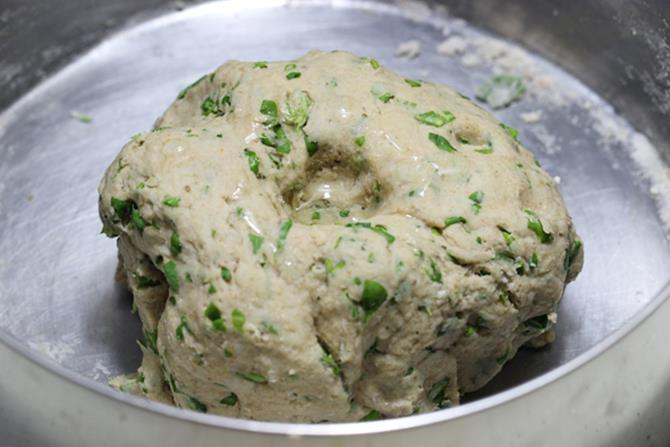 3. Knead to a pliable dough. Set aside for about 30 minutes. If you have used yogurt you can rest for 20 minutes.


4. Make equal sized balls.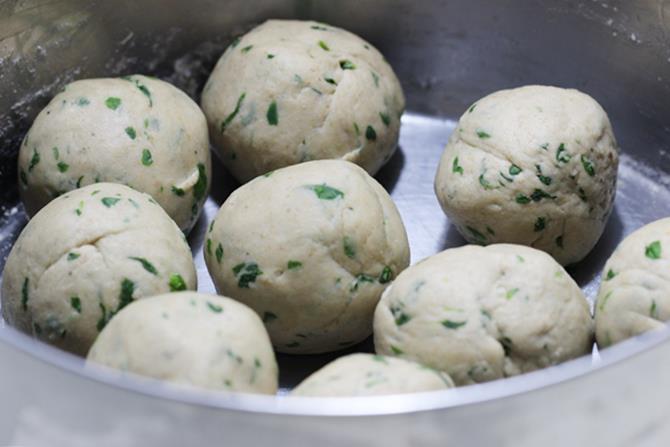 5. Flour the rolling area. Sprinkle flour over the balls.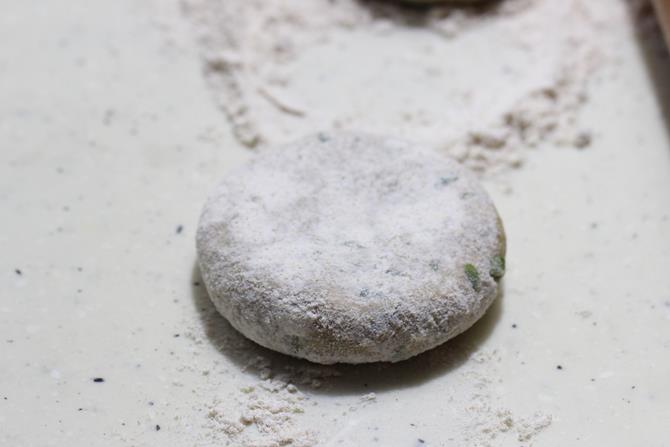 6. Roll it to a even sized paratha, slightly thicker than roti. Finish making all the parathas. Place them aside on a dry place.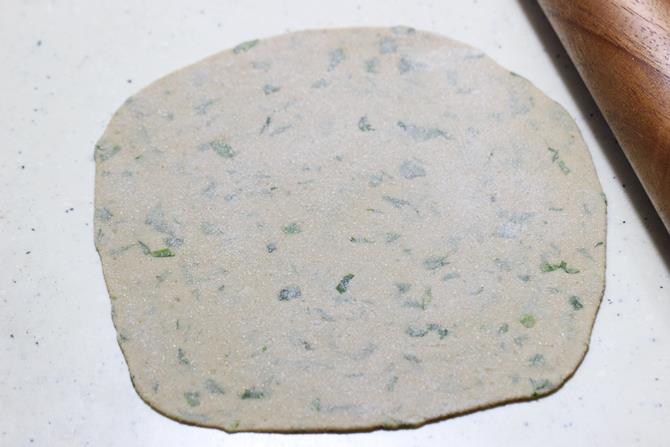 7. Heat a tawa, when hot, place the paratha and allow to cook. When you see the bubbles, flip it to the other side and cook.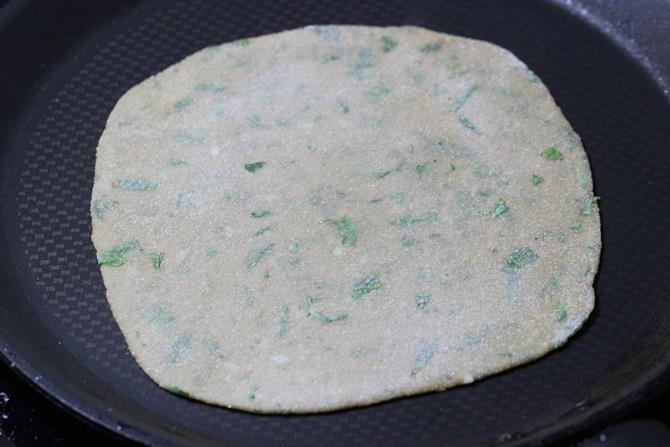 8. Smear ghee over the paratha.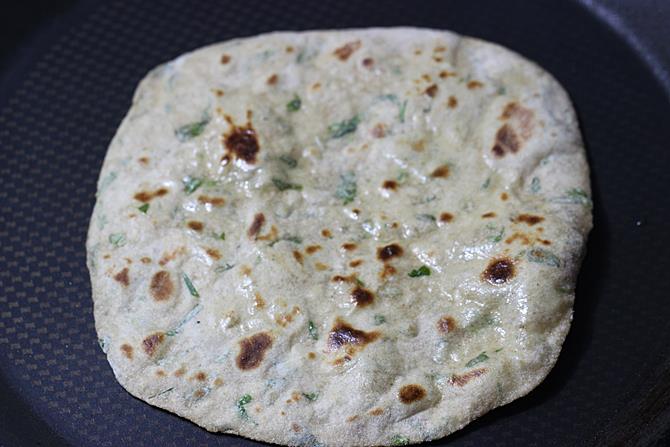 Method 2 for layered triangle methi paratha
1. To make roti, roll the balls to roti and toast them right after this and skip the other steps.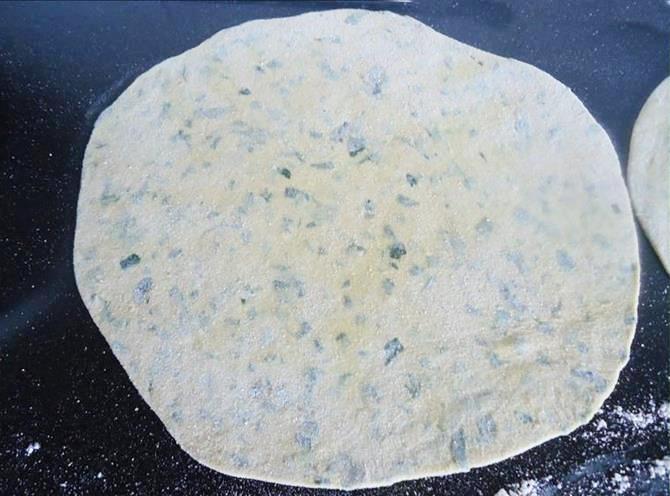 3. For making layered paratha, smear oil on the roti.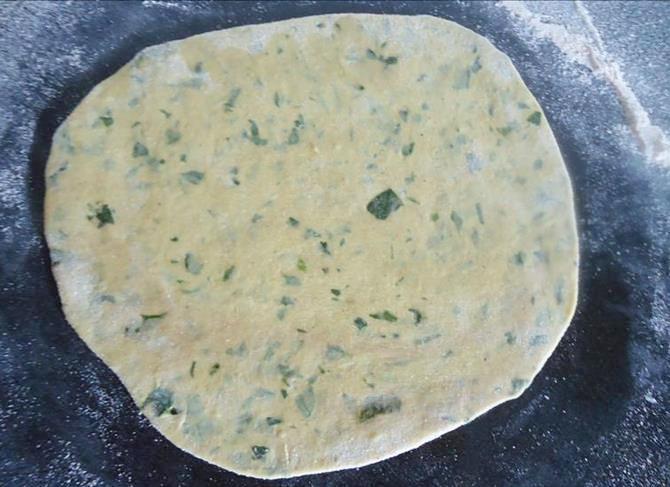 4. fold it to half. smear oil again.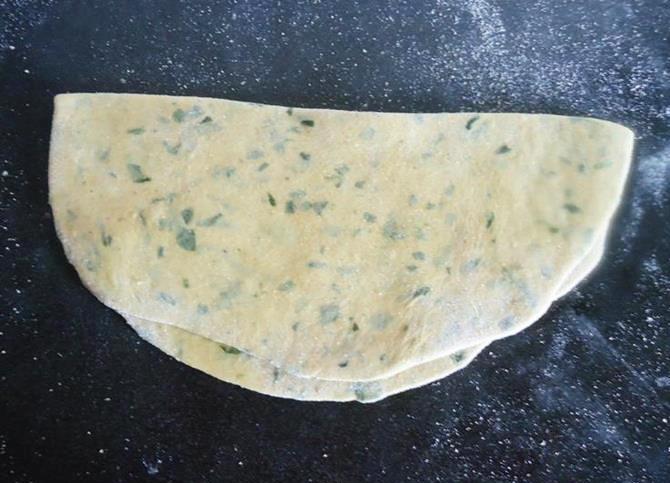 5. Fold it again to make a triangle.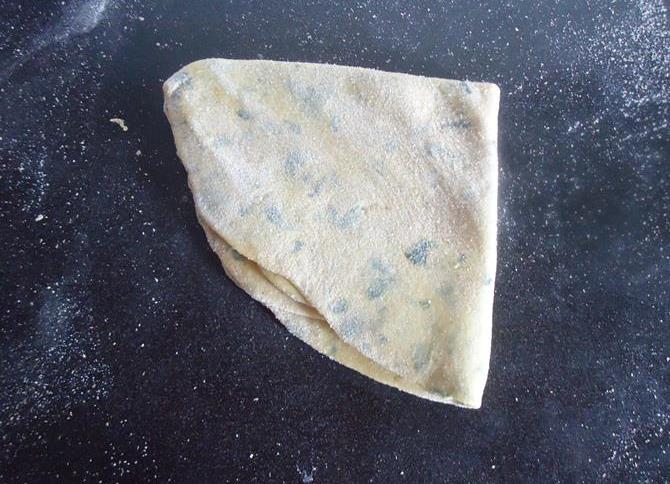 6. Roll it slightly to make a thick layered methi paratha.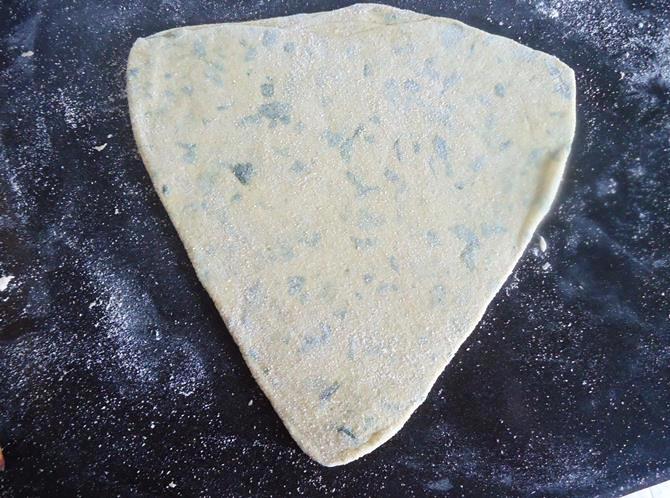 7. toast them on a hot tawa on a high flame. Press the paratha with the wooden spoon or with a kitchen tissue to puff it well. Toast it on both the sides until lightly brown spots appear. Do not over cook they turn hard.Stack the parathas one over the other to keep them soft. Also keep them covered until you serve.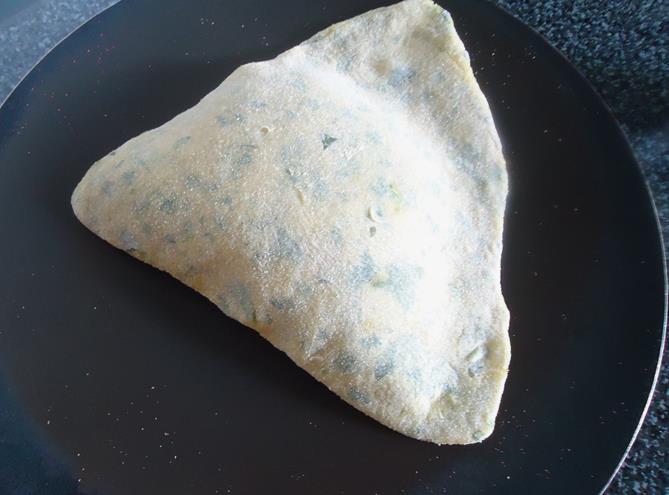 8. Sprinkle some ghee or oil. Serve with any curry or dal.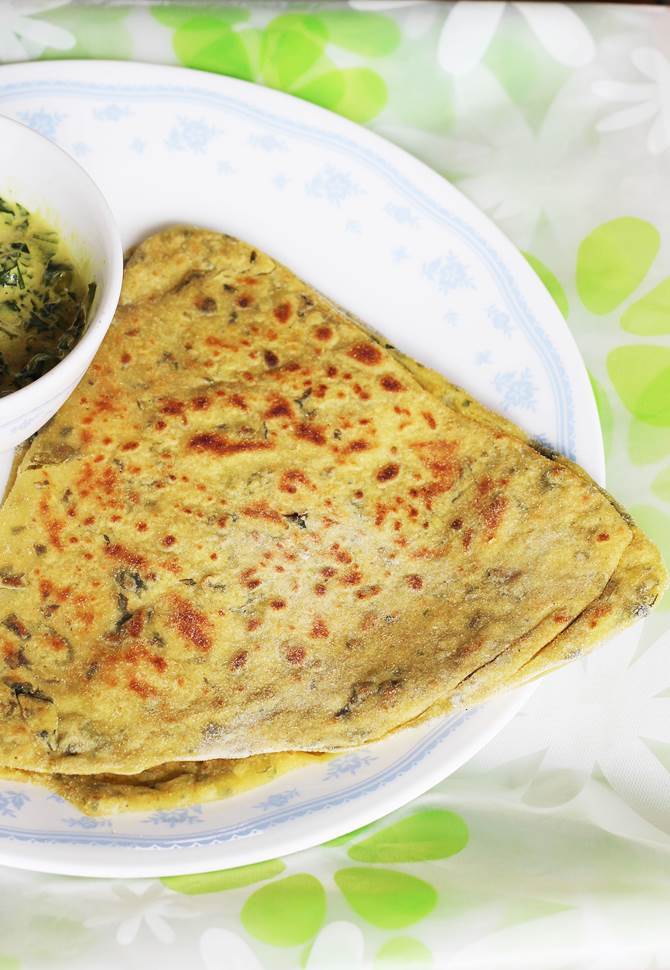 find complete recipe of methi paratha or methi roti below
methi paratha (methi roti), how to make methi paratha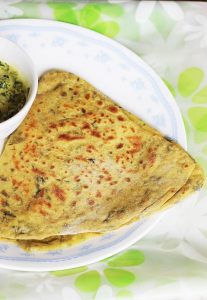 Yield / Serves:
6 to 7 paratha
Ingredients (240 ml cup used)
1 cup atta
½ cup tightly measured methi leaves / fenugreek leaves or 1 cup loosely measured leaves
salt as needed
⅛ tsp ajwain powder or ¼ tsp garam masala
⅛ tsp chilli powder or 1 green chili chopped
½ tsp oil for kneading
1 tsp oil for greasing layers
warm water for kneading
optional
How to make the recipe
Mix atta, salt, finely chopped leaves, yogurt, flavoring powder and begin to knead, adding water little by little to make a soft pliable dough.
Pour the oil and knead again for a min or 2. Let this soak for at least 20 mins.
Flour the rolling area, make lemon sized balls and dust flour and roll them to round shapes of not very thin or thick. If you like to make methi roti. skip the next steps and toast the roti.
If making layered paratha, grease the inner half of the roti, fold it to half.
Grease the next inner half and fold. You get a triangle parantha.
Dust some flour and roll them to not very thin or very thick parathas.
Heat a tawa till smoky hot on a high flame. Dust off the excess flour from the paratha. Place it on the tawa.
When it begins to puff, take a kitchen towel or a wooden spoon and press randomly to help in puffing further, drizzle some oil, if you wish.
Flip it to the other side, repeat to press and cook till they are slightly browned and done thoroughly. Stack them one over the other to keep them soft.
Clean up the flour on the tawa with a kitchen towel before you proceed with the next one. Once you are done with all the parantha, roll the entire stack of rotis and cover to keep them soft.
more easy parathas
gobhi paratha
paneer paratha