methi rice recipe – quick and easy rice recipe for lunch box or dinner. It can be served alone with a fresh vegetable salad or a simple raita. A simple potato fry goes well with this rice for the kids' lunch box. This rice turns out very flavorful and is quick, easy to make. Cooked rice is mixed with sauteed methi leaves and spice powder. There is also a one pot methi pulao recipe here on the blog. But the recipe i am sharing now is a different one, both good in their own way.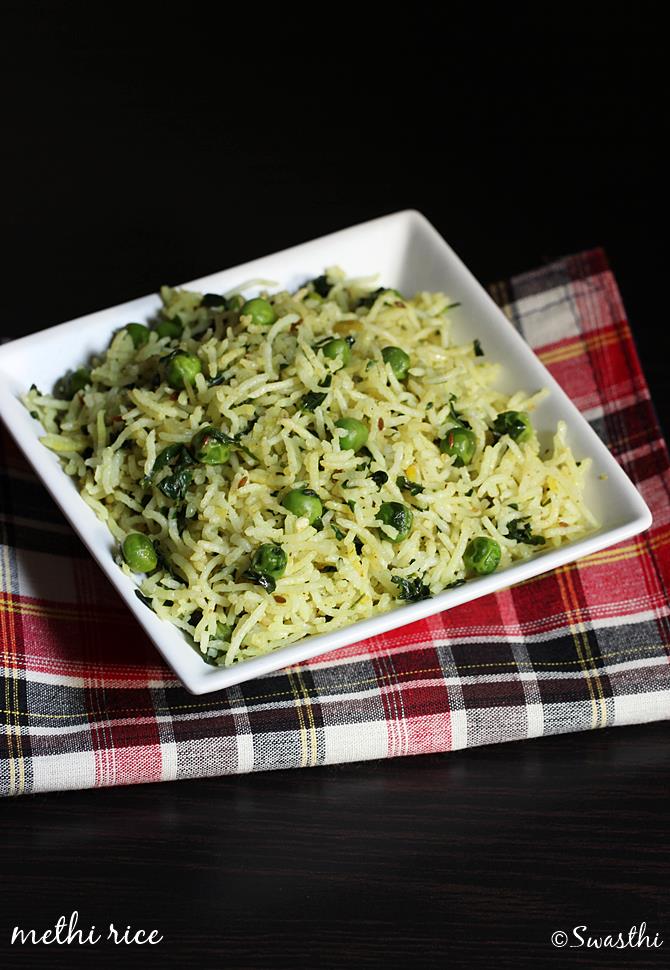 step by step photos to make methi rice
1. Saute jeera, garlic, cardamoms and slit green chili in ghee or oil. If making for lunch box, use oil. Peanut oil goes very well for this rice, if you have you can use.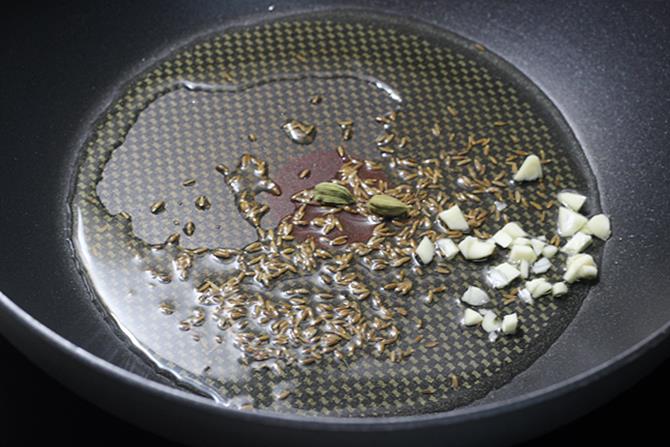 2. When the garlic is slightly fried, add chopped methi leaves and green peas.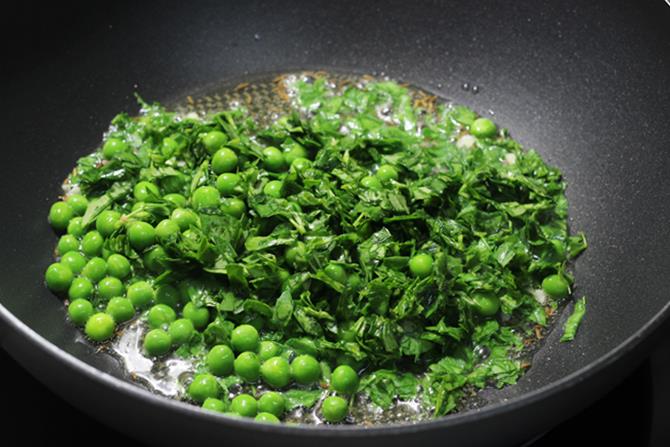 3. I forgot to add green chili at step 1 so used now. If making for kids, deseed and use. Saute on a medium flame until the leaves wilt off. This takes approximately 3 minutes. Do not over fry, the flavors and nutrients will be lost.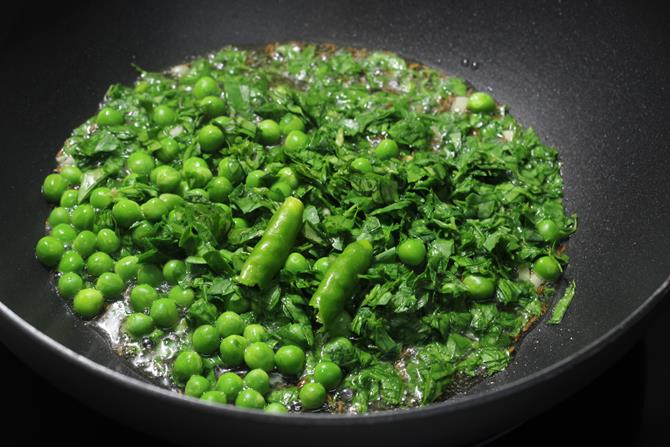 4. Add turmeric and garam masala. Stir and switch off.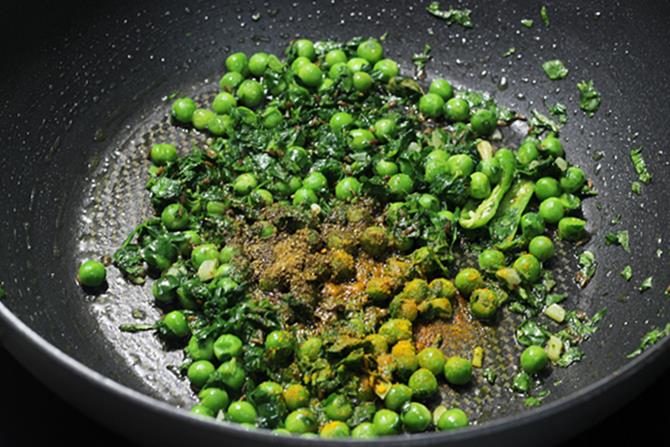 5. Add cooked cooled rice. Sprinkle salt. If your rice is still hot, then add and set aside to cool do not mix. Mix it when the rice cools down a bit.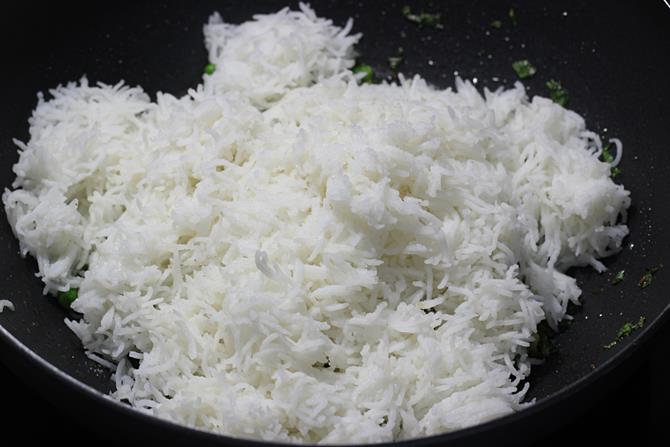 6. If your rice is cooled, then you can mix it well and adjust salt. You can also sprinkle little lemon juice if you like.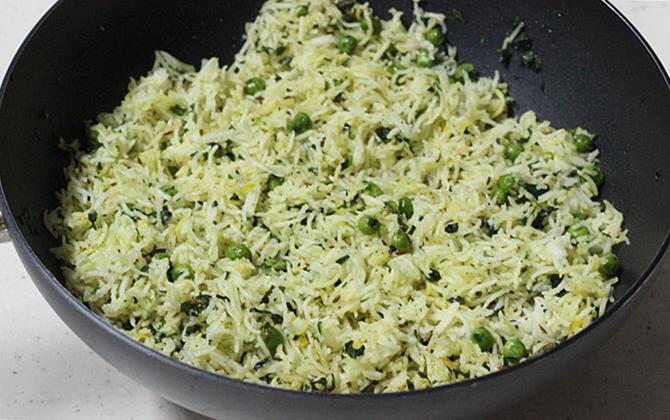 methi rice recipe below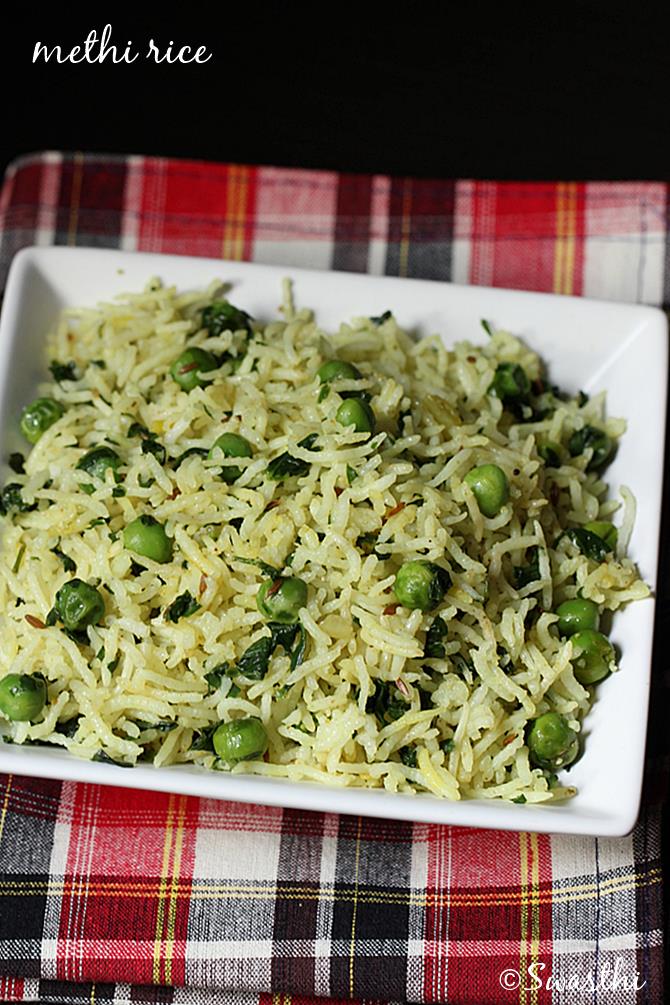 methi rice recipe, how to make methi rice
Ingredients (240 ml cup used)
1 cup rice
oil as needed
1 to 2 garlic cloves
½ tsp cumin
1 to 2 slit green chili
½ cup green peas
1 ¼ tightly packed methi leaves / menthikura
¼ to ½ tsp garam masala
Turmeric as needed
salt as needed
How to make the recipe
Wash and soak rice for about 20 minutes. Cook rice to grainy and cool completely.
Saute dry spices in hot oil.
Saute methi leaves and peas for 3 to 4 minutes.
Add masala powder, turmeric and mix well.
Switch off the stove.Add rice and salt to the pan. Mix everything well. If desired can add little lemon juice.
Serve with raita or a veggie salad.