millet pongal ,sharing another millet or korralu recipe that is filling, healthy, protein rich and diabetic friendly too. This recipe can also be used to make millet pongal for babies. Use equal amount of white rice and millets, minus the seasoning ingredients like cumin,pepper corn, curry leaves. Fry tiny pinch of grated ginger in a tsp of ghee. I have used hulled foxtail millet, called as thinai, korralu or navane. You can use any other millet to make this pongal much the same way I made this. But for babies, I have no idea if any other millet can be used.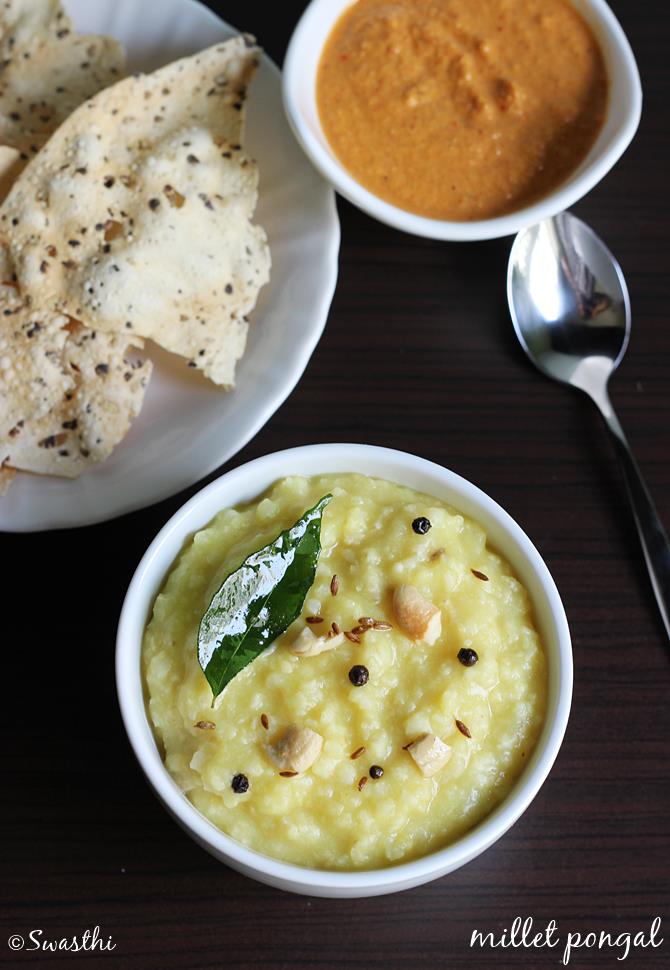 to make the millet pongal, i followed my venn pongal recipe. millet pongal makes an appealing and complete meal with a good chutney and a papad. While the pongal cooks, the chutney can be made. A vegetable chutney would be a nice choice. Some of the chutneys that go well with millet pongal are
 
Cooking millets with white rice is very common in our parts of karnataka. Reasons:
Eating large amount of millets may not be good for digestion and for over all health,
Some don't like to eat millets as such, so they like to add up small amount of millets in the rice.
Some say foxtail millets are heat to the body so they mix to neutralize the effect.
Since millets are expensive when compared to rice, some like to mix them with rice.
 
If you are using millets regularly, using them together with rice could be a good idea.
 
For more millet recipes, check
millet sweet pongal
millet biryani
 
how to make millet pongal
1. Wash and soak millets with dal for about 2 hours.If using rice, you can include too.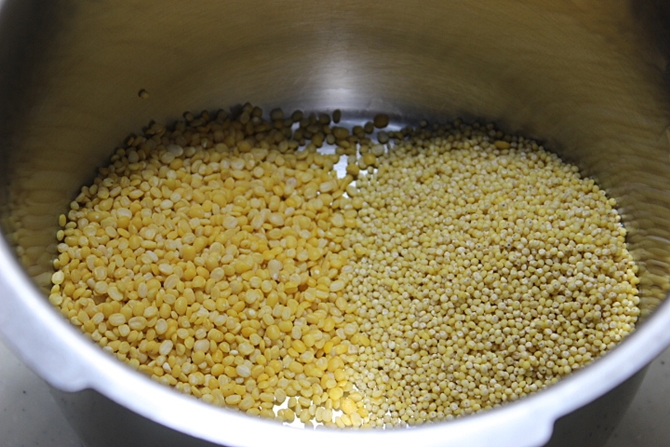 2. Add 1 1/2 cups water to the pressure cooker and cook for one whistle. You can cook in a pot too. If using rice use 1/2 cup more water. If cooking for a diabetic, just cook till the millets are done al dente and not mushy.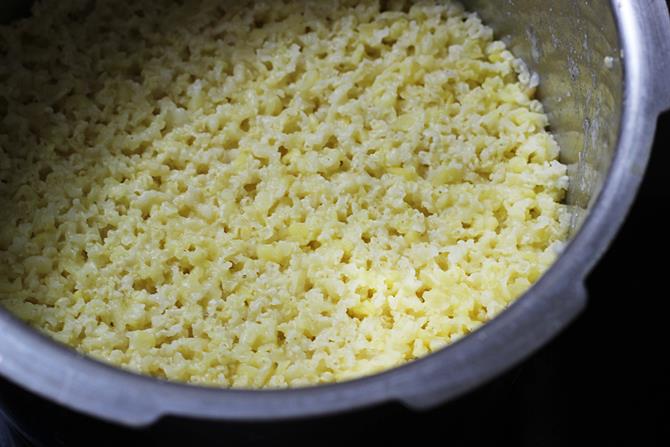 3. Add warm water and salt as needed, heat a pan with ghee and temper the cooked pongal.
Serve hot with any chutney or pongal.
 
millet pongal recipe below
millet pongal, korra biyyam pongali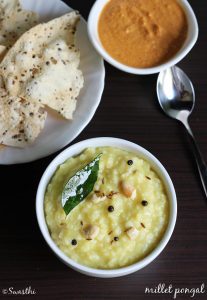 Pongal a south Indian lentil based dish made using millets.
Ingredients (240 ml cup used)
¼ cup moong dal/ pesara pappu
¼ cup hulled millets (foxtail or any other millet)
2 tbsp brown or white rice (optional, if using use half cup more water)
1½ cups water
few pepper corn
cashews few
¼ tsp. cumin
1 green chili slit
1 sprig curry leaves
¾ tsp. grated ginger
pinch of hing
pinch of turmeric
2 tsp ghee or oil
salt as needed
How to make the recipe
Wash millets, moong dal, rice if using in lot of water till they run clear.
Soak them for about 2 hours
Pressure cook with 1½ cups water for one whistle or cook it in a pot till the millets and brown rice are cooked al dente. If using rice use ½ cup more water
When the pressure goes off, add warm water to adjust the consistency. If desired mash it.
Heat a small pan with ghee or oil, Fry cashews if using and set aside. Add ginger, green chili and fry till you get a nice aroma.
Add cumin, pepper corn and curry leaves, fry till the curry leaves turn crisp, add hing.
Pour the cooked pongal to the seasoning and mix. Garnish with cashews.
Serve hot with any chutney