How to make sprouts at home – A complete step by step photo guide to sprout mung beans or green gram at home. Sprouting mung beans at home is economical, hygienic and definitely comes with an added benefit of freshness . Most sprouts sold are chemically treated and they come with a risk of contamination too, homegrown sprouts are chemically free with zero risk of contamination if sprouted carefully.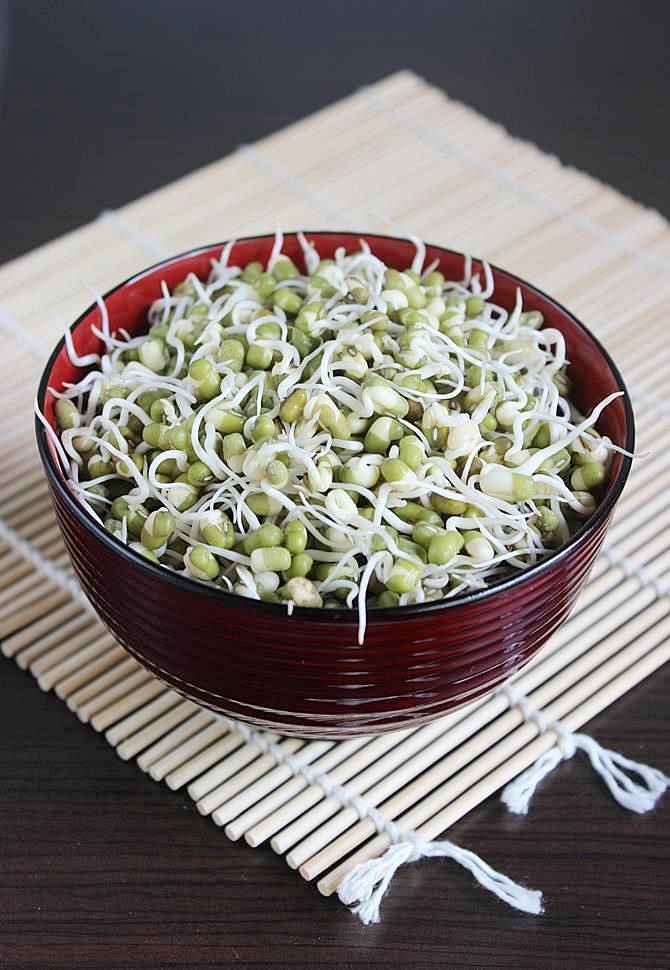 Mung bean also known as green gram or moong bean are called as pesalu in telugu, hesarukalu in kannada, pasi payaru in tamil and mung sabut in hindi. It is a legume that is commonly used in the Asian countries.
 
Green gram are high in protein, fiber and have a low glycemic index, the factor that is used to measure the sugar spikes in our body. To keep the sugar levels under control, one should prefer to include low gi foods in their diet.
 
Green gram or mung bean & their sprouts are diabetic-friendly.
 
The benefits of consuming them are endless, they have high soluble fiber that aids in better digestion, hence are also included in the detox diets like this mung bean detox soup, that helps to reduce excess weight and clears toxins from the body.
 
The nutrients in the mung beans get enhanced when they are sprouted and are considered to be one of the best food for folks of all age groups including kids.
 
If you are looking for more green gram recipes, you may like
Green gram dosa
Sprouted moong salad
Sprouts sandwich
Green gram curry
Sprouts soup
How to make green gram sprouts
1. Clean the green gram or mung beans, discard stones and debris.
2. Rub and wash them in lot of water until the water runs clear. A final rinse in hot water. (why hot water? continue reading to know)
3. Soak them in lot of boiled and cooled or warm water for at least 8 hours. Some variety need even a longer soak. The skin on the bean must be broken, that is the right time to begin sprouting them. Sometimes you might even see them begin to sprout on their own, while still soaking.
4. Wash them in clean water and drain in a colander.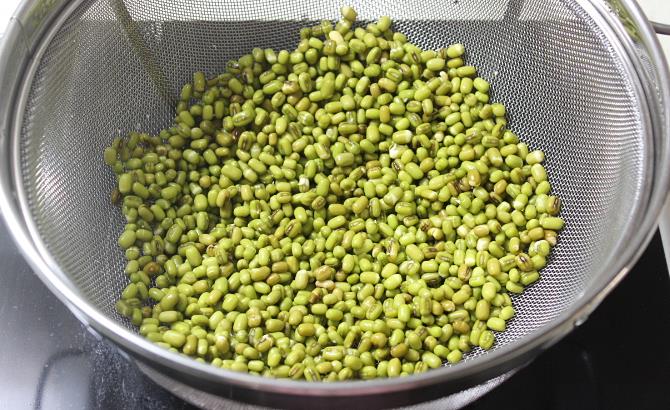 5. There are two methods of making sprouts,
a. Transfer all the drained beans to a container and cover and set aside, they sprout on their own. Rinse them and drain if they don't sprout in a day. Back to the jar and cover, set aside.
b. Wash and squeeze off excess water from a clean muslin or thin cotton cloth. Spread it and pour the soaked mung beans.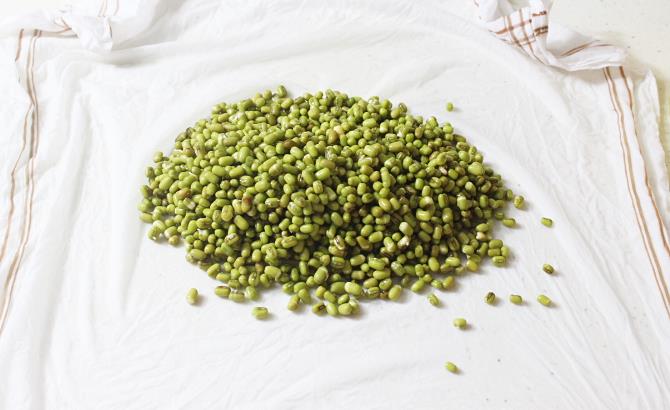 6. Bring together all the edges, roll tightly and make a knot. Rolling tightly yield me tasty sprouts, don't know if iam right.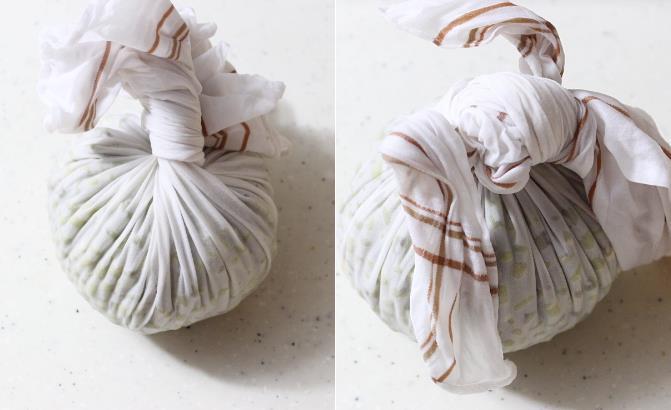 7. Place it in a container
8. Cover it with a messed plate or cover it partially. I use my electric rice cooker plate. I do this to keep the cloth moist and yet circulate air to the beans so that they don't develop an odour. I place the container in a warm and dark place.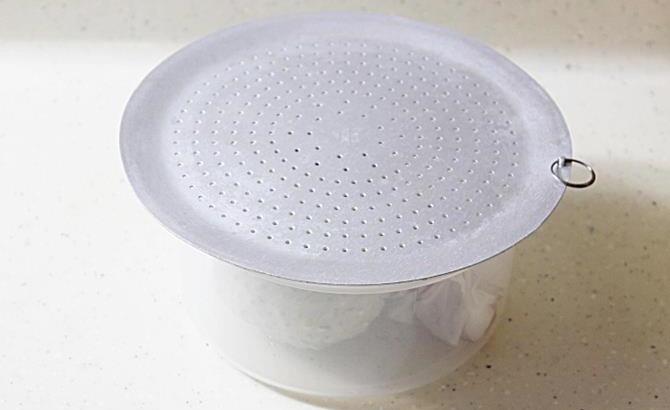 9. Depending on the weather conditions, they sprout. When I did this for the blog post, they sprouted in just 3 hours. They can even take a day to sprout well.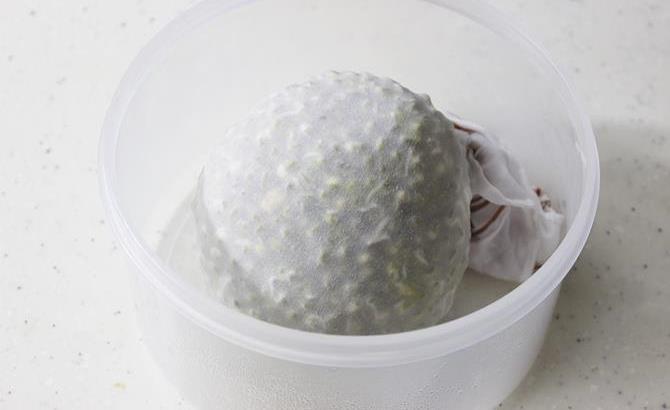 If the climate is too hot, and the cloth dries up, I just sprinkle some water on the cloth to keep the beans moist (with no dripping water else they begin to rot).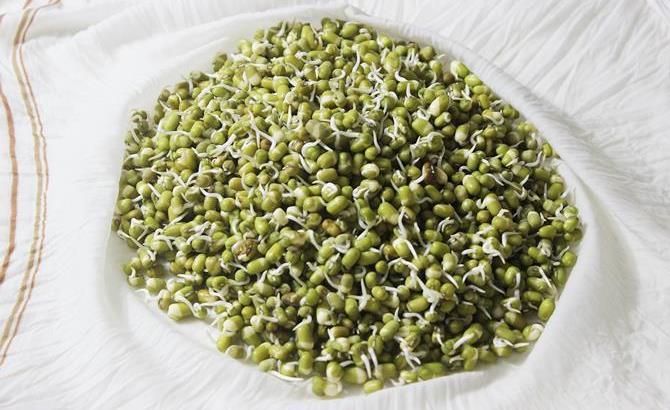 Storage: Sprouted mung beans stay fresh for 1-2 days in refrigerator. It is good to consume them fresh.
 
Why don't green gram sprout?
Certain variety of the mung beans don't sprout, they are typically too hard and can be identified when nibbled. These are usually sold in the local farmers markets.
They don't sprout either because they are too old (harvested years ago) or just a few days old directly dried from the harvest and marketed.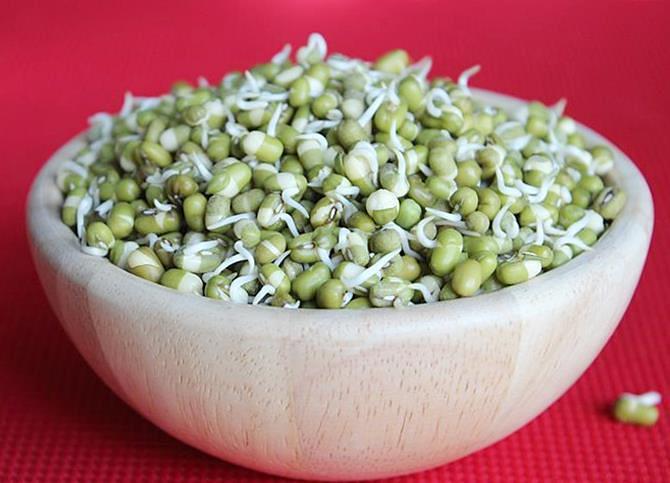 These tips can help folks having difficulty digesting sprouts or having a stomach upset or diarrhea after eating green gram sprouts.
If you desire to have the sprouts raw, green gram should always be washed thoroughly in hot water and then soaked in boiled and cooled water. Not in tap water. Often sprouts get contaminated due to the water the beans are soaked in.
Beans that take days to sprout (more than a day) tend to grow microorganisms in them, leading to indigestion and bloating . Such sprouts always need to be cooked before serving.
 
Green gram sprouts recipe card below
How to make sprouts | mung bean sprouts | green gram sprouts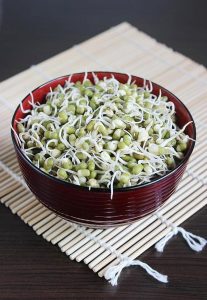 Learn how to healthy sprout mung beans
Ingredients (240 ml cup used)
½ cup mung beans / green gram / pesalu
hot water as needed
How to make the recipe
Clean the green gram and wash in lot of water. Finally rinse off with hot water
Soak in boiled and cooled water or in warm water that has been boiled
Soak for about 8 to10 hours . If soaking for longer than 8 hours, change the water
Drain them in a colander and transfer to a clean cotton or muslin cloth and make a tight knot
keep it in a container and cover with a messed plate or partially cover the container
Leave it undisturbed in a warm and dark place till they sprout. The time to sprout depends on the temperature. Some sprout within hours and some take as much as a day or two.
If they take longer than a day, rinse them the next day to keep them moist and drain off completely. Put them back to the container.
Refrigerate and use with in 2 days