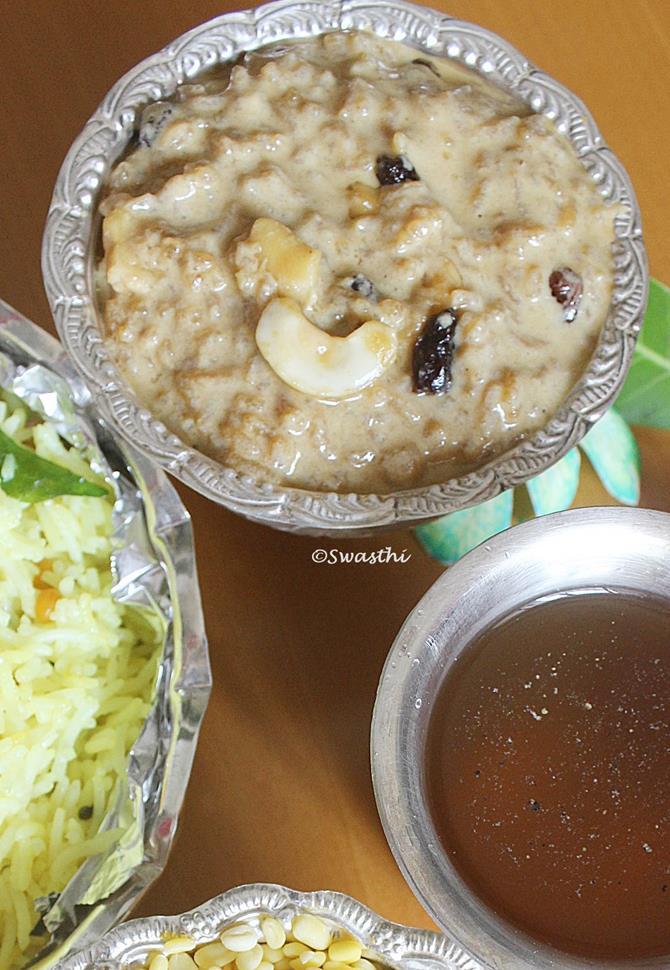 how to make annam payasam in pressure cooker
Happy Vijayadashmi to all my friends (those celebrating). Today I made a simple traditional Andhra Annam Payasam in Pressure Cooker. A modern cooking method for a traditional recipe. Traditionally Andhra payasam is cooked with whole milk or full cream milk to get the creamy texture and taste. Jaggery is used and not sugar. Using sugar for payasam is a quick alternate to using jaggery specially when it has to be filtered to remove impurities, is a hard task when you are running out of time. What ever it be, the payasam made using jaggery has a real good aroma and taste when compared to the one made with sugar.

I would highly discourage new cooks to this method as the bottom could get burnt if you are unable to control the flame or heat meaning the payasam gets burnt if cooked on a high flame.

If you are looking for more payasam recipes check
senagapappu payasam,
semiya payasam,
pesara pappu payasam,
gummadikaya payasam,
badam payasam,
chakkara pongal,
bellam paramannam (payasam with rice, pesara pappu and milk)

This annam payasam becomes thick once it is cooled, so adjust the consistency by adding milk to bring it to the desired consistency at step 4.If you have no whole milk at home you can use low fat milk and to bring the taste you can add milk cream at step 4.

Annam payasam recipe using pressure cooker
Ingredients
1 ½

 

 

cups whole milk (for Pressure cooking)

 

+

 

½ cup milk or more to adjust the consistency as desired
½ tsp green cardamom powder
½ cup grated jaggery (adjust according to your taste) (if your jaggery has impurities make a jaggery syrup, how to make at the end of the post)
1.
In a pressure cooker, add washed rice, milk and a small plate (to prevent the rice from burning beneath)
2.

    
Pressure cook

 

on a low flame for 1 whistle.
3.

    
Once the pressure is released, remove the plate
4.     Stir in the milk as desired to get the right consistency and begin to cook on a low flame

5.

    
Mash the rice slightly.Add grated cardamom pow, jaggery or cooled jaggery syrup and blend well
6.

    
Let it cook on a low flame till the jaggery blends well with the rice
7.

    
Add a tbsp. ghee and mix well
8.     add fried nuts and raisins
Making Jaggery syrup for payasam and pongal
1.

    
add little water to the jaggery and allow it to melt by heating it on a low flame. (appx 45 ml water per cup of grated jaggery).
2.

    
Filter to remove any impurities
3.

    
Boil this on a low flame till you get a thick consistency. Cool it completely before you add it to the payasam
This stays good

 

for few months when refrigerated.

 

Use instantly when you make pongal and payasam.