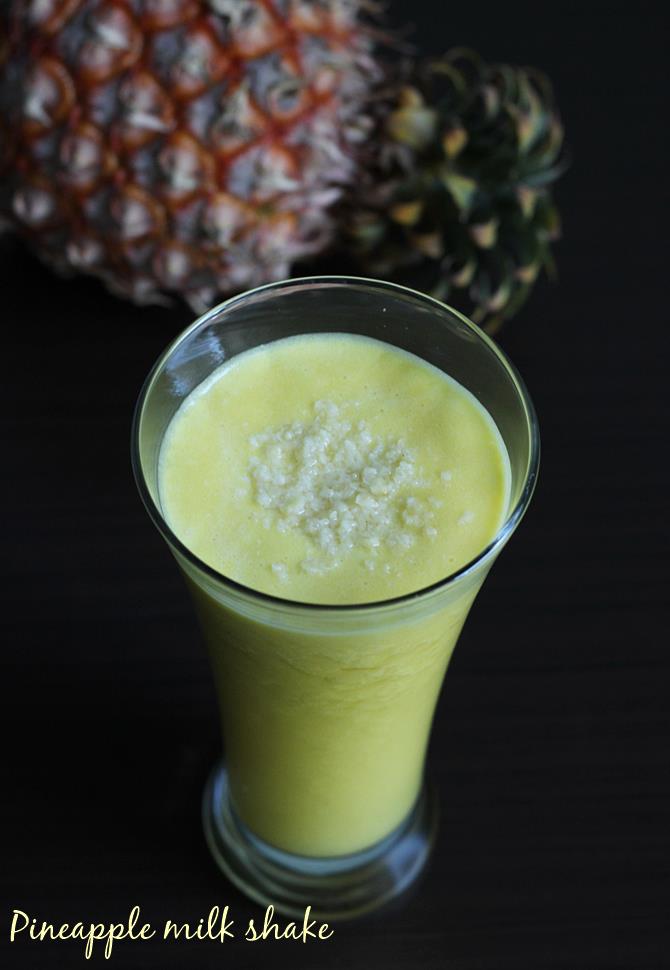 pineapple milkshake recipe – to source the best nutrition from fruits to our body, fruits should never me mixed with milk and consumed. Fruits and milk make a incompatible combination, using chilled milk may not curdle the milkshake but after the consumption the effects on the body are bad. The long term effects of consuming such foods, include accumulation of toxins, weight gain, slow digestion and poor health. I suggest not to serve such foods consistently to kids as they may lose their appetite.
 
This pineapple milkshake recipe yields a healthy shake, not a fancy one like we get to see in the juice stalls or smoothie shops. This milkshake tastes delicious, smooth, creamy, healthy shake that most kids will like it. Pineapple is nutrient dense and a healthy addition to kids' diet to increase their appetite and immunity. This pineapple milkshake is the way I have been making since years for my kids and the entire family.
 
Consuming nuts in moderation regularly has definitely long term health benefits. One of the best ways to consume them is after soaking, which enhances their nutrition and digestibility.
 
To make the pineapple milkshake, I use either almond milk, soya milk, coconut milk or even oat milk. I use a variety of milk instead of using one particular variety to make milkshakes. All work wonderfully well, pineapple flavor still remains dominant. Cashews, almonds and pistachios are some nuts that yield good taste to the shake.
 
To make pineapple milkshake, I add soaked almonds to the blender first along with little water and make smooth milk, next add the chopped pineapples and little pepper powder or ginger. Blend again to get smooth shake. Some pineapple varieties have a lot of fiber, so sometimes, I add the pineapple to a juicer along with the nut milk to get rid of the extra fiber. It is all up to individual's choice.
 
Instead of the soaked nuts, I sometimes use the almond meal that is prepared by roasting and powdering. I store the nut powder in a glass jar which lasts for a couple of weeks to add to my milkshakes or other dishes.
 
Coconut milk is also a good addition to make the pineapple milkshake, however I do not prefer using it regularly for my kids as they don't tend to digest well. So nut milk is the best addition to this shake. pineapple milkshake in the picture was made with almond milk, garnished with minced soaked nuts.
 
For more healthy milkshakes and smoothies on this blog, check
beetroot apple smoothie
apple milkshake
mango milkshake
mango almond smoothie
coconut fig smoothie
pineapple smoothie
almond carrot smoothie
banana chocolate milkshake
matcha smoothie
 
pineapple milkshake recipe below
pineapple milkshake recipe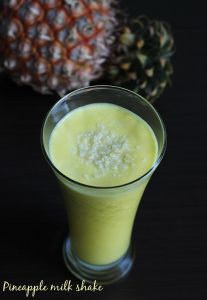 Healthy pineapple milkshake
Ingredients (240 ml cup used)
2 cups chopped pineapple
1¼ cup milk (I use non-dairy milk like almond milk or soya milk or coconut milk or oat milk)
Chopped Pista, badam for garnishing as needed
1 tbsp. Powdered badam or pista (optional)
optional
Pinch of elaichi or green cardamom powder
Pinch of pepper powder
Pinch of dry ginger powder
How to make the recipe
Wash and peel chilled pineapple. Chop to cubes and add it to a blender along with other ingredients including milk.
Blend till smooth. Pour it to a glass and serve fresh immediately.
If you wish to go for non-dairy vegan milk like me, here is how to make badam pista milk
to make badam milk or pista or cashew milk, soak 24 almonds or pistas or cashews for about 3 to 4 hours, this helps to enhance their nutrition and the nutrients are better absorbed. Peel off the almond skin. Run them in the blender with ¼ cup water until smooth. Then add ¾ th to 1 cup water and run the blender again. Badam milk or pista milk is ready. To the same blender add pineapple and elaichi and blend. Pineapple milkshake is ready.
If you like to use oats- to make oats milk, dry roast 3 tbsp oats well, soak them for some time to soften. Blend them with water and then add pineapple and blend again to get smooth pineapple milkshake.
Notes
This pineapple milk shake can be served to babies above 12 months old, use almond milk to the make the milkshake, serving size 3 oz equal to 90 ml, can be served two to three times a week at room temperature. Some babies don't like due to the high fiber in the pineapple, you can filter it and then serve. During winters, add a tiny pinch of pepper powder, that prevents colds and cough.