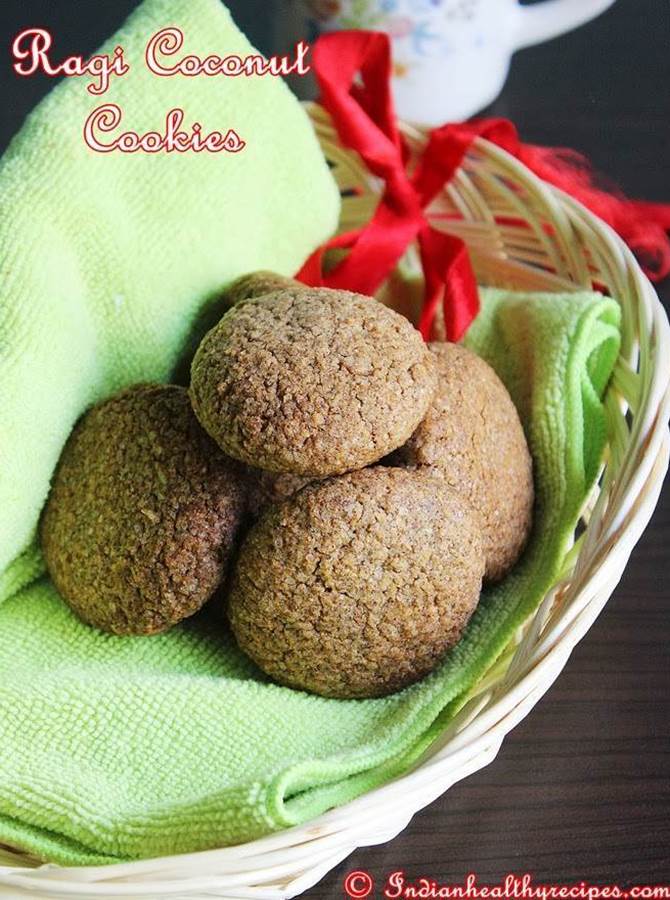 Ragi Coconut Cookies
These ragi biscuits turn out to be crunchy, delicious and perfect for toddlers, kids and for anyone not on a low fat diet. These don't need baking powder or baking soda. The crust remains for around 2 weeks, if kept in an airtight jar. The dough can be made ahead and refrigerated. They can be baked whenever you wish to have some. Isn't it amazing? During the Christmas vacations, I had baked many kinds of cookies and cakes, but never got the time to share them here. One of the easiest ones were these ragi cookies, which took not much of time and yet they tasted great. My kids enjoyed munching on these with their milk.
Makes 24 cookies
Source: Sanjeev Kapoor (modified coconut cookies recipe)
Ingredients
¾ cup desiccated coconut
¾ cup ragi flour / finger millet flour (can use even ragi puttu podi for the best crust)
½ cup plain flour
150 grams unsalted butter
150 grams caster sugar
1 tbsp. Coarse sugar
1 to 2 tsps. Vanilla extract
1 small egg
Method
1. Begin with beating the butter and sugar till light and fluffy. I know there is not much of butter to beat. But beat it till creamy
2. Add egg and vanilla. Beat till well incorporated
3. Add coconut, ragi flour and plain flour. Mix well. You will end up with a moist dough. Sprinkle the coarse sugar all over evenly and just mix it once.
4. Cover and refrigerate for atleast 1 hour
5.  Preheat the oven to 180 C for at least 15 mins.
6.  Make balls and flatten them slightly on the baking sheet.
7.  Bake these till done. Takes around 10 mins for me
8.  You can make these in batches till you use up the entire dough
Cool them on a wire rack. Store in an airtight container and use up within 2 weeks.
The recipe yields 24 cookies, if you do not have a large oven, you can divide it to 2 batches and bake them. Keep the dough refrigerated till you use.