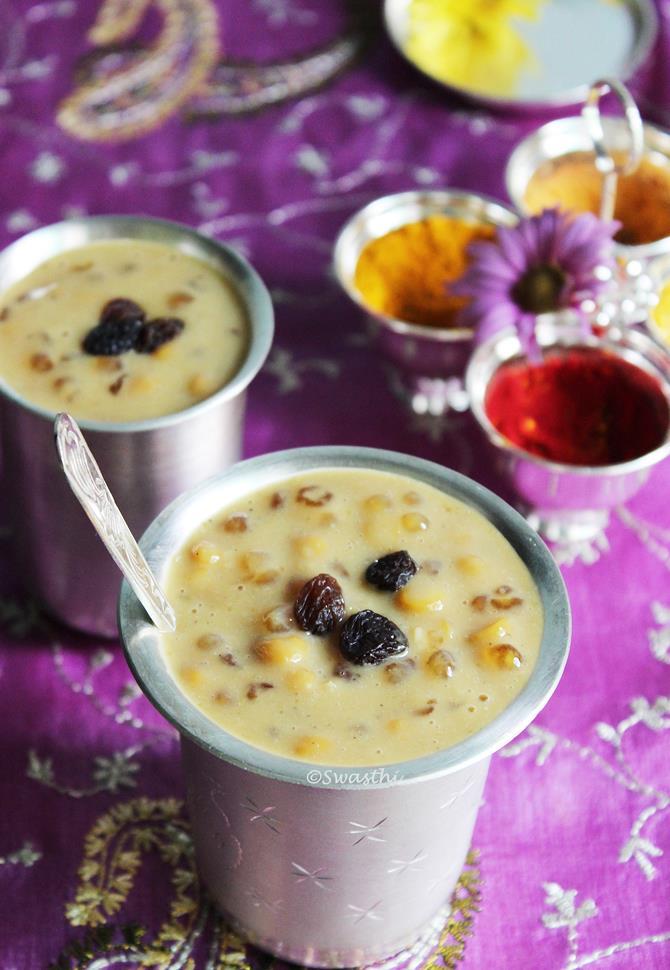 senaga pappu payasam or channa dal kheer – a festive kheer recipe.
 
We at my mom's house, make this on one of the navratris to offer to goddess. 3 main ingredients that go towards the making of this kheer are offered together in some form on one of these 9 days. The ingredients are channa dal, jaggery and coconut.
 
We make either this senaga pappu payasam or poornam boorelu (with coconut and dal) or a sweet dish made of the same ingredients similar to pancha kajjaya. Those who do not have any such custom of offering these 3 ingredients can slightly modify the list of ingredients and can make this payasam at your ease and choice by adding sabudana or rice.
 
more payasam or andhra festival recipes
bellam paramannam
pesara pappu payasam
gummadikaya payasam
badam payasam
chakkara pongal
rava appalu
 
step by step photos on senaga pappu payasam or channa dal kheer
1. Wash and Soak channa dal for at least 45 minutes
2. Some sago needs to be soaked for longer. Some can be cooked instantly. So follow according to your sago. I cook instantly and it gets cooked well
3. Add 1/2 cup water to jaggery and melt it on a low flame.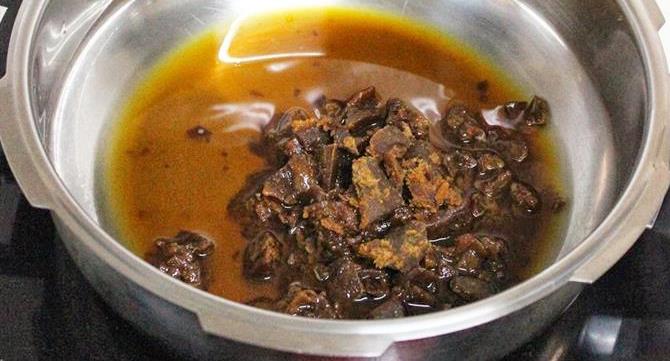 4. Filter the jaggery syrup to remove impurities.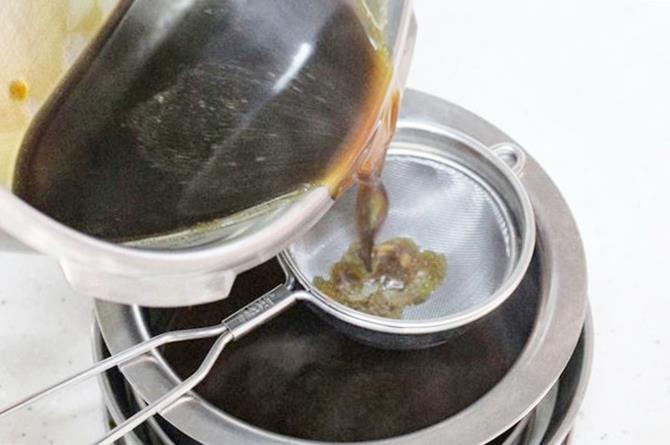 5. Boil the jaggery syrup on a low to medium flame for 2 to 3 mins or till it thickens slightly. Do not burn it.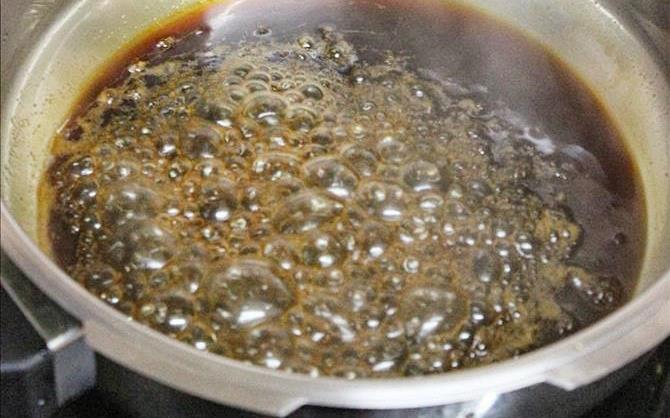 6. Set this aside to cool completely. You can transfer this to a small bowl and cool it by keeping the bowl in ice cold water. This way it cools quickly
7. Add 1.5 cups of water to dal and cook it till it is half cooked.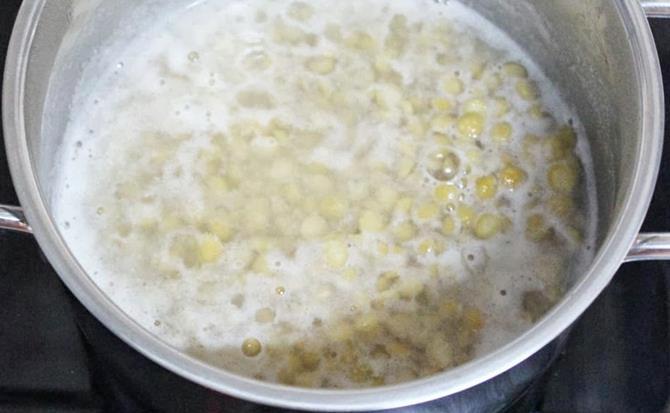 8.Pour milk, add sago and cook till the sago and dal are fully cooked.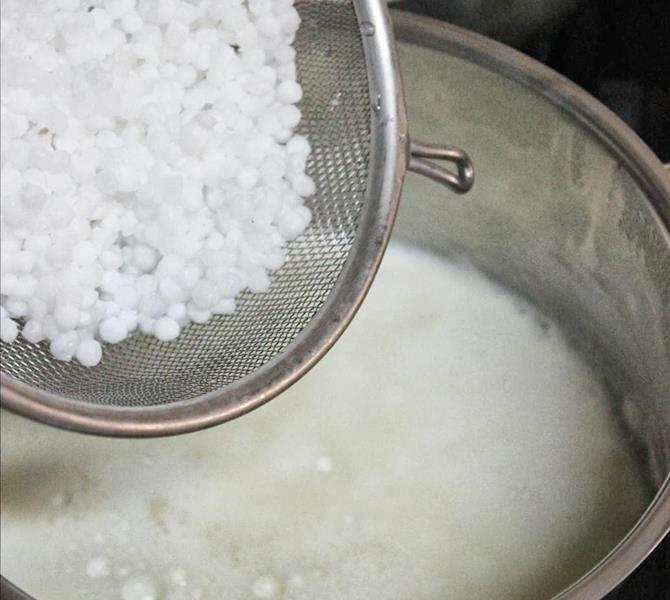 9. Add cardamom powder, cooled jaggery syrup and coconut. Mix to blend well and cook on a medium flame stirring till it begins to bubble up. If you want to adjust the consistency, you can add more milk at this stage.Takes around 3 to 5 mins to bubble up.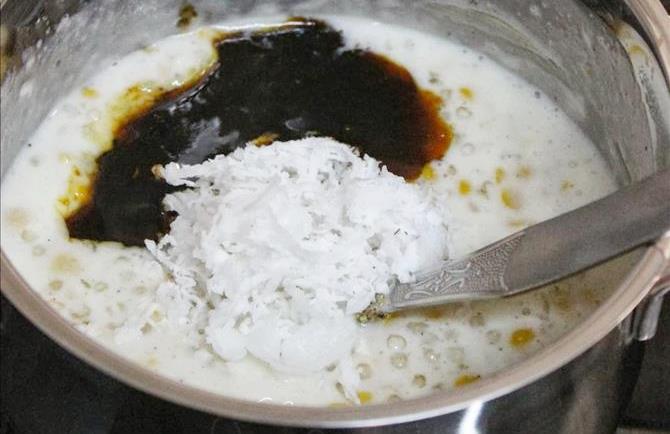 10. Ghee fry the nuts and add to the kheer. If you do not prefer to use nuts, just add a tbsp. of ghee.
 
Offer chana dal kheer to Goddess Durga.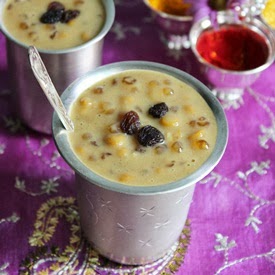 find senaga pappu payasam or channa dal kheer recipe below
senaga pappu payasam | channa dal kheer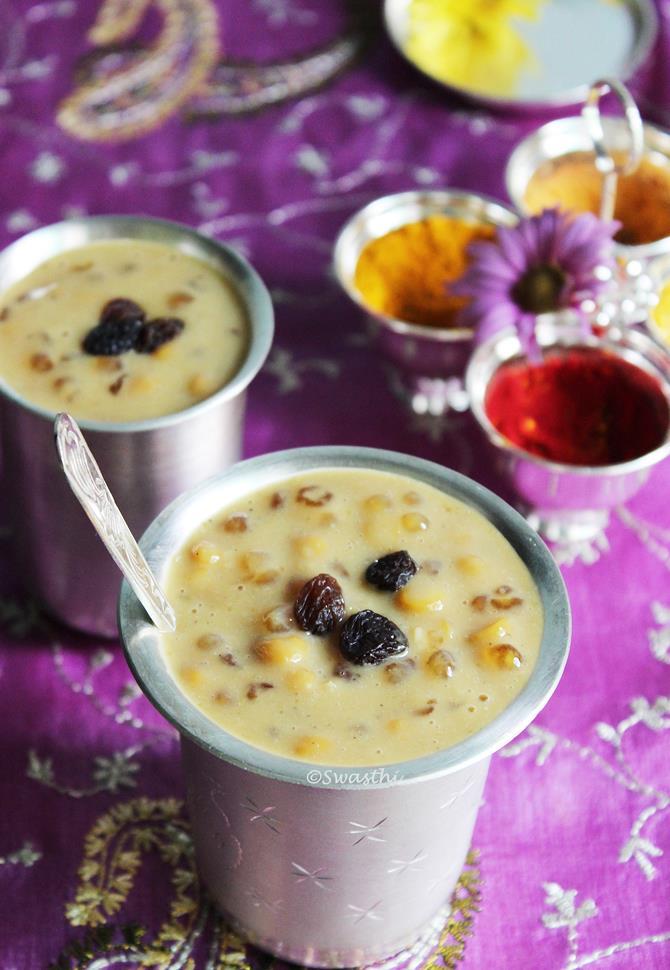 channa dal kheer prepared during festivals
Ingredients (240 ml cup used)
⅓ cup chana dal / senga pappu / kadle bele
⅓ cup sago or roasted semiya or rice (if using rice tips at the end)
¾ cup grated jaggery
1.5 cups water
1 cup milk
¼ tsp cardamom
2 tbsps coconut (optional)
½ cup Water for Jaggery
Nuts and raisins as needed
Ghee to fry the nuts as needed
How to make the recipe
Wash and Soak channa dal for at least 45 minutes.
Soak sago in water as needed. Some need long soaking time.
Add jaggery and ½ cup water to a pan, melt it on a low heat without burning. Filter the syrup and boil it for 2 to 3 minutes or till it becomes thick slightly. Cool this completely.
Add dal and 1.5 cups of water to a heavy bottom pan and cook it till it is half done.
Add milk, sago and cook till the sago and dal are fully cooked.
Add cardamom powder, cooled jaggery syrup and coconut. Mix well and cook further on a medium flame. Stir well and allow it to bubble up. Do not cook for long it can curdle the payasam
Fry nuts in ghee and add to the channa dal kheer
Notes
If you wish to use rice in place of sago, soak both for 45 mins, cook dal rice together in milk till both are fully cooked, then add the cooled jaggery syrup.
If you add hot jaggery syrup to the kheer, it will curdle, so cool it completely before you pour to the boiling kheer