Soya chunks manchurian recipe – Quick, delicious, vegetarian appetizer that can be made under 30 mins. Indo chinese Chilli & Manchurian dishes are a favorite at home and are made once in few months. This soya chunks manchurian is very very quick to make since there is not much of chopping or preparation work like we do for other manchurian recipes.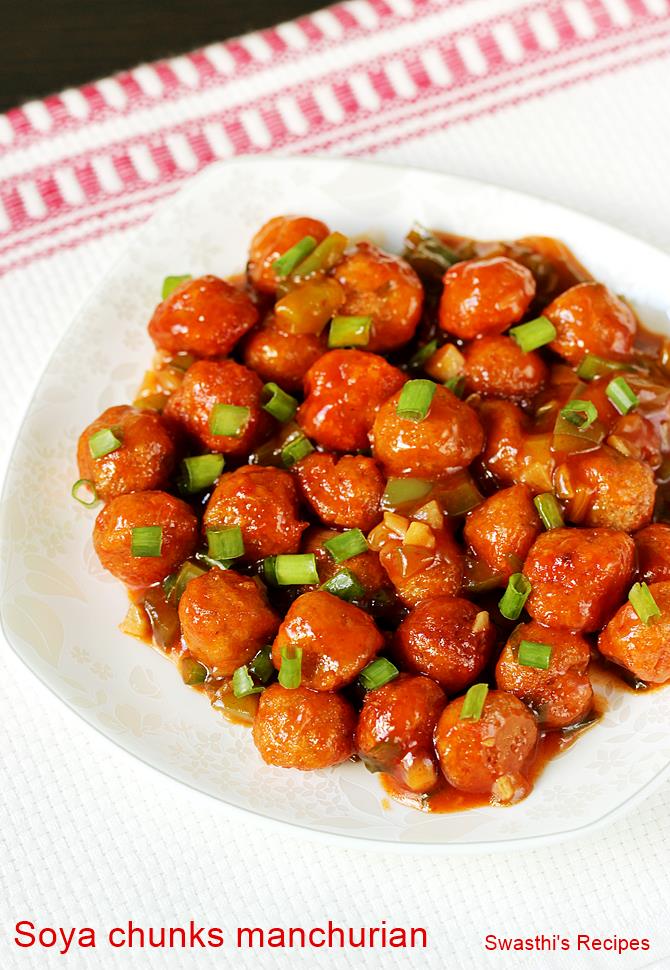 This can be served as a evening snack or in a meal along with Noodles or Fried rice. It is best served immediately after adding the fried chunks to the sauce.
Soya chunks turn out to be very crispy once they are fried and remain the same for about an hour. They begin to turn soggy after 5 to 7 mins of adding them to the sauce. So make sure, you add the fried chunks only before serving it.
For more Soya chunks recipes, you can check
Soya chunks curry
Meal maker fry
Soya chunks cutlet
Soya pakora
Soya keema sandwich
Video of soya chunks manchurian
Soya chunks manchurian recipe card
Soya chunks manchurian recipe | How to make soya manchurian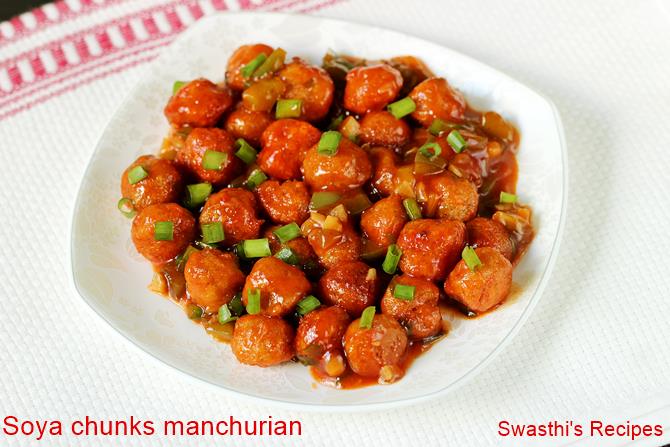 Manchurian made using soya chunks. A quick appetizer from Indo chinese cuisine.
Ingredients (240 ml cup used)
¾ cup soya chunks
1 tbsp ginger garlic paste
½ to ¾ tsp red chili powder (less spicy variety)
¼ tsp pepper powder (optional)
2 tbsp corn flour or corn starch
Salt to taste
Oil for frying
For the Manchurian sauce
1 tbsp oil
1 tbsp garlic chopped finely
½ tbsp. ginger (optional)
¼ cup spring onions (green and whites)
¼ cup fine chopped capsicum/ bell pepper
1 tsp soya sauce (prefer organic or naturally brewed)
1 tbsp chili sauce (prefer without MSG)
½ to ¾ tbsp tomato sauce (prefer without MSG)
1 tsp vinegar (prefer organic vinegar or apple cider vinegar)
½ tsp sugar (optional, use if your sauce isn't sweet)
¼ to ½ tsp red chili powder (optional, for color)
¾ tsp corn flour or corn starch
½ cup water
Salt if needed (may not need)
¼ tsp pepper crushed coarsely
Few spring onion greens for garnish
How to make the recipe
Bring 3 to 4 cups water to a boil and add soya chunks. Allow to rest for some time until they turn soft.
Squeeze off the excess water (froth) from the chunks. Rinse them well in a pot full of water and repeat squeezing them to remove excess water.
Add them to a mixing bowl along with salt, ginger garlic paste, red chili powder and corn flour.
Mix everything well, if needed sprinkle little water for the flour to bind the chunks.
Set these aside for 10 mins, until you prepare the garlic, onions and capsicum for sauce.
Frying soya chunks
Heat oil in a kadai and fry these on a medium heat until golden and crisp.
Remove them to a kitchen tissue. Set these aside.
Making soya chunks manchurian sauce
Mix ¾ tsp corn flour in ½ cup water. Make sure it has no lumps. Set aside.
Heat oil in a pan. Add garlic and saute for a min.
Add spring onions and saute on a high flame till they smell good, for about a minute.
Add capscium and saute for 2 to 3 mins until the aroma comes out.
Add soya sauce, vinegar, chili sauce & tomato sauce.
Stir the corn flour well with water and pour that as well.
Add chili powder if you prefer a deep color.
Lower the heat and stir well. Cook until the sauce thickens. Taste the sauce and check if needed add sugar and salt. Sauce has to be slightly sour, sweet and hot.
When the sauce thickens, add pepper and mix.
Allow the sauce to cool down a bit.
Add the crisp fried soya chunks and mix well.
Garnish soya chunks manchurian with spring onions.