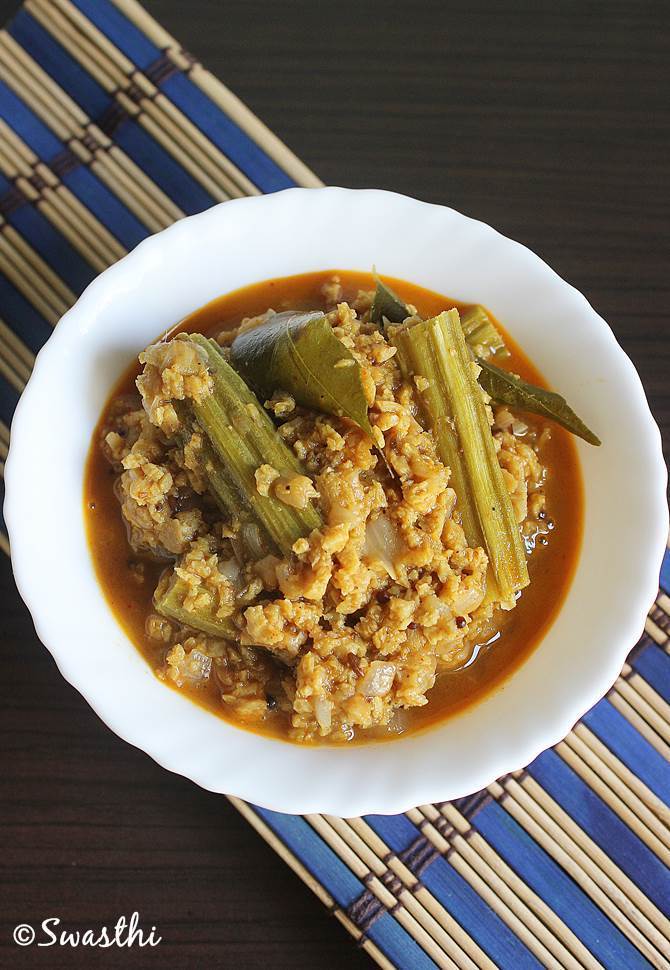 Soya kheema drumstick curry is a simple comforting side dish that can be enjoyed with rice or chapathi or roti. These vegetarian drumsticks are grown on the moringa trees and is a common vegetable that is used to prepare south Indian food. They are good for digestion so make an ideal combination to pair up with soya kheema or granules which are high in protein.

Ingredients
2 drumsticks
¾ to 1 cup soya granules or soya chunks
2 onions chopped finely
1 green chili slit
½ tsp. red chili powder
½ to 1 tsp. garam masala
Salt to taste
1 large tomato (optional)
1 sprig curry leaves
Pinch of mustard
¼ tsp. cumin
½ tsp. ginger garlic paste (optional)
Oil as needed

Method
1. Soak soya chunks or granules in lot of warm water till they turn soft. Squeeze off the excess water and rinse it thoroughly twice.  Squeeze and set aside
2. Heat a pan with oil, add cumin, mustard and curry leaves. When they begin to splutter, add onions and green chili, sprinkle salt and fry till lightly golden
3. Add ginger garlic paste if using. This is optional. Fry till it becomes fragrant. If using tomatoes, add them and fry till they turn soft and mushy
4. Add drumsticks and soya granules. fry for 3 minutes
5. Add salt, turmeric, red chilli powder & garam masala. fry for a min
6. Add enough water to immerse the drumsticks and cook till the drumsticks are cooked
7. Simmer for about 5 mins on a very low flame. This brings in a lot of flavor to the curry. If there is lot of water left, you can evaporate it on a high flame. Bring it to the consistency you desire and switch off the heat.