Veg kathi roll recipe for kids – This simple veg kathi roll recipe is a favorite with my kids and is made very often for their school box. There is no potato or paneer used here and is made with simple veggies like cabbage, carrots and capsicum. The filling is made by sauteing the veggies in a Chinese style on a high flame which lends that nice unique aroma. There are so many ways a kathi roll is made, this recipe is my own.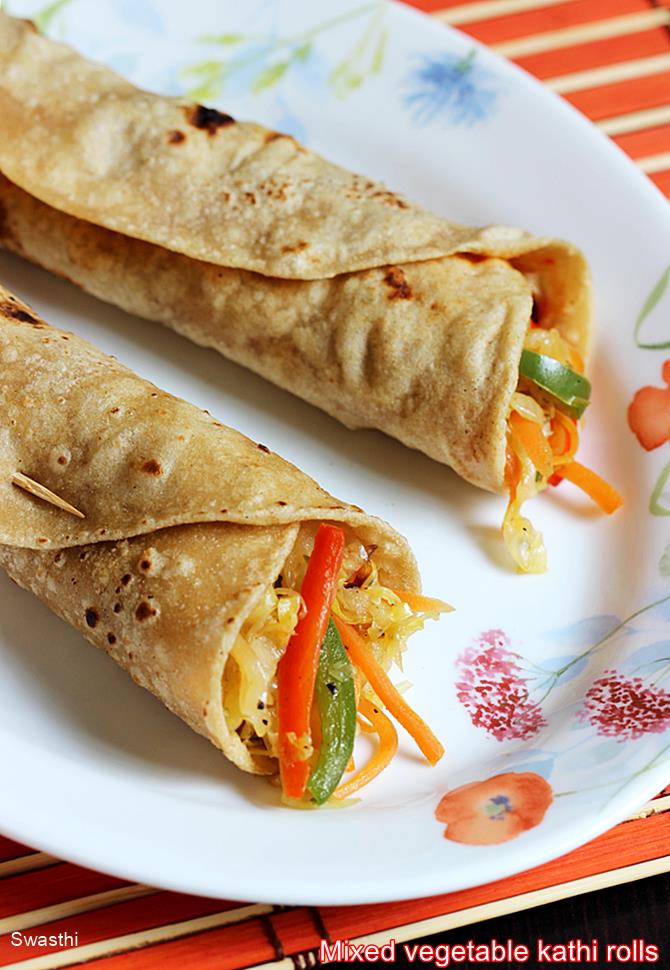 More veggies like onions, spring onions, cauliflower, peas, corn, broccoli and beans can also be used.
To make these simple veg kathi rolls, I use homemade tomato sauce or schezwan sauce which I make using arrowroot powder. For these rolls, a green chutney may not go well since the filling is made in Chinese style. You can use any of your favorite sauces.
For more similar recipes for kids, you can check this
Kathi rolls recipe
Veg wraps recipe
Palak paneer kathi rolls
Veg kathi roll recipe
Veg kathi roll recipe for kids | Simple mix veg frankie recipe
Veg kathi rolls recipe made with whole wheat flour and mixed veggies.
Yield / Serves:
4 to 5 rolls
Ingredients (240 ml cup used)
For making rolls or wraps
1 heaped cup atta / whole wheat flour
salt as needed (optional)
1 tsp oil
⅓ warm water
For the filling
1.5 tbsp olive oil
1 to 2 garlic cloves finely chopped
2 to 3 cups shredded cabbage (drained completely)
1 cup shredded carrots
1 cup bell peppers
1 slit chili ( skip if making for kids)
¼ tsp pepper coarsely crushed
salt as needed
half tsp vinegar
1 tsp soya sauce (organic or naturally brewed, skip for kids)
salt very little
Sauce
Garlic or tomato sauce as needed
How to make the recipe
Add flour, oil and salt to a mixing bowl. Make a soft dough using water as needed. Knead it very well until soft and pliable. Set this aside until the stuffing is ready.
Heat oil in a pan, saute garlic and chill until aromatic.
Add the veggies and saute on a very high flame until they are partially cooked.
Add pepper , sauce and vinegar. Sprinkle salt.
Mix and saute until the sauce evaporates. Cool this completely
Making veg kathi rolls
Smear olive oil thinly all over the roti. Then spread your favorite sauce over the roti including the edges.
Place the fried veggies to one edge and fold both the edges to seal.
Begin to roll tightly to make a roll.
Halve it and roll in butter paper.
How to make veg kathi rolls for kids
1. Heat oil in a wide heavy bottom pan or wok. Saute garlic and chilli until a nice aroma comes out. If making for kids, just skip the green chili.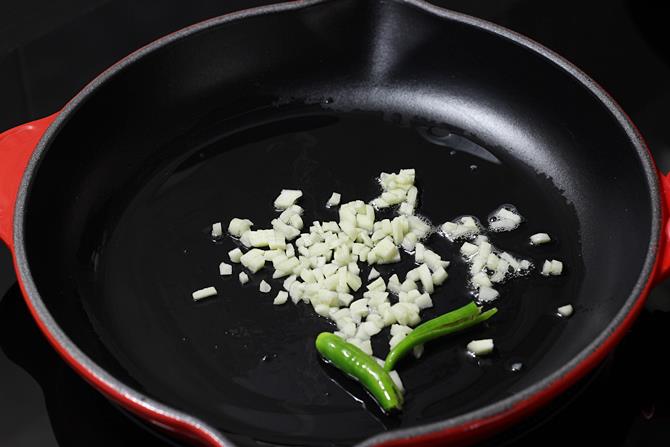 2. Set the flame to the highest and add all the veggies.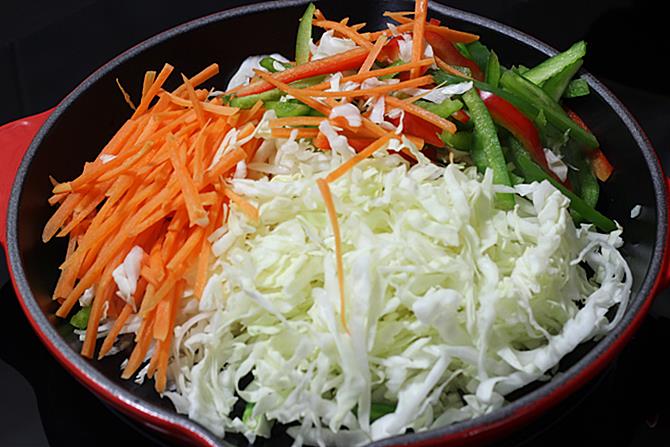 3. Continue to saute on a high flame for 2 to 3 mins until the veggies are partially done and remain crunchy.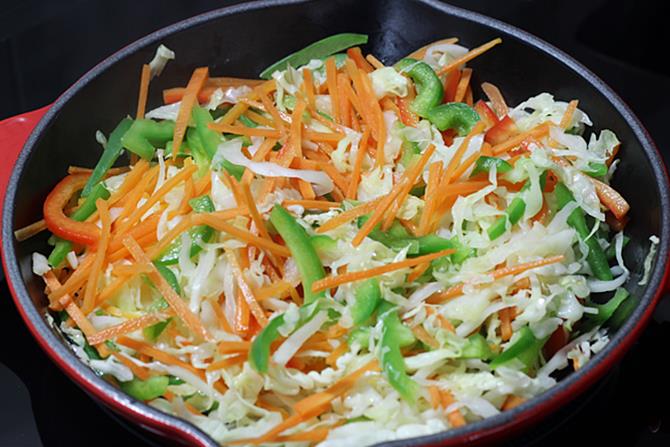 4. Add pepper and salt.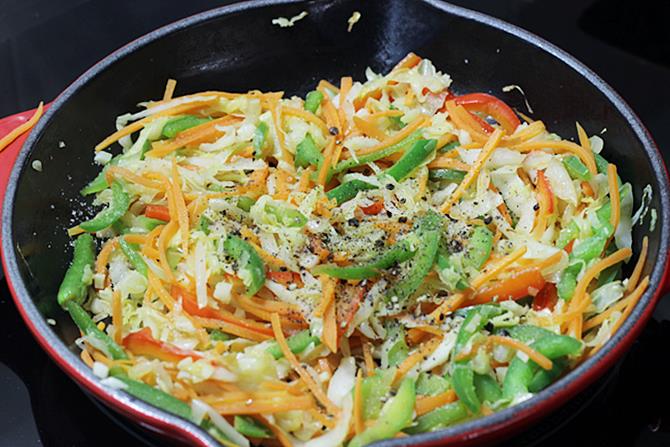 5. Toss for another 1 to 2 mins. At this stage you can also use half tsp vinegar and 1 tsp naturally brewed soya sauce.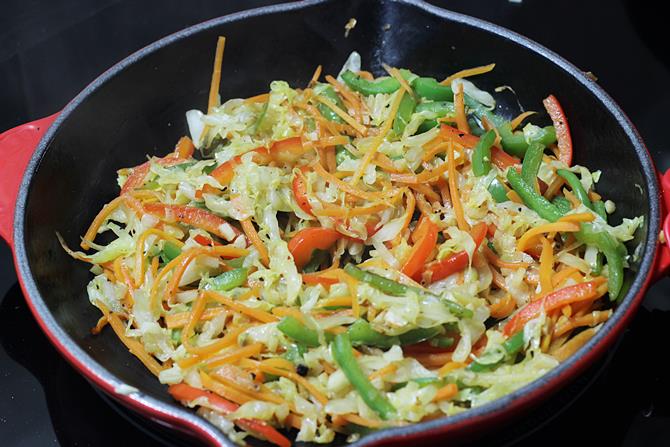 6. Place the roti on a plate. Grease thinly using olive oil.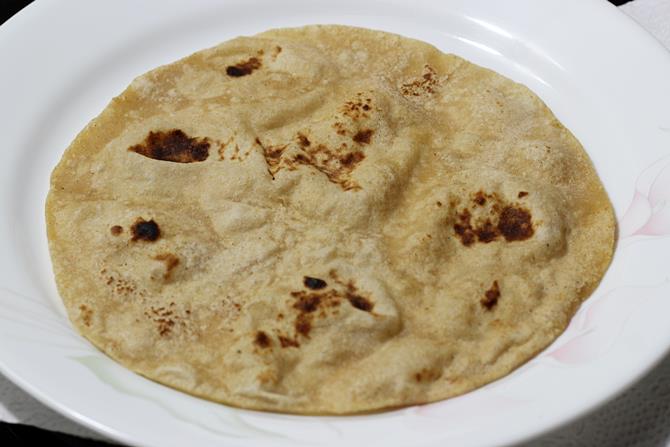 7. Smear sauce evenly and lightly including on the edges. Place the veggies to one side.


8. Fold on one side to close the roll. Repeat it on the other side as well if you plan to cut it to 2 pieces.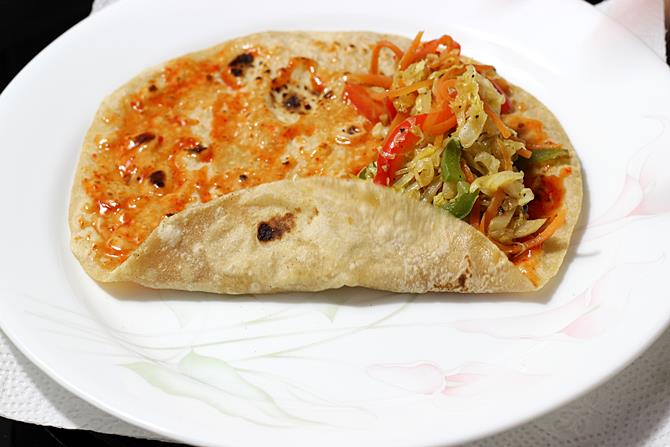 9. Begin to roll it tightly and stick up the edge. Halve them and roll in butter paper. Since these have sauce in it, they are not very firm so it is good to cut them to 2 and roll in butter paper.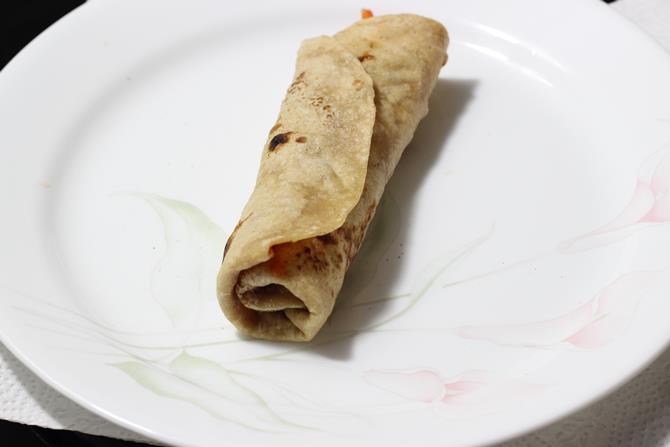 I usually rinse the tooth picks and safe the veg kathi rolls.