Veg manchurian recipe dry & gravy with video – Vegetable manchurian is another popular dish from Indo-chinese cuisine. The term Manchuria refers to a region in North East china and people from that region were known as Manchus or manchurians. The first manchurian dish (made with chicken) was born in 1975 in the Chinese restaurants of India which looked similar to the dishes from Manchu cuisine. Since a wider population of Indian are vegetarians eventually Gobi manchurian, veg manchurian, paneer manchurian and mushroom manchuria were born.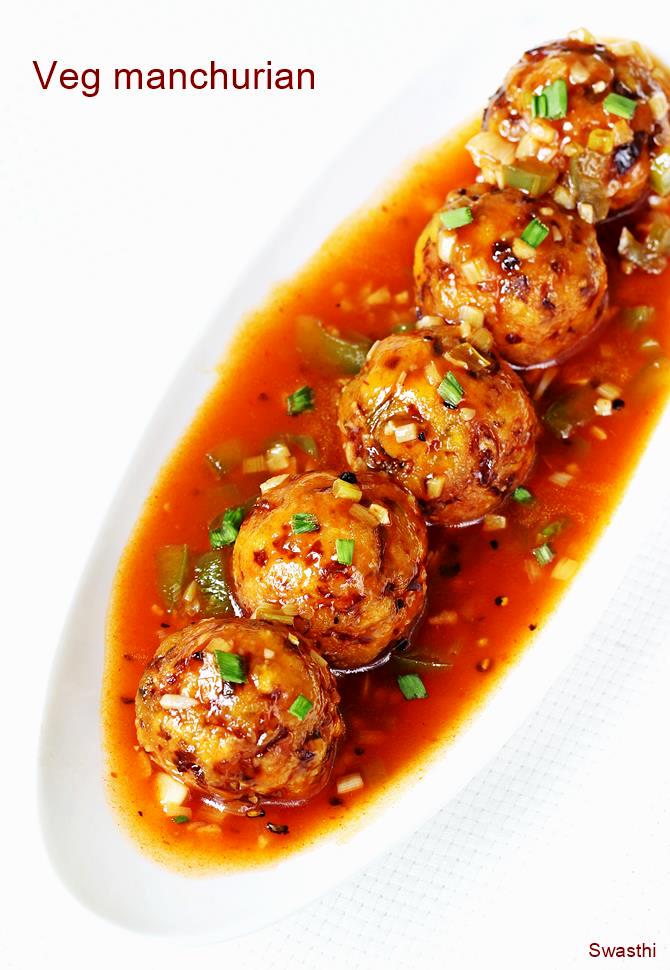 This recipe of vegetable manchurian yields crispy and delicious veg balls in manchurian sauce. If making gravy veg manchurian, do use bread crumbs to keep the balls crisp for longer.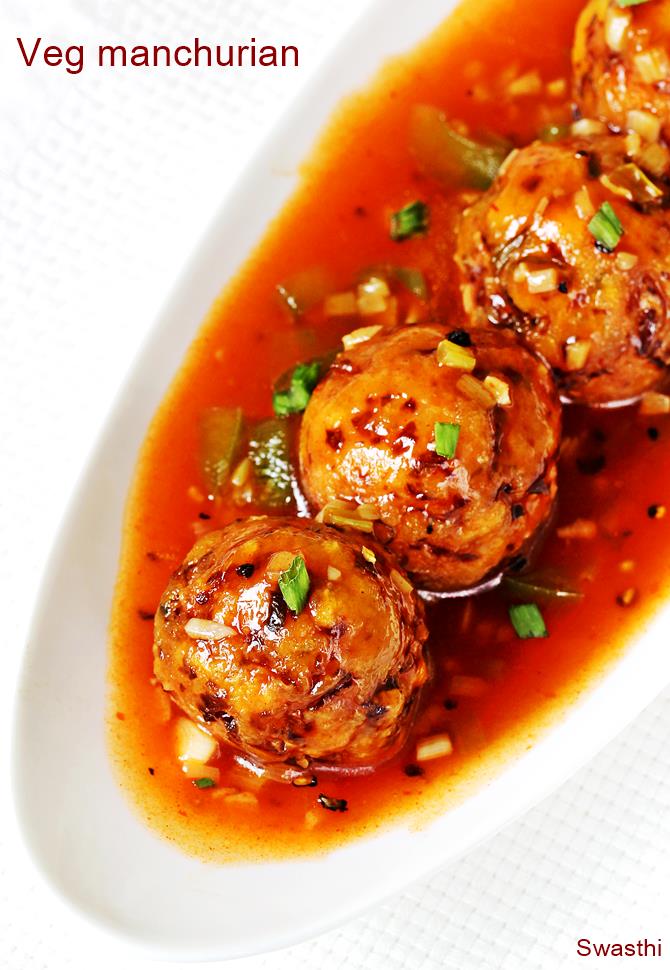 I have adapted this veg manchurian recipe from this chicken manchurian recipe on the blog. This recipe can be used to make dry veg manchurian and gravy as well. More details in the step by step instructions below.
Veg manchurian can be served as a appetizer or as a side with
Veg fried rice
Veg noodles
Hakka noodles
Video of veg manchurian recipe
Veg manchurian recipe card below
Veg manchurian recipe | Vegetable manchurian dry & gravy recipe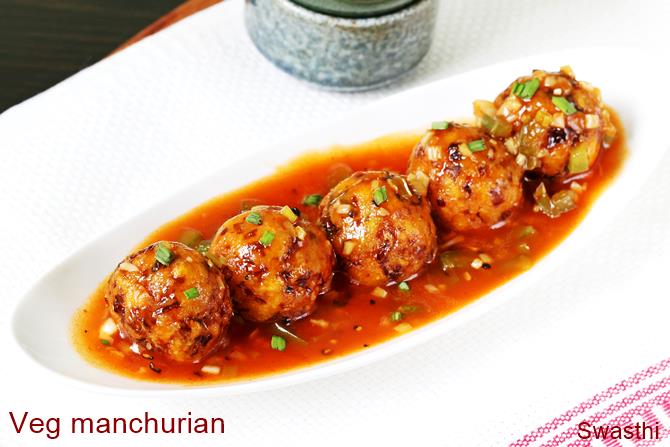 Vegetable manchurian is one of the popular manchurian recipes from Indo chinese cuisine. Mixed veg balls are dunked in sweet, sour and hot sauce.
Ingredients (240 ml cup used)
For veg balls
1 ¼ cup cabbage finely chopped
½ cup grated carrot (1 medium)
¼ cup French beans (finely chopped)
2 tbsps capsicum grated or minced
¼ cup spring onions finely chopped
3 tbsps corn flour
3 tbsps plain flour/ maida (prefer organic)
¼ to ½ cup bread crumbs (optional, use if making gravy version)
¼ to ½ tsp pepper crushed
1 tsp ginger garlic paste
Salt very little
Oil as needed for frying
For Manchurian sauce
1½ tbsp oil
¾ tbsp. garlic finely chopped
½ tbsp. ginger finely chopped
¼ cup spring onions finely chopped
¼ cup capsicum / bell peppers finely chopped
1 tbsp soya sauce
2 tbsp red chili sauce
1 tsp vinegar or tomato ketchup as needed (I used apple cider vinegar)
¾ tbsp. corn flour / corn starch or arrowroot powder (1 tsp for dry)
¼ cup water to dissolve corn starch(2 tbsps for dry)
1 cup water or veg stock for gravy (½ cup for dry)
½ to ¾ tsp tsp red chili powder or 1 tsp red chili paste (optional)
1 ½ tbsp. water to make chili paste
Salt as needed
1 to 1 ½ tsp sugar
¼ to ½ tsp pepper coarsely crushed
How to make the recipe
For making veg balls
Add veggies, corn flour, plain flour, ginger garlic paste, pepper & salt to a mixing bowl. Mix everything well. You can also add bread crumbs to make the balls extra crisp.
Fry these balls in hot oil on a medium flame. Do not disturb them for few seconds to 1 min after the balls are dropped in oil. They will be delicate and may break if you have not used bread crumbs.
After few seconds of frying, you can keep stirring and fry until they turn golden.
Drain them on a kitchen tissue.
For making veg manchurian sauce
Heat oil in a pan, add ginger garlic and saute for a min.
Add spring onions and capsicum. Saute for 1 to 2 mins on a high flame without burning. While these fry dissolve corn flour in water as mentioned in the recipe card.
Lower the heat, add soya sauce, red chilli sauce, red chilli paste.
Stir the corn flour, pour it to the pan.
Stir gently and pour water. Stir and taste the mixture.
Add vinegar, salt, pepper and sugar all to suit your taste. The sauce should taste slightly sour, hot and sweet.
Keep stirring and cook on a medium flame until the sauce thickens. Do not cook till very thick. The sauce will thicken further after cooling.
Switch off the stove and allow the sauce to cool for 1 to 2 mins. Boiling hot sauce will make the veg balls soft and will lose the crispness.
Add the veg balls to the sauce just before serving. Garnish with spring onions.
Serve veg manchurian with veg fried rice or noodles.
How to make veg manchurian recipe – dry & gravy
Preparing vegetables
1. It is good not to use vegetables from refrigerator as they let out lot of moisture and the veg balls will not turn crispy. I usually keep the veggies out of refrigerator the previous day.
2. Cut cabbage to large cubes and add them to luke warm water. Allow to rest for 3 to 4 mins. Drain completely and allow to air dry until used. Chop finely. I prefer to air dry on a cotton cloth after chopping. Grate carrots, chop beans, spring onions & capsicum very finely. Set all these aside.
3. Mince garlic and ginger for sauce. Crush or grate the same for the balls.
Making veg balls
4. Before you begin to make the balls, begin to heat the oil in a kadai / deep pan. If you do not intend to use bread crumbs in the recipe, this step is very crucial. The balls that are made without using bread crumbs have to straight away go for frying else they will let out moisture and the balls will not turn crispy or may even break.
5. Add chopped cabbage, carrot, beans,capsicum and spring onions to a mixing bowl. Add very little salt, pepper and ginger garlic paste. Do not add more salt as it will let out more moisture from the veggies.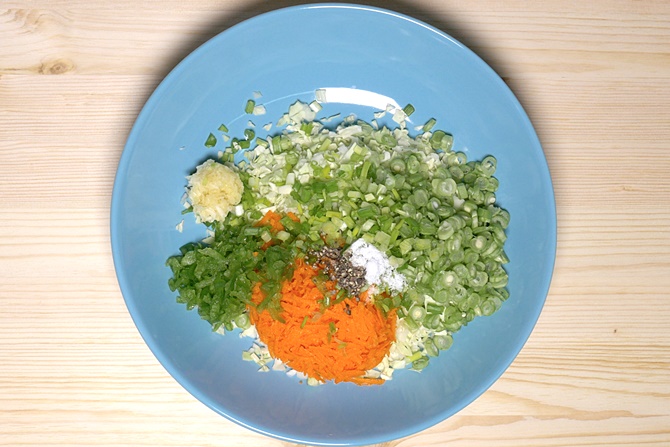 6. Add corn flour and maida.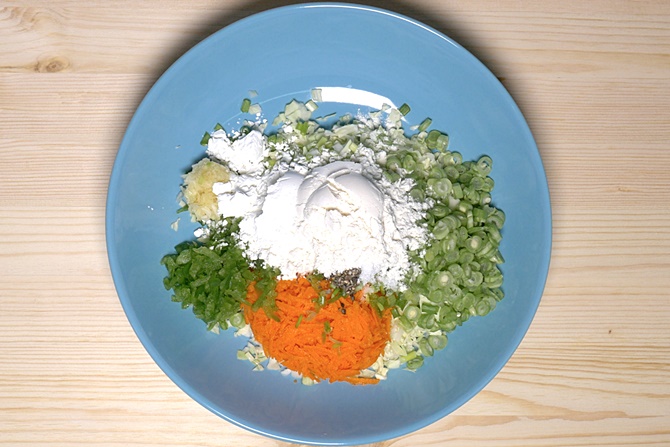 7. Mix gently to bind the ingredients.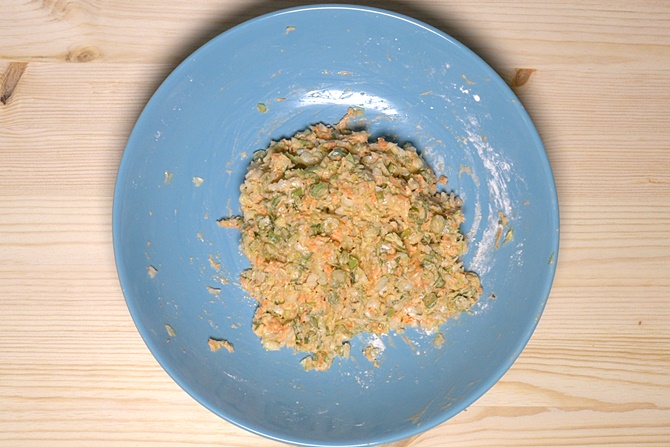 8. Make the balls without squeezing the mixture a lot. These balls will be soft and you may also need to grease your palms if the mixture is sticky. But if the balls do not hold shape, then it is not good to go ahead and fry as they may break in the oil. Some variety of veggies especially tender ones, frozen or from cold storage let out lot of moisture and will break the balls while frying.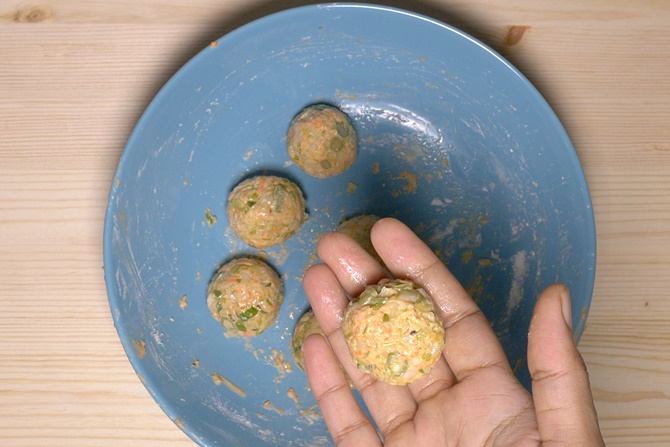 9. You can also add bread crumbs for extra crisp texture. If you intend to make this for a party, then do use them. This will help the balls to remain crisp for at least 2 hours. You can make these ahead and dunk in the sauce just before serving. Veg manchurian balls made without bread crumbs are good to serve immediately after making as they do not remain crisp for longer. Any amount of corn flour or maida / plain flour will not do the job of bread crumbs.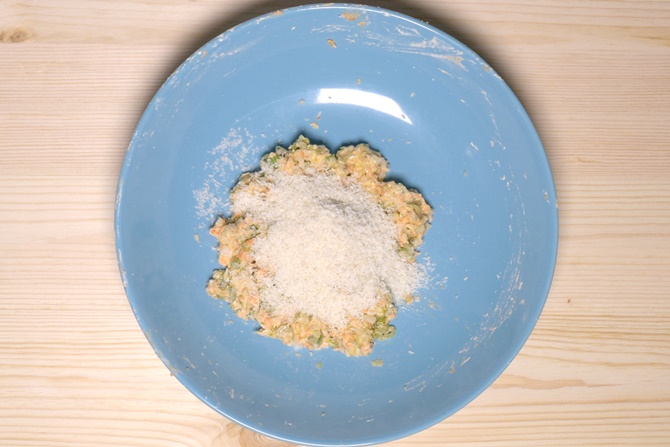 10. These balls will be firmer and less sticky. For this recipe you will get about 12 to 14 balls depending on the size.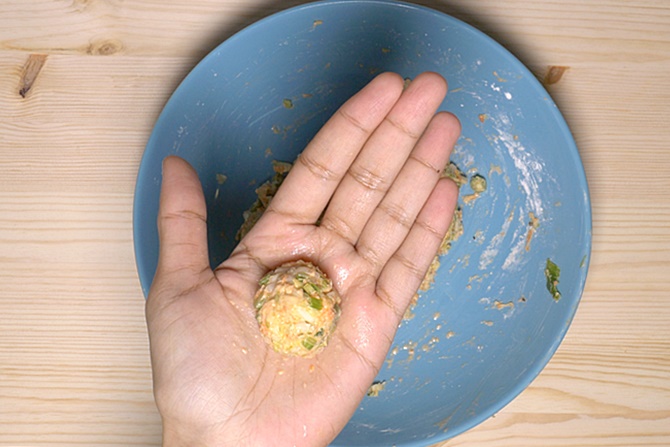 11. Fry the balls immediately on a medium flame. Stir often to fry them evenly. Leave them untouched until they firm up in the oil, if you have not used bread crumbs.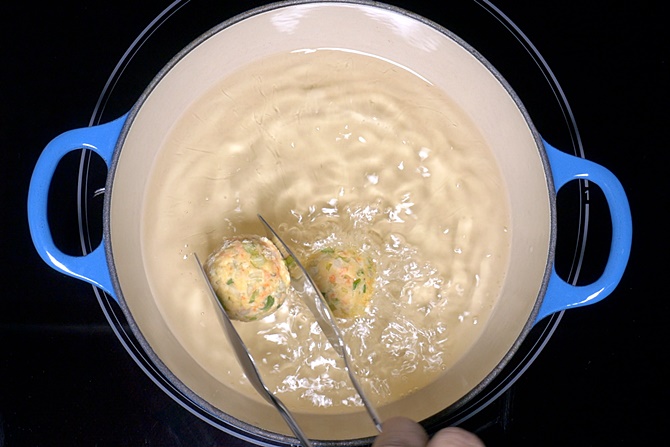 12. Drain them to a kitchen tissue when they turn golden and crisp. These balls take long time to fry, so it is good to discard the oil used for frying.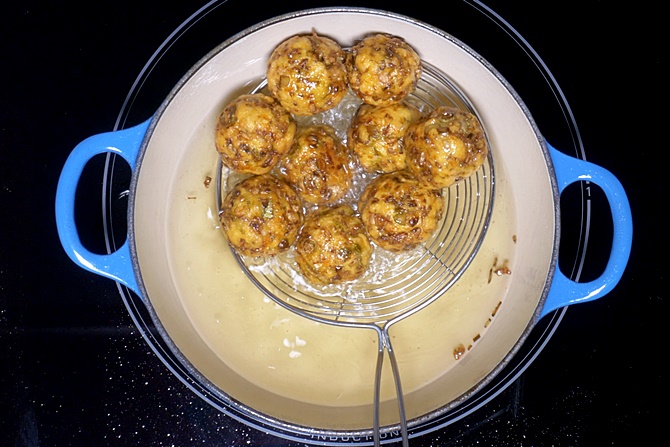 13. I prefer my Indo chinese dishes to be brighter in color rather than brownish so I use red chili powder or paste. This is optional. You can make a fine paste of kashmiri chilies or mix little chilli powder with very little water. Set this aside.
14. Dissolve corn starch
For veg manchurian gravy: Dissolve 3/4 tbsp of corn flour with 1/4 cup of water.
For veg manchurian dry: Dissolve 1 tsp corn flour with 2 tbsp of water. Set this aside.
Making manchurian sauce
15. Heat up a pan with 1.5 tbsps of fresh oil. Saute garlic and ginger until for a min.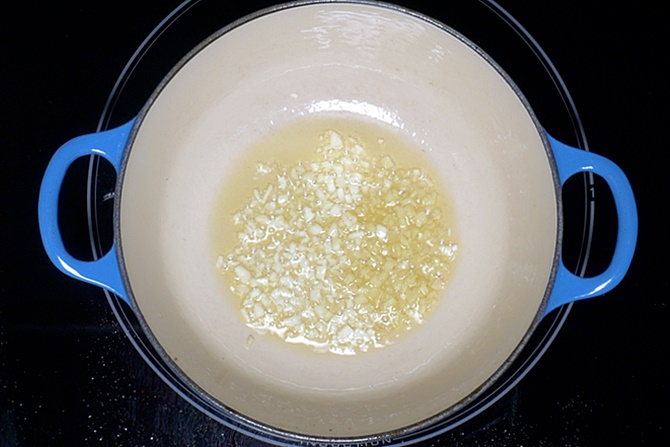 16. Add spring onions and finely chopped capsicum. Saute for 1 to 2 mins on the highest flame possible without burning. This lends a unique aroma to the sauce.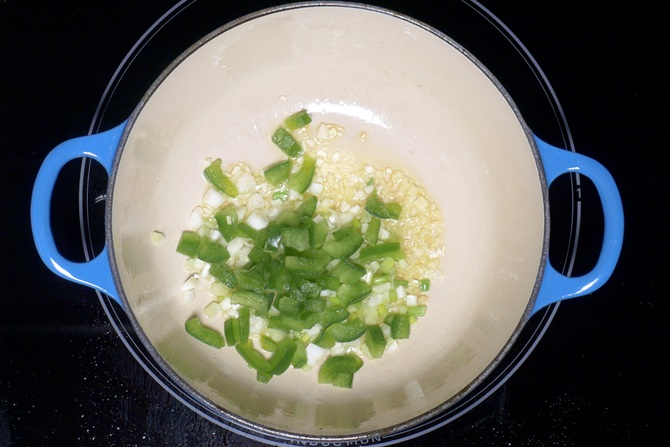 17. Lower the flame completely. Add soya sauce. You can add more or less to suit your taste.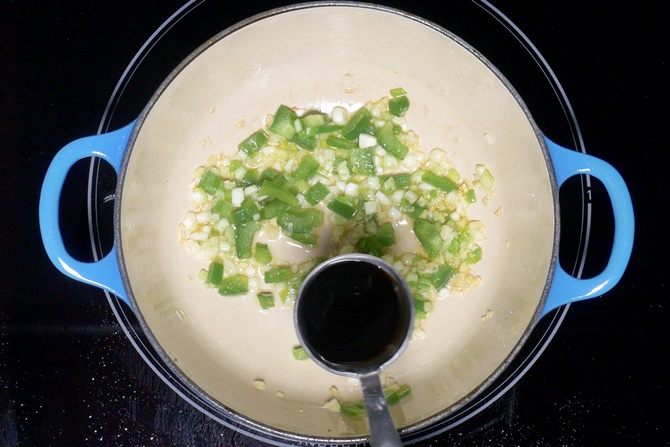 18. Add red chili sauce. Adjust to suit your taste.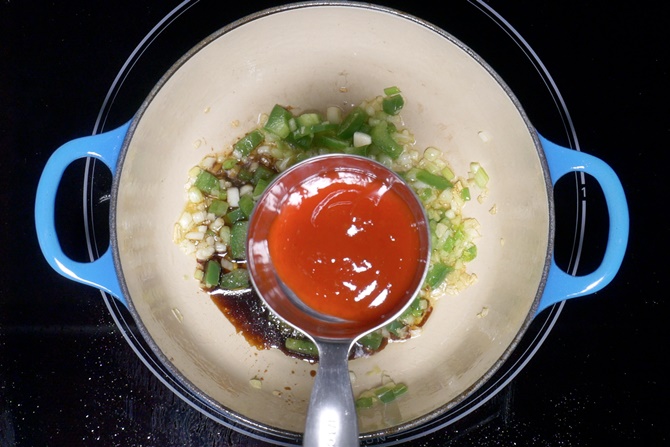 19. This step is optional. Stir the red chili paste and pour it. Use a milder variety chili powder like kashmiri.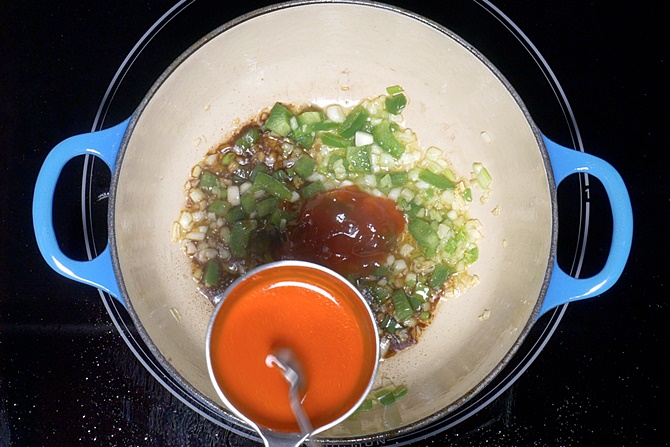 20. Make sure the flame is low. Stir the corn flour mixture and pour it to the pan.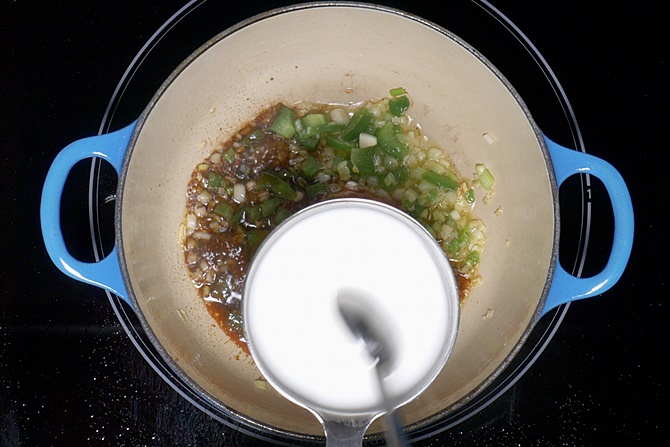 21. Stir immediately.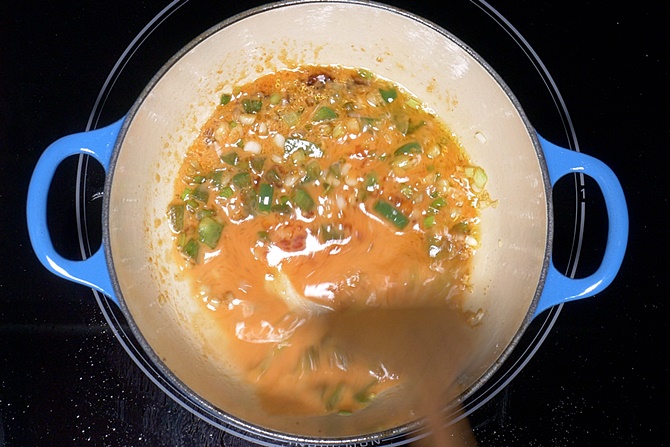 22. Pour water and stir well.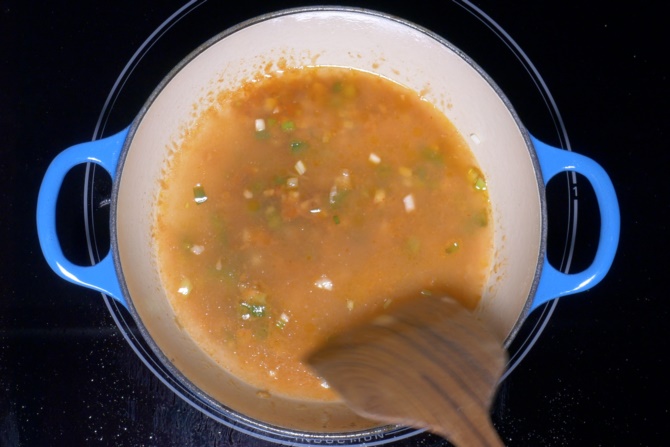 23. Taste this and then add vinegar, sugar, pepper & salt, everything to suit your taste. The manchurian sauce has to be slightly sour, sweet and very very mildly hot.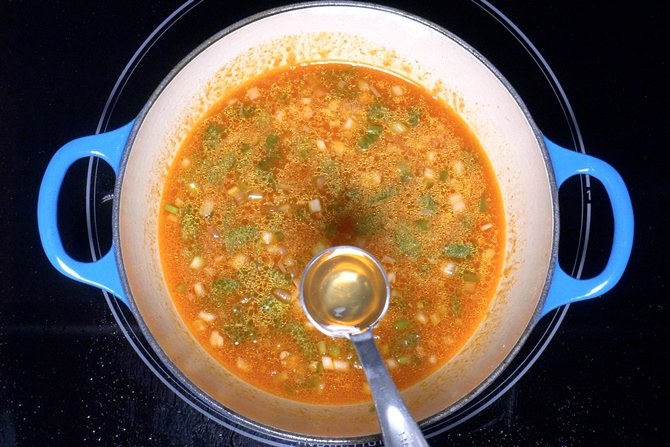 24. Keep stirring and cook on a medium flame until the sauce thickens. Sauce will thicken upon cooling. So the right consistency is when it is slightly thick.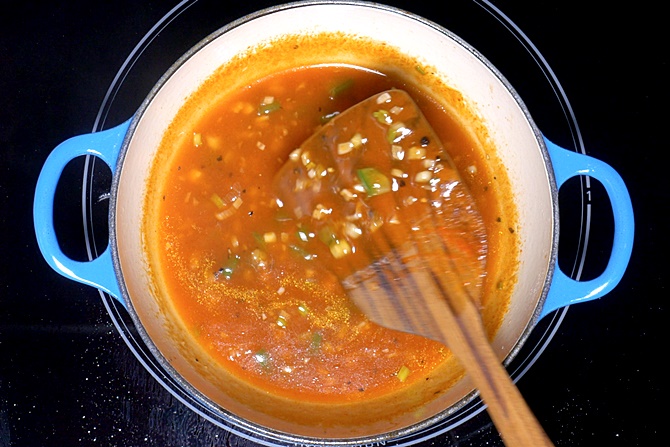 25. Do not add the balls to very hot sauce. Allow it to cool down a bit for about 5 to 7 mins. Add the balls to the manchurian sauce just before you serve. If the sauce turns very thick, you can add little hot water and stir.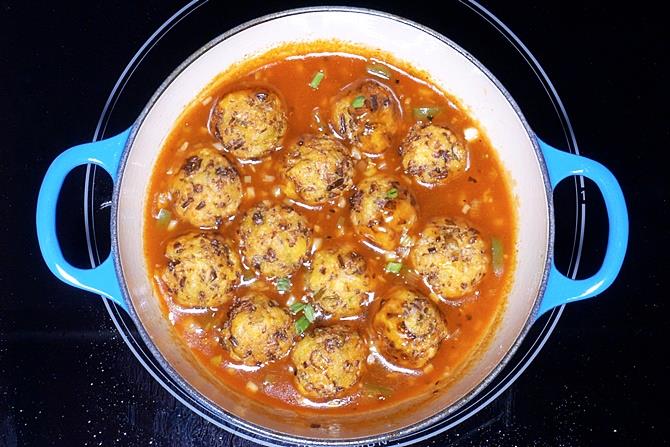 Garnish veg manchurian with spring onions.