Watermelon juice is one of the best thirst quencher and can be an instant remedy to sunstroke or heat during summer. It is nutrient dense and has a moisture content of up to 92% and hence can keep us hydrated. watermelon is high in lycopene, an antioxidant that protects our body from free radicals which otherwise can harm the healthy system. Watermelon is also a good source of vitamin C, Vitamin A, biotin and many other nutrients. It can protect skin, heart, kidneys and the overall health.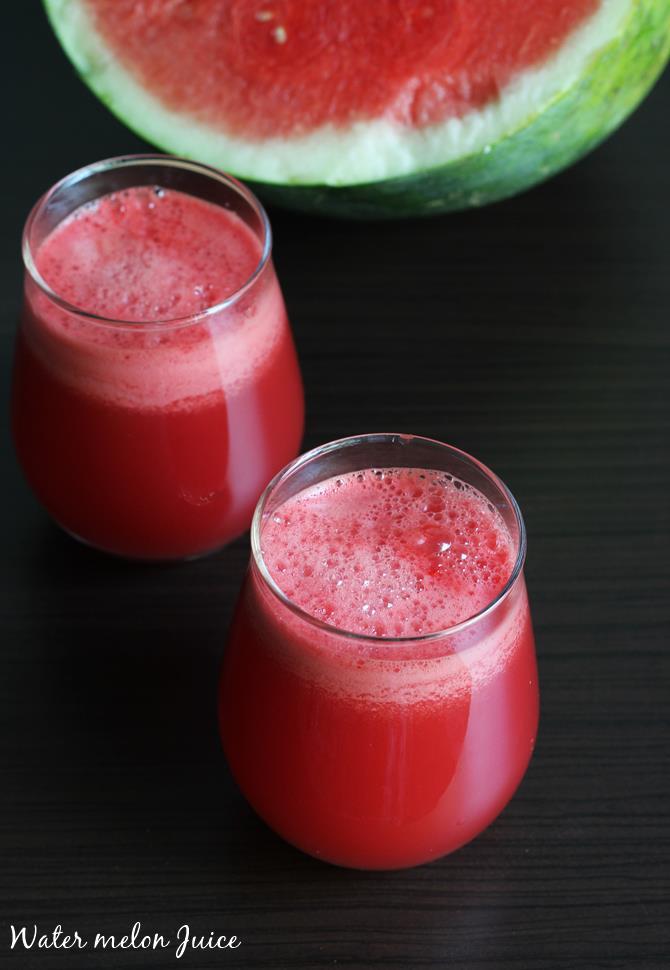 I make watermelon juice, without any other additives except few spices or herbs. The juice in the pictures is plain watermelon juice with a dash of lemon juice and pepper powder. I sometimes use ginger, few mint leaves, sabja seeds or chia seeds as well. Whenever we buy watermelon, a part of it goes to the refrigerator, the next day i make the juice with the chilled watermelon.
 
watermelon seeds are edible and is said to cleanse the kidneys, so i just use up the white watermelon seeds to make the juice.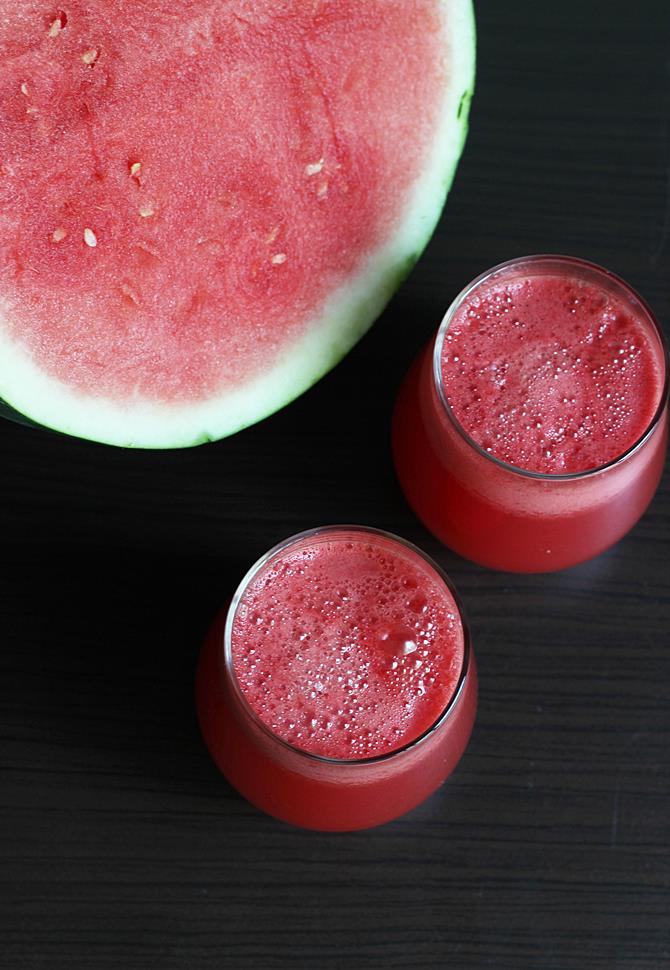 There are so simple manys of using up a surplus watermelon, make watermelon ice cubes and then add them to lemonade when ever needed. to make ice cubes, just pour watermelon juice in the ice tray and freeze them. The same can be used to make popsicles as well. Pour the juice in the popsicle molds or disposable cups, cover with a foil and place the ice cream sticks and freeze until set.
 

Watermelon juice recipe | How to make watermelon juice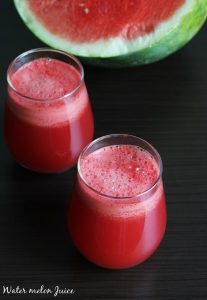 Ingredients (240 ml cup used)
3 cups watermelon cubes deseeded
optional
lemon juice as needed
small piece of ginger
½ tsp sabja seeds or sweet basil seeds
few mint leaves
few ice cubes
How to make the recipe
Wash watermelon under running water. Cut it to 2 halves. Remove the seeds. Tender white seeds can be used for the juice, they have health benefits too. Chop the watermelon pulp from the rind. Add the ingredients to a blender jar and blend till smooth.
Add ice cubes if preferred. or Chill the juice and serve.
more healthy beverages,
dry dates juice
carrot milkshake
pineapple smoothie