Aloo grilled sandwich recipe – Quick breakfast or evening snack made with bread and potatoes. These potato sandwiches also go well in the lunch box for kids. I rarely make sandwiches for the breakfast or kids school box since we make roti / paratha almost daily. But there are times when the school mornings are a mad rush especially after a long vacation or a weekend. I resort to these aloo grilled sandwich since there is not much to cook.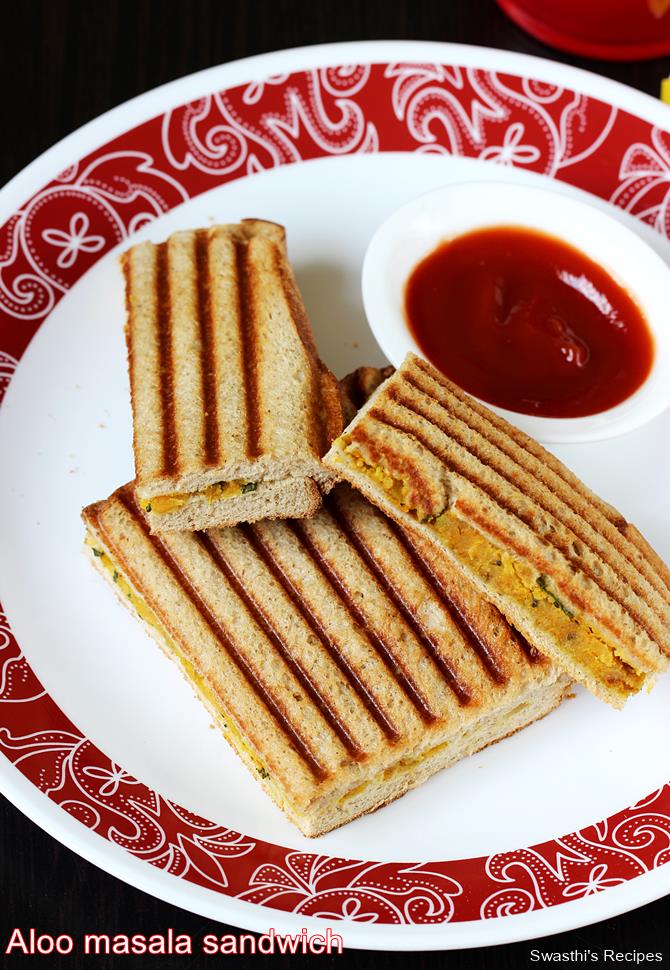 These can also be made on a tawa without using sandwich toaster or a grill. You can also use boiled green peas in this recipe. These taste very good even without sauce. But they are best served with green chutney.
Aloo grilled sandwich recipe below
Aloo grilled sandwich recipe | Grilled potato sandwich recipe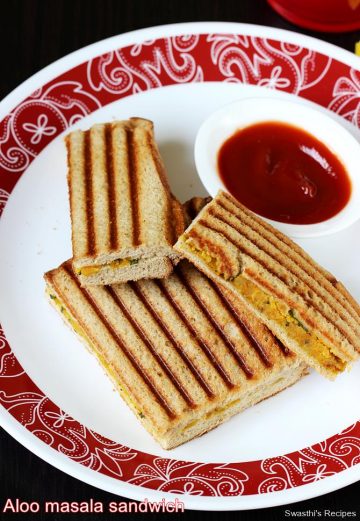 Quick aloo grilled sandwich recipe made with whole meal bread and boiled potatoes. It can be served for breakfast or snack.
Recipe type:
Breakfast, snack
Ingredients (240 ml cup used)
4 bread slices (prefer whole grain or meal bread)
1 tbsp butter or ghee
1 large potato about 1 cup cubed
1 tsp hot ghee or oil at room temperature.
½ tsp ginger grated
¼ tsp red chili powder
2 pinches of garam masala
¼ tsp coriander powder
Salt as needed
Coriander leaves few finely chopped
1 green chili chopped (skip for kids)
Lemon juice as desired or amchur powder (optional)
How to make the recipe
Wash, peel and boil or steam potatoes until just done without making mushy.
Mash the potatoes and add all the ingredients except butter.
Mix them up well.
Butter the bread on one side and heat the grill.
Spread the aloo mixture on the side which is not buttered.
Cover with another slice. Grill until done for 3 to 5 mins.
Cut and serve with green chutney or tomato sauce
How to make grilled sandwich recipe
1. Wash and peel potatoes. I prefer to quarter them and steam in a pressure cooker just until done. You can also do this in a electric rice cooker or pot. This takes about 7 to 10 minutes.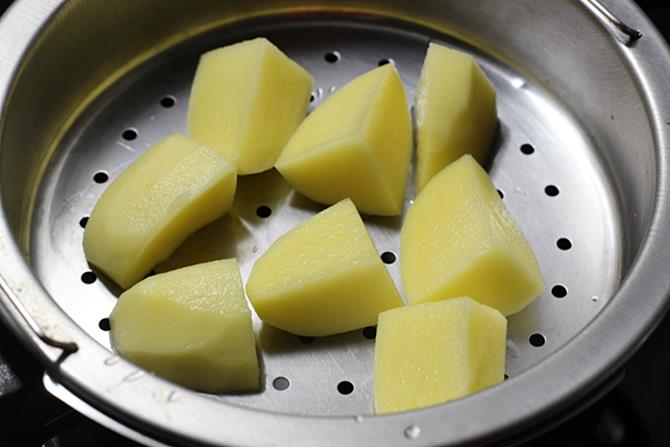 2. While the potatoes boil. Add 1 to 2 tsp ghee or oil to a bowl. I prefer to use hot ghee as it helps to bring out the aroma of the other ingredients used. Add grated ginger, green chili, coriander leaves, red chili powder, salt, turmeric, garam masala and coriander powder.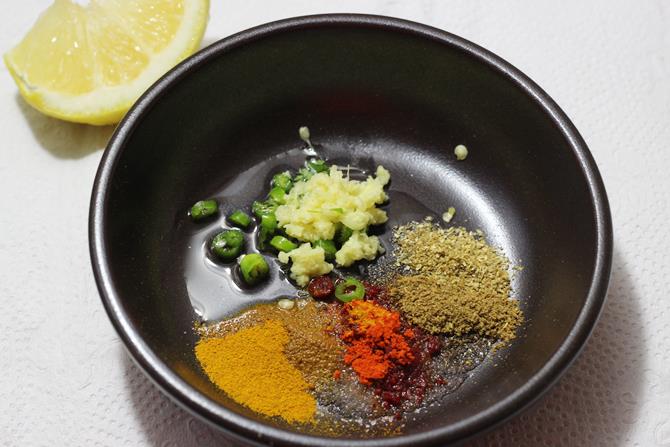 3. Mix up everything. You can also add lemon juice or amchur now.


4. Add mashed potato.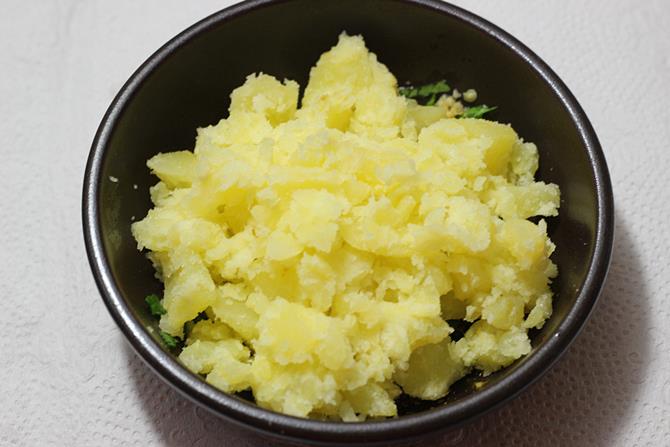 5. Mix up everything well.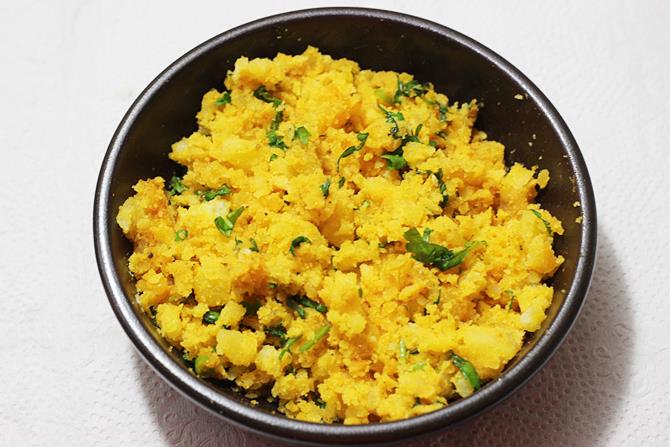 6. Smear softened butter or ghee on one side of the bread. I prefer ghee.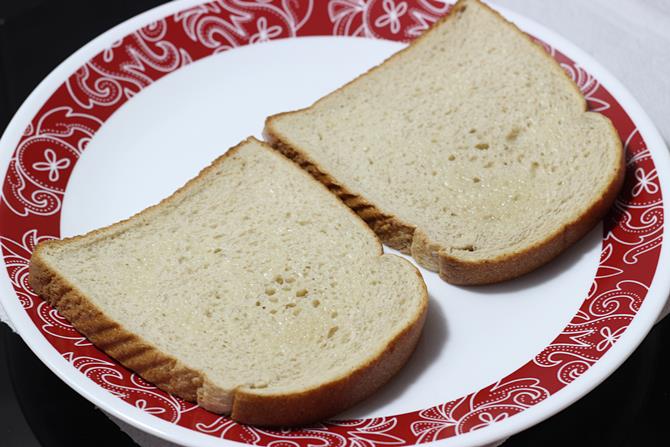 7. Flip the bread slices and spread the mixture.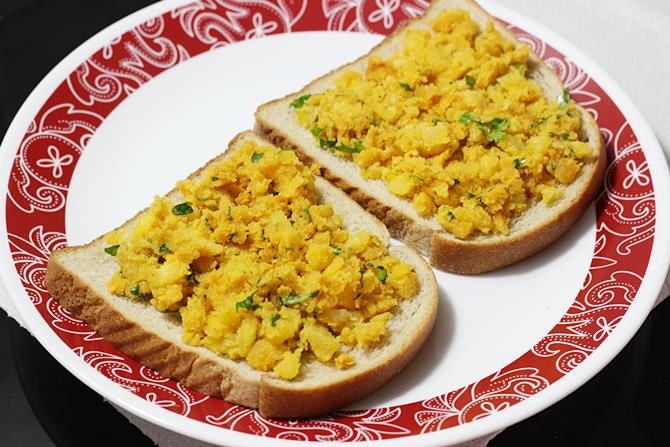 8. Cover with another slice and smear butter or ghee.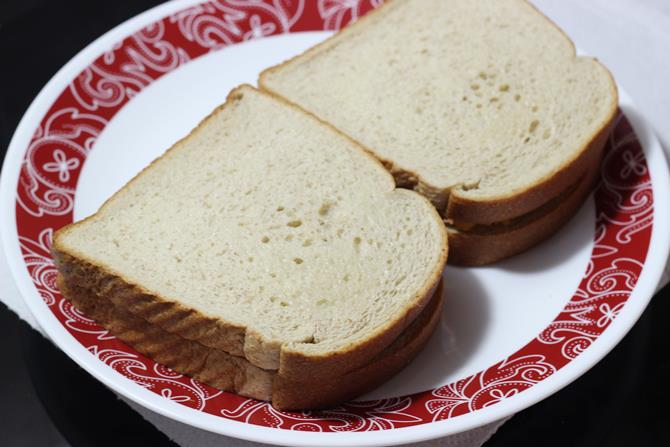 9. Heat the sandwich griller and grill the sandwiches for 3 to 5 mins.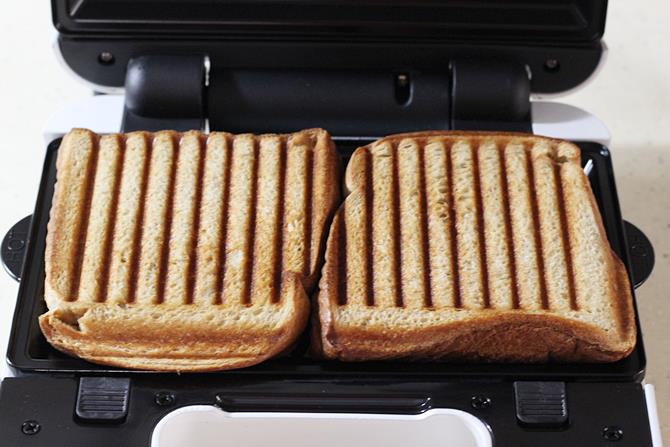 Cut them to squares or triangles and serve.