Aloo methi recipe – easy recipe with step by step photos. Fenugreek leaves are called methi in hindi and potatoes known as aloo. Hence the name aloo methi. They are one of the best combinations to make a curry or paratha. Iam sharing an easy recipe for beginners and bachelors. Some of the simple Indian potato recipes on the blog include Potato curry, simple Aloo baingan, and Dum aloo.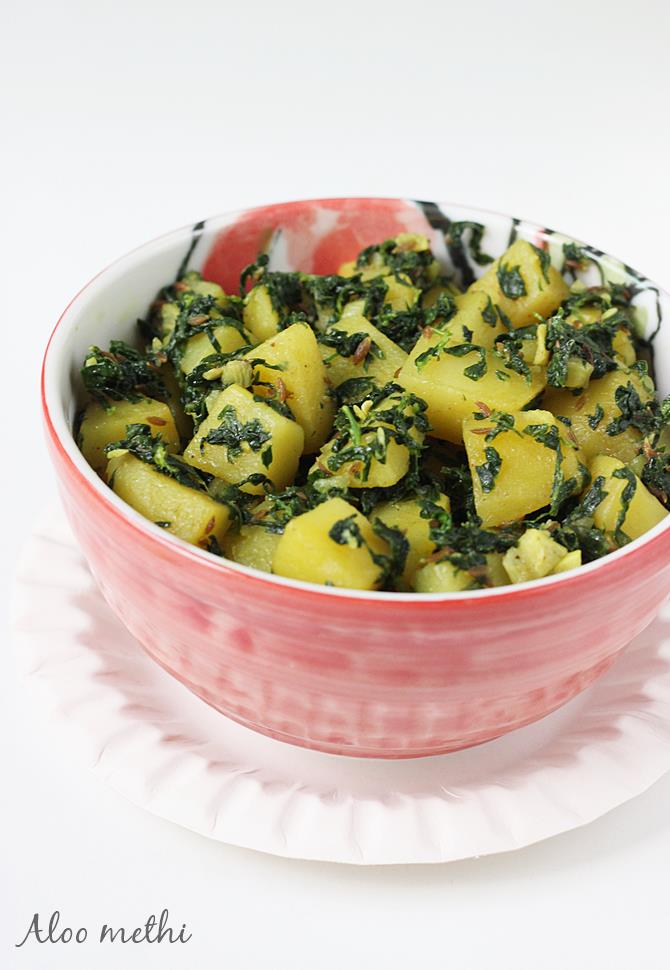 To make this aloo methi recipe, we need just 7 ingredients and the results are simply superb. It can be served with roti, jeera rice, ghee rice, plain rice and curd.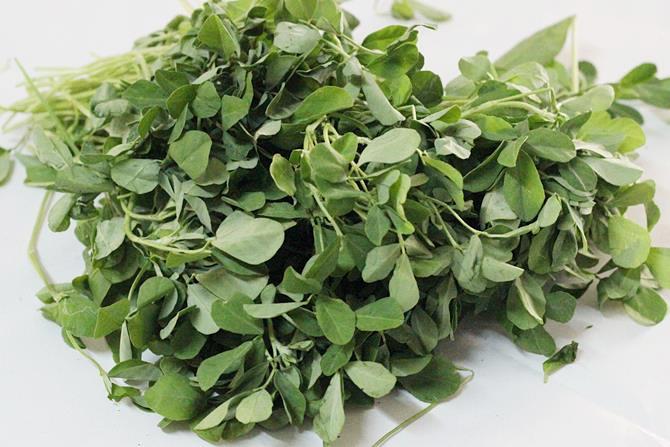 All of us love recipes that are simple for everyday meal and this is one of them. I make this aloo methi to serve with rice and rasam. Sometimes I also pack this for the kid's school box as a side to paratha, roti or lemon rice. It can also be used to make kati rolls, all we need to do is lightly mash the potatoes before using them in the wrap.
Find more Methi recipes,
Methi paratha
Methi pulao
Tawa methi rice
Methi dal
Methi leaves chutney
Aloo methi recipe card below
Aloo methi recipe | How to make aloo methi | Methi recipes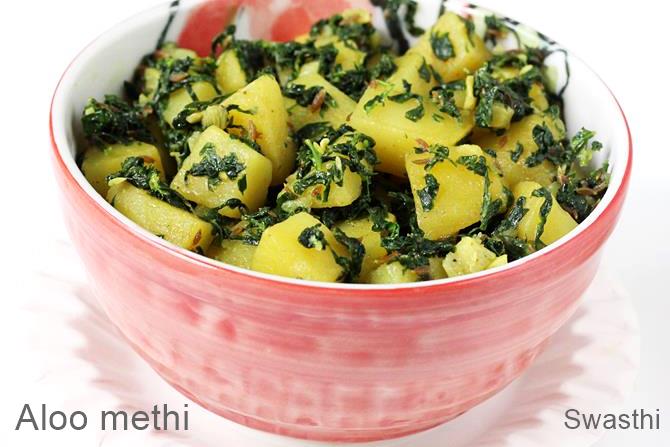 Aloo methi recipe - simple north indian style potatoes and fenugreek dry curry.
Ingredients (240 ml cup used)
2 cups of potatoes / aloo chopped or cubed
1 ½ cups of chopped methi leaves
2 garlic cloves Chopped
¾ tsp jeera / cumin
1 ½ tsp. oil
Salt as needed
1 to 2 Green chili slit or chopped
Pinch of turmeric (optional)
Pinch of hing (optional)
2 to ½ tsp inches of Garam masala (optional)
How to make the recipe
Prepration
Pluck methi leaves and add it to a large bowl filled with water. Add one tsp salt over the leaves and set aside for 10 minutes. This helps the mud and pesticide residue to melt off the leaves.
Wash and peel potatoes. Cube them. Add them to a bowl with little water to prevent potatoes from getting discoloured.
Making aloo methi
Add oil to a pan, add cumin. When they begin to crackle, add garlic and fry till it begins to smell good. Sprinkle hing.
Add potatoes, turmeric and fry for one to 2 minutes.
Add water just enough to cook potatoes. Alternately you can skip adding water & just saute them in oil stirring often until soft cooked. You can also use pressure cooked potatoes to quicken the entire process.
While the aloo cooks, drain off the leaves and wash in fresh water. Repeat rinsing if needed.
Drain off the water completely. Chop them finely.
Check if the potatoes are cooked by piercing a fork into the aloo.
When the aloo is soft cooked, evaporate if any water is left. Add little garam masala and salt. Stir and fry for a minute.
Add chopped methi leaves, chilies and fry until the leaves wilt off. Do not over fry to prevent nutrition loss.
Serve aloo methi with rice or roti.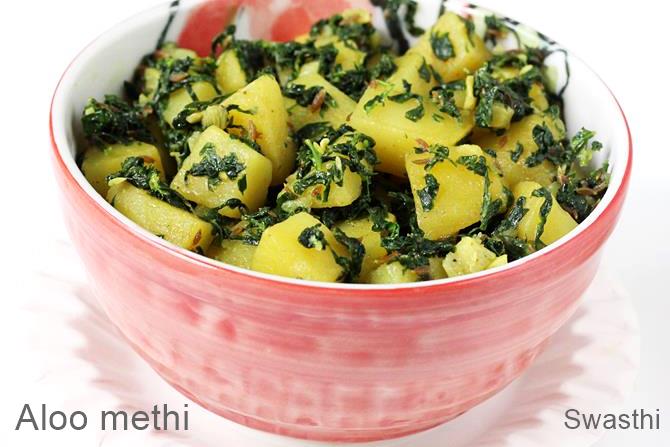 step by step photos how to make on aloo methi
1. Pluck & Wash methi leaves thoroughly in enough water. Repeat the rinse a few times. Drain completely in a colander. Meanwhile Peel and cut potatoes. Add them to water. Set aside.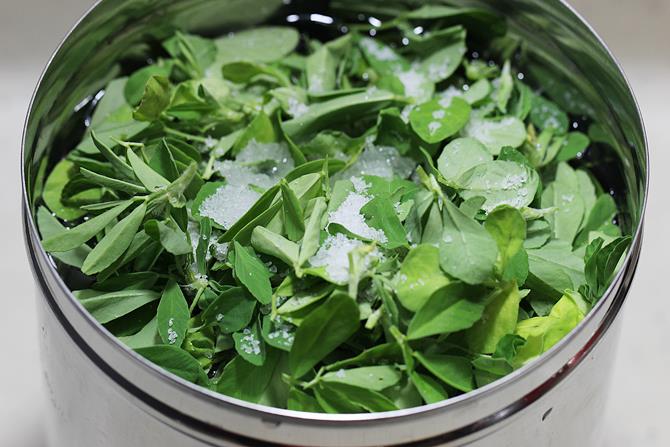 2. Fry cumin and garlic till aromtic in hot oil. Add a pinch of hing.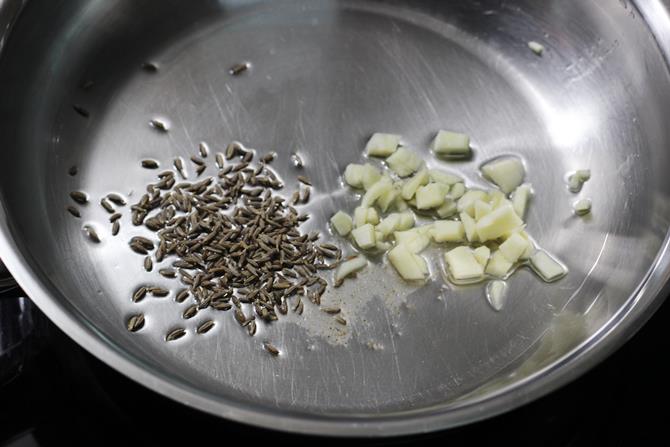 3. Add potatoes, turmeric and fry for 2 minutes.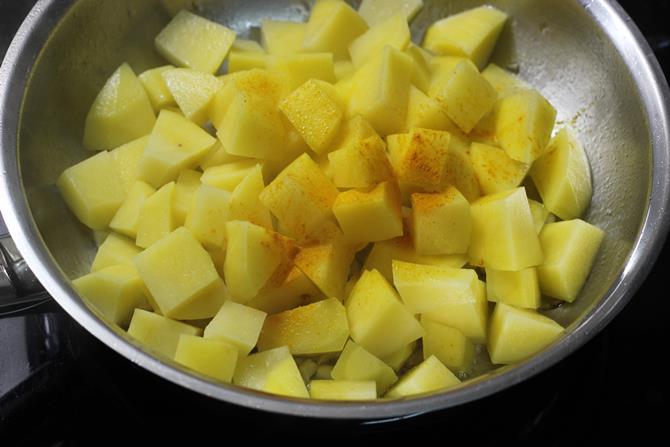 4. Add water just enough to cook potatoes. Do not add lot of water. Alternately you can also skip adding water and saute them in the pan until completely cooked. Or you can also pressure cook potatoes until just done and use them here.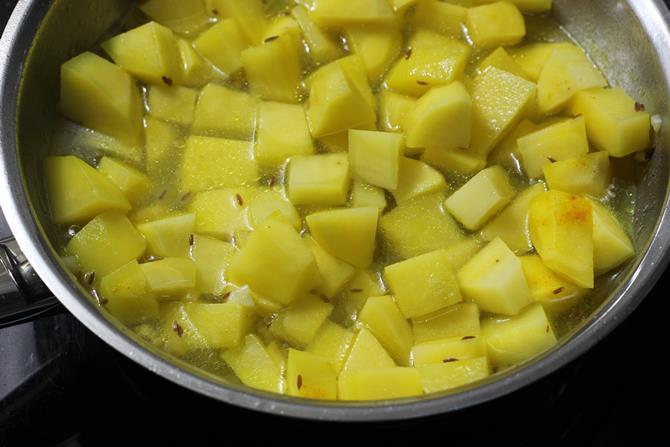 5. Cover and cook till the potatoes are soft cooked.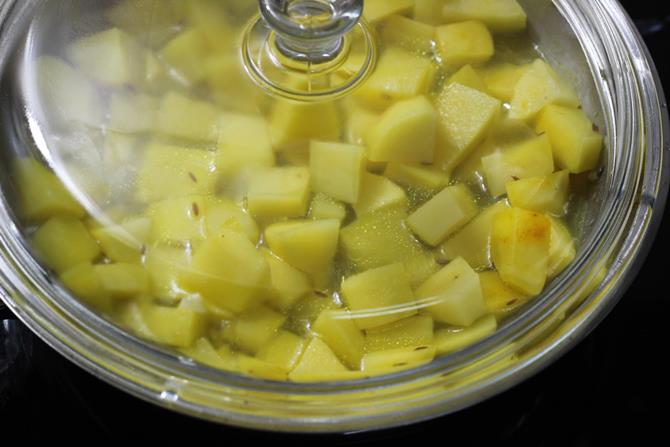 6. Make sure the water is evaporated completely. Add garam masala and salt. Fry for one to two minutes.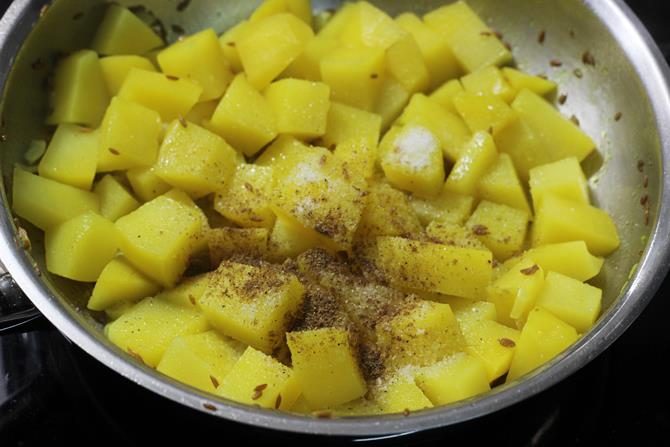 7. Add chopped chilies, methi leaves. I have not used red chili powder, the heat comes only from green chilies. So add a good amount of chilies. Fry until the leaves wilt off. Prevent over frying else there will be a loss of nutrients.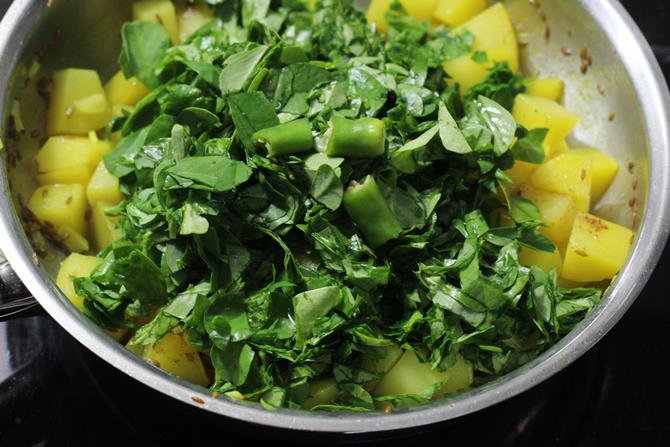 Ready to serve aloo methi with rice or roti.