Aloo parkora recipe – Also known as aloo bajji, these are another tea time snack mostly sold in tiffin centres and street stalls. Though not very popular, these are made in many homes especially during the monsoon to accompany their masala chai or coffee. To make aloo pakora, sliced potatoes are dunked in chickpea batter and deep fried in hot oil.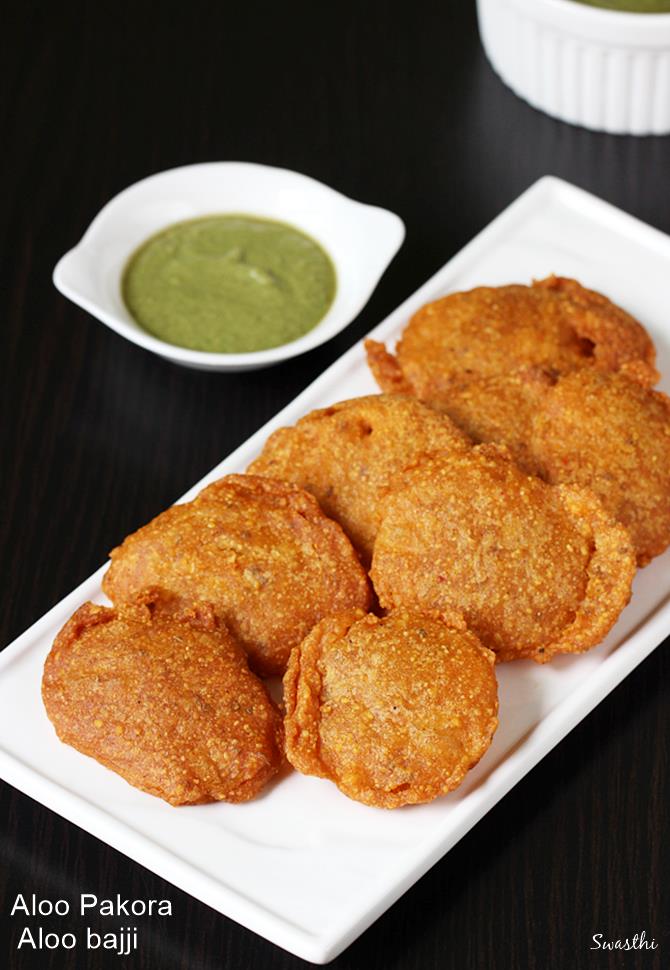 Pakora is a generic term used in North India for pakoda or bajji. Pakora are made using chickpea flour, carom seeds and any vegetable like onion, potato, mixed vegetables or with bread, eggs and chicken.
If you have guests home or for occasions you can make a pakora platter by making different kinds of pakoda. Here are some which you may want to check
Soya pakora
Bread pakora
Onion pakora
Cauliflower pakora
Mixed veg pakora
Egg bajji
How to make aloo pakora or potato bajji
1. Wash and peel potatoes. Slice them thinly otherwise they may not cook well.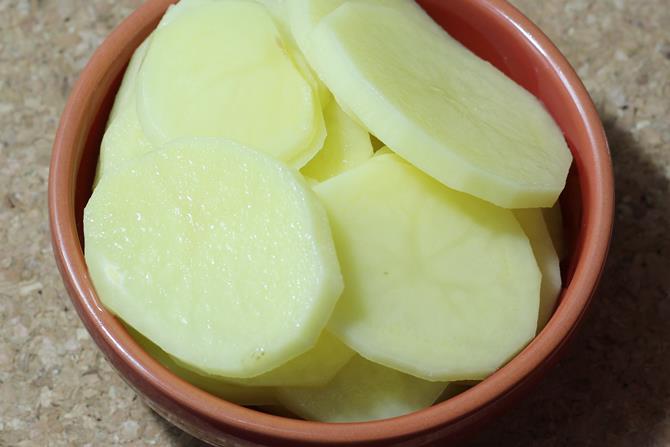 2. Add them to water and set aside.
3. Add besan, rice flour, ajwain, red chili powder, salt, garam masala, ginger or ginger garlic paste and turmeric to a mixing bowl. You can also make a fine paste of 1 small onion and green chili and add it to the mixture. I have used coarse besan here which yields crunchy bajji. You can also add 1 tbsp of semolina for the crunch. You can substitute riceflour with corn flour.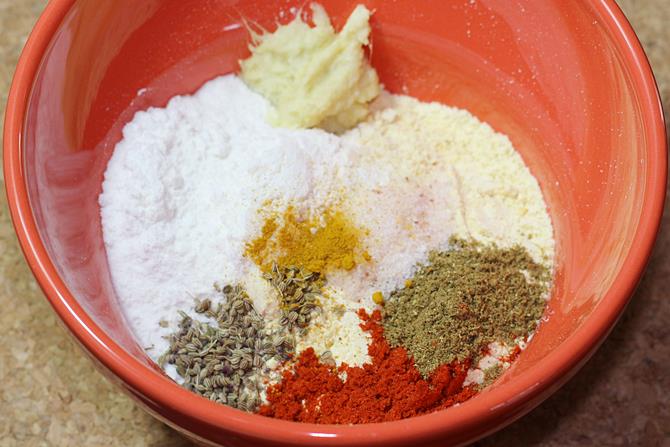 4. Add enough water and make a batter that is not too thick or too thin.


5. If the batter is too thick it will not coat the potato slices. If it is too thin then the slices will not hold the batter.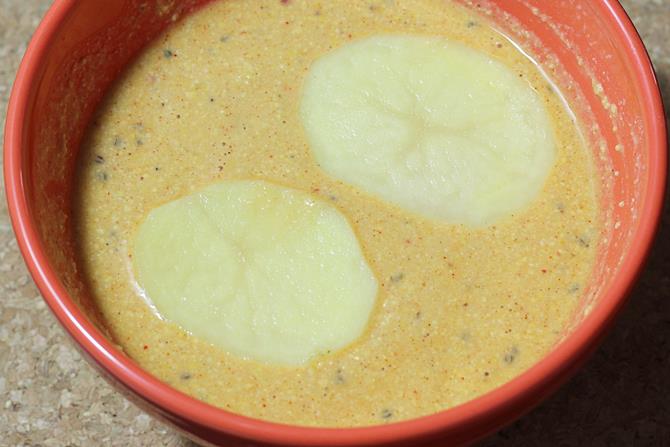 6. Heat oil until hot enough. If it is very hot, aloo it will turn brown without cooking inside. If it is not hot enough they will soak up lot of oil.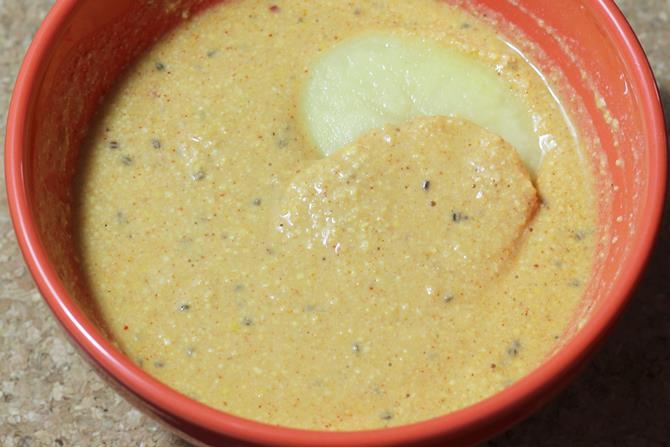 7. Dip each slice in the batter and gently drop them in the hot oil. Keep stirring and fry until golden. They usually take about 3 to 4 mins to cook well and turn golden. However it may also depend on the thickness of the slices.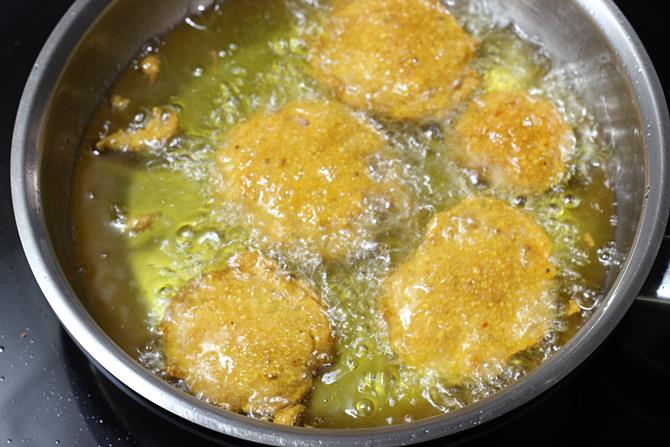 8. When golden fried, drain them to kitchen tissues.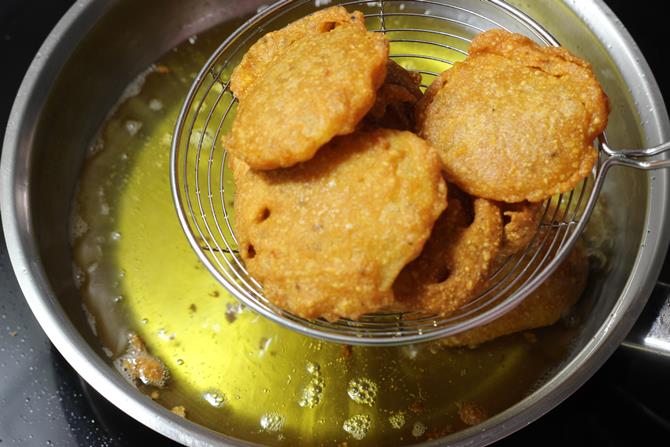 Serve them with a cup of hot tea or with any chutney or sauce.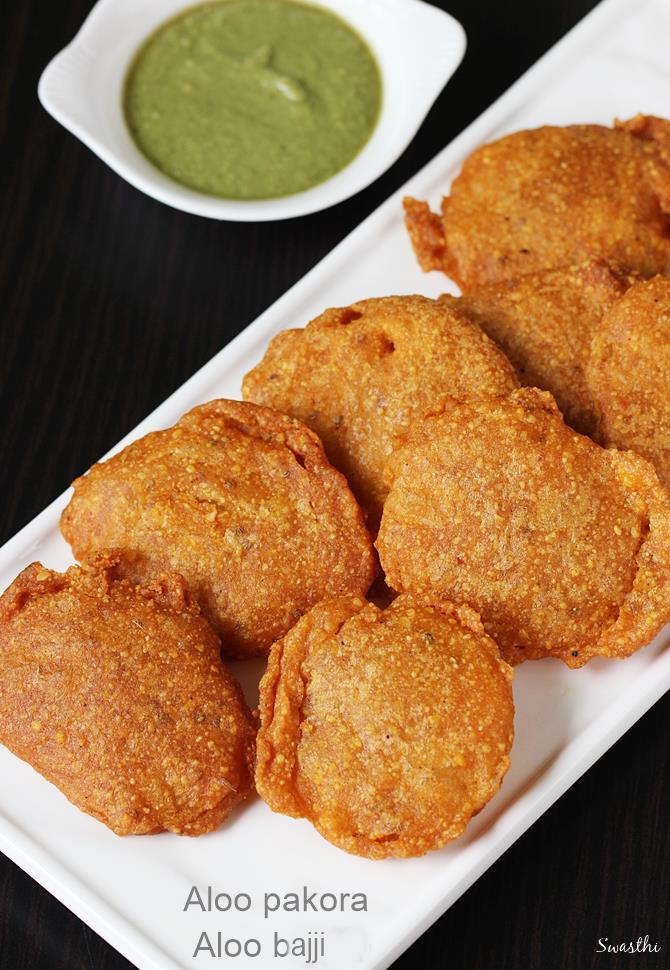 Aloo pakora recipe | Aloo or potato bajji recipe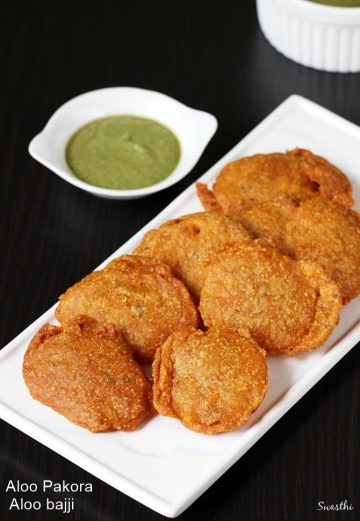 Deep fried snack made by dipping sliced potatoes in chickpea batter.
Ingredients (240 ml cup used)
2 medium potatoes
½ cup besan/ chickpea flour
2 tbsps rice flour or corn flour
Salt as needed
½ tsp Ginger garlic paste or only ginger paste
½ tsp ajwain
¼ tsp garam masala
½ tsp red chilli powder
Generous pinch of turmeric
How to make the recipe
Wash aloo, peel and slice them to thin slices. Keep them in water until used.
Make a batter using rest of the ingredients except oil. The batter must be of a medium consistency, neither too thick nor too thin.
If unable to coat the potatoes well, sprinkle little water and slightly thin down the batter.
Heat oil until hot enough. You can drop a small portion of this batter in oil and check if the oil is hot enough. The ball should raise well in the oil. Dip each slice in the batter and deep fry them until golden.
Drain on a kitchen tissue and serve hot.