Aloo tikki recipe with video & step by step photos – Simple spiced potato patties to enjoy as a snack. Aloo tikki is a popular Snack across India made using mashed potatoes, spice powders and other basic ingredients. There are two ways aloo tikki is made, one is by stuffing chana dal and the other one is a simple patty which can be done very quickly if boiled potatoes are ready.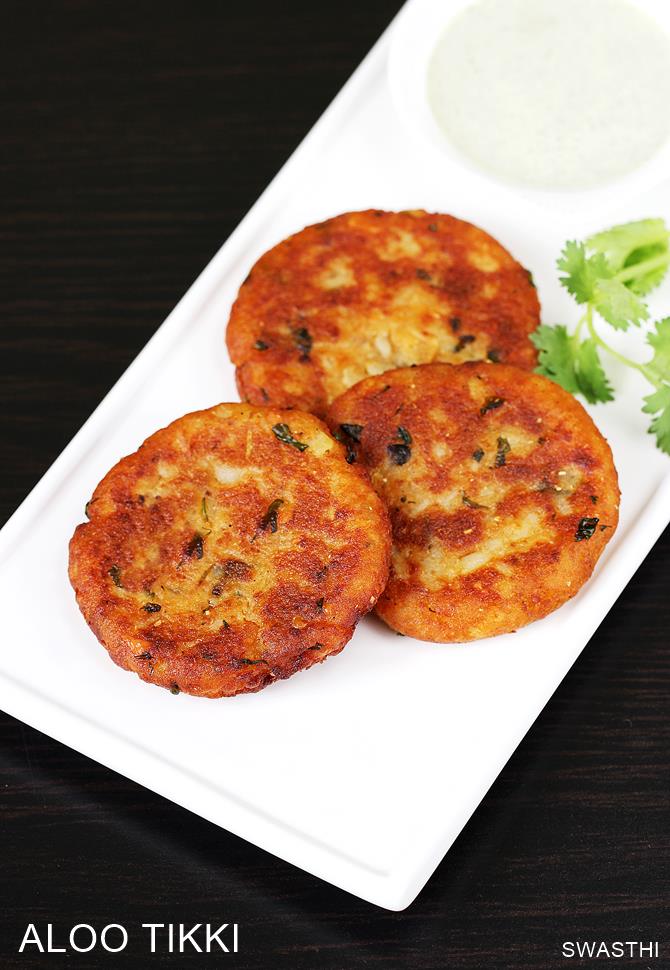 The recipe shared here in this post yields crispy aloo tikki that do not absorb much oil and taste delicious. I have made these thin, you can make them however you like thick or thin, large or small all to suit your taste or convenience. The thin and flat ones turn crisp and taste exceptionally good since the mixture from inside gets cooked completely and they do not turn soggy. You can deep fry, shallow fry or pan fry them, the taste of the pan fry tikkis differs.
These crispy fried snack are good to enjoy hot with mint chutney or with green chutney. However they can also be had with a cup of black tea or coffee or can be served in burgers as patties. These can also be used to make aloo tikki chaat.
I have used some dried bread crumbs in this recipe which help to absorb the moisture from the boiled potatoes. Using corn flour or rice flour is optional, dried bread crumbs do a better job than the flour or fresh bread crumbs.
For more Potato recipes
Samosa
Aloo bonda
Aloo tikka
Chilli potato
Aloo pakora/bajji
Video of aloo tikki recipe
Aloo tikki recipe card below
Aloo tikki recipe video | How to make aloo tikki | Crispy alu tikki recipe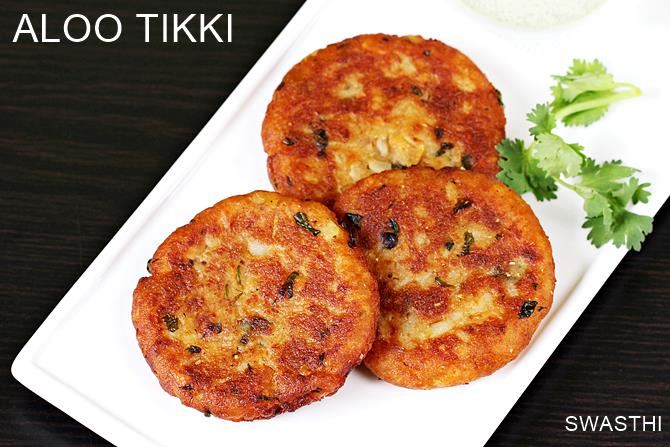 Aloo tikki are Indian style potato patties that are served as a snack or eaten as a patty in a burger.
Ingredients (240 ml cup used)
4 medium sized potatoes
1 tsp ginger paste
½ to ¾ tsp garam masala
½ tsp chaat masala
½ to ¾ tsp red chili powder
1 tbsp very hot ghee
Handful of coriander leaves finely chopped
1 green chili chopped
2 tbsps corn flour or rice flour (optional)
3 to 4 tbsps bread crumbs ( do not use fresh bread crumbs)
Salt as needed
Cashews as desired chopped
Oil as needed for frying
How to make the recipe
Boil potatoes until just cooked. They should be firm and not mushy or soggy. Cool them.
Grate or mash them in a mixing bowl. Make sure there are no chunks of aloo.
Add coriander leaves and green chilies.
Add ginger paste, garam masala, chaat masala, salt and red chili powder.
Heat 1 tbsp ghee till very hot in a kadai. Pour that over the red chili powder to remove the raw flavor.
Add flour and bread crumbs. Begin to mix and make a firm and non sticky ball. If needed you can add more bread crumbs.
Divide the mixture to equal parts and make balls. If you prefer large tikkis, you can make large balls. But thin tikkis cook well and get crispy when fried.
Flatten them and make the aloo tikki.
Heat oil in a pan and fry them until golden. Keep flipping them to both the sides and fry.
Remove them to a absorbent kitchen paper.
Serve aloo tikki hot with a chutney or as a burger in a patty.
How to make aloo tikki
1. Wash and peel potatoes. Boil them just until cooked. I cooked them by placing in a bowl and the bowl inside the cooker. Depending on the potatoes and the brand of cooker, you may need anywhere from 3 to 5 whistles to cook them on a medium heat. Cool them.


2. Grate or mash them with a masher.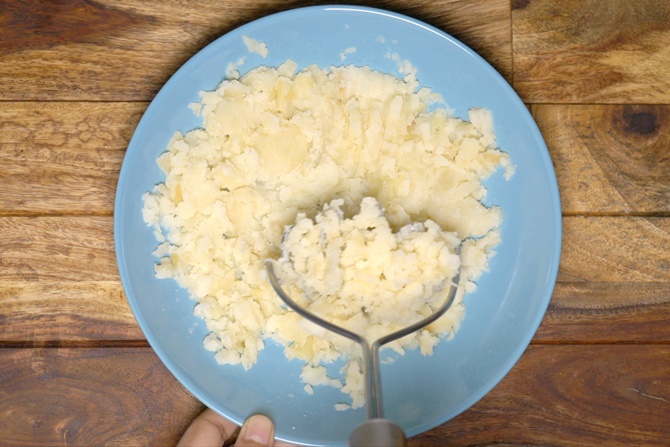 3. Add chopped coriander leaves & green chilies.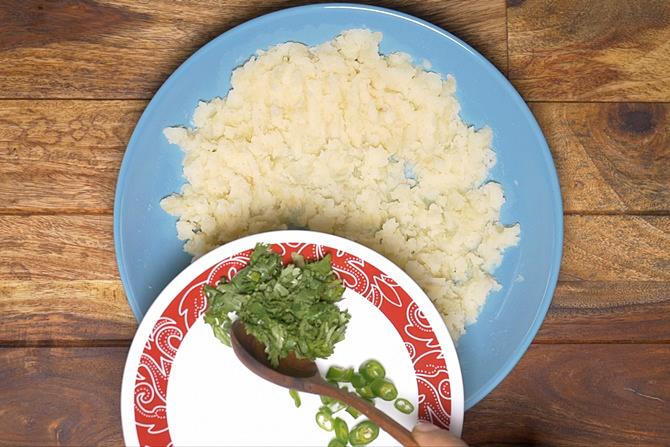 4. Add garam masala and chaat masala.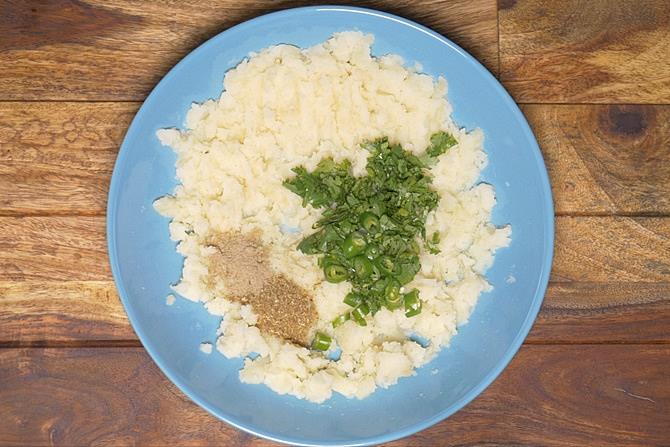 5. Add salt and red chili powder. Heat 1 tbsp ghee until very hot, add that to the red chili powder. This removes the raw smell of the chilli powder.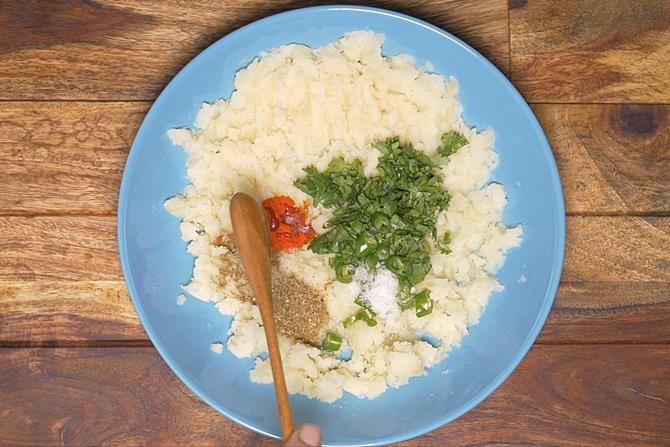 6. Add chopped cashews.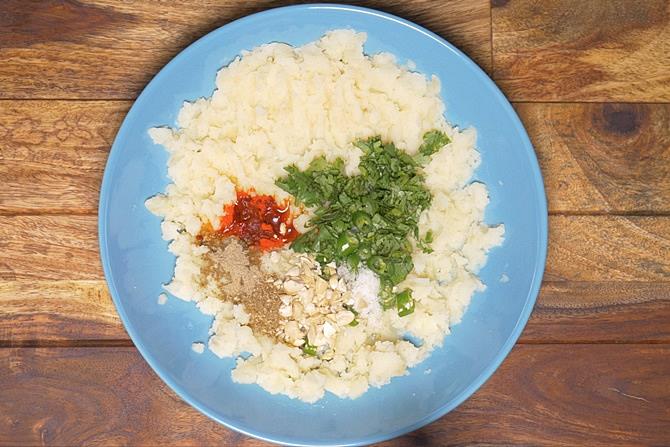 7. Add corn flour or rice flour and bread crumbs. Flour is optional.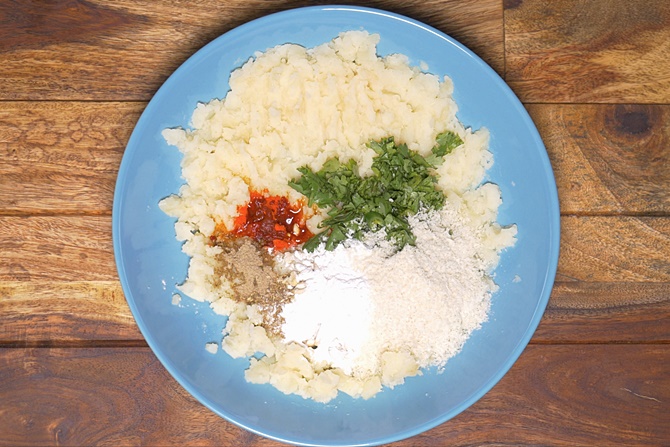 8. Bind the mixture together to make a ball. Add more bread crumbs if the mixture turns sticky.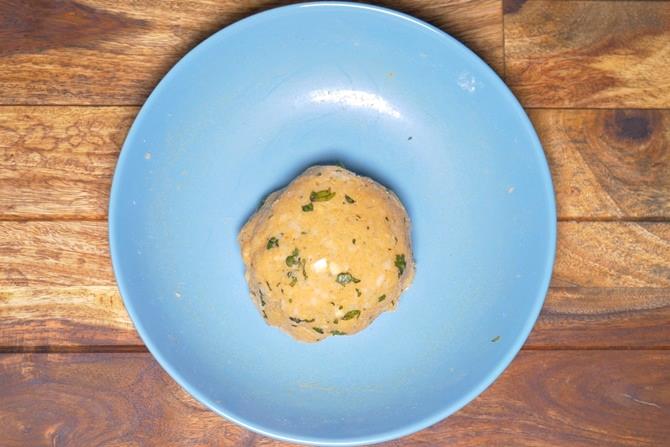 9. Divide the mixture to equal sized balls. You can make big ones to make large tikkis. But thin turns out crispy and tasty.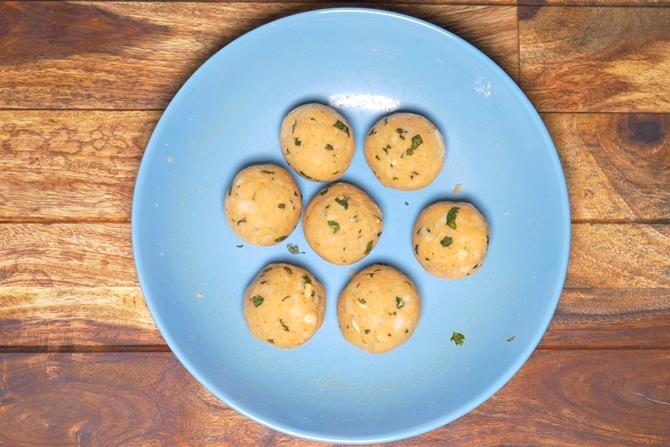 10. Flatten them and stick up the cracked edges.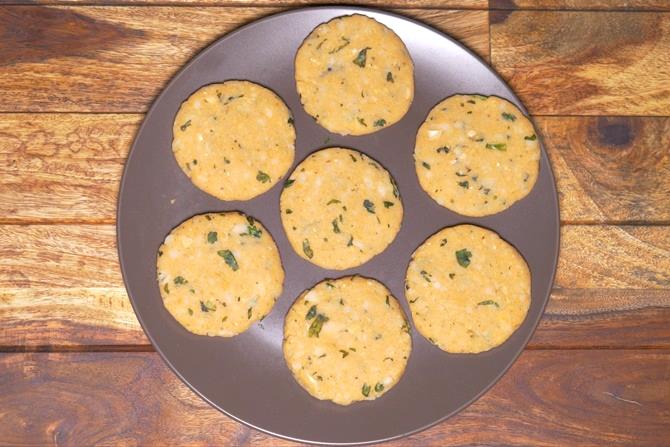 11. Fry on a medium heat in hot oil. Flip them and fry on both the sides until golden and crisp.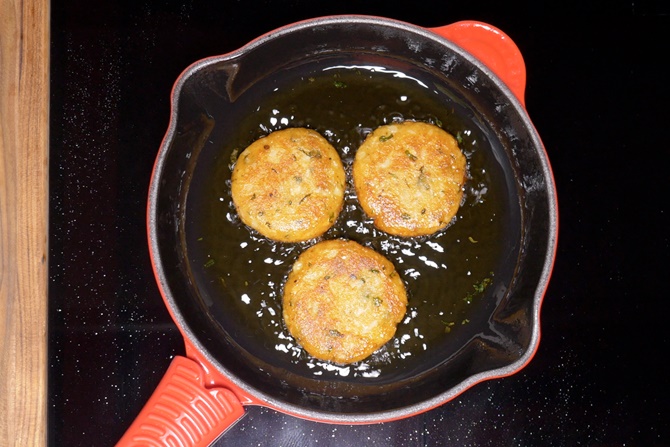 12. Remove them to a kitchen tissue.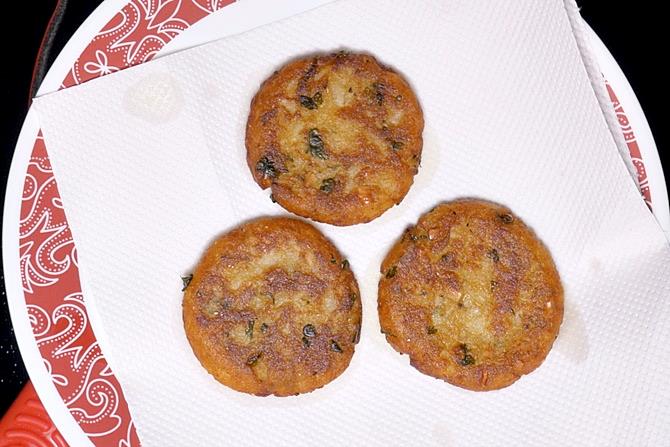 Serve aloo tikki hot with chutney or serve as a patty in a burger.