Ambur chicken biryani recipe with video – One of the most well known south Indian biryani variety is this Ambur star biryani. Ambur is a small town in Vellore district of Tamilnadu which is popular for the star biryani. One can find Ambur biryani outlets in many south Indian cities like Chennai, Bangalore and Hyderabad. There is one even in Singapore, that's how I got to know the true taste of this ambur star biryani. It is mostly made with mutton however one can also find it being made with chicken.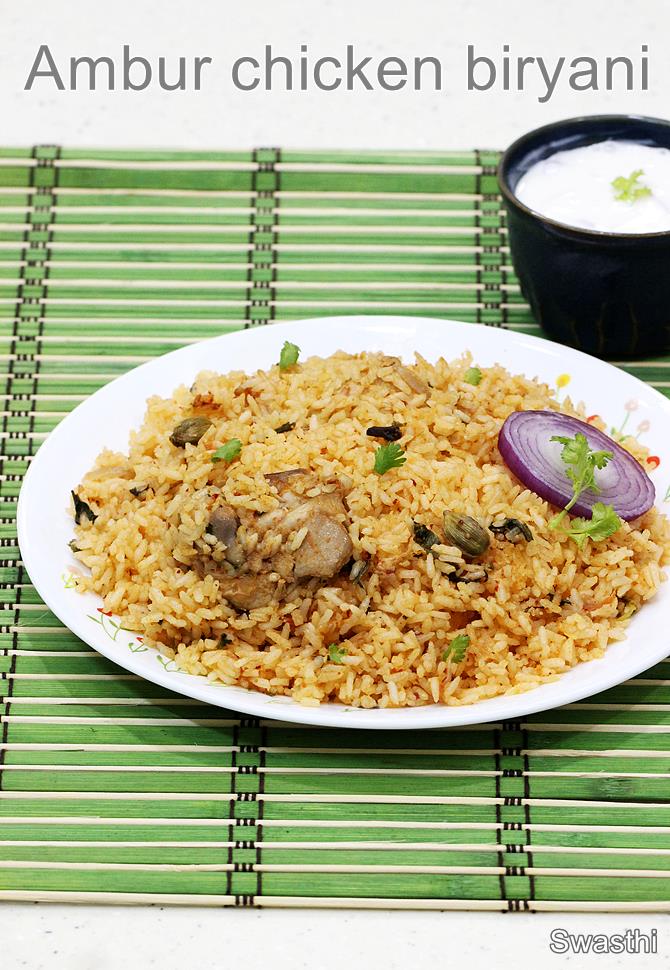 The two main differences of this dish with the other chicken biryani recipes, is that ambur star biryani is made with a short grain rice called seeraga samba or jeeraga samba rice. The other difference is that there is no spice powder used, instead only a few whole spices are used.
Ambur biryani has a more dominant taste and flavor of the meat than any other biryani due to the minimal usage of spices. If this dish is made with mutton then it turns out to be slightly brown in color due to the nature of meat.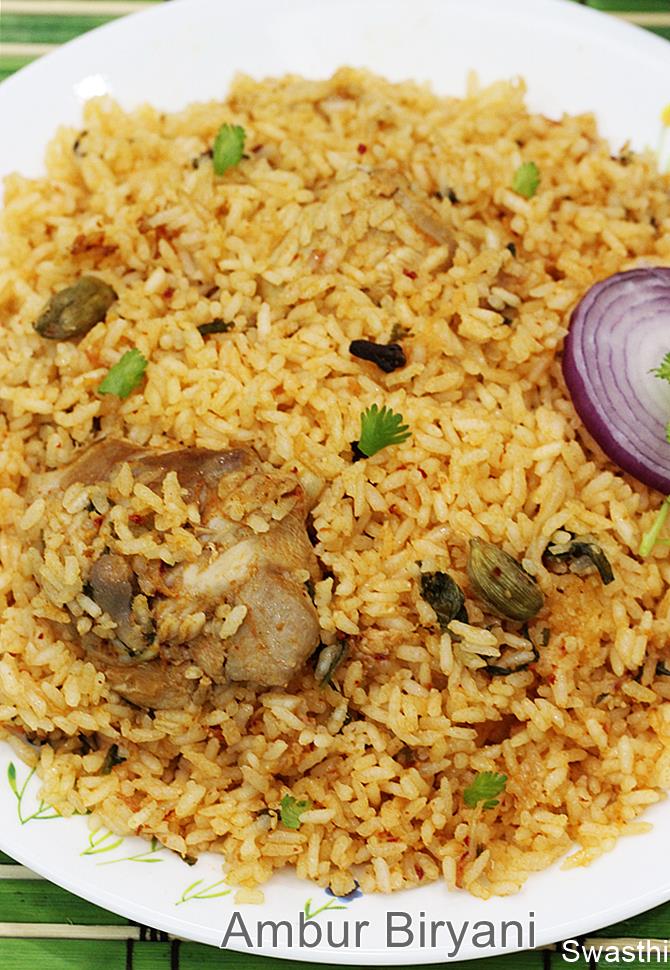 Ambur biryani may not be liked by those who are used to enjoying biryani made with basmati rice and a good amount of masala. As I mentioned ambur biryani is mildly flavored and predominantly it is the flavor of meat that makes it unique.
This recipe cannot be used to make ambur mutton biryani since mutton requires water for cooking which I have not used here. I will be sharing the mutton biryani as well sometime soon.
To make ambur star mutton biryani, water is used to cook the meat. But in this recipe I have made it without using water as chicken itself will ooze out lot of moisture while cooking. This recipe has been adapted from a Tamil youtube channel. All the measurements given below are mine which worked out well and came close to the ambur biryani that I had eaten in Singapore. This dish is served with ennai kathirikai and onion raita.
You may like to check these
70 chicken recipes
Top 10 chicken recipes
Top 10 chicken curry recipes
Video of ambur chicken biryani recipe
Ambur chicken biryani recipe card below
Ambur chicken biryani recipe | Ambur star biryani | Tamilnadu biryani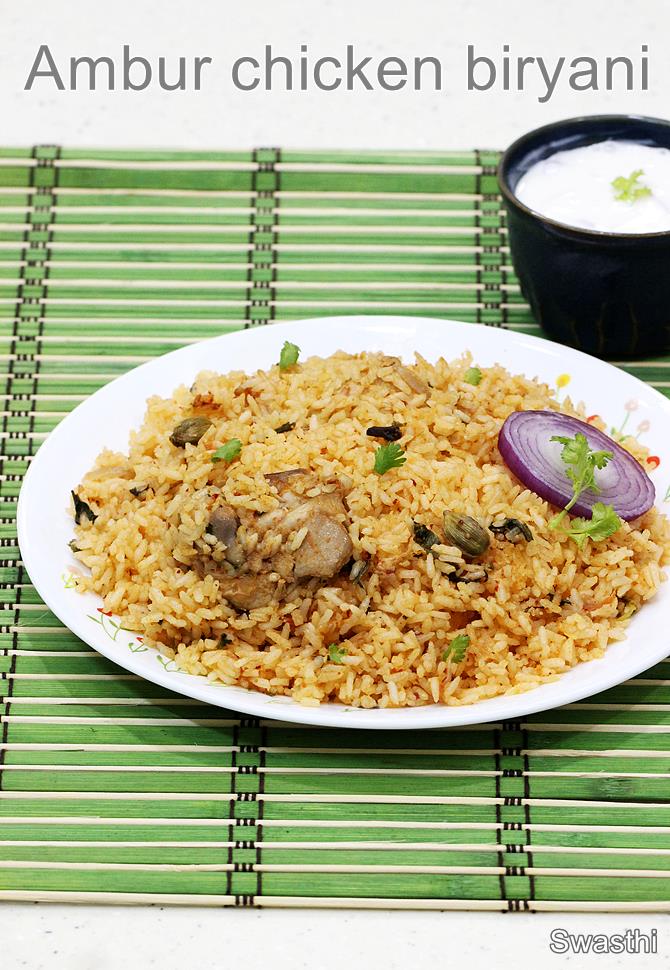 Ambur star biryani is a well known rice dish popular in Ambur.
Ingredients (240 ml cup used)
500 grams or ½ kg Chicken
1 ½ cups seeraga samba or jeeraga samba rice
3 tbsp oil
4 – one inch cinnamon sticks / dalchini
8 to 10 cloves
8 to 10 green cardamoms
2 tbsp sliced onions
1 tbsp garlic paste
1 tbsp ginger paste
Handful of chopped coriander leaves
6 to 8 red chilies deseeded & soaked in water - about 2 tbsp paste
½ cup onions sliced
¼ cup or 1 medium ripe tomato deseeded and sliced (do not use sour ones)
1 ½ tbsp. curd
1 tbsp Lemon juice
Handful of mint/ pudina chopped finely
Handful of coriander leaves finely chopped
How to make the recipe
Wash and soak rice for 10 mins. This is optional. Drain and set aside.
Deseed & soak red chilies for about an hour. Make a fine paste with little water used for soaking.
Heat oil in a pan and saute cinnamon, cloves and cardamoms
Add onions and saute for 1 to 2 mins.
Saute garlic paste for a minute and then ginger paste as well for a minute.
Add coriander leaves and saute until it begins to smell good. This may take about 2 mins.
Add the red chilli paste and saute everything together until oil begins to separate.
Add onions and fry for 2 to 3 mins until they turn transparent.
Add tomatoes and fry until they turn very soft and mushy.
Add chicken and fry on a low to medium heat until the chicken turns pale or white. This may take about 2 to 3 mins.
On a very low heat cover the pot and cook for 5 mins. Chicken begins to ooze out moisture.
Mix it and continue to cook until chicken turns completely soft.
While the chicken cooks, bring water to a boil in a large pot with salt.
Add drained rice and cook until 70% done. At this stage rice is still under cooked and you will very well know that it is undone if you bite it. The grain will still be hard in the center.
Make sure chicken is soft cooked before adding rice. Add coriander and mint leaves. Mix and level the mixture. At this stage you will see lot of moisture that has been released while cooking chicken.
Drain the rice completely and add it to the chicken pot.
Gently stir for the rice to get mixed with the moisture from chicken.
Cover and cook on the lowest heat until the rice has absorbed all the moisture. You can also use a old dosa tawa/ griddle for dum process. To do that heat a griddle first, then place this biryani pot over it. Cook until rice is done.
Open the lid and mix gently again.
If the rice is under cooked and there is no moisture you may sprinkle some warm water. Stir and cook covered. However I did not use any water at this stage.
Once the rice is done, fluff up well and cover it again. Cook for another 2 mins. Switch off and rest for about 5 to 20 mins before serving. Fluff up with a fork before serving.
Serve Ambur biryani with ennai kathirikai and raita.