Sambar recipe with step by step photos – A typical south Indian sambar recipe calls for lot of vegetables like pumpkin, bottle gourd, drumstick, eggplant, cucumbers, lady finger, sweet potatoes, onions and tomatoes. The choice of vegetables is based on a personal liking and are optional. Each vegetable lends a different flavor and taste.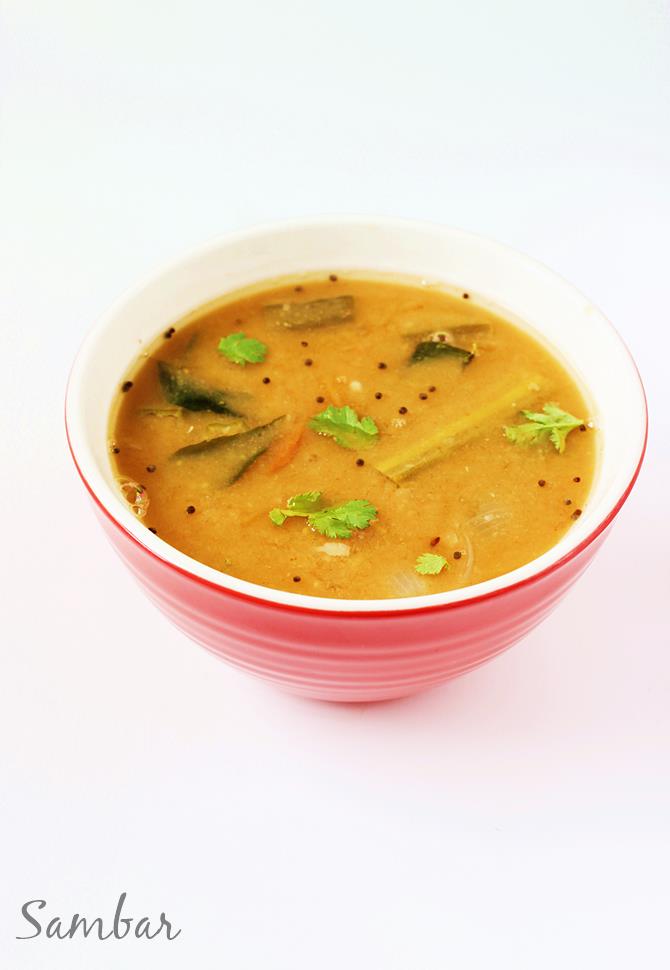 Sambar recipe shared here is the one which has been followed by my mum for years. It makes a great side dish to pair with breakfast or a meal. This tastes good with idli, dosa, and even with rice.
We at home use even spinach called as palakura (palak) which gives a very good taste. But this sambar recipe is not made using spinach. I have also shared an instant sambhar powder in this post. If you have any ready made powder you can use it. Adjust to suit your liking, i suggest using mtr powder, if you cannot make fresh for the recipe. It is one of the popular south Indian brands.
If you are new to cooking i suggest reading all the notes and tips to make the best out of this south indian sambar recipe. It keeps good for 2 days when refrigerated. I have shared the tips on how to refrigerate it at the end of the post.
For more different sambar recipes on the blog, check
Tiffin sambar
Drumstick sambar
Radish sambar
Sambar rice
In this post I have also shared the sambar powder just enough for this recipe, if you make sambar often, then you can check this post on how to make sambar masaala powder. If you have the powder ready, it is very quick to make the vegetable sambhar anytime.
South Indian sambar recipe below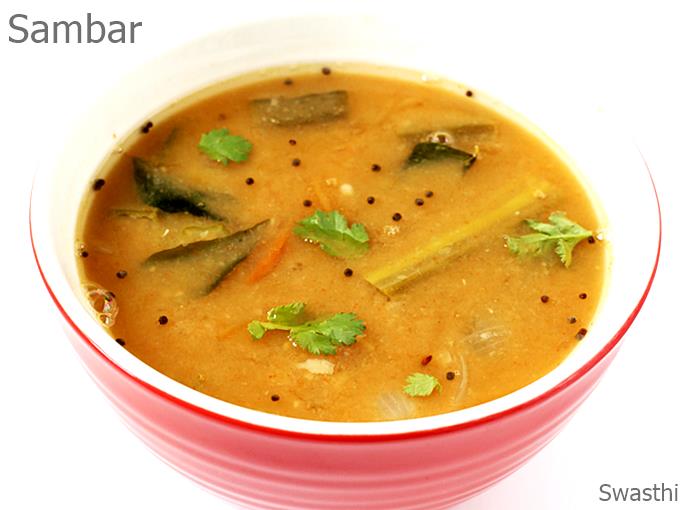 Sambar recipe | South indian sambar recipe | How to make sambar recipe
South indian sambar recipe to yield the best delicious sambhar to serve with rice or idli, vada or dosa.
Ingredients (240 ml cup used)
¾

cup

toor dal

(or split pigeon peas) (refer notes)

Tamarind as needed or 1 to 1 ½ tsp tamarind paste (adjust)

Coriander leaves few with tender stalks

salt as needed
Veggies (choose whatever you like)
12 to 15

shallots

(or small onions)

1 to 2

vegetable drumsticks

(or moringa)

2 to 3

Ladies finger

(or okra, bhindi)

Few cubes red pumpkin

1

green chili slit (optional)

1

large or 2 medium tomatoes
to roast and powder or use any read made powder
1

tbsp.

coriander seeds

(or daniya)

1

tbsp.

Chana dal

(or skinned split bengal gram)

1

tsp

urad dal

(or skinned split black gram)

¼ to ½

tsp

cumin

(or jeera)

¼ to ½

tsp

methi seeds

(or fenugreek)

4 to 5

red chilies (kashmiri or byadgi)

(less spicy variety)
tempering or tadka
2

tsp

ghee or oil

1

sprig

curry leaves

½

tsp

cumin

(or jeera)

½

tsp

mustard

seeds

Pinch

methi seeds

Generous Pinch of hing or asafoetida

Red chili broken

(less spicy variety)
How to make the recipe
Preparation
Wash dal several times and pressure cook with 2 cups water for 2 to 4 whistles depending on the brand of cooker. The dal needs to be cooked till smooth. It can even be cooked in a pot.

While the dal cooks, dry roast the ingredients under "to roast and powder" in the order mentioned here. coriander seeds till they smell good, dals to golden, and then red chilies to crisp and methi seeds till they begin to smell good. Cool these and powder.

Wash and chop the veggies.
How to make sambar
Add 5 cups of water to a pot, add the chopped veggies and cook until soft.

When the water turns slightly hot, transfer about ¼ cup hot water with a ladle to a separate bowl and soak tamarind in it.

When the pressure goes off, mash the dal to smooth. The dal needs to be very smooth otherwise it doesn't taste good.

When the vegetables are completely cooked, add sambhar powder and salt. Cook for 3 to 5 minutes.

Pour the tamarind pulp, filtered if you desire.

Add smooth dal, mix well to blend the dal with water. Bring it to a boil. Check if there is enough salt and sourness. If needed add more. Add coriander leaves and stir.

Meanwhile, heat another pan with oil or ghee.

Add mustard cumin and methi. When they begin to sizzle, add curry leaves, broken red chili. When the leaves turn crisp, off the heat add hing.

Pour this seasoning to the sambar. Stir well. Simmer for 2 to 3 minutes for the sambar to become flavorful.
Tips for refrigerating.
Stir well. Set aside the desired part to refrigerate. Cool it and refrigerate immediately. To retain the taste of sambar, it is suggested to refrigerate within two hours of cooking. Keeps good for about 2 days. Bring it to a boil whenever needed. A fresh tadka for the refrigerated dish makes it smell and taste fresh.
Recipe Notes
For dal - you can use a mix of
1. Toor (split skinned pigeon peas)
2. Moong (skinned split mung beans or green gram)
3. Masoor (skinned split red lentils)
Do not add tamarind before the veggies are cooked completely.
Do not overcook the dal, as the taste of dal diminishes. Add it only after the veggies are cooked, this way dal is not overcooked and sambhar tastes the best.
Make sure dal is very smooth. In some parts of south India, dal is ground to smooth and then used.
Nutrition Facts
Sambar recipe | South indian sambar recipe | How to make sambar recipe
Amount Per Serving
Calories 346
Calories from Fat 90
% Daily Value*
Total Fat 10g 15%
Cholesterol 84mg 28%
Sodium 135mg 6%
Total Carbohydrates 32g 11%
Protein 32g 64%
* Percent Daily Values are based on a 2000 calorie diet.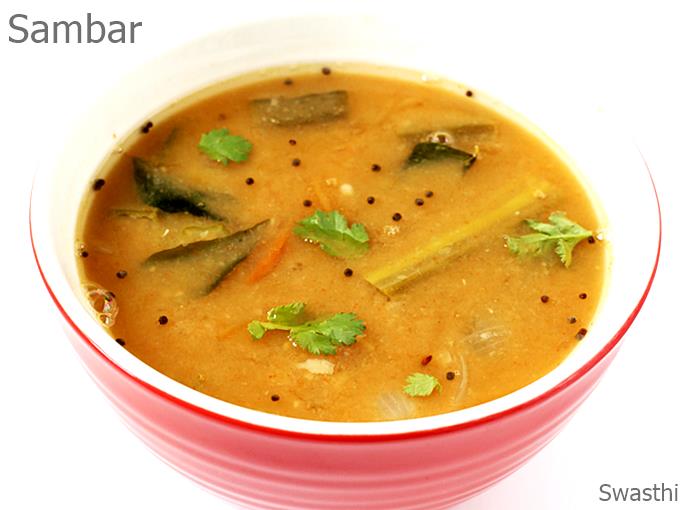 Preparation for sambar recipe
1. Cook 3/4 cup dal with 2 cups water till mushy and soft. You can use only tur dal or a combination of tur dal, moong dal and masoor dal. The taste of the sambar depends on the dal used. To get a hotel style sambar, use masoor dal and tur dal in equal quantities. If cooking dal in pressure cooker, let it whistle for 2 to 4 whistles on a medium flame. Mash it up.
If you do not have a masher, do it with the back of a laddle or with the base of a steel glass. But dal must be very smooth. That gives a good texture to the sambhar.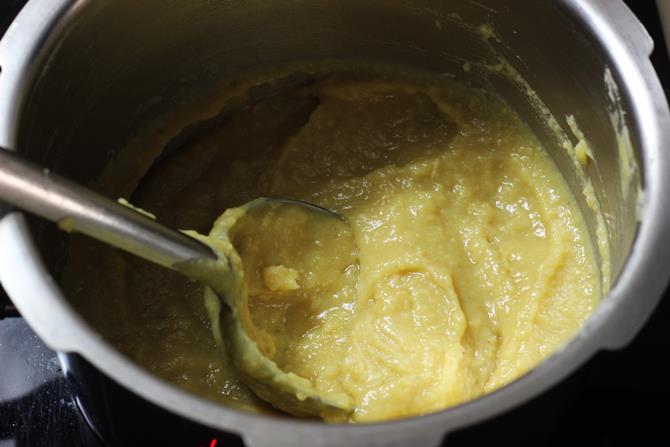 2. While the dal cooks, make the sambar powder. If you have a ready made powder skip this step. Dry roast Chana dal, urad dal till golden. Add coriander seeds, 4 to 5 red chilies (kashmiri/byadgi) and fry till chilies turn crisp. Switch off the stove, add ¼ tsp cumin, ¼ tsp methi seeds. Cool them and powder.
3. Wash and chop all the desired vegetables.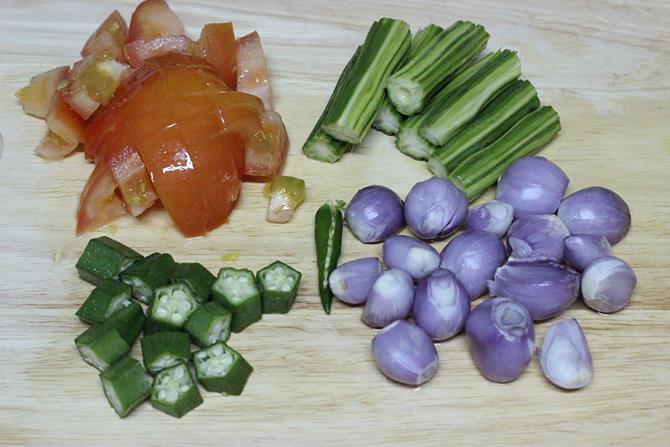 4. Add veggies to a large bowl with 5 cups water. Begin to cook them. You can also saute them first in a tsp of oil in the pot, if you want to bring out the flavors of veggies. But taste wise not much difference.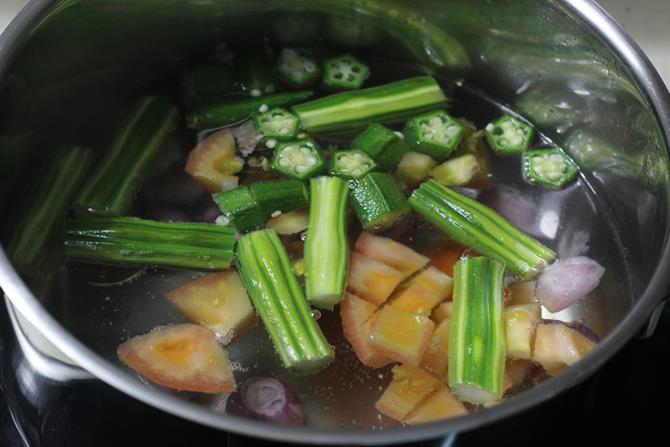 5. Take some hot water from the vegetable pot and add tamarind. Set aside to soak.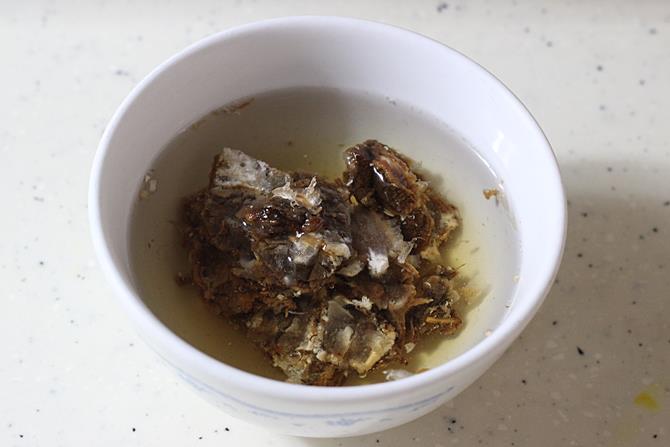 How to make sambar recipe
6. When the veggies are soft cooked. Add sambar powder,salt. Bring it to a boil and cook for 3 to 5 minutes.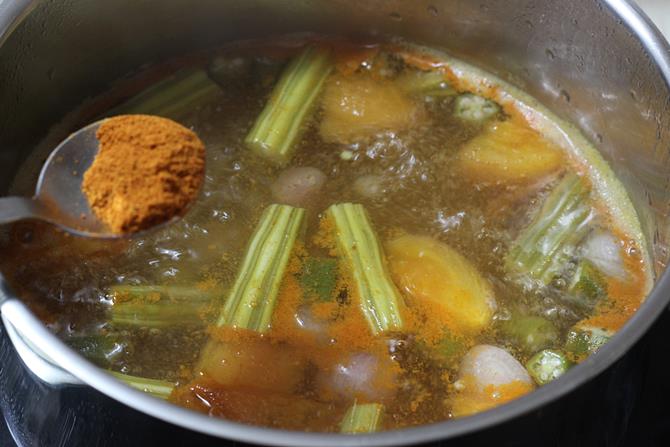 7. Squeeze up the tamarind and pour the tamarind water to the sambar. I prefer to filter the tamarind to remove unwanted particles.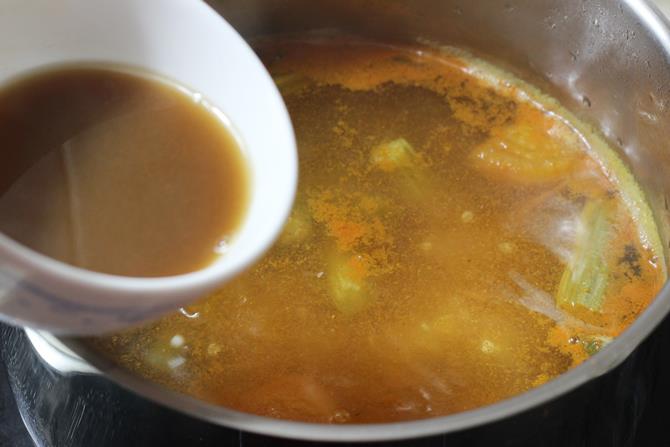 8. Add dal and mix it well with the sambar. Now taste the sambar to check the sour and salt taste, add more if needed.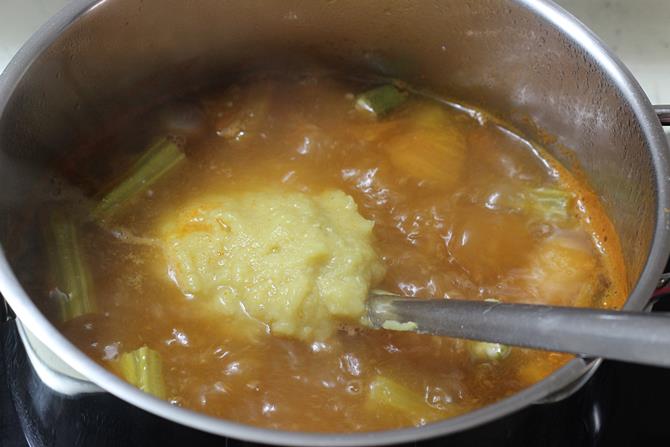 9. Bring it to a boil. Add coriander leaves.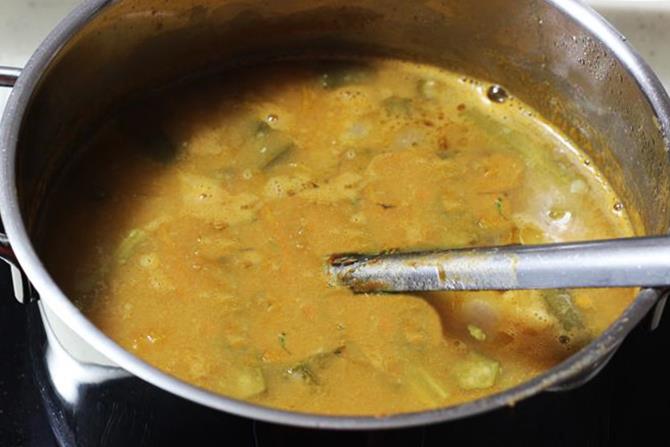 10. Add ghee or oil to a pan and make the seasoning. Add cumin, methi and mustard to hot oil. When they begin to crackle, add red chili and curry leaves. Sprinkle hing. Switch off the heat.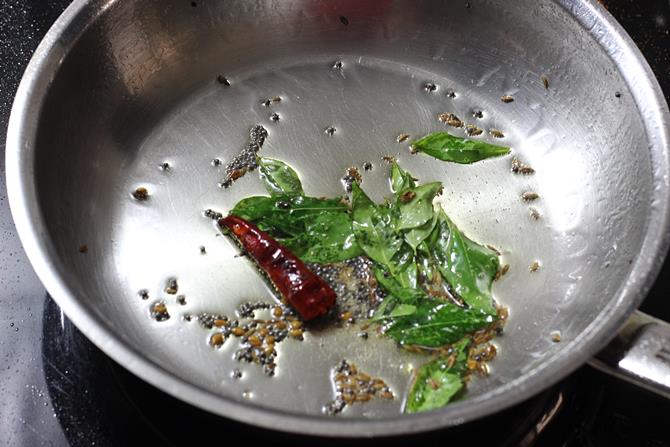 11. Add the seasoning to the hot sambar. Let the sambar simmer for 2 to 3 minutes for a good aroma. Some folks prefer not to boil further after adding the seasoning. You can choose whatever you like.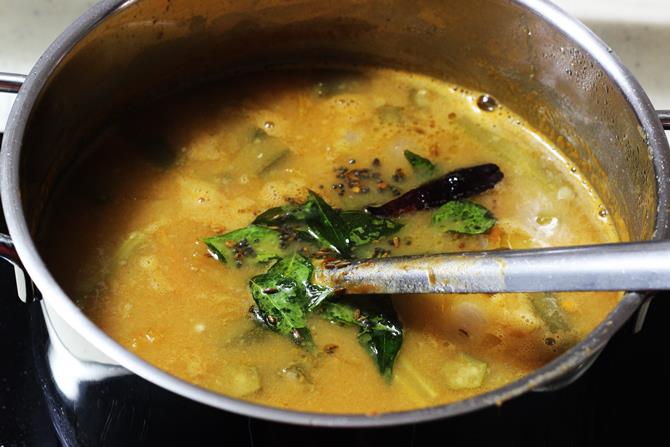 Serve sambar with rice, idli or sambar.