Punugulu recipe – Learn to make crispy punukulu with step by step photos. Punugulu or punukkulu is a common street food in the coastal regions of Andhra Pradesh. These are crispy deep fried popular snack that is made of urad dal and rice batter. These are often made in most Andhra homes even with left over idli dosa batter that is sour or over fermented batter while others make them with fresh batter.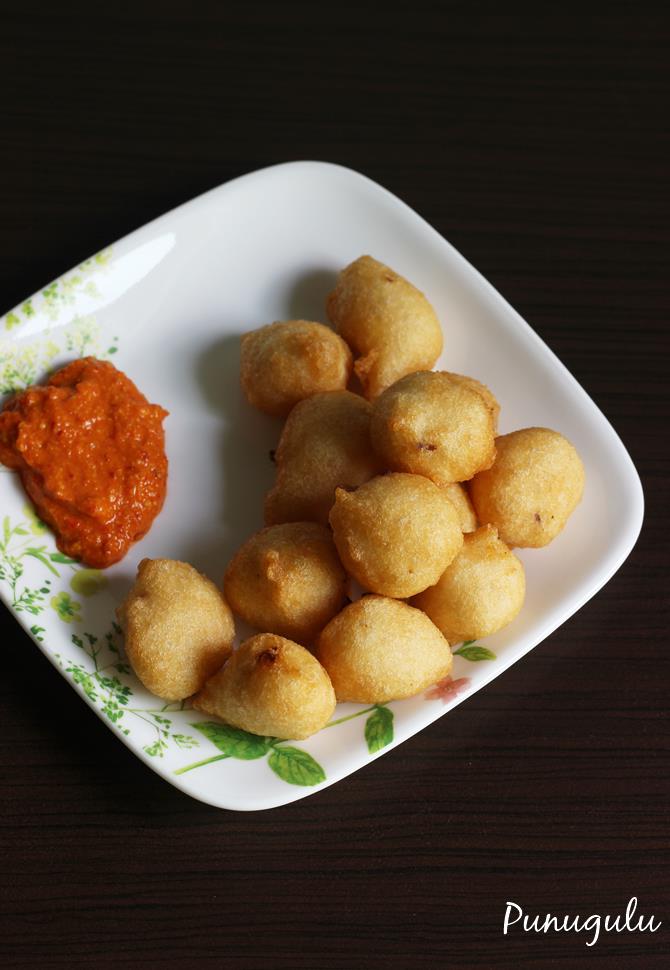 Punugulu with maida, are called as maida punuglu. I have included the recipe for this as well in the recipe box. These are served with a spicy hot chutney. We at home make perugu punugulu using these fritters.
These are an easy alternate to making minapa garelu, punugulu can also be offered to Gods as naivedyam during varalakshmi vratam, navratri, Lakshmi puja and sankranti. Just skip using onion if preparing for naivedyam.
There are no specific rules for preparing punugulu batter, except that the batter must not be runny. Can be made with urad dal batter or idli dosa batter or whole moong batter. I always make these with fresh batter, since I do not prefer the sour tasting ones. Whether to use the fermented batter or the fresh one is totally an individual's choice and comfort.
Add-ons to the batter is also your choice, can just make them plain with cumin and salt or add chopped green chilies, onions and coriander leaves. My mom adds chopped spinach or fenugreek leaves to these punugulu, they too taste good.
The key to all tasty deep fried punukulu or fritters is making them less oily, yet crispy. This can be achieved by making the batter in the right consistency. Not too thick and not too thin. Thick batter makes your fritters rocky hard, while the thin runny batter, makes them oily and soggy too.
If the batter turns runny,many people add few spoons of rice flour or semolina, but my personal experience says they turn hard when additional rice flour is added. With semolina the fritters turn flat and do not absorb the moisture in the batter.
for more similar recipes check,
aratikaya bajji
mixed dal vada
mirapakaya bajji
garelu
alasanda vada
onion pakoda
Punugulu recipe with idli dosa batter below
Punugulu recipe | punukkulu | urad dal bonda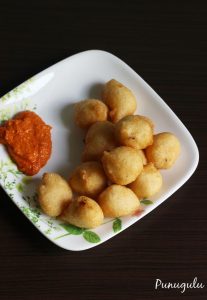 Punugulu made with idli dosa batter are a common in most homes. These are Andhra's favorite and popular street food known as punugulu, punukkulu
Ingredients (240 ml cup used)
2 thick cups idli dosa batter or ¼ cup urad dal and ¾ cup rice
2 tbsps poha / attukulu or rice flour (optional, use if your batter becomes runny / watery )
Salt to taste
oil to deep fry as needed
2 green chilies
1 large onion (chopped)
½ tsp cumin
How to make the recipe
Preparation
You can skip steps 1 to 4 if using idli dosa batter. Wash urad dal and rice separately multiple times till the water looks clear.
Soak them for at least 4 hrs.
Grind dal to a smooth batter with just enough water and salt without making it runny. Transfer this to a utensil.
Grind rice coarsely and mix it well with the dal batter. Check the consistency now, it has to be thicker than pouring consistency. you can refer the step by step pics.
If the batter is runny, add powdered poha/ attukulu or rice flour or semolina. Set this side for 10 mins. It becomes thicker after it is soaked. Now adjust the consistency, if required, you may add very little water or can proceed as it is if the consistency is right. Check by making few fritters, if they are hard you need to add little water.
Add cumin, chopped chilies and onions.
making punugulu
Heat oil to hot, adjust the flame to medium high, it must not be too low and not too high.
Shape the batter to round balls with your fingers and drop them in the hot oil.
Fry till golden color and transfer these to paper napkins.
serve them warm with your favorite chutney
how to make maida punugulu
mix ¾ cup maida, 3 tbsp rice flour, 3 tbsp curd, 1 green chili, 1 small onion, ½ tsp. chopped ginger, salt as needed and ¼ tsp soda. Set this aside for 30 to 45 minutes.
Heat oil and drop small portions of the batter in hot oil. Fry until golden.
How to make crispy punugulu recipe
1. To make these you will need either 2 cups left over thick idli dosa batter or have to make fresh batter. If you are using left over batter, start from step 4. If you want to make fresh batter, wash soak urad and rice for min 4 hrs.
2. Grind urad dal to a smooth batter with enough water and salt. Do not make it runny. Pour this in a utensil.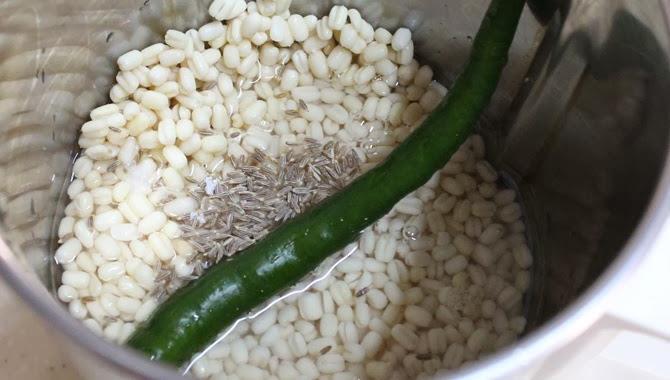 3. Grind rice coarsely. Mix it with the batter thoroughly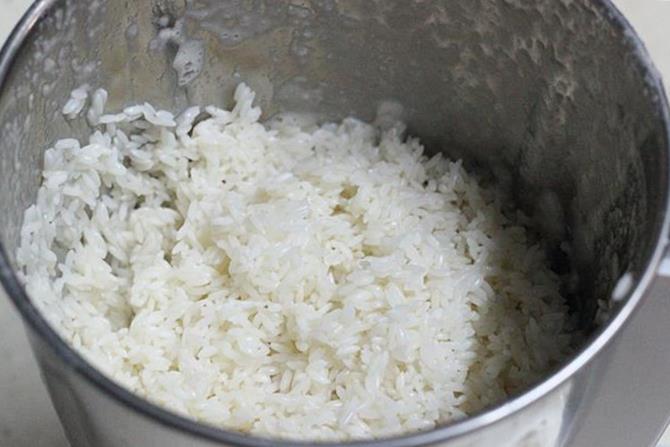 4. Check the consistency now, the batter should be thicker than the pouring consistency. Refer the pic below. This is the right consistency.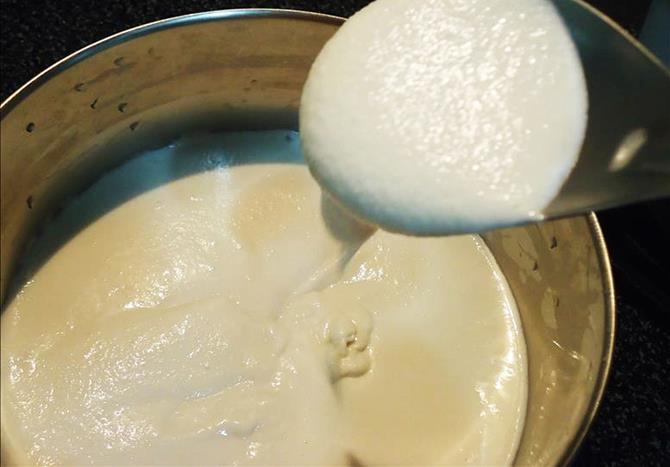 OPTIONAL STEP : If you feel the batter is runny, powder 2 tbsps of powdered poha / attukulu and mix well without lumps. Set side for 10 mins. As i mentioned earlier you can also use semolina or rice flour to thicken the batter. But the ones made with poha are really light and crunchy. Now adjust the consistency of batter, if required add very little water. Check by making 1 or 2 punugulu, if they are hard need to add little water.
4. Add cumin, onions. If you haven't used green chilli while blending add it now.
5. Heat oil till hot, adjust the flame to medium high, not low and not high.
6. Shape the batter to round balls with your fingers and drop them in the hot oil.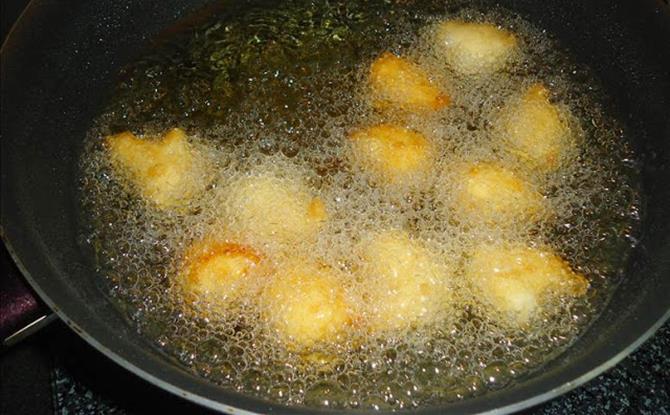 7. Fry them till golden color and transfer them on to a kitchen tissue.