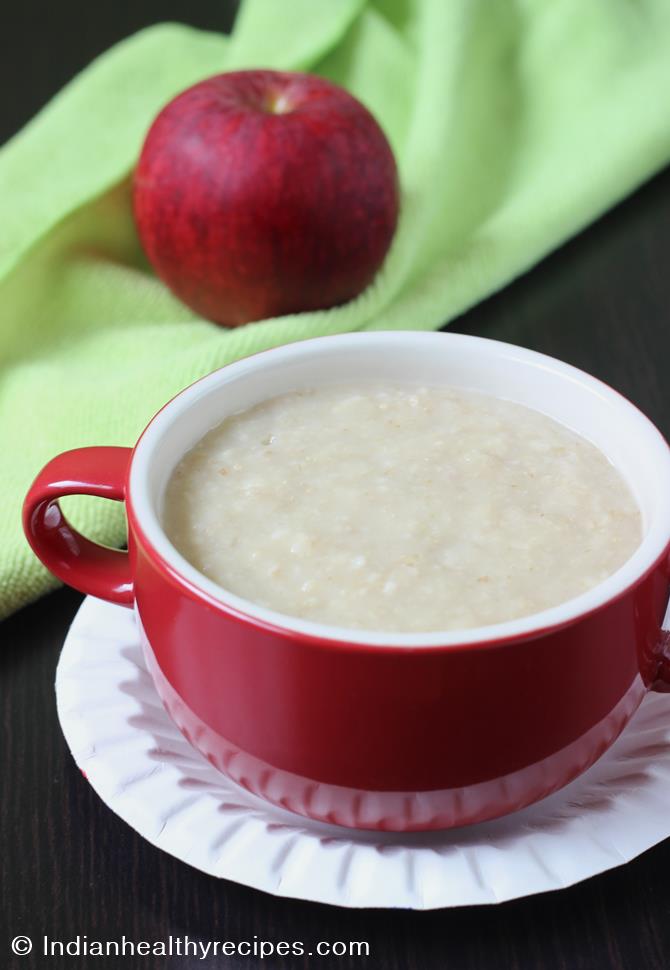 apple oats porridge for babies – oats porridge can be made in many ways, using milk or a fruit like apple, pear or banana. Iam sharing a porridge recipe using apple. Apple can be replaced with a banana to make oats banana porridge. This porridge can be served to babies over 8 months.
 
Oats are considered to be one of the least allergenic foods, hence it can be introduced as a first food to babies. Apple oats makes a good baby food and it can be served anytime of the day for breakfast or lunch.
 
To make baby food, regular rolled oats or quick cook oats can be used. If using regular rolled oats they need to be powdered. For toddlers they can be used directly after soaking for a while. I suggest using organic oats and sweetener if using. Do not use sour tasting apples to make the porridge.
 
The recipe makes a baby and mum's serving. Halve the recipe if making for 8 months old.
 
This recipe can also be used to make a apple oats halwa, just reduce the quantity of water. For babies over one year, almond powder can also be added. It helps to gain weight. You can find how to make almond powder here. The skin of the almonds should not be used babies and toddlers as it is hard to get digested.
 
Check out related recipe : milk oats porridge for babies below 6 months to toddlers
 
step by step photos on making apple oats porridge for babies
1. Add 1/4 cup oats with one cup water, Stir and soak for about 5 to ten minutes. Oats can also be powdered and used. If using regular rolled oats, powder them and then stir in the pot with water. Make sure there are no lumps of flour. Begin to cook this on a low to medium flame, stirring often to prevent burning.


2. While the oats boil, wash and peel the apple.


3. If it is for a toddler, grate the apple or mince finely. For babies puree the apple.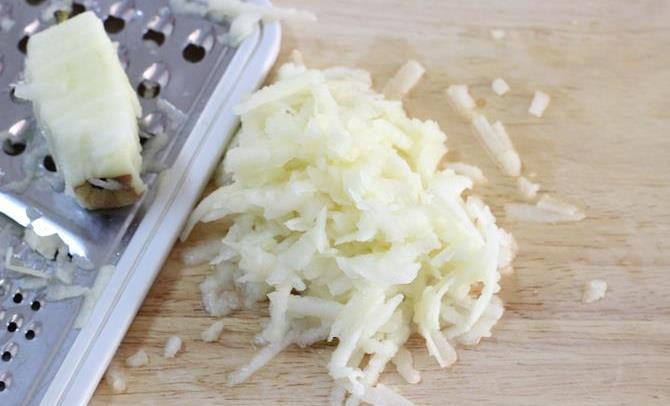 4. Check if the oats are completely cooked.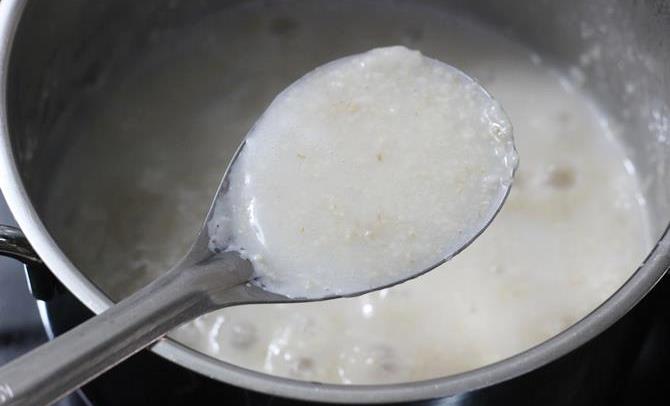 5. Add the apple. 1/4 to 1/2 tsp of ghee can also be added now.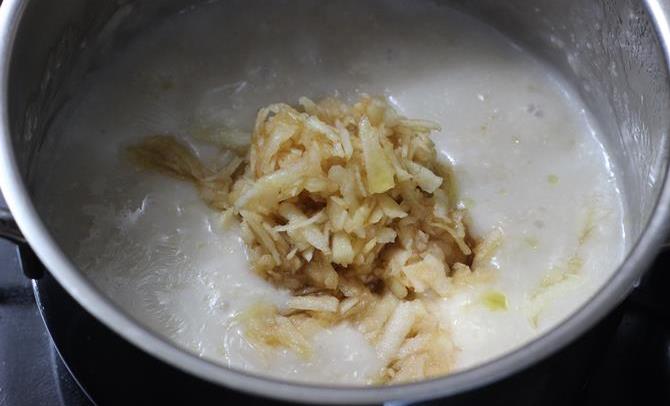 6. Add the sweetener if using. Babies don't need sugar in their food, if you wish you can add. Stir well. If using almond powder, add it now. Cover and switch off the stove. Allow the pot to rest on the hot stove for a while. Apple gets lightly cooked. If you prefer to cook apple thoroughly, it can be cooked further.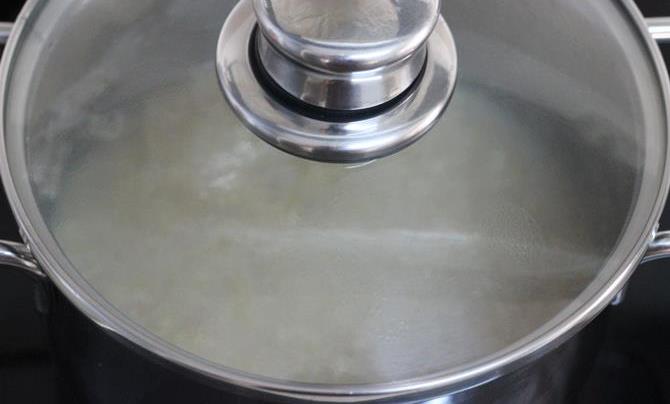 Cool It completely and serve.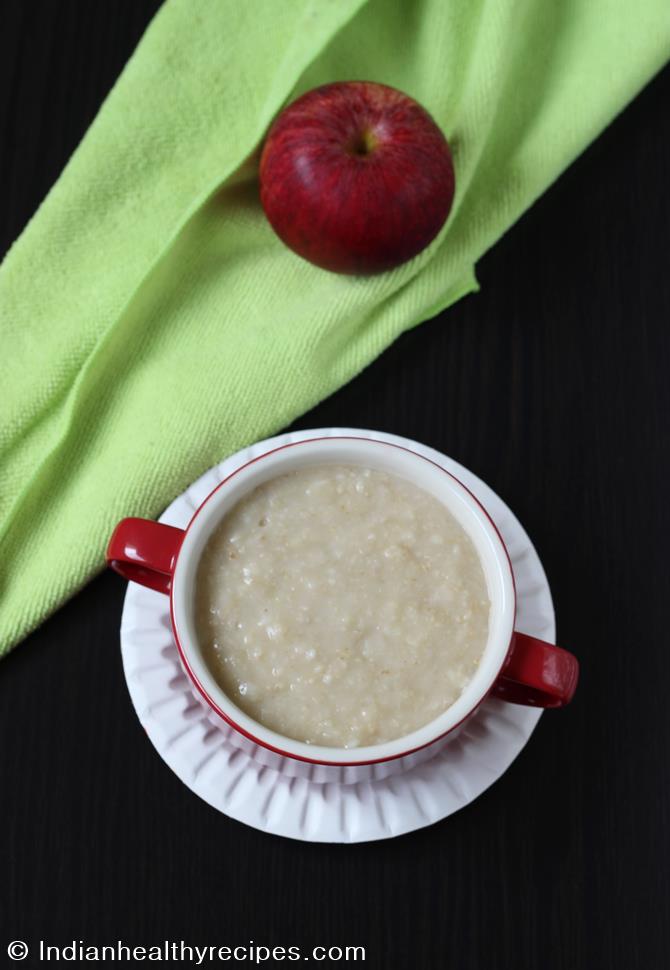 You can find a complete baby food chart here
 

apple oats porridge for babies | oats baby food recipes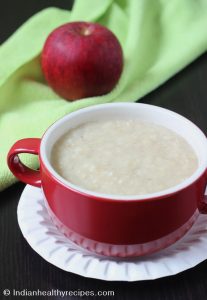 Recipe type:
Breakfast, Baby Food
Ingredients (240 ml cup used)
¼ cup oats
1 cup water
1 medium sized apple
¼ to ½ ghee
¼ tsp almond powder (optional, consult your pediatrician)
How to make the recipe
If making porridge for a baby, powder the oats in a blender. If making for toddler don't need to powder.
Add oats to a pot along with water. Let it rest for a while to soften.
Cook till soft on a low to medium flame.
Wash and peel apple. If making for baby, puree the apple, if making for toddler just grate it or mince it.
When the porridge thickens, Add the apple, sweetener and ghee. If using almond powder stir it now. Stir and cover. Switch off the stove and allow the porridge to rest. If desired the porridge can be further cooked till the apple gets cooked well.
Cool completely and serve apple oats porridge.