Apple pomegranate juice recipe – How to make pomegranate juice or anar juice for kids and toddlers. Apples are a good source of vital antioxidants and nutrients which are essential for the overall health. They are great to build immunity in kids and grownups alike. Though eating them is the healthiest way of consumption, not all kids like to eat fruits especially apples.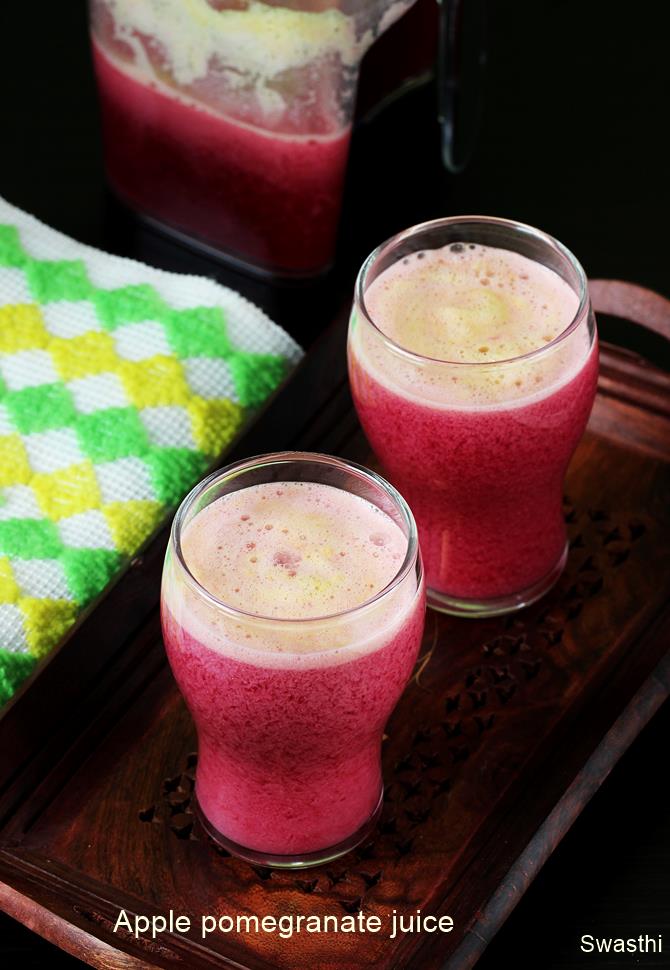 This mixed fruit juice recipe using apple & pomegranate is a must try for fussy kids. It will be welcomed by most since the flavor and taste of pomegranate is more dominant. This combination can be found on many slow juicer recipe books and is said to be one of the most delicious and healthy.
Nutritionally, both the fruits are high in vitamin C, folic acid and iron. So it is also good to be consumed by pregnant women. Pomegranates also help in maintaining estrogen levels in Women.
This healthy apple anar juice is good to enjoy during any season, not only in summer this can also be consumed regularly during monsoon or winters. High vitamin C in both these fruits helps to keep cold and flu away.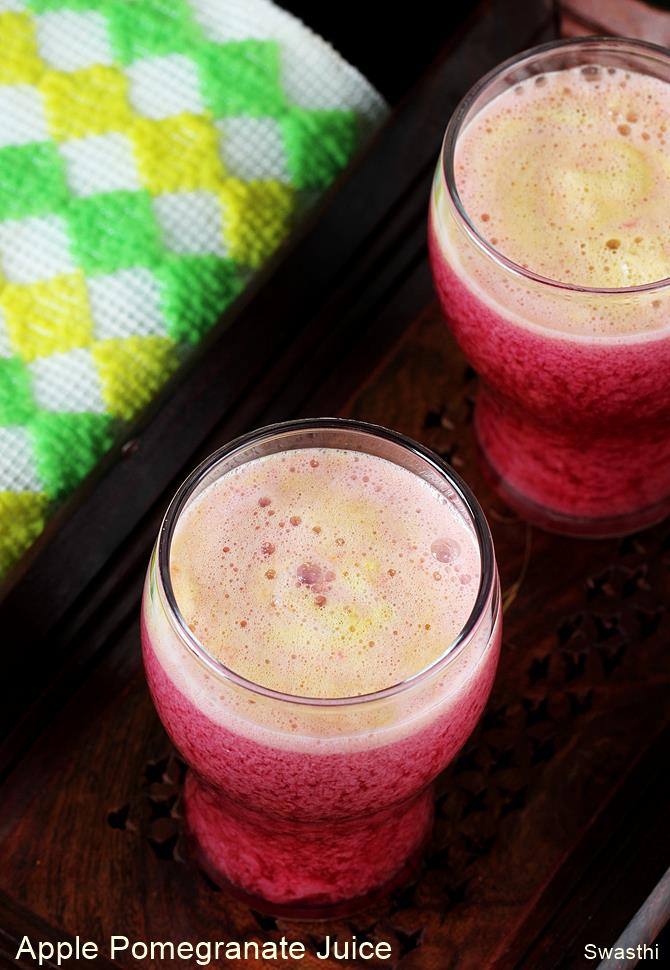 For more fruit juice recipes, you can check
Orange juice
Pomegranate juice
Apple juice
Watermelon juice
Grape juice
For the best health benefits it is always good to consume fruit juice alone and not with a meal or breakfast.
Apple pomegranate juice recipe card
Apple pomegranate juice recipe | Apple Anar juice | Juice recipes for kids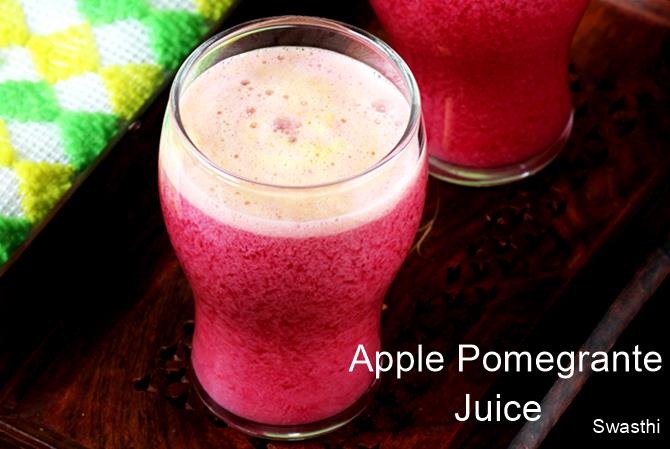 Apple pomegranate juice is delicious, healthy and is great for building immunity and overall health.
Ingredients (240 ml cup used)
3 large pomegranates
2 large apples (preferable sweet tasting)
1 small lemon (optional)
⅛ tsp mineral salt or Himalayan salt or pink salt
Water as needed (if using a blender)
optional (use any one)
Handful of tulsi / holy basil (to build immunity against cold & flu)
Handful of mint/ pudina (to beat summer heat)
Handful of wheatgrass (for weight loss)
Pepper as desired (for weight loss)
How to make the recipe
Removing pomegranate arils (seeds) easily.
Wash pomegranates well under running water. Cut off the crown and the bottom part of the fruit.
Make 4 incisions that are slightly deep. Hold 2 parts in each palm and separate gently. You will have 4 different parts.
Gently remove the seeds to a large bowl.
Preparing apples
If using organic apples, you can keep the skin on and juice them.
If the apples are not organic, wash them thoroughly and scrub off with sea salt and spray vinegar. Rest for 10 mins.
Rub off and wash well. You can remove the skin if you still see traces of wax on the fruit.
Cut them to quarters and remove the core and seeds.
Making apple pomegranate juice
If making in a blender add them to a jar along with water just enough to cover the fruits. Blend until smooth. You can also add the other ingredients you prefer to use.
Pass this through a fine strainer to a large bowl. Press down with spoon. If making in a juicer, add the fruits to the juicer chute.
Serve apple pomegranate juice fresh and immediately.
Notes
Do not add ice cubes to the juice it dilutes the taste and nutrition both. If you prefer chilled juice, freeze your fruits for about an hour and juice them.
How to make apple pomegranate juice recipe
1. Always choose apples that are low acidic as they do not make the juice sour and is easy for digestion. These were the left over fruits I had on a weekend which I used up to make this juice. You can use these in any number. After a few trials I felt 2 apples and 3 pomegranates taste great after juicing.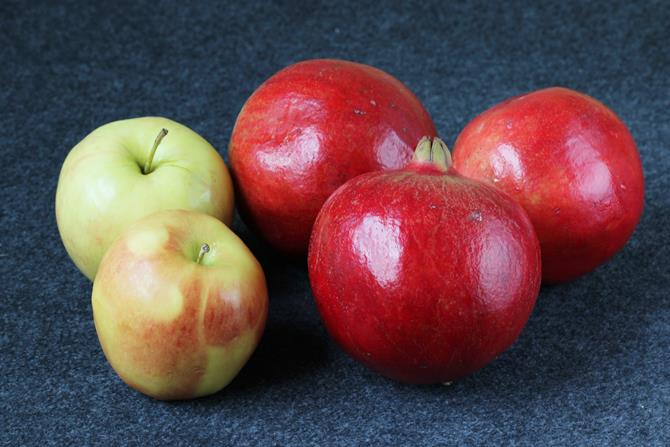 2. Cut off the crown of the pomegranates.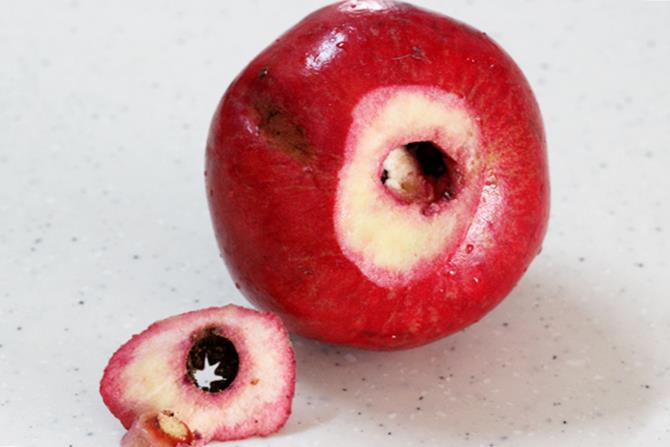 3. Similarly cut off the bottom part.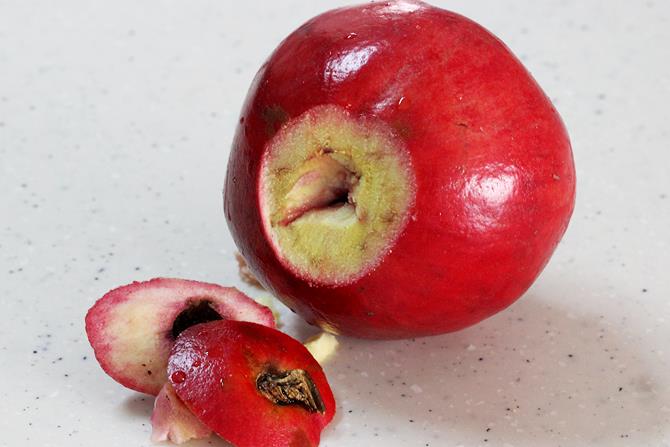 4. With the help of a small knife make 4 slightly deep incisions. Since the crown and the bottom are cut off the rind loosens.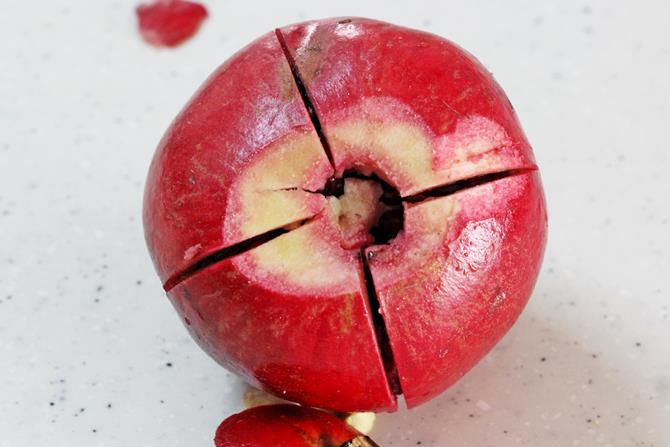 5. Hold 2 parts in each hand and separate gently by pulling apart. You will get exactly 4 parts. This is one of the easiest ways I have found to remove the pomegranate arils without messing up much.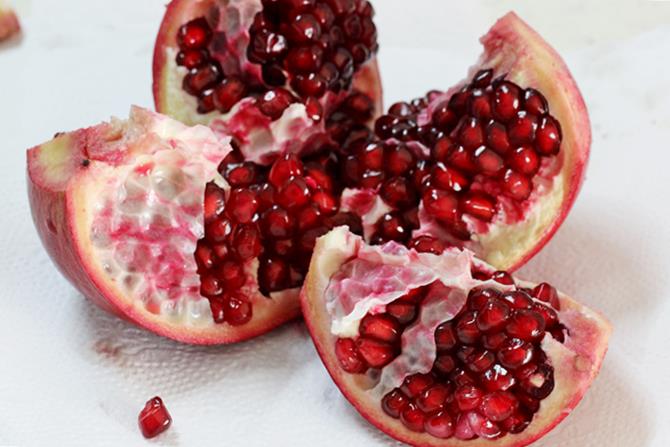 6. Remove the seeds to a large bowl.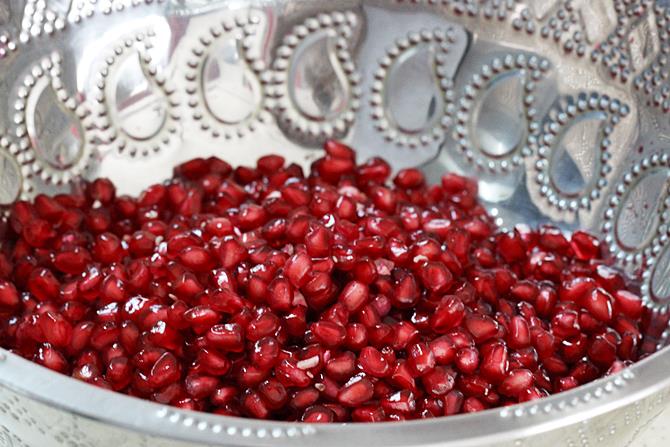 7. Add them to the blender jar or juicer chute along with the optional ingredients. If making in a blender add water just enough to cover the fruits. Blend until smooth and pass through a strainer.
I made the juice in a cold press juicer. The addition of apples makes the juice frothy.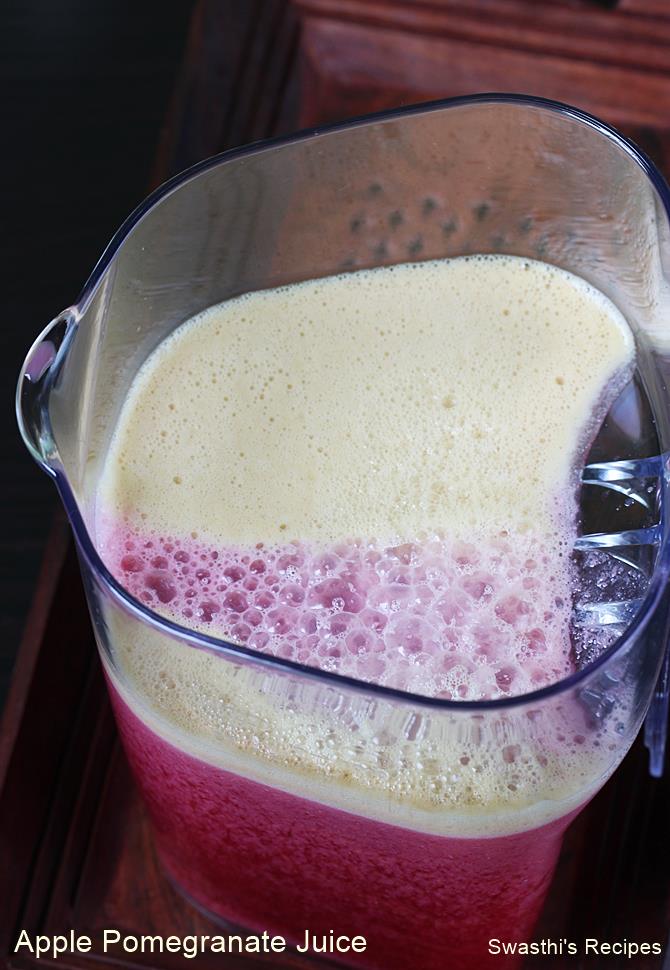 Pour apple pomegranate juice to serving glasses and consume immediately. Do not add ice cubes, it dilutes the juice and turns tasteless. If you prefer chilled juice. Put the fruits in the freezer for about an hour before juicing.