Raw banana masala curry – A simple spicy aratikaya masala kura to go with rice or chapathi. I use raw banana at home at least once a week since it is protein rich and it is my kids' favorite. But most times i end up making a simple curry and this is one of the ways i make.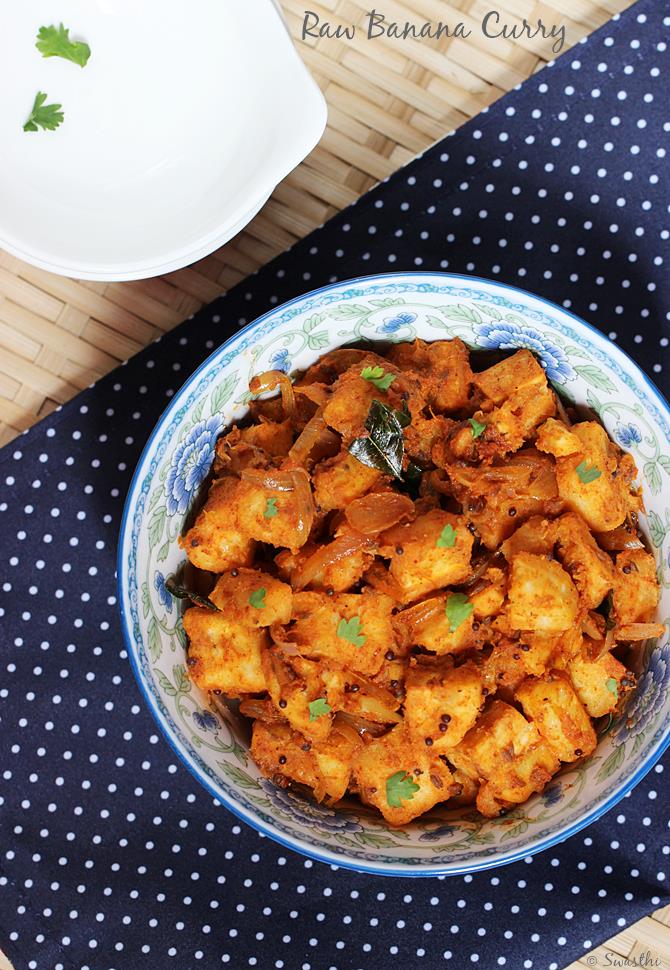 Raw banana has to be precooked before using it in any recipe. Though it can be used directly to make a curry, sometimes they don't get cooked well or have to cook for very long time due to the salt, chili powder and spices. There are a few different ways to cook them. The whole banana can be boiled in a pot filled with water or it can be cubed and boiled in water and discard the stock or steam. To make this curry, i have steamed the banana cubes in a cooker (without whistle) the way we steam the idli.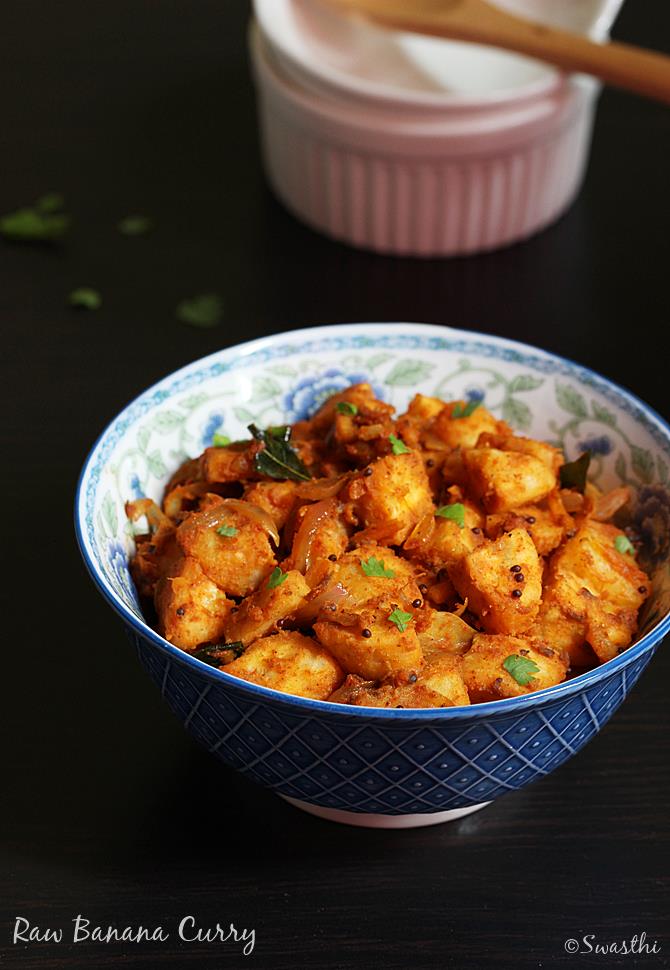 You may like these other raw banana recipes
Simple raw banana curry
Raw banana fry
Raw banana bajji
Raw banana masala curry recipe card below
Raw banana masala curry recipe | Aratikaya masala kura | Raw banana recipes
Ingredients (240 ml cup used)
2 raw bananas (unripe firm)
2 tbsp oil
half tsp mustard
half tsp cumin
pinch of hing
1 green chili
1 cup onions finely chopped or sliced
½ to ¾ cup ripe tomatoes chopped & mashed (deseeded)
1 ½ tsp ginger garlic paste
1 tsp red chili powder (adjust)
1 tsp garam masala (adjust to suit)
½ tsp coriander powder
coriander leaves handful
How to make the recipe
Wash & peel banana. Make sure the inner skin has been removed completely.
Cube them and steam in a steamer or pressure cooker until cooked al dente (just cooked). It takes around 10 to 12 mins on a medium heat.
Heat a pan with oil and crackle cumin and mustard.
Add hing, curry leaves, onions and green chilies. Saute until the onions turn completely golden. Add ginger garlic paste and fry until the raw smell goes off.
Add tomatoes, salt and turmeric. Mix and saute until the tomatoes turn mushy.
Add red chili powder, garam masala and coriander masala.
Mix and saute for 2 to 3 mins.
Add half cup water to the pan and stir well. Cook until the mixture turns to a thick gravy like. You can add more water if you like a moist curry.
Check the salt and spice now. Add the steamed banana. Stir well. Cover and cook for 2 to 3 mins on a very low flame. We prefer a dry curry, so i evaporate all the water by cooking for 2 to 3 mins more.
Add coriander leaves. Switch off.
Serve aratikaya masala kura with rice or chapathi.
Notes
Do not use sour tomatoes.