Avocado sandwich recipe – Vegetarian avocado corn sandwich recipe with step by step photos. These sandwiches are quick to make and are healthy. Avocado and corn make a great combo either in a sandwich or a salad. I usually make this guacamole sandwich when ever we have avocados at home. This time made these on a weekend for breakfast and loved the combination.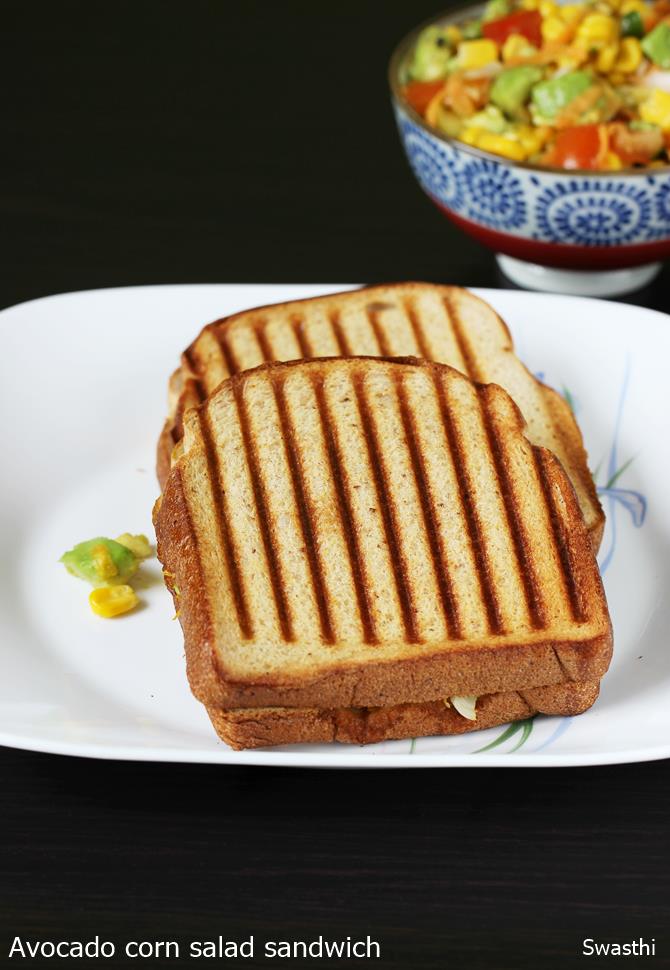 To make these sandwiches, I have also used carrots, onions and tomatoes which add different flavors and taste to the filling.
You may like to check this collection of 32 sandwich recipes
Avocado sandwich recipe
Avocado sandwich recipe | Veg avocado corn sandwich recipe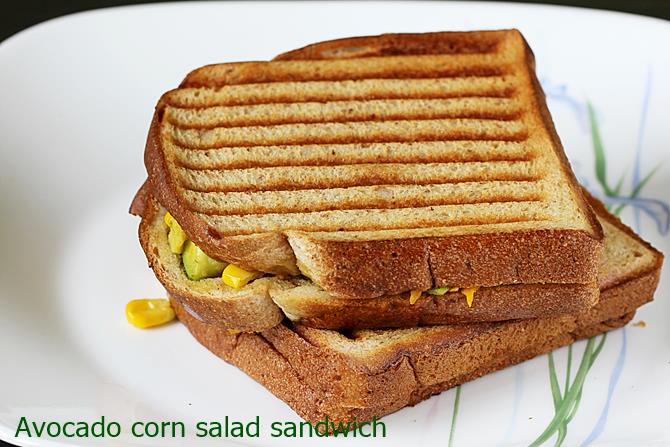 Quick avocado sandwich made with mix vegetables and sweet corn. Mildly spiced with pepper and green chilies.
Recipe type:
Breakfast, snack
Ingredients (240 ml cup used)
1 ripe avocado (cut to cubes)
1 small ripe firm tomato
1 small onion
1 to 2 small garlic cloves chopped very finely
1 to 2 green chilies (skip for kids)
1 tsp pepper crushed
handful of coriander leaves / cilantro chopped finely
¼ cup grated carrots
½ cup sweet corn (tender)
½ tsp dried herbs (optional)
1 tbsp olive oil
Lemon juice as needed
salt as needed
butter as needed (optional)
How to make the recipe
Wash all the veggies. Grate the carrot, deseed and chop tomatoes and chilies. Finely chop coriander leaves.
Boil the corn if using corn on the cob. If using frozen corn, skip boiling.
Cut avocado to 2 parts and remove the seed with the help of a spoon. Scoop out the avocado pulp and cut to small bites.
Add all the prepared ingredients to a bowl. Add oil, pepper, salt and lemon juice. Toss everything well.
Butter the bread slices ob both the sides. Spread the prepared mixture over the bread. Cover with another slice and toast in a sandwich toaster until golden.
Serve avocado corn sandwich immediately.
How to make avocado sandwich
1. Wash carrots, onions, avocado, tomatoes, coriander leaves & green chilies. Grate the carrots, finely chop onions & garlic. Deseed and chop tomatoes. Finely chop coriander leaves. Boil corn if using from cob. I used frozen corn so I just rinsed them , drained and used here. Cut avocado to 2 and remove the seed. Scoop the pulp & cut to small cubes.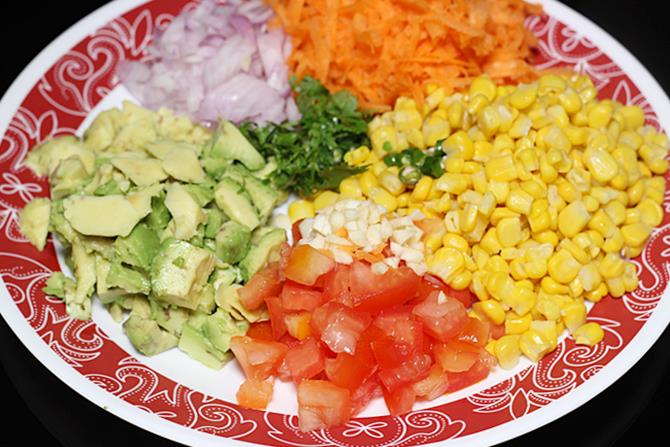 2. Add all of them to a plate or a mixing bowl. Sprinkle salt, pepper, herbs and olive oil.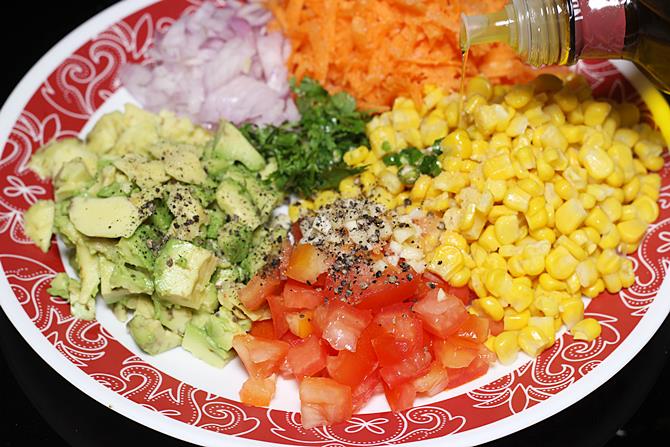 3. Squeeze in lemon juice.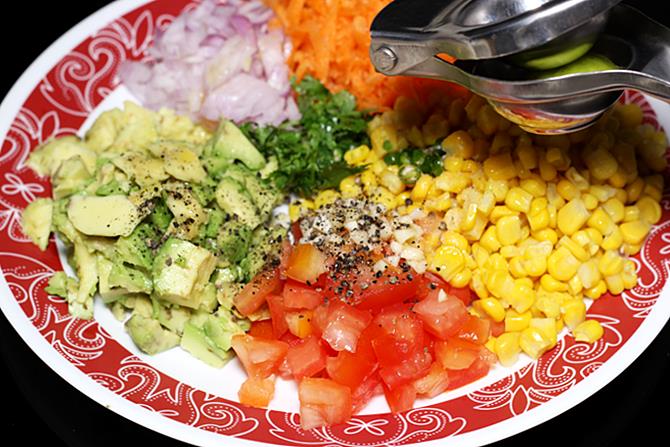 4. Mix up everything. Do not rest this mixture, make the sandwiches right away else the mixture begin to leave moisture.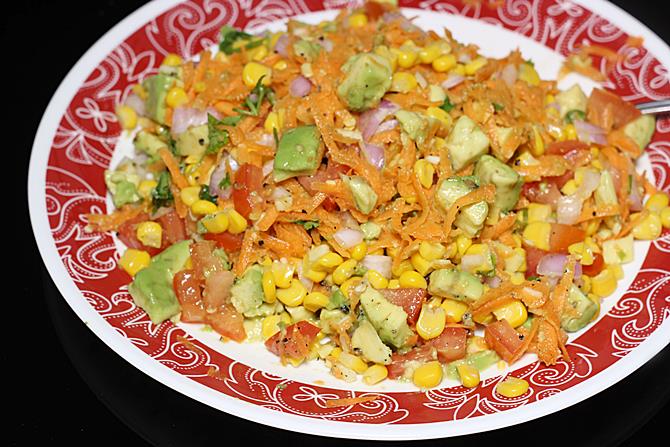 5. Butter the bread slices on both the sides. Spread the avocado corn mixture on the bread.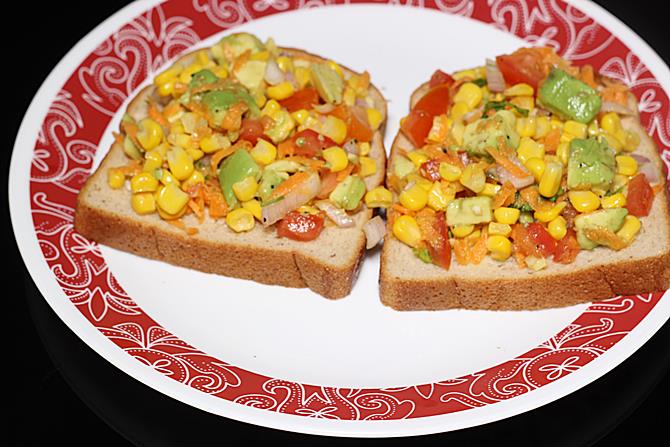 6. Cover with another buttered slice of bread.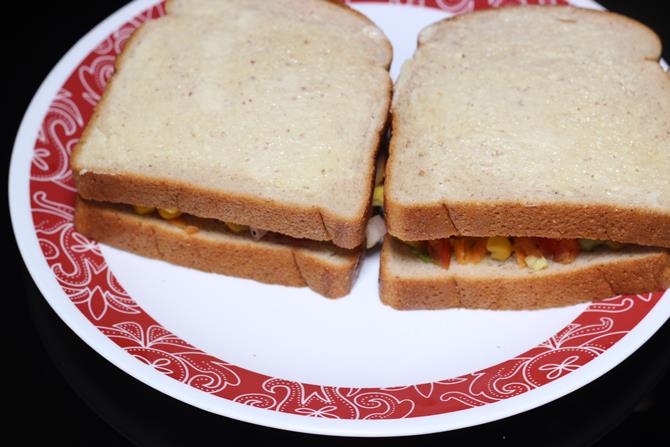 7. Grill in a preheated sandwich toaster.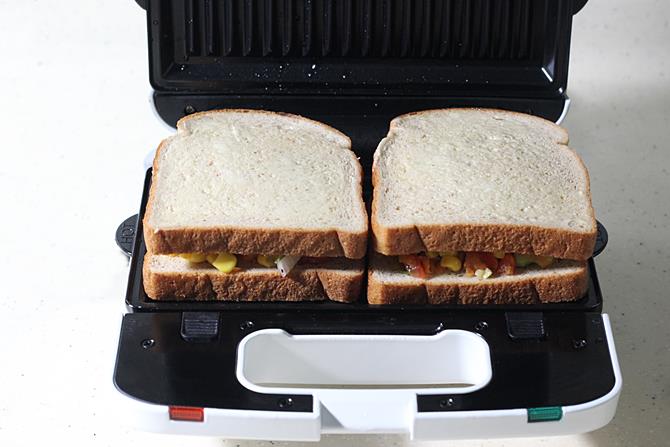 8. When golden, remove from the toaster.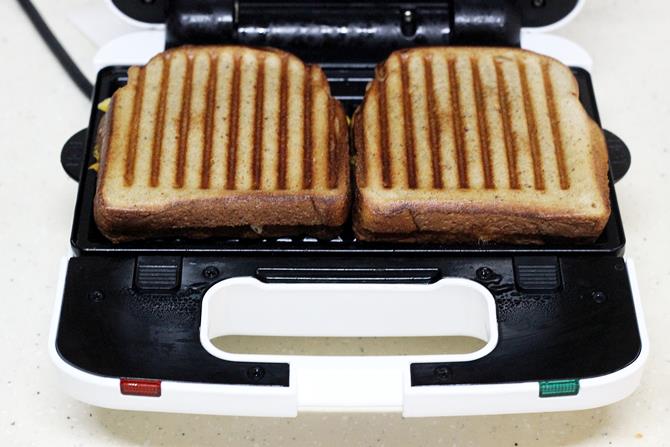 Serve avocado corn sandwich right away.