Baby corn manchurian recipe – One of the delicious manchurian recipes from the Indo chinese cuisine. Manchurian recipes are not from the authentic Chinese cuisine but are a fusion of the Indian & chinese cuisines. These are quite popular and are served in Indo-chinese restaurants. Chicken manchurian, paneer manchurian, veg machurian and gobi manchurian are some of the popular manchurian recipes that one get to see on the menu.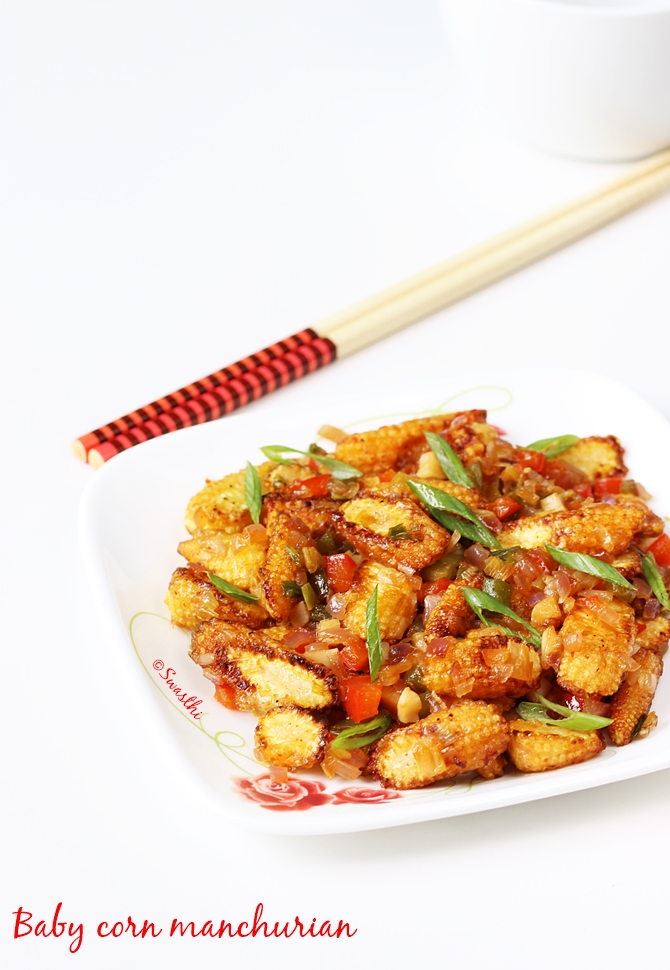 They are mostly deep fried, loaded with MSG, colors and sauces hence may not be a healthy option to eat these out often. This baby corn starter goes well as a starter or as a side to fried rice or hakka noodles.
I have used minimum amount of corn flour, plain flour and sauces in this recipe, feel free to use more sauces to make the dish more saucy.
You can find more baby corn recipes
baby corn gravy
baby corn fry
baby corn stir fry
Baby corn manchurian recipe below
Baby Corn Manchurian Recipe | Baby Corn Recipes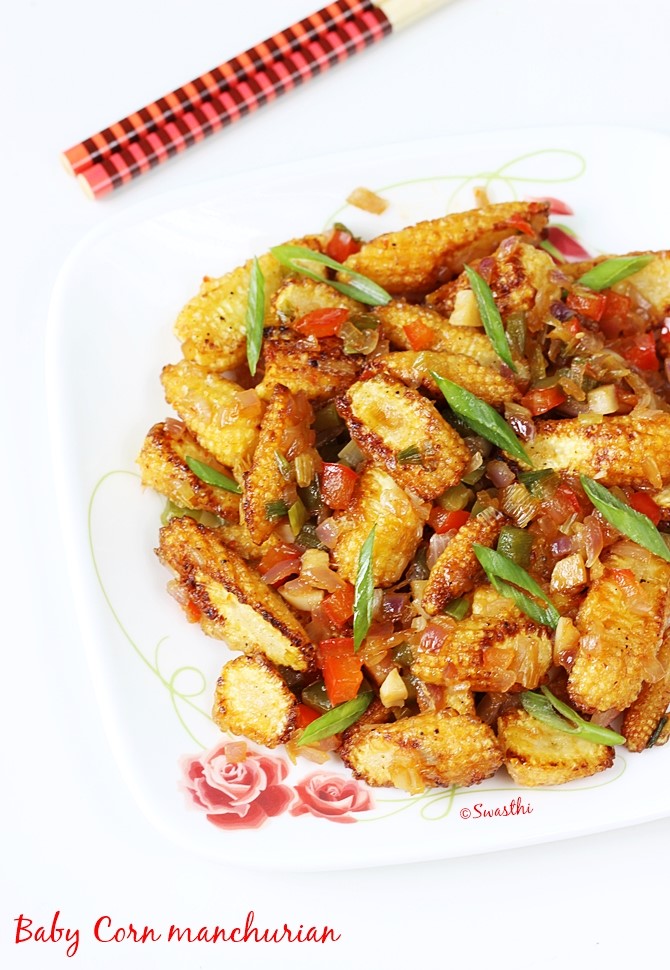 Ingredients (240 ml cup used)
baby corn 200 grams
2 tbsp corn flour
2 tbsp plain flour/ maida (prefer organic, optional)
salt as needed
¼ tsp pepper powder
oil as needed
½ tbsp. finely chopped ginger (optional)
1 tbsp. finely chopped garlic
2 to 3 tbsp finely chopped onions
2 to 3 tbsp chopped spring onions
2 to 4 tbsp. bell pepper / capsicum
½ to 1 tbsp. soya sauce (prefer naturally brewed)
¼ to ½ tbsp vinegar(can use apple cider)
¾ to 1 ½ tbsp tomato sauce / ketchup (adjust as needed)
¾ to 1 ½ tbsp chilli sauce (adjust as needed)
2 tbsp spring onion greens
How to make the recipe
Wash baby corn well under running water.
Cut them diagonally. Make a batter using plainflour, corn flour, salt and pepper after adding little water.
Dip the babycorn and fry in hot oil until golden.
Set them aside.
Heat a pan with oil on a high heat, saute ginger garlic until it turns fragrant.
Add onions and saute for 2 to 3 minutes. Saute bell peppers as well for 2 to 3 minutes.
Add soya sauce, vinger, tomato sauce, chilli sauce and sugar.
Add little water and cook until the sauce thickens.
Add babycorn and spring onion greens. Saute for 2 to 3 minutes. Baby corn manchurian is ready to serve.
How to make baby corn manchurian recipe
1. Wash babycorn and cut them diagonally. If you like to make a restaurant style baby corn manchurian, then make a batter first. To make the batter, add corn flour, plain flour, salt and pepper powder to a bowl. Add water and make a batter. Dip the baby corn in the batter and fry in oil. I like to minimise the corn and plain flours so skipped plain flour and used 2 tbsp corn flour. I added the babycorn to a bowl and then corn flour, salt and pepper powder.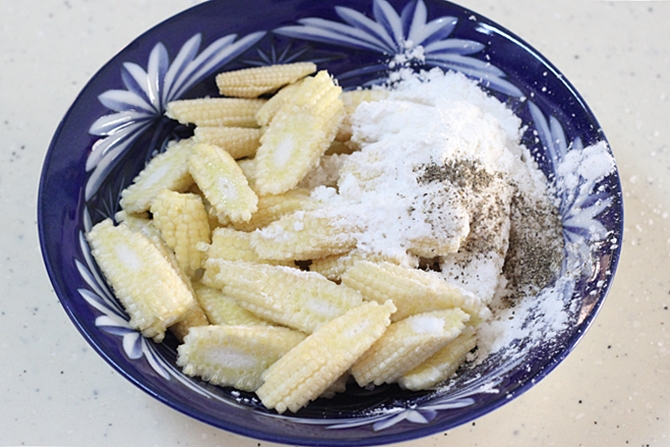 2. Tossed everything well, sprinkled little water and tossed again.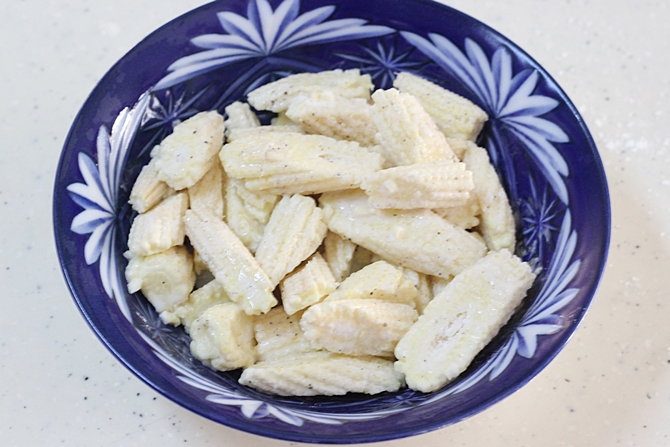 3. Deep fry or shallow fry. You can also grill these. I shallow fried in 2 batches.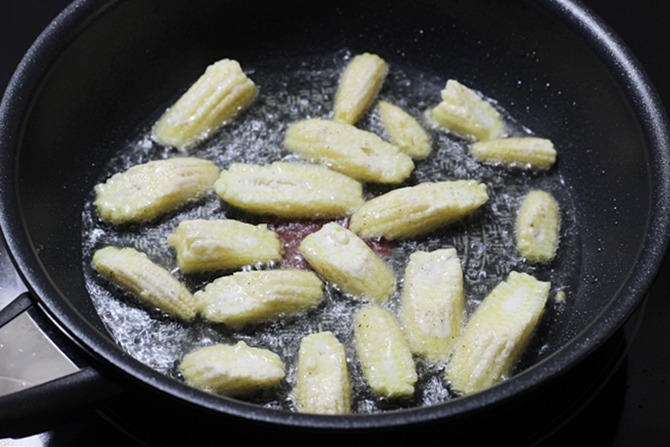 4. Fry them until golden, drain to a kitchen tissue or a plate.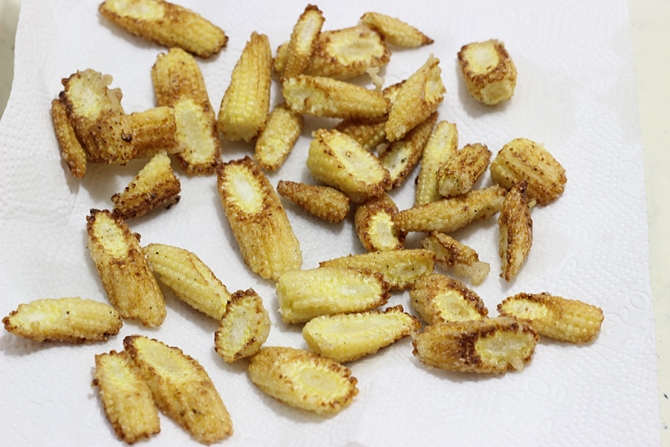 5. Transfer the oil to a bowl and keep little in the pan. Put on the flame to high this lends a smoky flavor. Fry ginger garlic until they smell good. Add onions and spring onion whites. Saute for 2 to 3 minutes.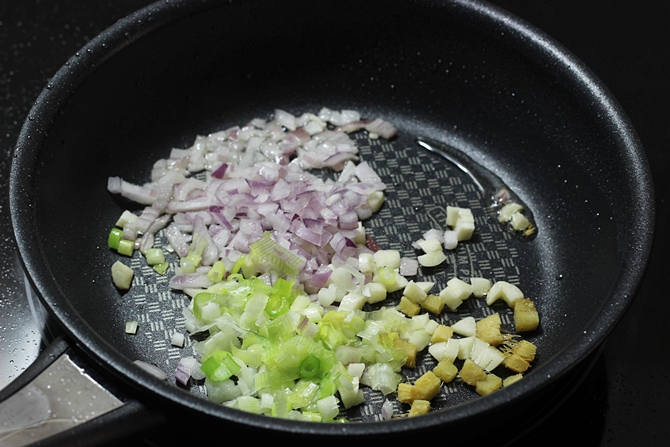 6. Add capsicums, saute for 2 to 3 minutes.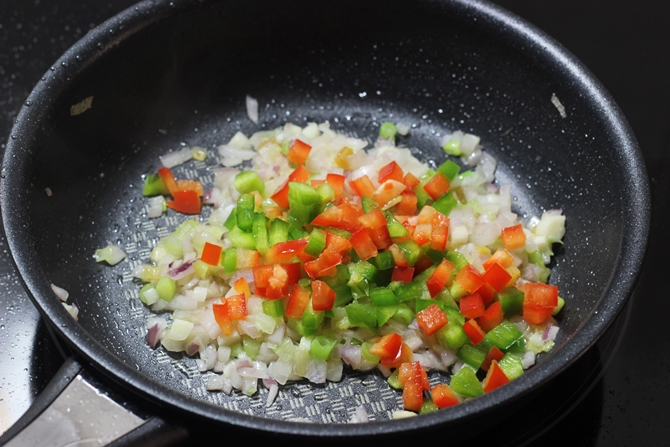 7. Add ½ to 1 tbsp. soya sauce.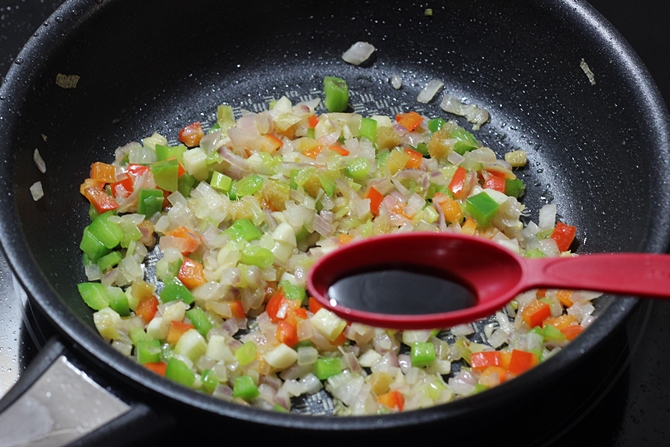 8. Add ¼ to ½ tbsp. vinegar.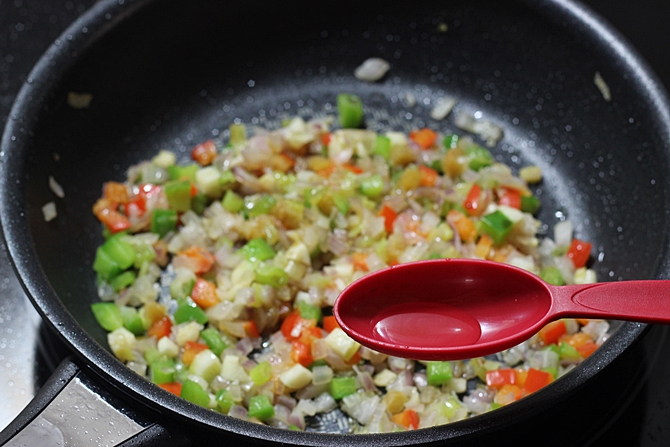 9. Add ¾ to 1 ½ tbsp tomato sauce and ¾ to 1 ½ tbsp. chilli sauce (optional).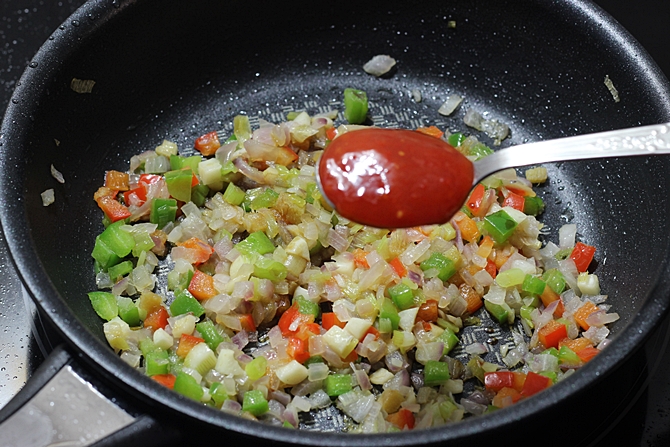 10. Add ½ tsp sugar and 2 to 3 tbsp. water to make a sauce. Check the sweet sour levels by tasting. Add more tomato or chilli sauce if needed. Above mentioned quantities are what i use. If you like to make a gravy, stir in 1 tsp corn starch (corn flour) in 3 tbsps water. For more gravy, add more sauces and more corn flour. Cook until the sauce thickens.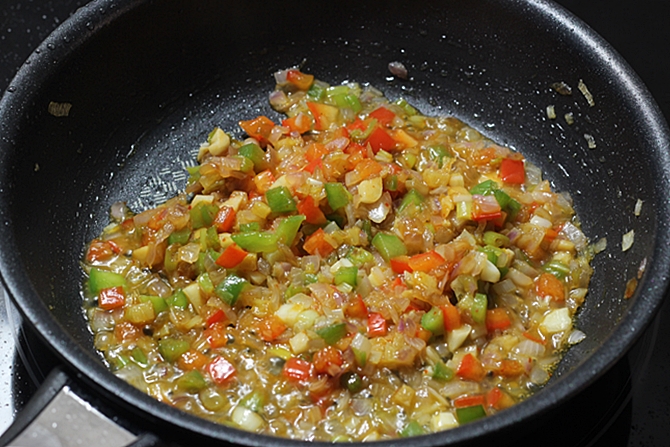 11. Add baby corn, spring onions greens and saute for 2 to 3 minutes.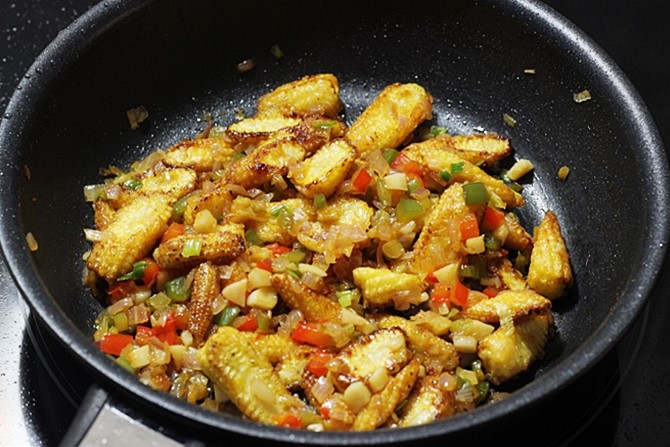 Serve baby corn manchurian as a starter or snack. You can serve a gravy dish with fried rice or noodles. Garnish with spring onions.