Badam halwa recipe – an easy dessert/sweet that can be prepared on any festive occasion like holi, durga puja, lakshmi puja or even for Iftar. This halwa is prepared by soaking almonds, then blending them. Later cooked with sugar, ghee and milk to yield a delicious halwa.To make a vegan version, just skip milk and use water for blending, replace ghee with coconut oil or almond oil of your choice. I have used virgin coconut oil, that gave a delicious coconut flavor to the halwa.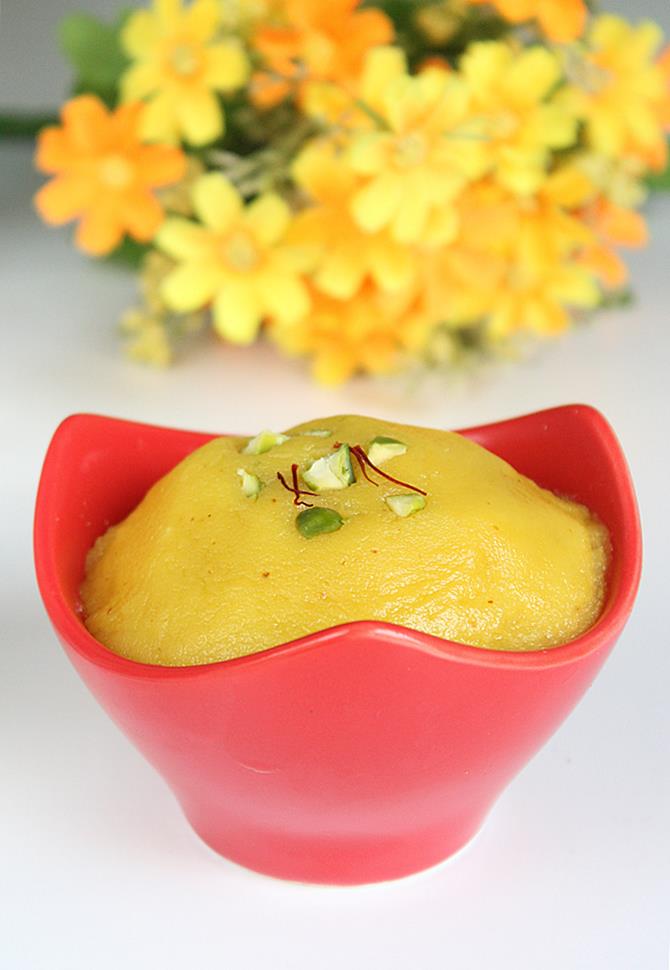 I don't have the habit of using food colors, so i used saffron and it is optional. In the past i had made this badam halwa with out saffron and felt apart from giving a good color to the halwa, doesn't add any significant fragrance or taste. So you can very well skip using it.
To make the badam halwa more aromatic, i would recommend using good cardamom powder or few drops of rose water.
If you reduce the quantity of ghee than mentioned in the recipe, cook it only till it is of a semi thick consistency otherwise it is hard to eat since it becomes dry.
For variations, you can add khoya or mawa towards the end along with little more milk.
You may like this collection of halwa recipes.
carrot halwa
moong dal halwa
kaddu halwa
papaya halwa
dry fruits halwa
oats halwa
Badam halwa recipe (almond halwa recipe) below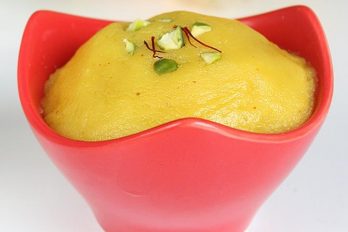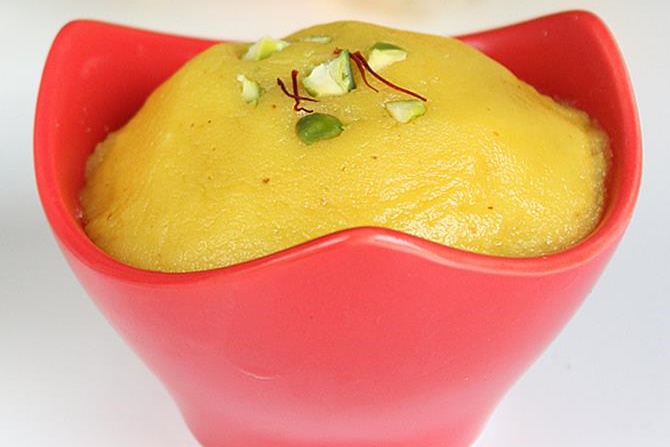 Badam halwa recipe | How to make almond halwa recipe
Almond halwa or badam halwa is a Indian dessert prepared with ground almonds, sugar and milk, a festive delight
Ingredients (240 ml cup used)
1

cup

almonds

3/4

cup

sugar (you can reduce by 2 tbsp)

fat pinch of saffron (optional)

1/8

tsp.

cardamom powder

3/4

cup

milk (vegans can use water)

4

tbsp

ghee or 2 to 3 tbsp virgin coconut oil

few drops of rose water (optional)
Instructions
Preparation
Wash and soak badam in lot of water for 4 hours. peel off the skin and rinse them. If you have blanched almonds, you can skip this step and soak them for about 2 to 3 hours.

Blend badam, sugar, cardamoms, saffron with milk or water to a smooth paste
making badam halwa or almond halwa
Heat a nonstick pan or heavy bottom pan, add half of the ghee, add the ground paste and cook till the halwa thickens, constantly stirring otherwise it will get burnt

In between add few tsp ghee in intervals and stir

when it reaches a desired consistency , switch off and add a spoon of ghee

You can adjust the consistency, you can add more milk.

Serve badam halwa with added nuts.
Nutrition Facts
Badam halwa recipe | How to make almond halwa recipe
Amount Per Serving
Calories 278
Calories from Fat 18
% Daily Value*
Total Fat 2g 3%
* Percent Daily Values are based on a 2000 calorie diet.
How to make badam halwa or almond halwa
1. Soak almonds for about 4 hours,peel off the skin and rinse them. Its easy to peel the skin if they are soaked well.But do not over soak them, the halwa turns sticky if soaked for very long.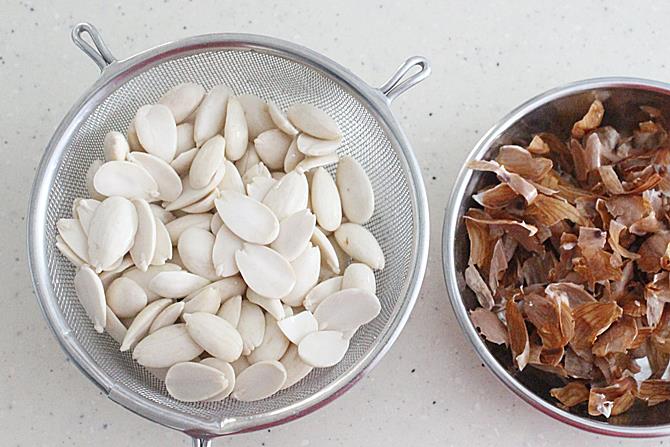 2. Add almonds, sugar, milk, skinned cardamoms and saffron to the blender jar.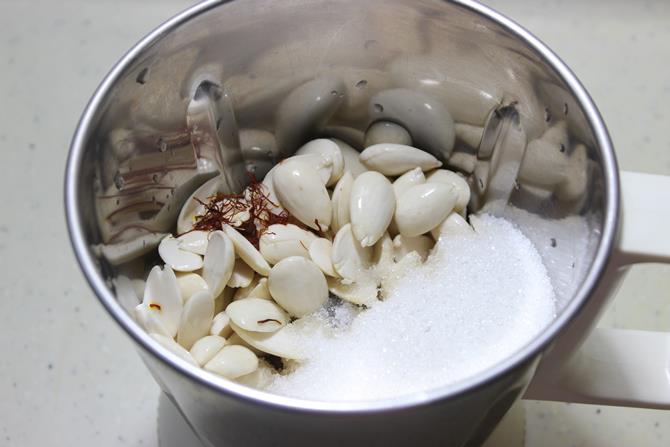 3. Make a fine paste.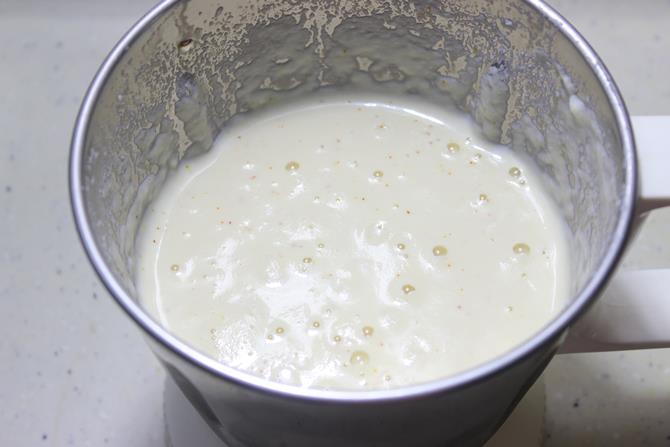 4. Heat a heavy bottom pan or preferably nonstick pan. Add ghee or coconut oil, pour the ground almond mix.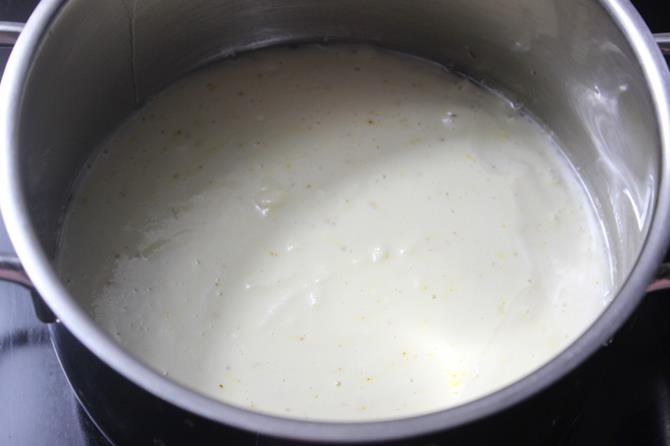 5. Constantly stir and cook. If you have used saffron, you will begin to see the halwa getting better color as it is cooking and blending well with sugar.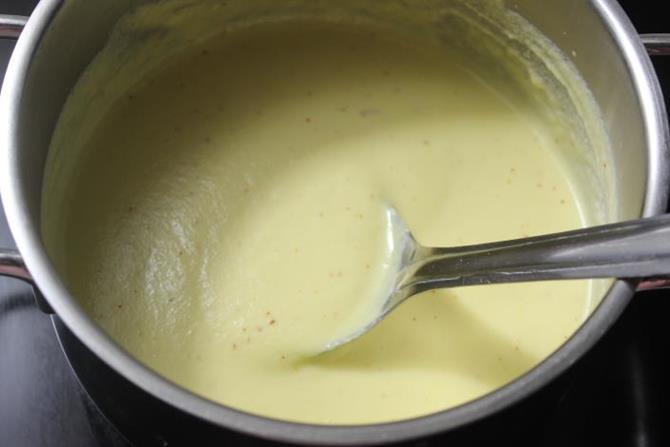 6. It got a better color now after cooking for about 8 minutes. When it thickens, add little more ghee or oil and stir. Add ghee in intervals twice or thrice. You should not stop stirring to prevent burning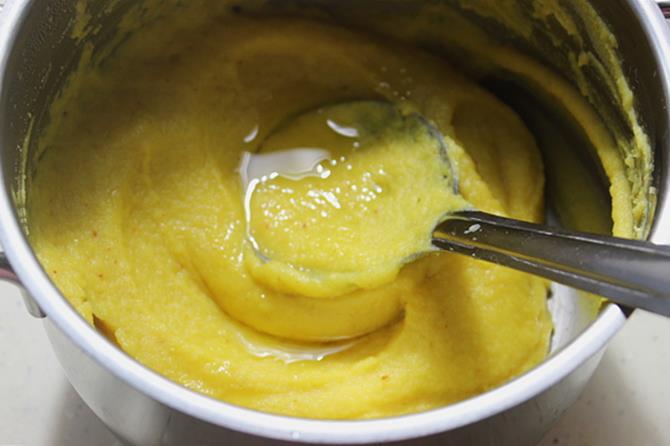 7. Switch off when it reaches the desired consistency.We prefer it a bit thick, If needed you can just add few tbsps milk to get the desired consistency.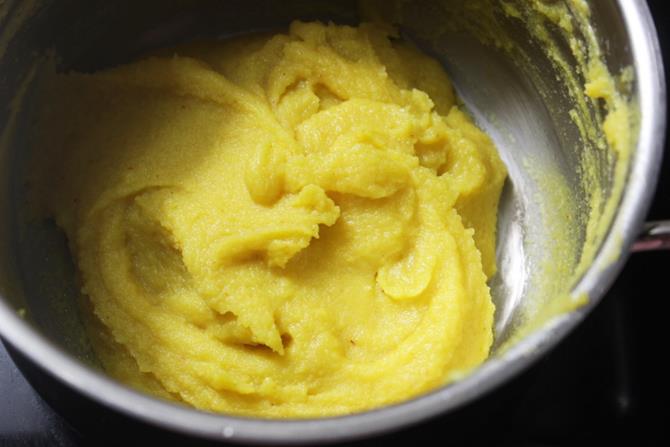 Almond halwa is ready.
Just before serving, i added little boiled milk and stirred it to bring it to the consistency as it becomes slightly thick when it cools down. Serve with added nuts