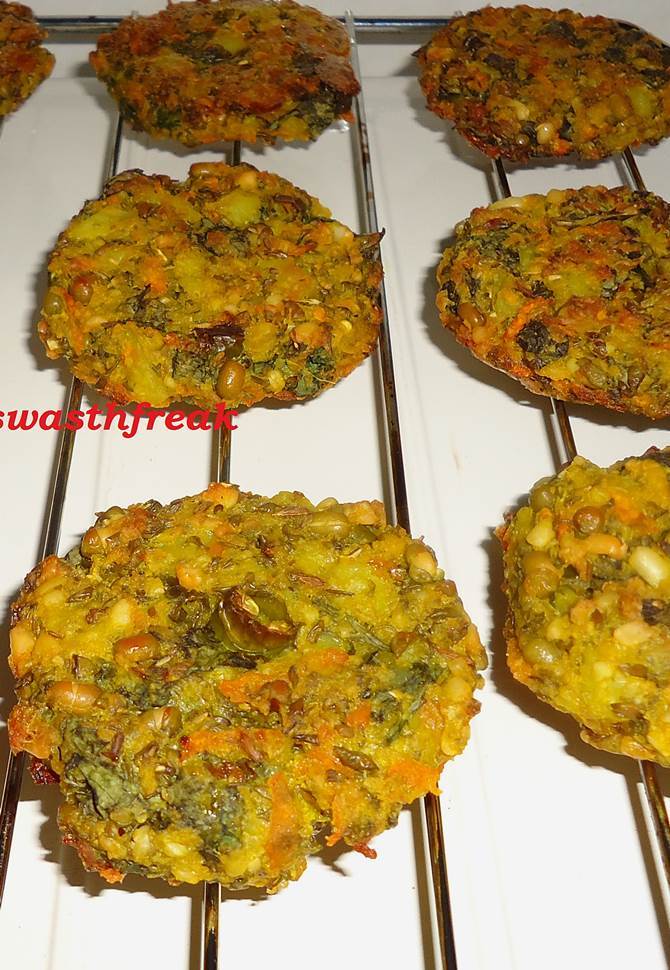 moong dal tikki recipe 
Baking can be a real fun if you succeed in making what you think you can. Not only baking cakes, baking cutlets too is a fun and interesting thing. For me cutlets are most times a part of the meal along with rasam, so that my kids do not nag at the table. I just add whatever i think is healthy, no standard ingredients. i had these left over soaked green gram after making crispy andhra pesarattu. I used it up along with some aloo. If you have a kid who dislikes lentils to try this. They come out very crusty and tasty too. The best thing is not much oil is needed to prepare these moong dal tikki. you can even pack these for your child snack box.

related recipe: moong dal recipe

If you do not have green gram or do not have enough time to soak, you can use split yellow moong dal. just soak it for 30 mins in warm water and use it.

more tikki or cutlet recipes , mushroom tikki, paneer cutlet

Ingredients for making moong dal tikki
1 cup soaked green gram (you can use moong dal too)
1 cup boiled potatoes (cubed)
1 medium sized carrot (grated)
1/4 coriander leaves (chopped)
¼ mint leaves
2 green chilies chopped
½ tsp. jeera
½ tsp. ginger garlic paste
Salt as per taste
Oil for greasing the baking tray

how to make moong dal tikki or cutlets in oven
1.     Wash and soak green gram for 4 hrs.If using moong dal soak only for 30 minutes in warm water
2.    Preheat the oven to 360 F.
3.    Pulse the green gram for 1 minute in a mixer. (do not add water)


4.    Mash & add the boiled potatoes and rest of the ingredients.
5.    Mix well and make round balls and place them on the greased tray and flatten them.


6.    Bake for 30 mins on both sides. adjust the time based on your oven


Note: Do not soak the green gram for long time, else they will not turn out crusty.