Basundi recipe with step by step photos. Basundi is an Indian sweet made by thickening full fat milk, sugar and garnished with nuts. This is mostly popular in the states of Maharashtra, Gujarat and some parts of Karnataka. A close variation to this isRabri / rabdi made in North India, however the texture and consistency is different from Basundi. It can be served on its own chilled and garnished with nuts or can also be served with puri.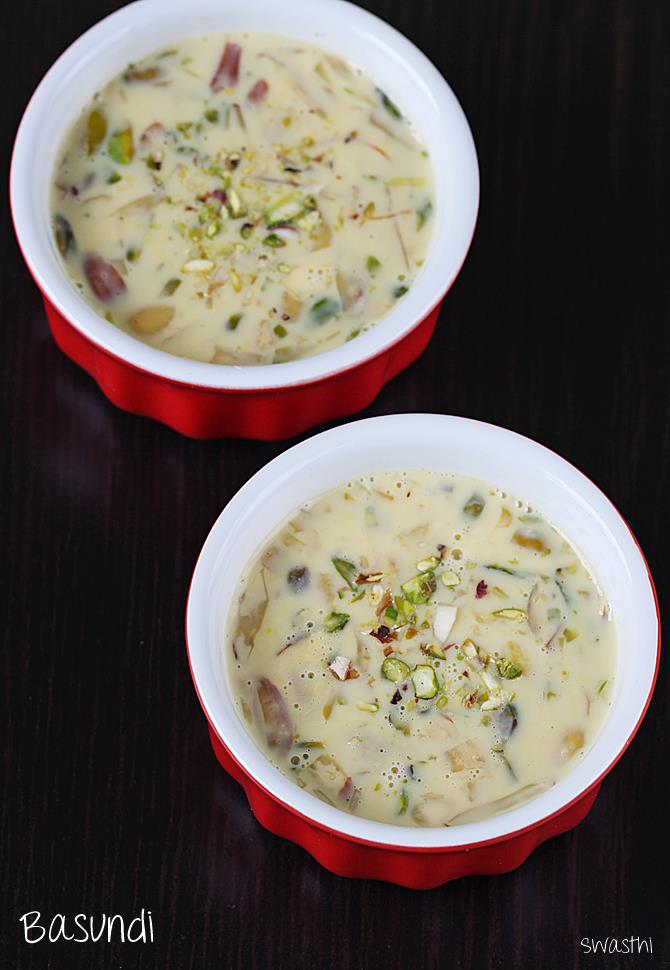 Traditionally basundi is made by simmering full fat milk for a long time until the milk reduces to almost half the original quantity. I am sharing a quick recipe of making basundi, this is roughly adapted from milkmaid site.
This quick version is good to make when you have not much time to make basundi from scratch as it takes very long time to simmer.
For more easy Diwali Sweets Recipes you can check
Kalakand in 10 mins
Peda in 15 mins
Sandesh in 10 minutes
Dates halwa in 10 mins
Coconut ladoo in 15 minutes
Coconut burfi in 15 mins
Basundi recipe card below
Basundi recipe | How to make basundi recipe | Easy basundi recipe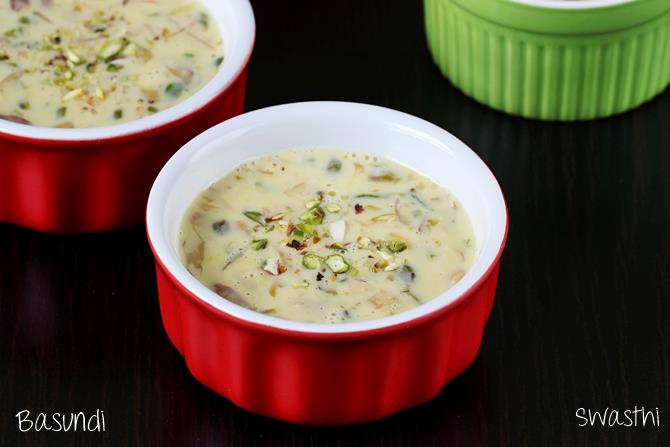 Basundi is a Indian dessert made with full fat milk, sugar and cardamom powder. This is a quick recipe of basundi using condensed milk.
Recipe type:
Dessert / Sweet
Ingredients (240 ml cup used)
2 cups milk
Half tin condensed milk (or 3 cups milk & 3 to 4 tbsps sugar
Pinch of nutmeg powder (optional)
¼ tsp cardamom powder
Saffron a pinch
Handful of sliced almonds, pistachios
How to make the recipe
Bring milk to a boil on a medium heat. Soak saffron in hot milk.
Boil the milk for 5 to 7 minutes scraping off the cream from the sides and adding it back to the pot.
Keep stirring often to prevent burning.
Add condensed milk and continue to boil on a medium heat until it reaches the desired consistency. This takes about 8 to 10 minutes. If you like slightly thicker consistency then you can simmer for a little longer.
Add saffron, nutmeg, cardamom powder and nuts.
Simmer for a minute and switch off.
Transfer basundi to a serving bowl and refrigerate.
Serve chilled or warm with nuts garnished.
How to make basundi recipe – step by step photos
1. Bring milk to a boil in a heavy bottom pot.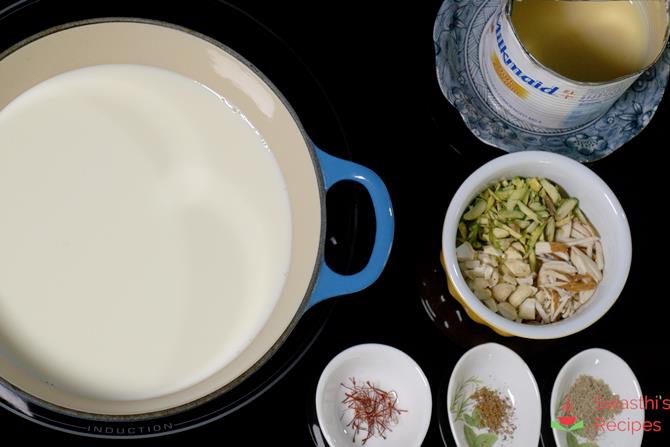 2. When the milk turns hot, soak the saffron in milk. Keep stirring the milk to prevent the milk solids sticking at the bottom.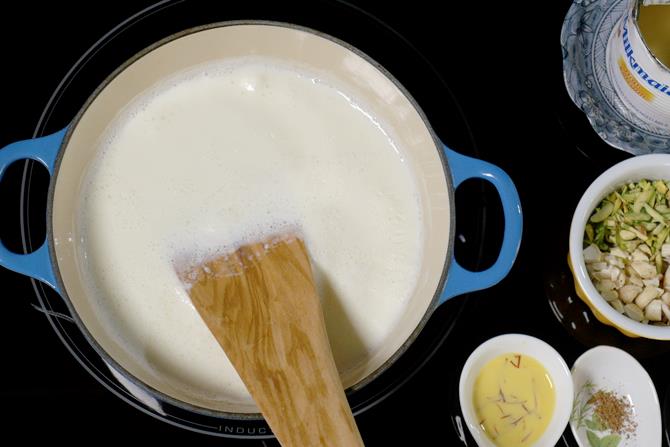 3. Allow the milk to boil on a medium heat for 5 to 7 mins, stirring often.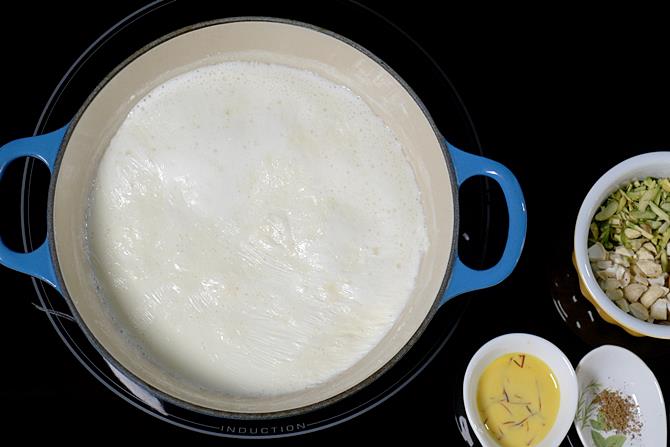 4. Then add the condensed milk and stir well.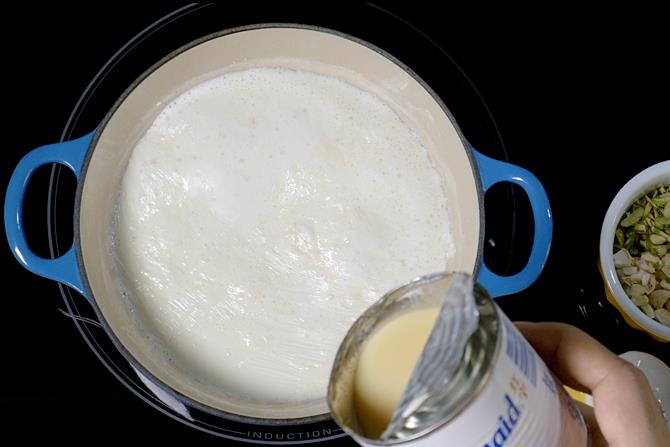 5. Scrape off the cream that sticks on the sides and add back to the pot. Boil until the milk reaches a thick consistency. I boiled for another 8 minutes. You may boil it for longer if you want it to be slightly more thick. The consistency of basundi is not as thick as rabri but must be runny yet slightly on the thicker side of pouring consistency.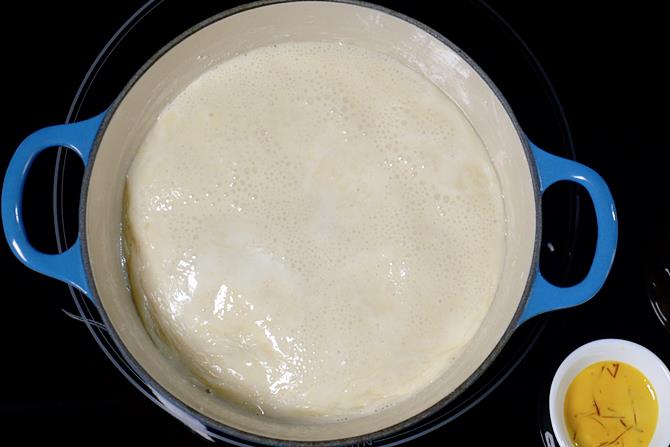 6. Add cardamom powder, nutmeg powder and saffron. Stir well and cook for a minute.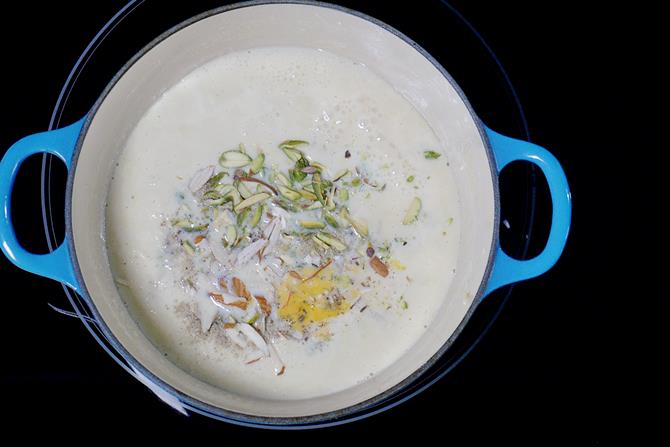 Serve basundi chilled or warm.