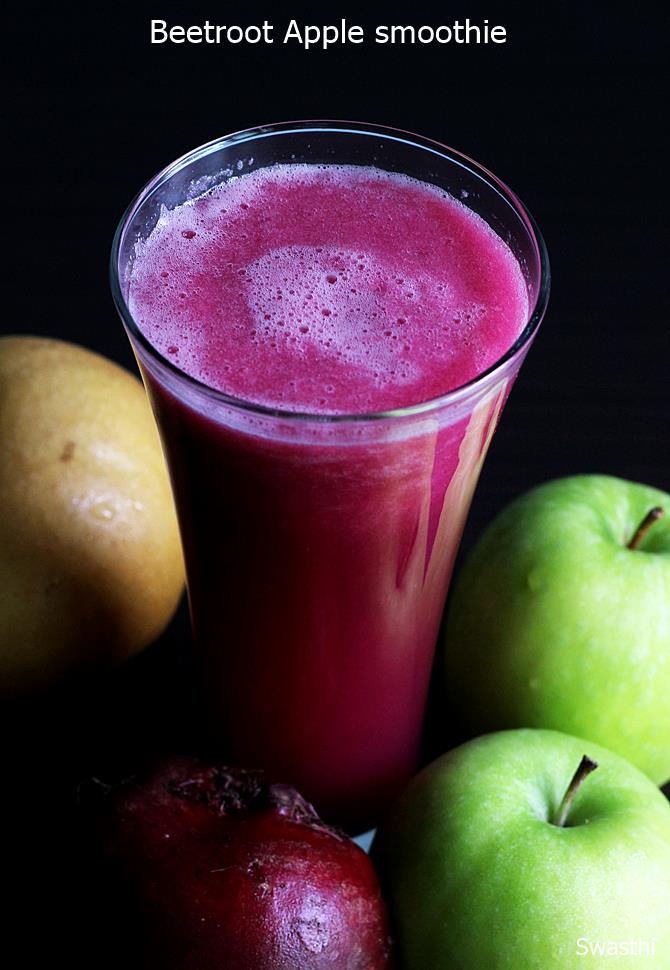 We have been experimenting with healthy smoothies for quite some time now and began to love them. The smoothie passion started after the hubby was raving a lot about them which he get to enjoy regularly near his workplace. Heard a lot about the changes he finds in himself, a healthy mind and healthy body. Finally he got me into making these for more than a month now. We love them a lot.
 
Thought of sharing a few delicious smoothies with you all, yes only delicious smoothies. They have not been made with Incompatible combinations, hence easy to digest. They are best to be served alone without any other foods. I will be glad, if I can inspire some of you to make these for yourself. The benefits are immense, experiment and experience the benefits for yourself.
 
Beetroot apple smoothie is made using beets, green apple (granny smith) and pear. I have not used water, the entire smoothie has been made using only three ingredients and no added sugar. You can replace green apples with the regular ones.
 
We are not always into using organic beetroot, apples or pears yet. We just go with whatever is available at hand, but try to include clean and fresh produce for maximum health benefits.
 

Beetroot apple smoothie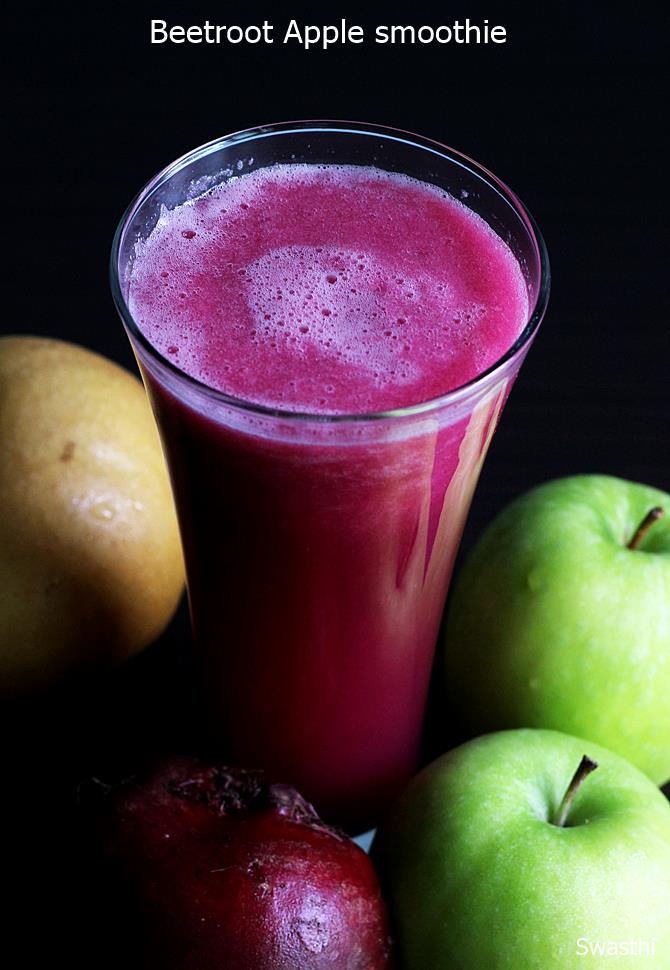 Delicious and healthy beetroot apple smoothie
Ingredients (240 ml cup used)
½ beetroot(adjust to suit your taste)
2 small granny smith apples
1 large pear or 2 medium pears (I use Asian pear, any juicy pear works fine)
optional(choose to suit your taste)
How to make the recipe
Rinse beetroot under running water to remove mud or dirt. If needed you can soak them in little salted water for a while, to get rid of all the unwanted things.
Wash apples and pear too. Keep the skin if using organic else peel off the skins lightly.
Chop them to smaller pieces depending on your blender.
Add them to a blender jar and blend till smooth. If you do not have a powerful blender or your fruits are not very juicy, you can add little water while blending.
Serve immediately.
Notes
To keep the smoothie simple and easily digestible, i have not used any extra ingredients like flax seeds, chia or basil seeds. But can be used.
for more smoothie recipes, check
pineapple smoothie
coconut fig smoothie
almond carrot smoothie
mango almond smoothie